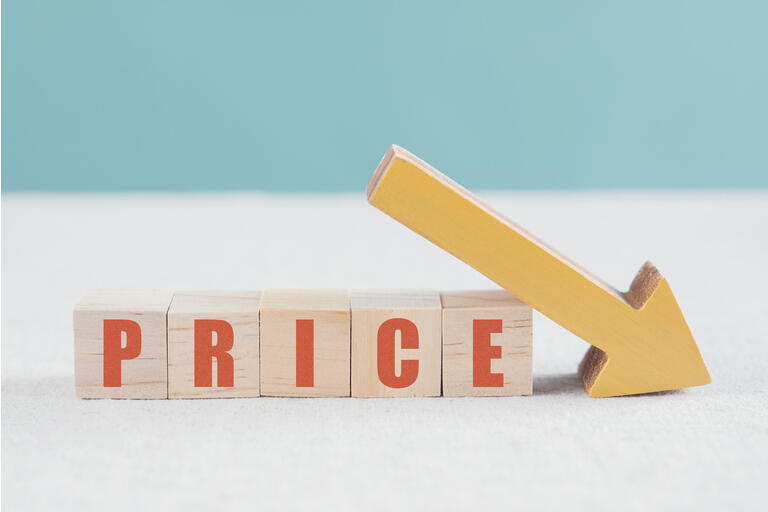 Investment thesis
Bridgford Foods Corporation (NASDAQ:BRID) has proved to be a viable business for almost a century but has recently suffered from declining profit margins that have slightly deteriorated its performance. In the long run, I tend to see these headwinds as good opportunities to buy lower-priced stocks, especially when it comes to companies with such a long run as Bridgford Foods. Even so, it is very important to bear in mind that falls in share prices are often, by nature, associated with a perception of greater risk or lower potential returns than previously believed, especially when the S&P500 increases during the same period of time. Therefore, and also taking into account that it is a micro-cap stock, I consider that it is very important to carefully assess the situation in which the company finds itself and assess whether the risk/benefit balance is in favor of investors.
Gross profit margins have deteriorated in the last few years despite the fact that the company has gradually increased its sales, and the little information they offer to investors makes it difficult to understand the management purposes of each move they make. In this sense, almost everything is up to what one understands by reading quarterly and 10-K filings. For that reason, I am going to try to understand what is happening at Bridgford Foods because it seems the recent price collapse is not justified by fundamental data. But first, I will briefly describe the company.
A brief overview of the company
Bridgford Foods Corporation is a family-owned food company that mainly manufactures meat products (pepperoni, beef jerky, summer sausage, salami, and meat snacks), bread products (frozen bread dough, buttermilk biscuits, monkey bread, breadsticks, and tortilla dough), and ready-to-eat sandwiches and wraps. Around 140 different products are sold to ~1,100 wholesalers in the Frozen Foods Products segment, and around 130 different products manufactured in the Snack Food Products division are sold to ~17,000 supermarkets, mass merchandise, and convenience retail stores located in 49 states. These products are sold to both retail and the foodservice industry through their own brand or by supplying private labels. The company was founded in 1932 and market capitalization currently stands at ~$115 million, which means it's a micro-cap company.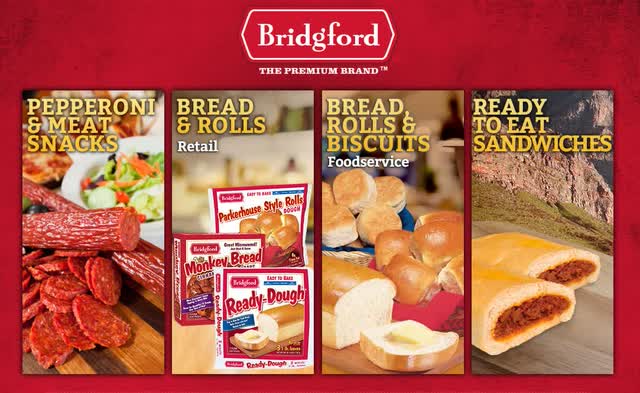 Image source: Bridgford Foods Corporation's website
The company operates buildings with a total extension of 285,200 square feet for the processing, warehousing, distributing, and administrative work of the Frozen Food Products Segment, distributed in Anaheim, Dallas, and Statesville. In the Snack Food Products Segment, the company operates a 177,000 square foot building in Chicago after the sale of a 156,000 square feet building also located in Chicago. The company used to pay dividends in the past, but it stopped issuing them in 2013 and focused on growing the business.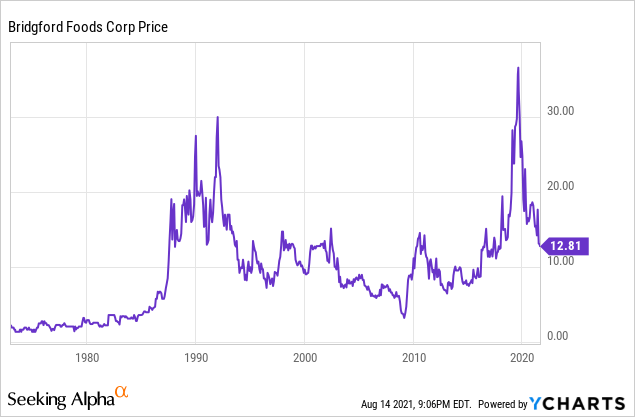 Currently, shares are trading at $12.81, which represents a 64.98% decline from all-time highs of $36.58 on August 16, 2019. Although it is a very sharp drop, it is very important to bear in mind that the risks of investing in micro-cap stocks are generally much higher than the risks associated with investing in companies with a higher market capitalization. Therefore, it will be very important to take into account the various aspects that will help us to see if the risk/reward balance is in favor of investors at this price, or not. It is not the first time that the price collapses for no apparent reason, so it could be that the current fall did not respond to (enough) fundamental reasons.
Let's dig in.
Net sales keep steadily growing
Net sales are divided into two main segments: Frozen Food Products (which provided 21% of net sales in 2020) and Snack Food Products (which provided the other 79%). The company has steadily grown in terms of sales over the years and managed to keep growing during the coronavirus pandemic crisis. When analyzing the evolution of net sales, it's very important to take into account that the company's fiscal year ends at the end of October, each year.

Source: 10-K filings
Net sales increased by 3.75% year over year during the second fiscal quarter of 2021 (three months ended April 17, 2020), declined by 2.75% year over year during the third fiscal quarter, and increased by 12.12% year over year during the fourth fiscal quarter. Overall, net sales increased by 4.9% during fiscal 2020 compared to fiscal 2019 thanks to an increase of 13.9% year over year in the Snack Food Products segment offsetting a 19.5% decline in the Frozen Food Products segment.
During the first quarter of 2021, net sales increased by 17.26% year over year and by 17.39% during the second fiscal quarter, leaving a very low PS ratio compared to the past while the share price declined by 30.27% year-to-date.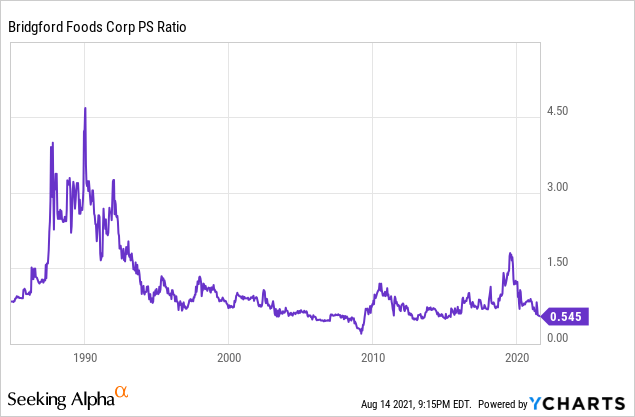 Currently, the PS ratio stands at 0.545, which means the company makes $1.83 in sales for each dollar held in shares by investors, annually. When compared to its peers, the packaged bakery foods company Flowers Foods (FLO) has a PS ratio twice as high as that of Bridgford Foods. The specialty ingredients company RiceBran (RIBT) trades with a PS ratio 155% higher than that of Bridgford Foods, and the difference is still higher when comparing to the Italian foods manufacturer MamaMancini's (MMMB), whose PS ratio is 327% higher than that of Bridgford Foods.
This means Bridgford's shares are trading at very lower prices from a price-to-sales perspective in comparison to its peers. But when comparing a company's PS ratio with its close peers, lower ratios are usually justified by lower expectations and higher perceived risks. From here, the first and one of the most important aspects to watch is the company's ability to convert sales into actual cash.
Margins are steadily declining
Trailing twelve month's gross profit margin stands at ~26.55%, which means the company made $0.27 for each dollar coming from sales after subtracting the cost of goods sold during the last twelve months. Also, the company has generated positive EBITDA year after year, although EBITDA margin has steadily declined since 2016 (as well as gross profit margin).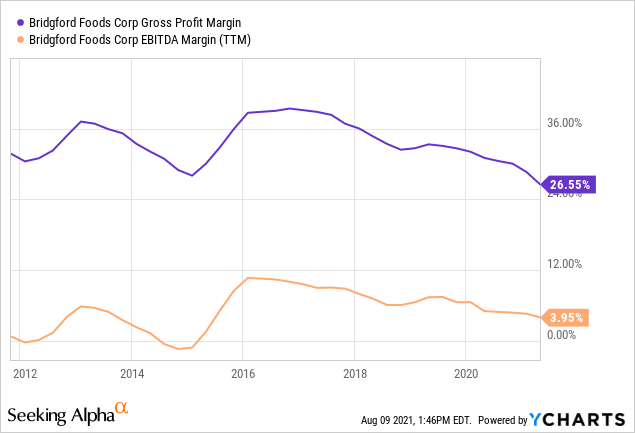 Rapidly declining margins are a true red flag and it seems the management is determined to change the trend. Indeed, the gross profit margin declined to 20.97% during the last quarter (Q2 2021) as the company generated negative cash from operations of $3.3 million. It's important to consider that the cost of agricultural commodities has surged by 40% recently, increasing thus the cost of goods sold. In 2017, the management decided to acquire a slightly bigger factory for the Snack Products Food Segment for $5.6 million, and now it has decided to upgrade it and sell the old factory. This has resulted in the (most likely temporary) renunciation of a debt-free balance sheet due to costs associated with buying equipment for the new facility, although everything indicates that the company will not get used to being burdened with debt, but will pay it down and continue to grow through cash generated from operations as the management has always been reluctant to depend on debt to grow.
A deleveraging process has started
The company has traditionally grown without making use of debt, which is a commendable feat. During the first quarter of fiscal 2019, the company borrowed $7.5 million to buy equipment for the new Chicago processing facility, and another $7.5 million during the second quarter of fiscal 2019. The company borrowed an additional $18.45 million during the first and second quarters of fiscal 2020, also for upgrading the new Chicago's processing facility. During the first fiscal quarter of 2021, the company borrowed an additional $2 million to fund operations and an additional $2 million on April 27, 2021.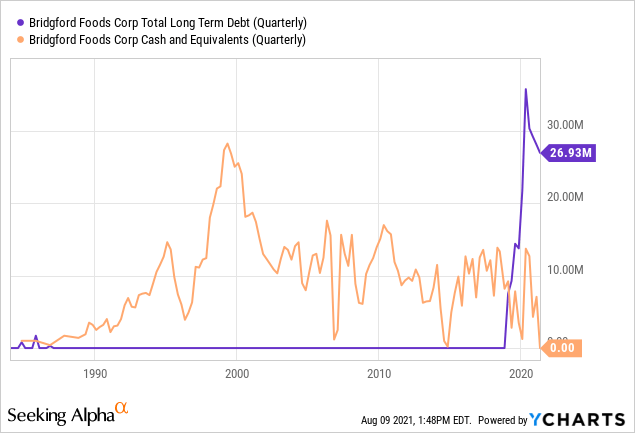 As a consequence, long-term debt increased to $26.9 million in the second quarter of fiscal 2020. The company has been consistently deleveraging the balance sheet since then, and long-term debt declined to $25.9 million during the third quarter of fiscal 2020, to $24.7 million during the fourth quarter of fiscal 2020, $23.6 million in the first quarter of fiscal 2021, and $22.4 million during the second quarter of fiscal 2021. We must remember that after all, the company has positive profit margins and that it generates positive cash balances year after year (except in 2014).
| | | | | | | | | | |
| --- | --- | --- | --- | --- | --- | --- | --- | --- | --- |
| Fiscal year | 2012 | 2013 | 2014 | 2015 | 2016 | 2017 | 2018 | 2019 | 2020 |
| Cash from operations (in $ millions) | $1,842 | $3,760 | -$4,021 | $7,460 | $4,527 | $16,769 | $8,265 | $7,247 | $9,917 |
| Interest expenses (in $ millions) | $0 | $0 | $0 | $0 | $0 | $0 | $0 | $403 | $828 |
| Interest payout ratio | 0% | 0% | 0% | 0% | 0% | 0% | 0% | 5.56% | 8.35% |
Source: 10-K filings
Trailing twelve months' cash from operations stands at $12.2 million while trailing twelve months' interest expenses are ~$0.5 million. This means interest expenses only represent a small fraction of cash generated from operations. Thus, I strongly believe that the company will be able to pay down the debt incurred to buy equipment with relative ease.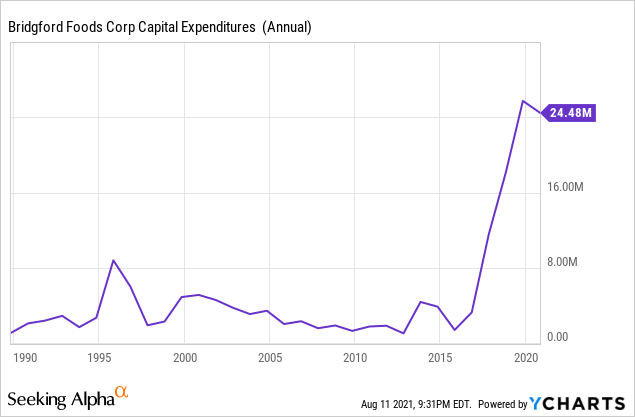 But there is a very important piece of information to add to this story: on March 16, 2020, the company agreed to sell a parcel of land, including a ~156,000 square foot processing building in Chicago, Illinois, to CRG Acquisition, LLC. That processing building is the old factory of the Snack Food Products segment I told you about, and the company is expected to receive $60 million cash from the sale in the near future.
Share buybacks
Over 80% of shares outstanding are owned by members of the Bridgford family, and the management has traditionally bought back shares in order to reduce the total amount of shares outstanding, thus increasing per-share metrics. The company's repurchase program was approved in 1999 and the management successfully bought back almost 2 million of shares outstanding.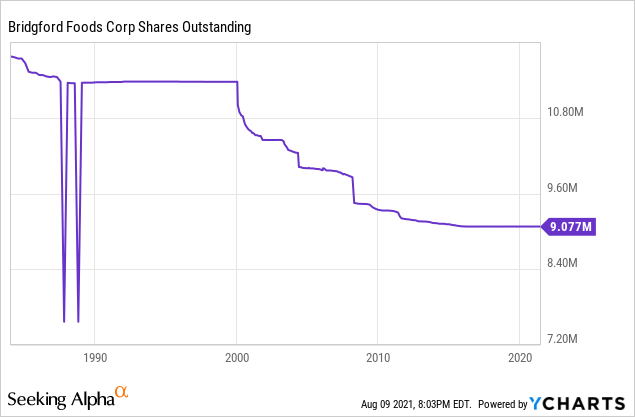 But the management stopped buying back shares in 2016 because, as with dividends, the management appears to be more focused on maintaining a shiny balance sheet, and they are not as keen on distributing cash to shareholders despite the family owning most of the outstanding shares. This is not a bad thing in itself, as this will help the company's prospects to improve in the long term (due to cash being invested back to the business), but it does make investors have to plan an exit plan since, after all, I believe it's only worth to invest in Bridgford Foods with the purpose of obtaining capital gains.
Risks worth mentioning
The company purchases large amounts of pork, beef, and flour, and an increase in prices for these commodities could impact the company's profitability in the future. In fact, commodities for both agricultural and meat commodities have dramatically increased in recent months, and this will likely impact the company's ability to generate cash in the short term.
Also, over 80% of shares outstanding are owned by the Bridgford family and two of them serve on the Board of Directors. Therefore, their control over the management of the company is potentially high. Also, we must not forget Bridgford Foods is a micro-cap company that's very secretive with its plans. In this sense, Investors who decide to bet on this company should bear in mind that the information they will have access to year after year will always be limited, at least in the foreseeable future. The good side of this is that the Bridgford family is as interested (or more) as you to see the share price increase.
Another risk worth mentioning is related to customers. Sales from Walmart (WMT) orders accounted for 36.9% of revenues during fiscal 2020, and sales from Dollar General (DG) accounted for 13.6%. For this reason, a drop in orders coming from one of these customers would certainly impact the company's revenues profoundly.
And lastly, it's important to note that the company does not distribute any payment in form of a dividend or by buying back shares. In the future, it's very probable for the company to deliver dividends and/or performing buybacks as in the past, but investors shouldn't rely on that since there are no plans for it as of now. The PS ratio is low (both compared to the past and to the company's peers) and the margin issue will be likely a transitory headwind as the company has proved to be profitable for almost a century, but there are no signs of potential returns apart from capital appreciation. For this reason, it's important to have an exit plan for when everything is going well enough to consider that the upside potential is much more limited than it is at present.
Conclusion
The recent drop in the price of shares of Bridgford Foods does not seem to be supported by fundamental data, and it has caused the PS ratio to walk the ground, and this represents a good opportunity to acquire shares at a reasonable price. Gross profit margins have plunged to ~20%, and the price of basic food commodities keeps increasing. Still, the management seems to be making the right decision by concentrating the production of the Snack Food Products Segment in a single factory, selling the other and aggressively upgrading the one that will be used from now on to maintain the production of the segment in order to improve profitability.
The company is making positive trailing twelve months' cash from operations and is expecting an inflow of cash due to the sale of the old Chicago facility. Thanks to this, the long-term debt incurred to upgrade the new facility should be completely paid very soon.
Still, it's important to have an exit plant as the company is not distributing any dividends and is not performing share buybacks. In this sense, I think there are no major reasons to hold the shares when everything goes smoothly (unless the dividend is reinstated or a new buyback program takes place). Rather, the stock should be considered as a cyclical one as of now, and investors should take advantage of headwinds like the one that the company is going through right now.