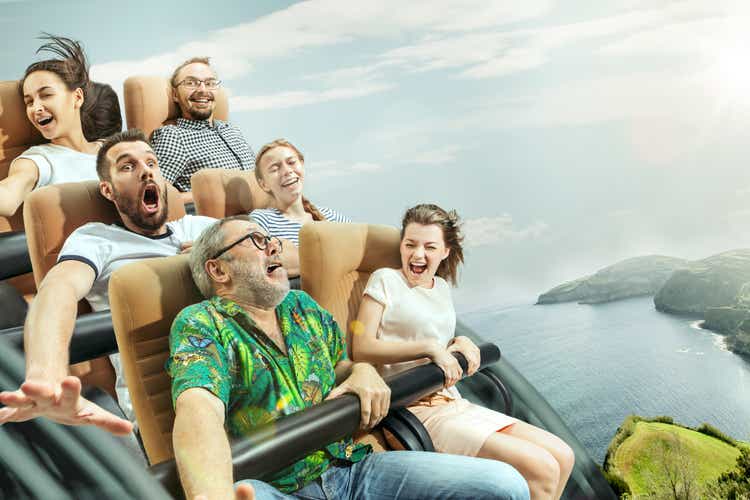 Any look at an investment should start by asking about what the risks are. For context, we often look at the broader S&P 500 (SPY) which represents most of the market capitalization in the U.S.
Last year I warned that the stock market could become very overvalued. I urged caution in picking out stocks and ETFs. I also recommended Tesla (TSLA), Bitcoin (BTC-USD), the Invesco Clean Energy ETF (PBW) and the ARK Innovation ETF (ARKK), so I am no uber-bear.
Today, the stock market is broadly overvalued, including both the Meme stocks and the Zombie stocks. Investor ideas on TINA - there's no alternative, FOMO - fear of missing out, and "buy the dips" has worked for over a year on the back of Fed stimulus.
Now that stimulus is poised to start being reduced we can look back at history. We have been to this game before. Expect a choppy stock market to emerge imminently, if it hasn't already.
S&P 500 Valuation
I have talked about excessive valuations in the stock market since around New Year's. Here's about where we stand now.
I pay special attention to Crestmont which I believe has an exceptional methodology. Here's a combined look.
Clearly, valuations are partying like 1999. This includes the zombies that are on borrowed (literally) time. The questions are how long the party can last and which companies will crash the hardest?
While I like the entire tech-driven innovation, clean energy, AI, IoT, automation and emerging space economy themes, most of the large-cap stocks are ahead of themselves. The valuations of the S&P 500 reflect that.
While I have a hard time believing a reversion to mean would drive stocks back to fair valuation by historical standards due to interest rates likely to stay lower for longer, the simple withdrawal of QE - quantitative easing could see stocks drop 20% to 30% across large-cap indexes. Certain Meme categories and Zombie stocks could be worse.
The Technical View Of The S&P 500
This is a monthly (SPY) chart. What jumps out at you?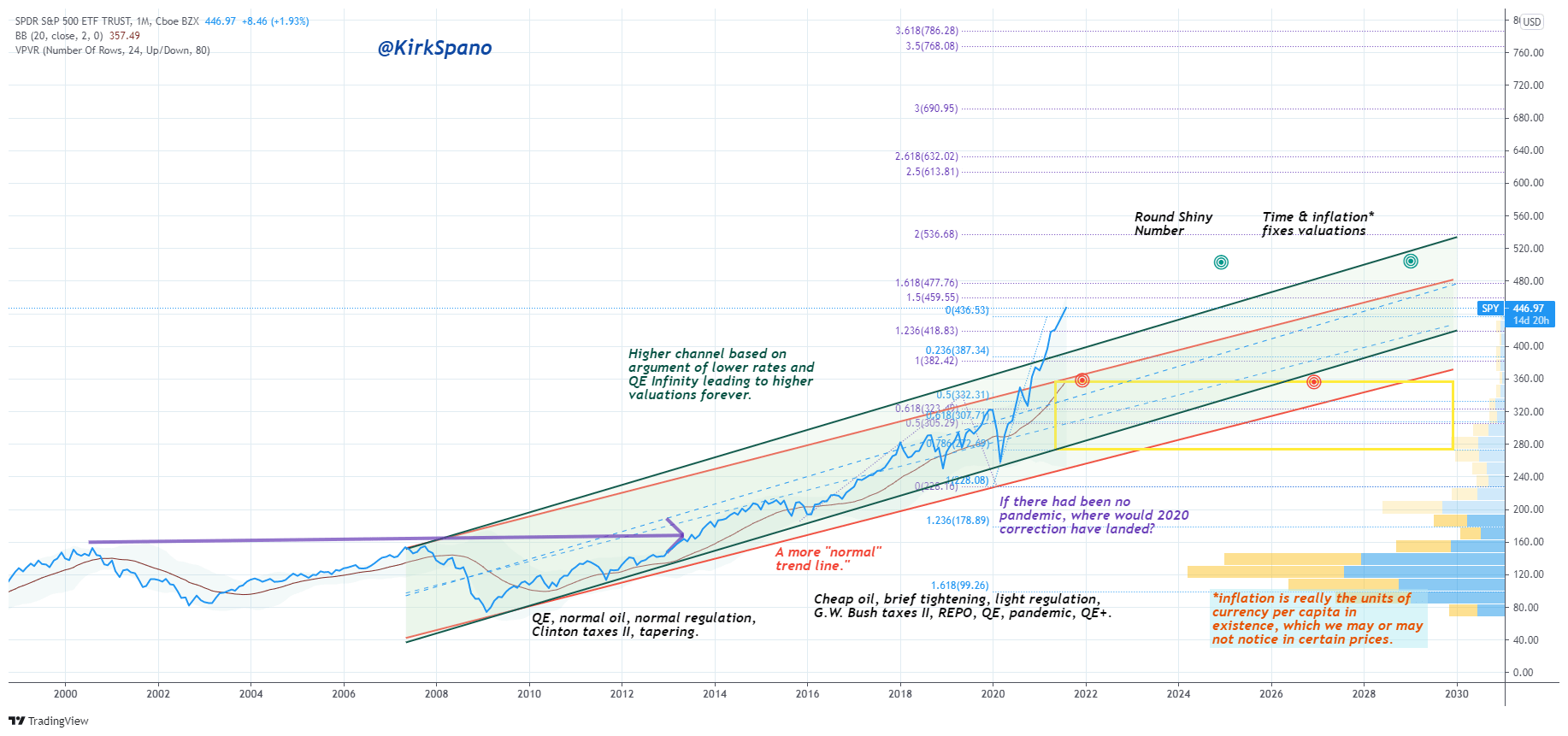 How about now?
A correction is inevitable. You are playing with fire if you are chasing here.
But, if you like it hot, there might be a bit more cigar to puff on before your lips get burned.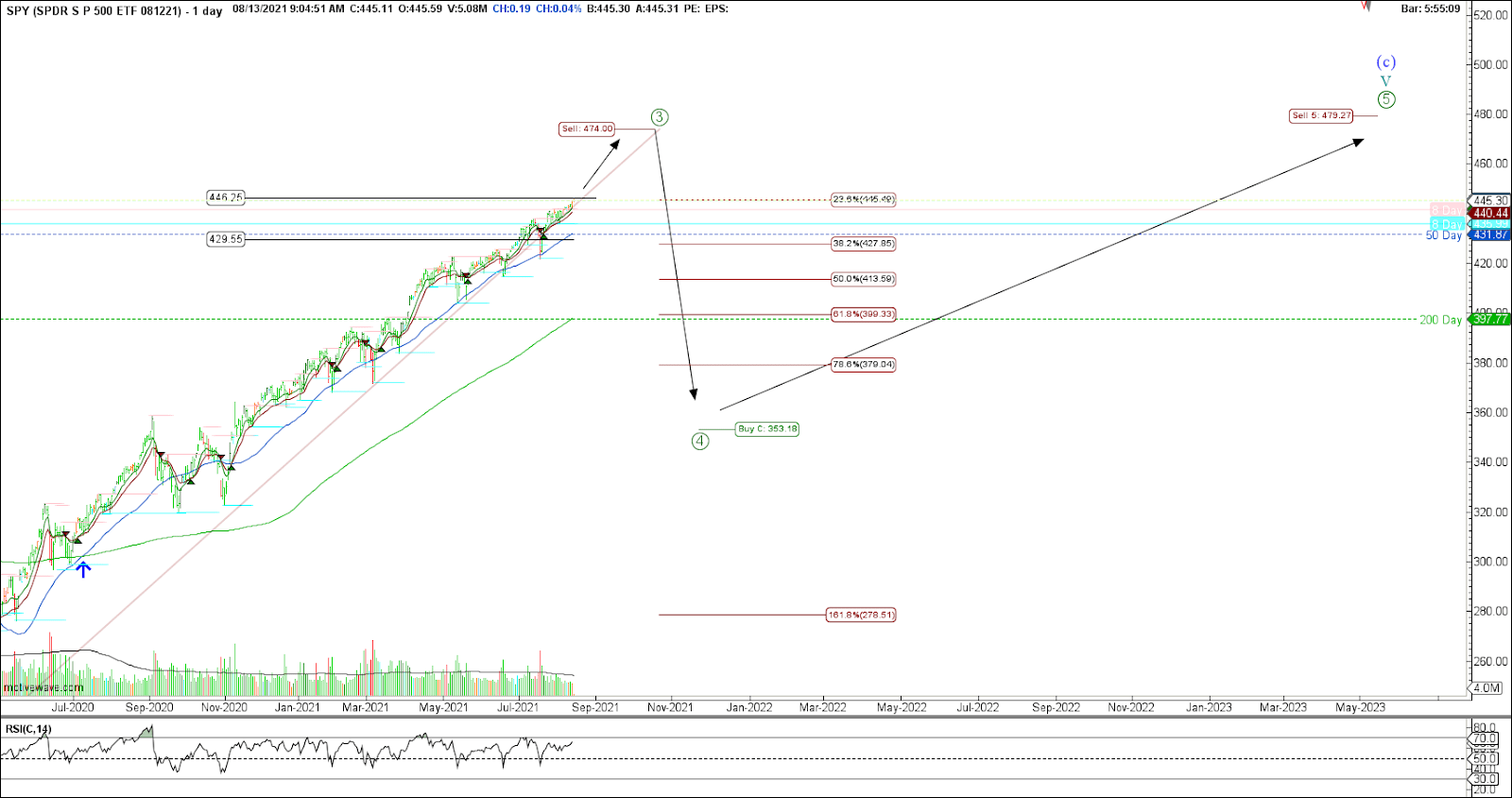 Shooter's daily chart shows that a correction hasn't started yet, but there's very little room left on the upside. Again, tough to be a chaser here unless you're very adept at swing trading, especially moves measured in under a month.
Shooter and I are both showing an S&P 500 correction to between about 350 and as low as around 300. A lot will depend on the size and speed of the Fed taper.
What About The Fed?

There's no denying the correlation of Fed balance sheet expansion and its impact on the stock market. When the Fed flattened the balance sheet in 2014 the stock market went choppy for two years.
That was followed by cheap oil which pushed stocks up. But then, the Fed started to shrink their balance sheet outright and we got the two massive bouts of volatility in 2018. By September 2019 the repo market was collapsing and QE was restarted which again pushed stocks up.
Then COVID-19 hit causing one of the largest economic shocks in history. The Fed's response was massive bailouts that exceeded the economic damage. That explosive shock and awe response has carried the stock market since.
The Fed has now moved from talking about tapering to talking about when to taper. The consensus is to start flattening the expansion soon. At the same time, we are at historic valuations and overbought on long-term charts. What could go wrong?
Interestingly, for the first time in a long time, margin debt ebbed a bit.
That little tick near the bottom of the red line could just be a blip. Or it could be a sign of alligator jaws starting to close. There have been signs of reduced liquidity in recent weeks as indicated by the firming dollar. If the dollar rises to around $96 as I think is likely later this year or early next year, then stocks have a major headwind.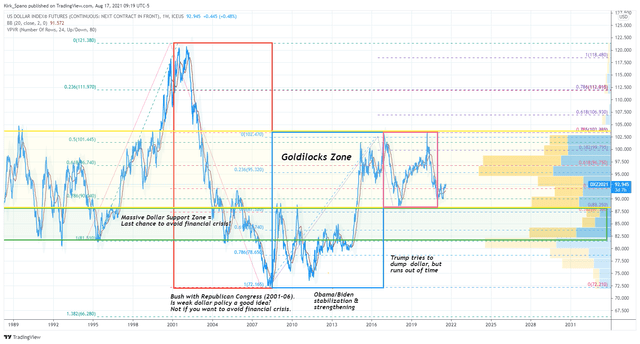 Investment Actions Now
Very simply, raise cash levels to the conservative edge of your asset allocation plan. If you are retired and conservative by nature, raising cash to 50% by trimming your weakest positions most is a great idea.
If you're more aggressive, then ramping up to a war chest of 20% cash makes a lot of sense by trimming your least attractive long-term holdings and weakest performers the past year. Often performance is a simple way to identify the weaklings in a portfolio, though clearly, it's not always that easy.
In short, tighten up your asset allocation. Risk management first.