Nasdaq: What It Is & How It Works
Nasdaq is the second largest stock exchange in the world based on market cap. It's open during the business week from 9:30 AM EST to 4:00 PM EST.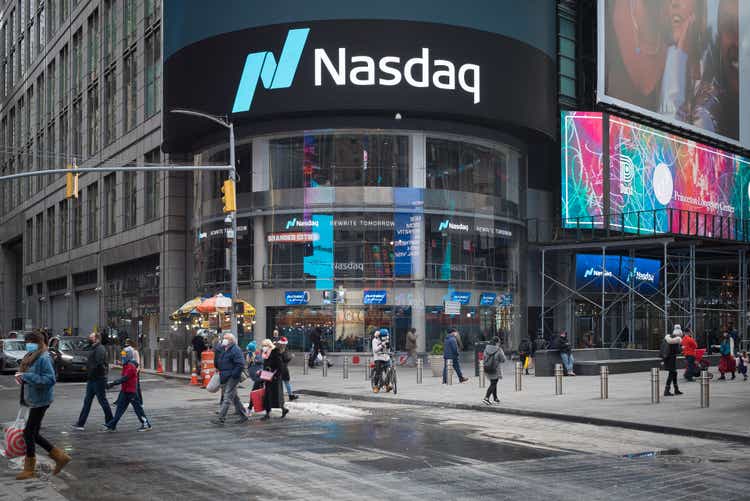 What Is the Nasdaq?
Nasdaq stands for National Association of Securities Dealers Automated Quotations. It is the world's first electronic stock exchange. All of its stocks trade through an automated network of computers. In 1971 it transformed the financial markets by eliminating the need for a physical trading floor and in-person trading.
At first, Nasdaq was simply a "quotation system" and did not host electronic trades. In fact, its name derives from that legacy. Another legacy of the Nasdaq Stock Market is that it helped tighten the bid-ask spread on stocks. This proved to be very beneficial for investors, but unpopular with brokers who saw their profits reduced due to the tighter spreads.
Fifty years after its launch, Nasdaq is the second largest stock exchange in the world in terms of market capitalization, only second to the New York Stock Exchange (NYSE).
Growth of the Nasdaq Technology Exchange
The Nasdaq is best known as the premier venue for buying and selling technology stocks. It operates in 25 markets, one clearinghouse, and five central securities depositories in the United States and Europe, and attracts some of the biggest blue-chip companies in the world. Some of the biggest names trading on Nasdaq include:
Apple (AAPL)
Amazon (AMZN)
Meta Platforms, Inc. (formally Facebook) (FB)
Microsoft (MSFT)
Starbucks (SBUX)
Tesla (TSLA)
Today, the Nasdaq is not just home to trillion-dollar tech corporations but attracts smaller high-growth companies too. As a result, stocks listed on the Nasdaq tend to be more volatile than equities listed on other exchanges such as the NYSE; but can also offer investors more potential upside.
Note: The likes of Jeff Bezos, Steve Jobs, Mark Zuckerberg and Elon Musk helped drive Nasdaq's prominence as a global technology exchange after choosing to list their company shares on Nasdaq first.
Nasdaq Composite Index vs. Nasdaq-100
The Nasdaq Composite Index covers more than 3,100 stocks, which are all listed on the Nasdaq Stock Market. The composite is as old as the exchange. The Nasdaq-100, by contrast, captures the top 100, non-financial companies listed on the Nasdaq exchange.
Given that the Nasdaq Composite is largely made up of technology stocks, strong investment returns have been seen over the last 25 years. According to Nasdaq stock market data from May 6, 2022, the Nasdaq-100 index has a 10-year return of +702.29%. Meanwhile, the Nasdaq Composite Index has a 10-year return of +570.34%.
Nasdaq Composite vs. S&P 500 & Dow Jones
The Nasdaq Composite, along with the S&P 500 and Dow Jones Industrial Index, are the primary indices that U.S. stock investors follow. Following the Dot Com Crash (2003-2020), Nasdaq outperformed the S&P 500 12 out of 18 years and outperformed the Dow Jones 14 of out of 18. From the start of the Great Recession (2008-2009), Nasdaq outperformed the S&P 500 and Dow Jones 10 out of 13 years.
What Stocks Are Listed on the Nasdaq?
As of May 2022, technology stocks made up a little over half of the Nasdaq's Composite offering. The sectors and the general percentage of the composite that they make up include:
Technology: 53%
Consumer Services: 14%
Consumer Goods: 10%
Health Care: 8%.
Financials: 7%
Industrials: 6%
Oil & Gas: 1%
Utilities, basic materials, and telecom: 1%
Source: indexes.nasdaqomx.com (numbers are rounded for simplicity)
Average daily share trading volume at Nasdaq stands at over 2 billion. In the year 2021, the exchange handled over 1,000 IPOs or Initial Public Offerings (stockanalysis.com). Over 63% of the total capital raised for IPOs over the course of 2021 were from ones listed on the Nasdaq.
The Facebook IPO Debacle
One of the Nasdaq's most prominent stocks, Meta Platforms, Inc. (formally Facebook), went public in 2012. It was the largest tech IPO in U.S. history to that date, and the third-largest in the United States ever, following the IPOs of Visa (V) and General Motors (GM). At the time, Facebook was valued at $104 billion and had some 900 million registered users worldwide.
Facebook's first day of trading on May 18, 2012 was marred by Nasdaq tech issues which caused a delayed opening and thousands of orders to get stuck in Nasdaq's system for hours. Market-making companies lost some $500 million, and in 2013, the Nasdaq exchange voluntarily paid them some $41 million.
As a result of its botched Facebook IPO, Nasdaq was forced to pay $10 million to the Securities Exchange Commission, the largest fine ever for an exchange. The exchange also paid a $26.5 million to settle a class-action lawsuit in 2015 which claimed that Nasdaq had violated federal and state laws by not disclosing technology weaknesses in its IPO systems and for failing to properly vet them ahead of the Facebook offering.
Recent Nasdaq Milestones
On February 9, 2021, the Nasdaq topped 14,000 for the first time in its history. However, it hasn't been able to hold onto those gains. On the date that this was edited (May 10th, 2022), the Nasdaq sits around 11,700.
Note: The numbers here are 'points' and not dollar values. Index points are based on the relative movement of the components in the index and not equal to dollars.
Nasdaq Listing Requirements
The exchange has rules for being listed on Nasdaq. A company must have:
Shareholders' equity of at least $2,000,000
At least 100,000 shares of public float
Total assets of $4,000,000 or more
At least two market makers
$3 minimum bid price of the company stock
Public float market value of $1,000,000 or more
Be registered with the Securities Exchange Commission (SEC)
Once an application is submitted, it may take up to six weeks for the listing to be approved.
Nasdaq Market Tiers
Once a company's stock is approved by Nasdaq, it will be listed in one of three market tiers:
Global Select Market: Companies listed in this tier must pass Nasdaq's highest standards. It is a mix of U.S. and international companies and is weighted based on market cap. International listings are surveyed annually by Nasdaq's Listing Qualifications Department, which will move them to the Global Select Market, if eligible.
Global Market: This category also consists of the stock of companies listed in the United States and internationally. It is a mid-cap market.
Capital Market: Before Nasdaq changed the name, this was known as SmallCap Market. It consists of a large list of smaller companies.
In addition to being the first to feature electronic trading, the Nasdaq was the first exchange to offer a website, the first to keep records in the cloud, and the first to sell its technology to other exchanges. In 2008 it merged with Stockholm's OMX ABO. The new company, Nasdaq OMX Group, also provides investors to the opportunity to trade in exchange-traded funds, structured products, debt, and derivatives & commodities.
Nasdaq Open and Close Times
The Nasdaq is open for trading between 9:30 a.m. and 4 p.m. ET. However, the Nasdaq also offers "pre-market" and "post-market" hours for trading.
Pre-market hours: 4 a.m. to 9:30 a.m. ET
Post-market hours: 4 p.m. to 8 p.m. ET
This article was written by
Natalie Erlich is a communications strategist, advising companies from a wide range of fields to develop effective and engaging content. Previously Natalie worked at Bloomberg as a Senior Programming Director where she developed editorial programming for conferences on technology and global affairs. In 2019 she joined Bloomberg's New Economy Forum in Beijing which brought world leaders together to drive actionable solutions towards climate change. Delegates included Bill Gates and Henry Kissinger. Natalie has served as a host and moderator of international gatherings like the YPO European Regional Conference and International Women's Forum. She also has served as a TV anchor for i24news. Natalie started her career at CNBC in New York and earned her M.S. in Journalism from Columbia University. She is a third party freelancer who receives compensation for articles commissioned by Seeking Alpha.
Analyst's Disclosure: I/we have no stock, option or similar derivative position in any of the companies mentioned, and no plans to initiate any such positions within the next 72 hours.
Seeking Alpha's Disclosure: Past performance is no guarantee of future results. No recommendation or advice is being given as to whether any investment is suitable for a particular investor. Any views or opinions expressed above may not reflect those of Seeking Alpha as a whole. Seeking Alpha is not a licensed securities dealer, broker or US investment adviser or investment bank. Our analysts are third party authors that include both professional investors and individual investors who may not be licensed or certified by any institute or regulatory body.