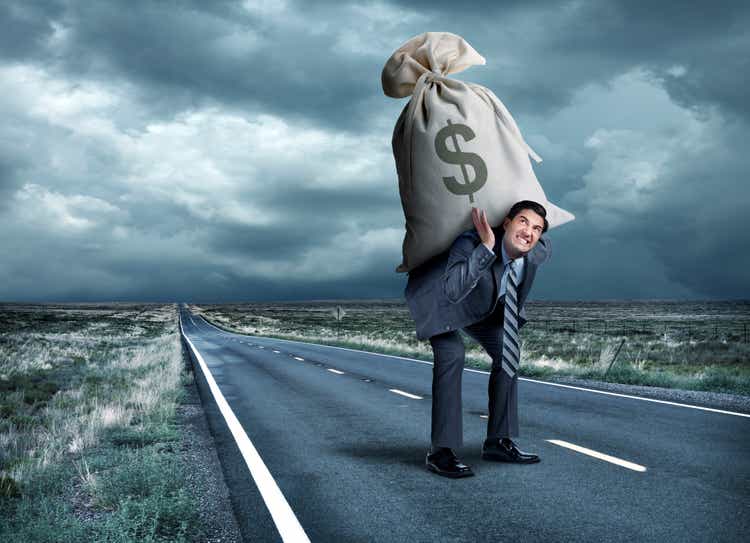 MIN, Poster Child for Over-Distributing Earnings
Last November I reviewed MFS Intermediate Income Trust (NYSE:MIN), a highly reputable fund from an impeccable fund family that invests in a solid, stable portfolio made up of Treasuries (31%) and investment grade corporate bonds (54%). All that stability and security comes with a price however, which means the portfolio earns somewhere in the 3% to 4% range, which accounts for the fund's total return averaging 3.9% based on its market price, and 3.6% on its net asset value ("NAV") over the past 10 years, and 4.8% and 3.7%, respectively, over the past 5 years.
This past year, high quality credit of the sort MIN invests in has earned modest yields, at best, providing MIN with a 1 year price return 4.9% (market price) and 1.6% on its NAV. The big difference between the two means that the underlying assets (measured by NAV) have lagged while the market price has done better, largely eliminating what had been a much larger previous price discount.
MIN's management hasn't let its modest earnings record deter it from paying out a substantial distribution, currently paying a rate of 8.58%. Although the amount of the payout has been steadily dropping for years, it still represents about twice the earnings rate of the fund, so the steady erosion of the fund's capital will likely continue indefinitely, until the fund is gone or changes its distribution policy.
This chart tells the story. On a per share basis, you will see that the net investment income ("NII") pretty steadily covers about 25% to 30% of the distribution. That's the interest the fund collects from its bond portfolio. Whatever other income it manages to earn, which would most likely be gains from trading its portfolio, hasn't amounted to much over time, since we see that GAAP coverage of the distribution (GAAP being NII plus gains or losses), while sometimes greater than NII coverage is often less, so we see that appreciation is not a big part of the earnings story for MIN. Between the two of them, NII and GAAP income, the coverage of the distribution has averaged less than 40% of the distribution for the past five and a half years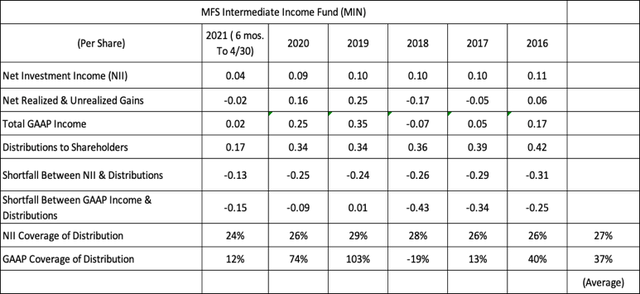 Looking Ahead: Not A Happy Ending
This table shows what happens to a fund that earns 4% and pays out 8%. It may not be a "Ponzi scheme" but it is somewhat like an annuity or an oil and gas royalty trust that has a finite amount of capital, or oil and gas in the ground, that it pays out steadily until there is no more. In our example below we start with $100,000, invest it at 4% and pay out a distribution at 8%. You will see the fund loses 1/3rd of its value and is worth only $64,000 after ten years. Of course the 8% payment gets smaller and smaller as the capital winds down as well.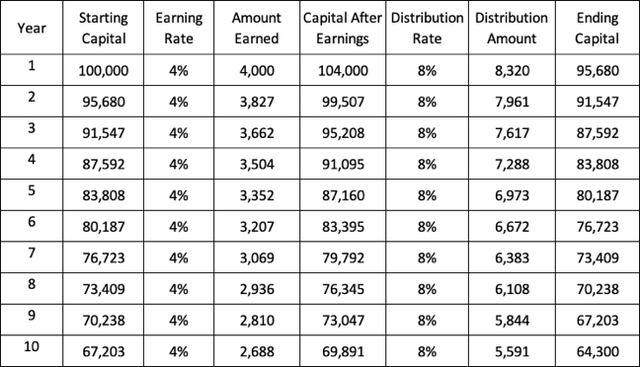 I don't know if MIN's intention is to wind itself down steadily like this or to change either its investment policy or its distribution at some point. But investors should know that this is what the future holds if the current policy continues. After 20 years at this rate, only about 40% of the original $100,000 remains.
An investor who doesn't want to have this happen to their own investment portfolio merely needs to reinvest and compound about half of the distribution. In other words, the natural yield on the portfolio a fund like MIN holds seems to be about 4%, so if they reinvest whatever amount of the distribution exceeds that, they can maintain their capital value while enjoying what a reasonable, sustainable distribution might be from a portfolio of Treasuries and investment grade bonds. It is not the 8% or so I'd be looking for from a typical Income Factory® portfolio, but it might be a reasonable income level for someone who wants the security of a Treasury and/or investment grade portfolio.
I'm not pointing this out to bash the fund, which is a fine vehicle for someone who wants a steady 4% income and has the self-discipline to reinvest the rest. But investors shouldn't kid themselves they are "earning" 8% and then be disappointed when they run out of money in 20 or 25 years.
By the way, MFS manages some fine funds paying generous yields that they actually earn, like MFS Charter Income Trust (MCR) and MFS Multimarket Income Trust (MMT), that are worth checking out.