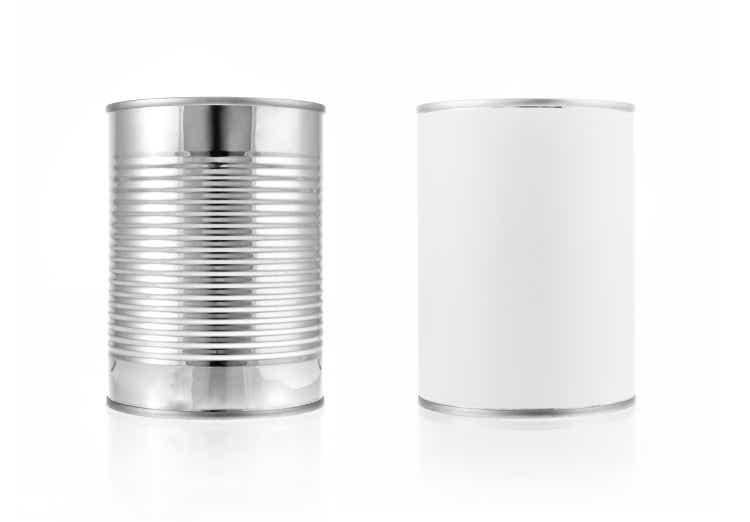 In the modern era, one thing that is unavoidable is packaging. Between the food that we eat, the drinks that we drink, the health care products that we consume, and so much more, packaging is found everywhere. And one of the most interesting companies that play in this space is a firm called Silgan Holdings (NYSE:SLGN). Even throughout the COVID-19 pandemic, Silgan managed to grow its operations. And this year, the company is off to a great start as well. Add on to this the fact that shares of the enterprise look cheap, not only relative to their peers but on an absolute basis, and it certainly makes sense for investors to consider it as a long-term value prospect.
Silgan is a major player
According to the management company that runs Silgan, the company specializes in the manufacture of metal containers, dispensing systems, and the running of metal and plastic closure operations. Today, the company serves as the largest player in the North American market for the metal food container space with just over half of the entire market's share. Between the US, Europe, and Asia, the company has 43 metal container facilities. It also boasts 44 closure manufacturing facilities spread throughout North America, Europe, Asia, and South America. In addition to this, the company has 23 manufacturing facilities throughout EU S and Canada that specialized in the manufacture of plastic containers throughout North America. Combined, it serves more than 100 countries across the globe. And its products are used in the food, beverage, health care, gardening, personal care and beauty products, and so much more.
The bulk of the revenue generated by the company, 52% in fact, currently comes from its metal container business. This, you could say, is the firm's bread and butter. However, its closures business is nothing to scoff at. Recent data shows that these particular operations account for another 34.8% of the company's overall revenue. The remaining 13.2% of revenue, meanwhile, is attributable to its plastic container manufacturing.
In the past few years, the financial condition of Silgan has only improved. In 2016, the company generated revenue of $3.61 billion. This increased each year, climbing to $4.49 billion in 2019. Then, in 2020, revenue jumped to $4.92 billion. This growth continues into the current fiscal year. In the first half of 2021, revenue totaled $2.59 billion. This represents an increase of 17.2% over the $2.21 billion the company generated in the first half of its 2020 fiscal year. It's worth noting that while management has not provided detailed guidance for revenue this year, this trend is likely to continue. Because their earnings guidance calls for profits to hit an all-time high. But more on that at the moment.
On the bottom line, Silgan has seen something of a bumpy road. You can see what I mean in the chart above, with net profits bouncing between a low of $153.4 million in 2016 to a high of $308.72 million last year. But there was a lot of volatility in between those two endpoints. What has been more consistent, however, has been operating cash flow. This number went from $394.6 million in 2016 to $602.5 million in 2020. In fact, it only had one year, the year 2017, when results came in lower than the year prior. Even more robust has been the EBITDA generated by the business. This came in at $452.1 million in 2016 and rose consistently until hitting $732.1 million last year.
The picture continues improving
This year, things are a bit bumpier, but still positive. Net income in the first half of 2021 has come out to $167.8 million. This is 23.6% higher than the $135.8 million the company generated in the first half of 2020. EBITDA followed a similar path, rising from $333.4 million to $398.2 million. However, operating cash flow has been a bit weaker. This dropped from a negative $63.8 million in the first half of 2020 to a negative $209.3 million so far this year. But you can't expect results to always be better over short periods of time.
When it comes to 2021, management is currently expecting adjusted profits per share to be between $3.30 and $3.45. At the midpoint, this would imply earnings of about $372.6 million. No guidance was provided for other metrics, but if we apply the same kind of growth to operating cash flow and EBITDA, then the former should be around $727.2 million, while the latter should be about $883.7 million.
Using these metrics, we can value the enterprise. On a forward basis, the company seems to be trading at a price to earnings multiple of 12.4. This is not great, but it's certainly not bad either. On a price to operating cash flow basis, however, the company is trading at a multiple of just 6.3. And on an EV to EBITDA basis, its multiple is 8.9. To put this all in perspective, I decided to compare the company to the five highest rated of its peers as defined by Seeking Alpha's Quant platform. I found that the companies were trading at a price to earnings multiple of between 3.2 and 14.2. And only one of the firms was cheaper than Silgan. Doing the same thing with the EV to EBITDA approach, I ended up with a range of 5.8 to 13. Once again, one of the companies was cheaper than our target, while the rest were more expensive.
Takeaway
Based on all of the data provided, it seems to me that Silgan it is a quality player in its space and a major market leader. Though the packaging industry may not seem attractive to some investors, the fundamental data provided by the firm is definitely appealing. In addition to this, the company continues to grow at a nice pace and while some bottom line results can be volatile from year to year, the overall trajectory of the business is encouraging. For these reasons, investors should definitely consider it a good prospect for the long haul.