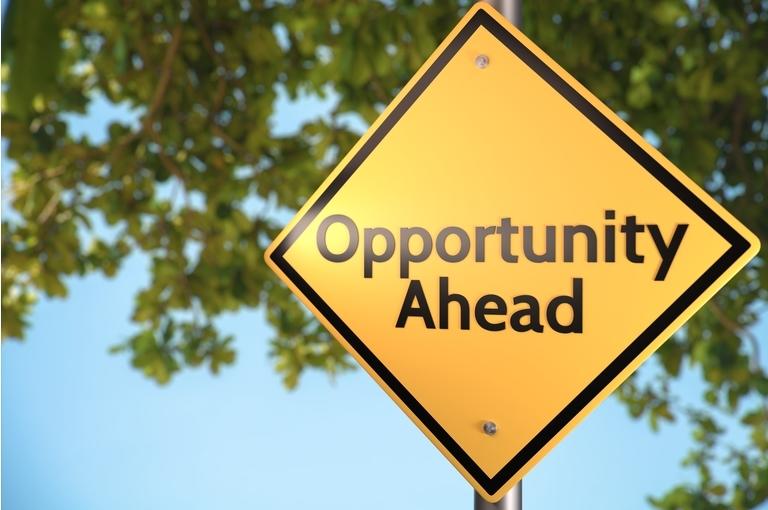 This past year has been very rewarding to most of us.
At one point, REITs were down sharply, but we took all the right actions, made timely purchases, and it paid off handsomely as REITs recovered.
Here's the performance of my personal portfolio relative to the Vanguard Real Estate ETF (VNQ):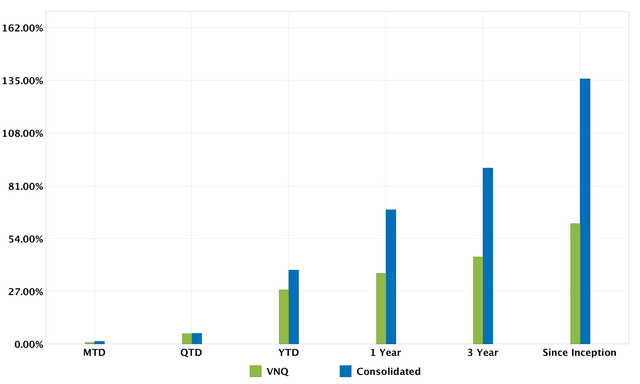 Source: Interactive Brokers. See the disclaimer at the bottom of the article.
But now that most REITs have recovered from the pandemic, increasingly many investors are losing interest in REITs and asking themselves whether now would be a good time to move that capital elsewhere.
Personally, I think that it would be a big mistake.
Despite REIT's recent surge, they still offer incredibly good value relative to most other asset classes, and that's why I still hold 50%-plus of my net worth in the REITs we recommend.
I believe that the recent surge in REIT share prices is still the beginning of a multi-year bull cycle that will push REITs a lot higher as they reprice to today's yieldless world. The easiest way to present this thesis is to first compare REITs to Treasuries, bonds, and stocks, and to finally look at what happened to real estate and REITs in other countries when their interest rates dropped to zero. Switzerland, Germany, Japan, and Singapore can serve as a guide here.
REITs vs. Treasuries vs. Bonds vs. Stocks
Whenever you assess the valuation of an asset class, it's important to remember that "everything is relative" in the world of investments.
This means that you always should compare asset classes with one another because your capital is a finite resource and every investment has an opportunity cost. In that sense, investors will decide to invest in REITs or any other asset class only if they believe that they are more attractive, relatively speaking.
For the purpose of this comparison, the investment universe can be divided into three main categories:
Fixed income
Equity
Alternatives
Fixed-income includes treasuries and bonds. Equities include stocks. And alternatives include things like REITs.
Below we review each of them:
Treasuries
When the pandemic took off, the Fed quickly lowered interest rates to 0%. Not only that, but it also made clear that there wouldn't be any substantial rate hikes for years.
As a result, Treasuries (IEF) have repriced at incredibly low yields. The 10-year Treasury today only pays a 1.29% yield, which is near its lowest ever: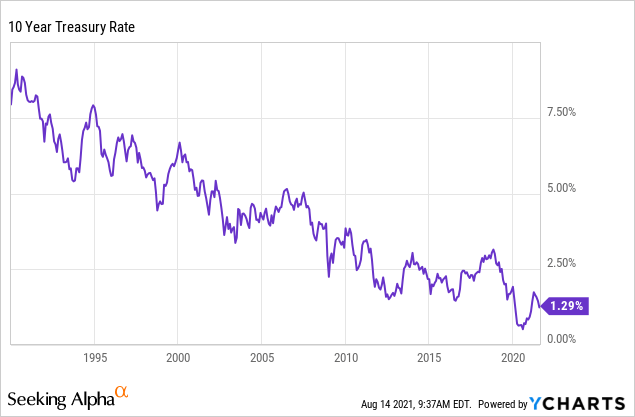 Despite yielding so little, you're still exposing yourself to the risk of accelerating inflation in a world of endless money printing.
If you remove taxes and inflation, you're essentially left with a negative real return and an extremely poor risk-to-reward going forward.
Therefore, fixed-income investors have been forced into corporate bonds to seek better returns.
Corporate Bonds
Historically, investors have earned higher interest rates by investing in bonds because you get compensated for accepting credit risk.
This remains true today, but corporate bonds (VCLT) are only marginally better than Treasuries. Right now, long-term corporate bonds yield only 3%: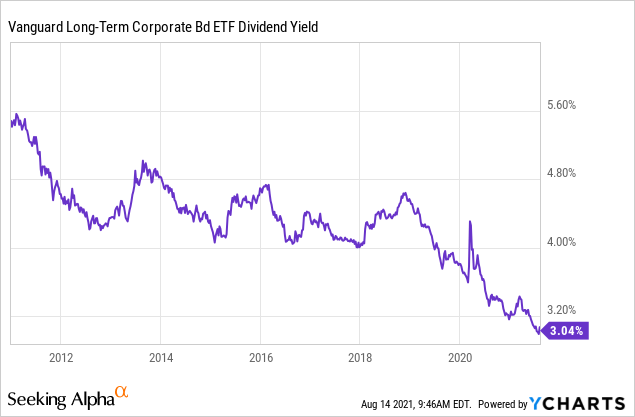 If you remove 1/3 to taxes, you have a 2% net yield.
Then remove 2% to inflation, and you are left with a 0% net real yield.
And then you still haven't accounted for any potential credit losses, which could be historically high in the coming years because many companies suffered from the pandemic, were forced to take on more debt, and risk losing their investment-grade ratings.
So while your returns might be somewhat better than when investing in Treasuries, you won't earn attractive returns by investing in corporate bonds either.
This 0% interest rate environment has forced investors to allocate more heavily into stocks in hopes of better returns.
Stocks
Stocks are trickier to assess because there are more variables to consider, but perhaps the most important variable is the price that you are paying.
That's because:
"A too-high purchase price for the stock of an excellent company can undo the effects of a subsequent decade of favorable business developments." Warren Buffett
Unfortunately, with interest rates dropping to zero, investors have rushed into stocks and pushed their valuations to rather extreme levels.
Historically, stocks have returned ~8% in a typical year, but the S&P 500 (SPY) has now nearly doubled investor's money in just two years, despite going through a major crisis: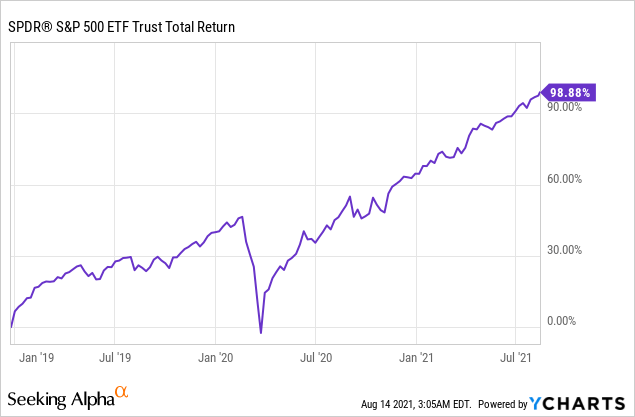 If you go further back, stocks have now more than quadrupled investor's money over the past 10 years: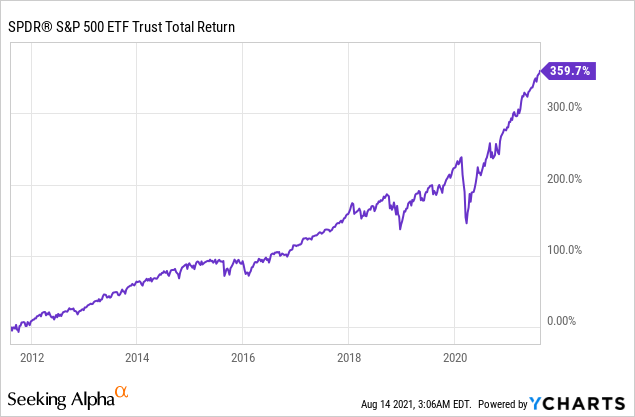 These returns are far above historical averages and came largely from expanding valuation multiples, which are now 161% above historic averages, and even higher than the peak of the dotcom bubble by some measures: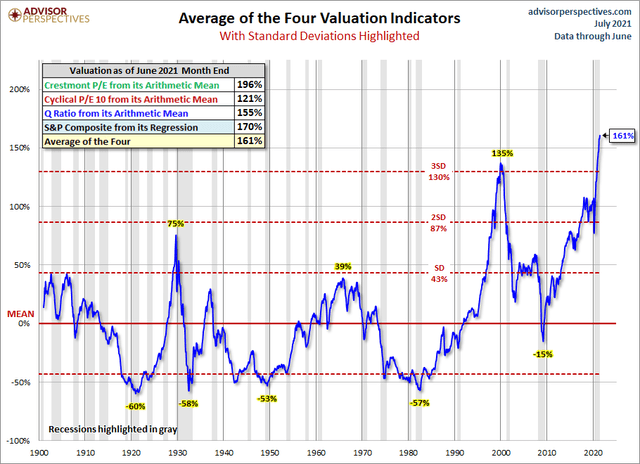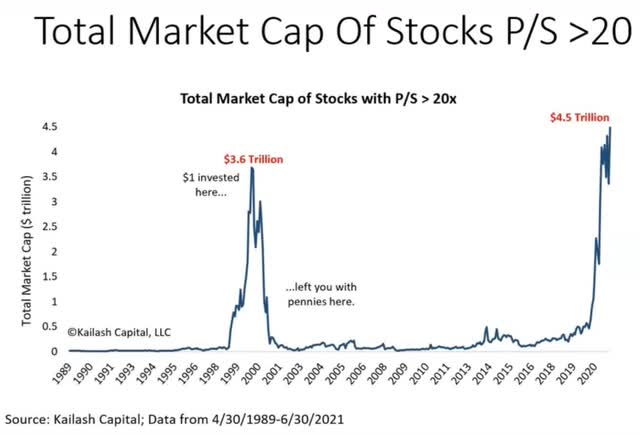 Source: Advisor Perspectives & Kailash Capital
Again, this is despite the pandemic, the risk of surging inflation, rising corporate taxes, and historically weak balance sheets.
Can this keep going?
It sure could. In fact, I would much rather invest in the S&P 500 than in bonds.
But I would expect a lot lower returns going forward because we're already paying rich prices and valuations cannot keep expanding forever.
Historically, periods of high returns have commonly been followed by periods of low returns, and this time is unlikely to be different.
The bottom line is that most traditional financial assets are now priced for disappointing returns and this is why many believe that we are going into a low return environment.
Ray Dalio, the biggest hedge fund manager in the world, thinks that we may face a lost decade with near-0% returns. This may sound like fear-mongering, but lost decades are actually quite common and we are long overdue for one to occur: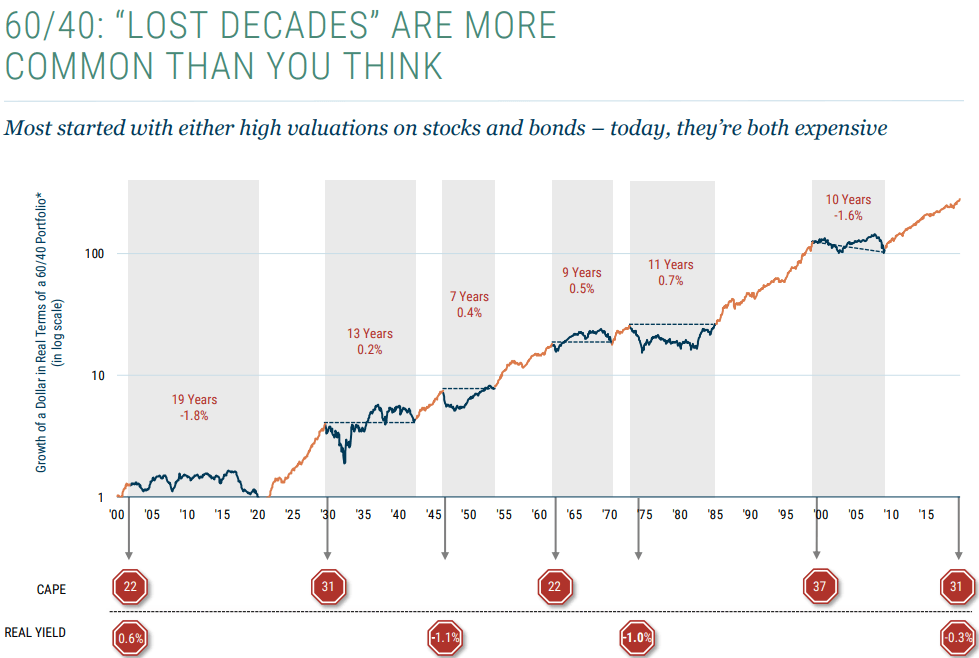 Source: GMO
Jeremy Grantham, another legendary hedge fund manager, has predicted even worse with negative annual returns for most stocks and bonds over the coming seven years: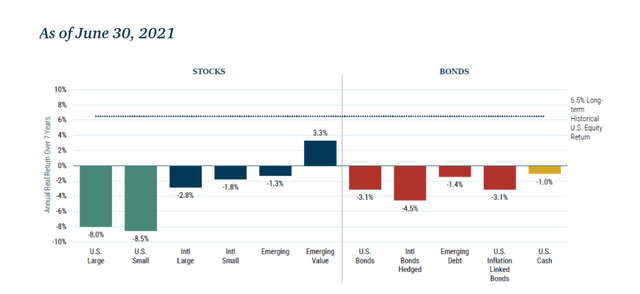 Source: GMO
Because of that, investors have rushed to alternative asset classes like private equity, cryptocurrencies, infrastructure, real estate, SPACs, and also REITs (VNQ) to seek refuge.
As a result, their valuations have expanded, but as we will show below, REITs remain undervalued and still offer a lot more upside in a yield-compressing world.
REITs
Unlike stocks and bonds, we think that REITs have a predictable path to attractive total returns going forward.
From a combination of dividend payments and growth, most REITs have the potential to deliver 8%-12% annual total returns.
Take the example of VICI Properties (VICI): It pays a near 5% dividend yield and it's able to consistently grow at 6%-8% per year via rent increases that are already agreed in its 15-20 year leases, and the acquisition of new properties that it finances with retained cash flow, cheap debt, and equity issuances at a premium to NAV. The business has the potential to deliver predictable 12%-plus annual returns with great consistency and relatively low risk.
That on its own is highly attractive in today's low return environment. Even ignoring any valuation expansion, I think that VICI-type REITs are likely to generate higher returns with lower risk than most other stocks going forward.
But as we explain below, the thesis gets even better:
Why REIT Valuations Remain Opportunistic
REITs are publicly-listed real estate investments. Therefore, the best way to evaluate their valuations is to look at their prices relative to the value of the real estate they own, net of debt.
We call this the Price to Net Asset Value ratio, or P/NAV in short.
For most of the past year, REITs traded at large discounts to NAV because of pandemic fears, but after their recent recovery, REITs are now again priced at near their NAVs.
Most investors would stop here and conclude that REITs have become fairly valued. But this would ignore that NAVs are variable and evolve over time, and in the post-pandemic world, we expect NAVs to rise substantially due to compressing cap rates. The best way to explain this is to look at a case study on real estate valuation:
Case Study:
Real estate investments are valued based on the income that they generate. The two important variables here are the net operation income or NOI in short, and the capitalization rate, or cap rate in short.
As an example, if a property generates $100,000 of annual NOI and you value it with a 6.5% cap rate, then the property is worth $1,538,500.
100,000 / 0.065 = 1,538,500
With this calculation in mind, you will note that lower cap rates lead to higher property values. If you valued this same property with a 5% cap rate, it would be worth $2,000,000.
100,000 / 0.05 = 2,000,000
That's a near $500,000 jump in property value, and since real estate investors commonly finance half of their investment with debt, this small drop in cap rate would have nearly doubled their equity value. If it was a REIT, it would justify a near-2x higher share price.
So the important question is:
Will Cap Rates Compress?
Yes, they will, and in fact, they already are. REITs are currently reporting their second quarter results, and a common theme is that cap rates are compressing across the board. Here are some quotes from various conference calls:
Camden Property Trust (CPT): I think with cap rate compression the way it is, and that's why we're selling assets. And cap rates have gone down.

BSR REIT (OTCPK:BSRTF): The REIT's NAV has increased 21.9% year-over-year to $14.77 per unit. Anytime you can underwrite the higher rent growth, it's a healthy cap rate compression environment.

Boardwalk (OTCPK:BOWFF): Continued low interest rates, the resiliency of the multi-family asset class, and the opportunity of self-regulated revenue growth on the foundation of high affordability have lowered cap rates for assets in Western Canada. In addition, recent market transactions in our target geographic expansion markets of Kitchener/Waterloo, Victoria, and Greater Toronto Area have seen further cap rate compression, providing Boardwalk's diverse portfolio, an organic NAV growth opportunity going forward.

DIC Asset (OTCPK:DDCCF): Prime yields in the office segment fell once again in six of the top seven cities, with average prime yields dropping by 11 basis points year-on-year to 2.78%. With demand for core products still far outstripping supply, estate agents expect initial yields to fall even further during the course of the year.

VICI Properties (VICI): The days of the 10% cap rate transactions are over. We agreed to acquire this iconic world-class asset in the heart of the Las Vegas Strip at a 6.25% cap rate. And just a few weeks ago, another real estate acquisition was announced in Las Vegas with Blackstone agreeing to acquire City Center's real estate from MGM at a 5.5% cap rate.

Spirit Realty Capital (SRC): The final factor that has kept Spirit on track to do what we say is our acquisition platform, which since we rebooted the company post spin-off, has delivered consistent acquisition volumes and yields even in an environment of increasing competition, and compressing cap rates.

Boston Properties (BXP): I think the capital for office real estate for anything that's leased with a long weighted average lease term or certainly anything life science is robust, highly competitive. I could argue cap rates are going down. Cap rates are arguably declining for assets with limited lease rollover and anything life science related, given lower interest rates.

STAG Industrial (STAG): In conjunction with the update to acquisition volume, we have revised our stabilized cash cap rate guidance to a range of 5.25% to 5.75%, a decreased equal to 25 basis points at the midpoint. Cap rates have come down but with the decrease in cap rates, we're seeing better internal growth with these acquisitions, and you're starting to see that flow through our numbers as well. So certainly, more competition.

Prologis (PLD): But the most important thing affecting margins is what Gene mentioned a little while ago, which is that cap rates are compressing and rents are growing faster than land cost and replacement costs are going up.

Sun Communities (SUI): The MH and RV all falling generally for us in the 4% to 5% cap rate range, and we're seeing them dip even sub-3% in some cases. So a lot of capital looking to acquire fewer and fewer available assets out there today.

Brixmor Property Group (BRX): From a cap rate perspective, early, we've seen cap rate compression, particularly over the last quarter, we've seen multiple deals for grocery-anchored assets into the low 5s and even into the mid-4s for certain assets.
Why Are Cap Rates Compressing So Much?
It's quite simple: We live in a yiedless world, but a lot of investors absolutely need income.
Think about all the pension funds, retirees, endowment funds, insurance companies, banks, etc. They need income to survive and there are no other asset classes of scale that provide as much income.
Therefore, increasingly many investors are forced into real estate (and by extension, REITs), and with more capital chasing a limited number of assets, investors are forced to bid up property prices, causing cap rates to compress.
This already is happening, but what we have seen so far is just the tip of the iceberg. Over the coming decade, Brookfield expects institutional investors to shift aggressively toward real assets with 2-3x more capital chasing a limited number of assets: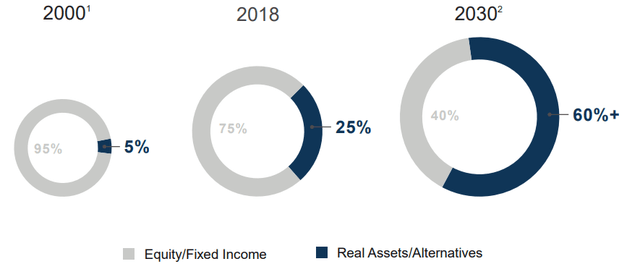 This has the potential to push cap rates a lot lower. Here's what Bruce Flatt, CEO of Brookfield, said about this topic in a recent interview:
"All central banks took their interest rates to 0%, and when you do that, you work backward on repricing everything else. Multiples for businesses are to be higher. And the cap rates for real estate are coming down, which means that the values are going up. The alternative is possibly owning a Treasury bond and then you are doomed to 1%.

The repricing of real estate has not even started yet... Right now, assets are not trading because people are not comfortable. Even if you have a building that is let for 20 years, people are confused by what that really means. But once this clears, and interest rates are at a new low, cap rates will start coming down, and valuations will go way up.

A cap rate in a city center office building might have been 4% before, and it's probably going to 2%. If we are in a 0% interest rate world and people believe that we will be in a 0% interest rate world for a while, and the Fed has told you that, then I see no reason for a long-tailed asset with 20 years of cash flows not to be at around 2%.

If that building was selling at a 4% cap rate prior to the pandemic and fetched $1 billion, it would fetch north of $2 billion at a 2% cap rate. That's one billion profit."
Skip to the 20:34 - 23:30 minute section for more details:
If you're a US investor, this may sound unbelievable and too aggressive.
But if you're a foreign investor, this may seem like "déjà vu."
Many European and Asian countries have had near-0% or even negative interest rates for a while already, and what Bruce Flatt describes, is exactly what happened over there.
Suddenly investors had no other options to earn income, were forced into the real estate market, cap rates compressed to exceptionally low levels, and property values exploded to the upside.
In DIC Asset's last conference call, they explain that Class A office buildings now sell for 2.7% cap rates in Germany. Apartment communities are priced even lower at near 2% cap rates.
In comparison, US cap rates are today a lot higher, but now that US interest rates have dropped to 0%, will cap rates compress closer to European levels?
We believe so and this is very bullish for REITs. It will lead to large increases in property values, and as REIT NAVs grow, their share prices will rise as well. Over the last year alone, BSR REIT saw its NAV per share grow by 22%. Similar growth is coming to other REITs as well.
Bottom Line: REITs Offer Predictable Double-Digit Return Potential in a Low-Return World, Plus The Potential For Significant Upside From Cap Rate Compression
Most traditional financial assets are today priced for disappointing future returns.
Treasuries and bonds are priced for negative real returns.
Stocks might do better, but they already have repriced at much higher valuations, which will likely hurt their returns going forward.
In comparison, REITs are still barely recovering from the COVID crash and their past five-year returns have been below average: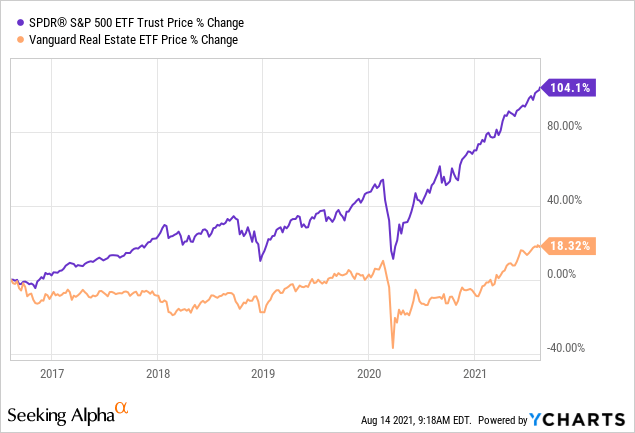 Stocks already have repriced to the 0% interest rate world, but REITs haven't due to temporary COVID fears that are now slowly fading away.
As cap rates compress lower, a number of REITs still offer significant upside potential, in addition to the double-digit annual returns that they will generate from dividend payments and cash flow growth.
For this reason, I continue to invest 50%-plus of my net worth into REITs. I simply don't know a better risk-to-reward in today's market.