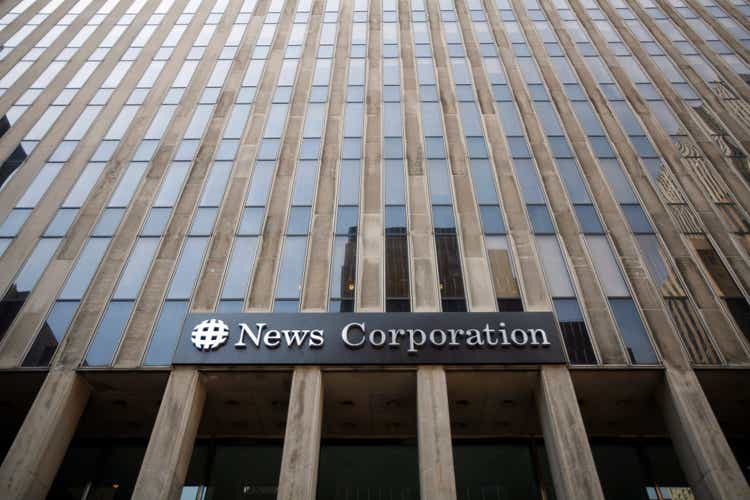 The News Corp. (NASDAQ:NWSA) acquisition spree continues with the pending acquisition of OPIS, which should provide subsidiary Dow Jones with another subscription-based data revenue stream. Plus, with OPIS's revenues having grown consistently through the cycles (think GFC, FY14/15 oil downturn, and the COVID pandemic), its addition further enhances the defensiveness of the overall Dow Jones business.
The purchase price also screens very favorably at <15x FY21 EBITDA after accounting for the tax benefits and before any potential synergies, so the projected EPS accretion in the mid-single digits (ex-synergies) is impressive, in my view. The stock has dipped slightly in recent weeks, but I think my thesis (see prior article here) is intact – adjusted for REA (which still comprises a substantial portion of the News Corp. market cap) and the net cash per share, the NWS "stub" is on offer at an undemanding ~3x fwd EBITDA.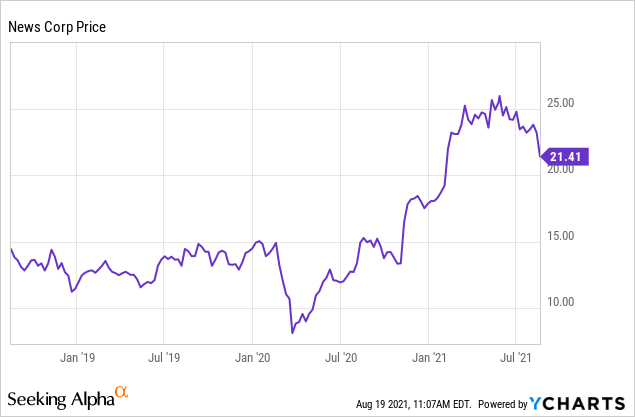 Shopping Spree Continues with OPIS Acquisition
News Corp. has proposed to acquire Oil Price Information Service (OPIS), a leading end-to-end pricing and analytics provider for the energy industry, for $1.15bn in an all-cash deal funded through existing cash reserves. Post the April ~$1bn debt issuance, News Corp. has now deployed ~$2bn in cash across four acquisitions since March, collectively adding ~$405m/year of revenue generation focused on "high quality" segments, which currently account for the vast majority of FY21 EBITDA. OPIS is also the second bolt-on for the Dow Jones business (after IBD), with Digital Real Estate and Book Publishing also most recently beefed up by the acquisitions of Mortgage Choice (via REA) and Houghton Mifflin Harcourt Books & Media (HMHC), respectively.
The implied transaction valuation might seem expensive at first blush given the $1.15bn purchase price implies an EV/EBITDA of ~18x based on FY21 numbers. That said, News Corp. expects to receive an annual tax deduction over the next 15 years as part of the transaction, with an estimated present value of ~$180m. After taking the tax benefit into account, the implied acquisition multiple moves three turns lower to ~15x fwd EBITDA, which compares favorably to comparable transactions.
For instance, IHS Markit (INFO) acquired OPIS for an implied ~17x fwd EBITDA multiple in FY16, while the S&P (SPGI) and IHS merger multiple was at ~28x EV/EBITDA pre-synergies when it was announced in FY20. Plus, key trading comps S&P and IHS currently command a wide premium with EV/EBITDA multiples at 23-25x.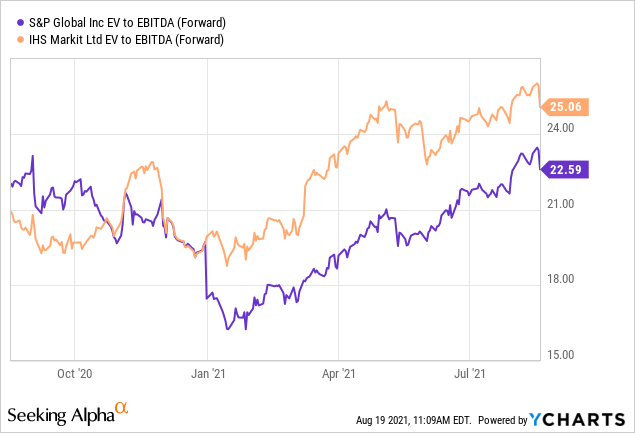 More Sensible and Opportunistic Dealmaking with OPIS
Per News Corp., the proposed acquisition of OPIS will help the Dow Jones business achieve several key strategic goals. These include building out a leading global business news and information platform as well as an additional growth engine within the DJ Professional Information Business. Plus, integrating OPIS should also enhance the Dow Jones revenue base given the high digital subscription revenues (~95% recurring), as well as the low churn and capital requirements.
So far, no synergies have been quantified, which sets things up very nicely given the clear potential for revenue synergies from the Dow Jones salesforce cross-selling the OPIS product. From here, the bar has likely been set so low that any delivery of synergies would drive upside to earnings estimates, in addition to further lowering the acquisition multiple. In my view, the deal's economics reflect the somewhat opportunistic nature of the purchase - given that the divestment of OPIS is essentially a requirement as part of the IHS merger with S&P Global, News Corp. was likely presented with an opportunity it would not have otherwise had. Thus, the OPIS acquisition remains subject to the successful completion of the IHS/S&P merger, which is targeted to close by year-end.
Emerging Signs of a More Shareholder-Friendly Capital Management Approach
Interestingly, News Corp. noted on its latest quarterly call that its robust $2.2bn cash position has prompted it to actively review its capital allocation policy, with the focus increasingly turning toward buybacks. While the accretion potential from a buyback is not quite as clear following the stock's YTD run, I view this change in tone as a positive development.
"On buybacks, obviously, we're indicating that there's a more vigorous, livelier discussion about capital allocation. For a start, we have more capital to allocate, given the strong cash generation in the company over the past year and for the foreseeable future. The acquisition of Opus does not change that thinking, which is at an advanced stage. So I'll reiterate what we said earlier, we are actively reviewing our capital returns policy with a greater focus on buybacks." – 4Q21 Earnings Transcript
Another key shift on capital allocation is that News Corp. is also now considering the optionality of its Foxtel asset. While consumer willingness to pay for content has been surprisingly resilient thus far, and cannibalization by Kayo has been limited, the path forward for Foxtel's subscriber growth seems murky. In particular, the revenue line remains under pressure amid the loss of high-ARPU cable/satellite customers, and the adverse COVID-driven impact on Commercial & Advertising revenues is likely sticking in the years to come as well.
That said, the rest of NWS's media assets, which generate most of its proportionate FY22 EBITDA, still offer good exposure to catalysts, including the broader consolidation in Australia/USA and potential asset sales, as well as earnings upside from cost initiatives.
Valuation Disconnect Remains Despite Recent M&A
The OPIS transaction strikes me as a good use of capital by NWS, with the favorable transaction multiple (ex-synergies) relative to comparable acquisitions reflecting management's savvy dealmaking prowess. Plus, the strategic rationale is sound as the deployment of funds should boost the Dow Jones business's B2B growth and the quality of its revenue generation. Given the strong earnings momentum and undemanding implied valuation post-completion of recent acquisitions (i.e., HMH Books & Media, IBD, Mortgage Choice, and OPIS), NWS remains a compelling idea, in my view.
| | |
| --- | --- |
| USD 'Million | FY22e |
| Current Equity Value | 12,814 |
| (-) REA stake - at mkt value | 9,898 |
| (-) Net Cash | 975 |
| = Implied ex-REA Stub Equity Value | 1,941 |
| Implied EV/EBITDA multiple | 2.7x |
Source: Company Filings, Author's Est