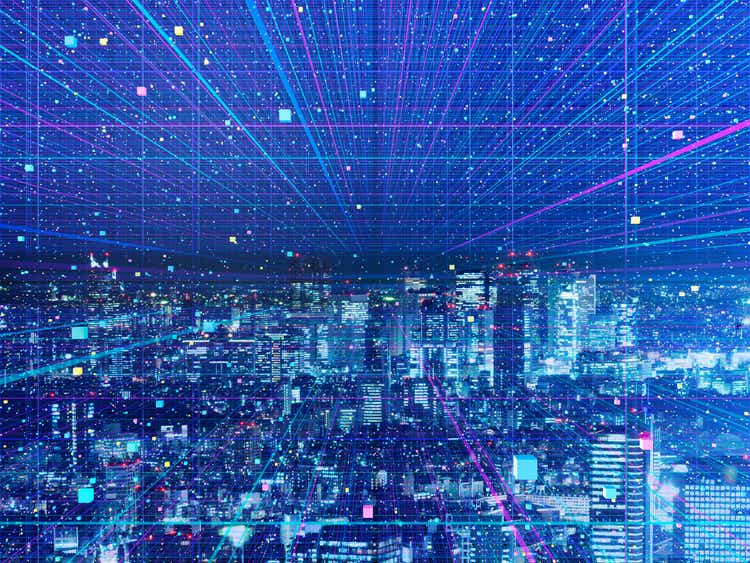 iShares Russell 1000 Growth ETF (NYSEARCA:NYSEARCA:IWF) is an exchange-traded fund that seeks to provide investors with exposure to companies with above-average earnings growth potential. The benchmark index is the Russell 1000 Growth Index, that as of July 31, 2021 had a reported price/book ratio of 14.17x, a dividend yield of just 0.70%, and a price/earnings ratio (excluding negative earnings) of 36.33x on a trailing basis. Five-year EPS growth was 26.57% (above the primary Russell 1000 index's 17.29%), and with 496 constituents (as compared to the Russell 1000 index's 1,022).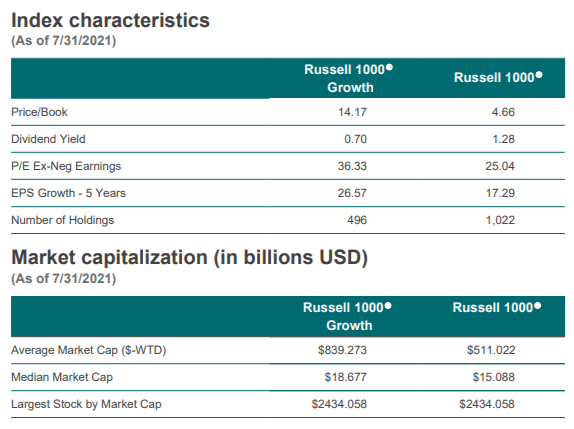 That price/earnings ratio looks expensive, especially considering that negative earnings are excluded, although we would expect a more expensive-looking ratio here given the strategy of specifically selecting higher-growth companies, whose valuations are built largely on future profits. iShares' own factsheet for the IWF fund indicates a price/earnings ratio of 46.26x and price/book ratio of 14.29x (implied return on equity in the region of 30%).
Morningstar data suggests a potential three- to five-year (forward) average earnings growth rate of 17.17%. The price/book is 11.03x (a more recent update of price), with a forward price/earnings ratio (likely based on operating earnings, i.e. EBIT) of 30.18x. We will work with these figures in making some valuation assumptions later. The forward return on equity is therefore implicitly up to 36.5%, which is very high. But bear in mind this is skewed heavily by some of the most profitable names that the fund is exposed to, including Apple Inc. (AAPL).
IWF invests in some of the most famous tech names in the world, including Apple Inc., Microsoft Corp (MSFT), Amazon.com, Inc. (AMZN), Facebook, Inc. (FB), Alphabet Inc. (GOOGL) (GOOG) and Tesla, Inc. (TSLA). These names represent, in order of size, the largest holdings of IWF's portfolio. Together they represented 39.84% of the fund's total exposures as of August 18, 2021 (reported by iShares). This is a very high degree of concentration in some well-known names, making IWF essentially a tech stock ETF. Indeed, the fund is comprised of about 40% technology stocks (by category at least; these are characteristically faster-growth companies).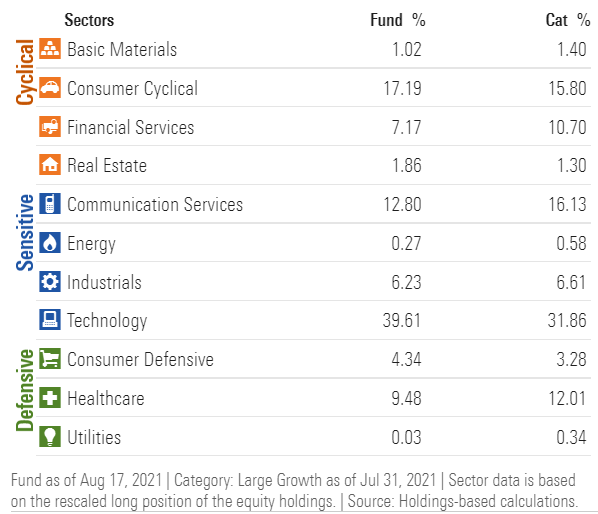 Intuitively, this makes IWF seem like some kind of cross between an S&P 500 tracker and a Nasdaq-100 tracker. As shown below, IWF has beaten SPY (a popular S&P 500 tracker) over a long period of time. (The chart illustrates the ratio between IWF and SPY, although admittedly this is not a 'total return' chart, including dividends, etc.)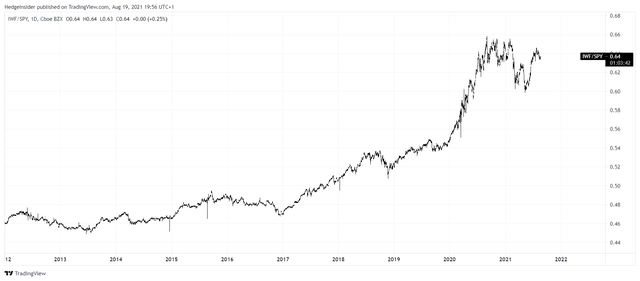 QQQ, a Nasdaq-100 tracker, is also popular; but the story is different. The ratio between these funds illustrated below reflects IWF's under-performance (although IWF is performing well since Q1 2021).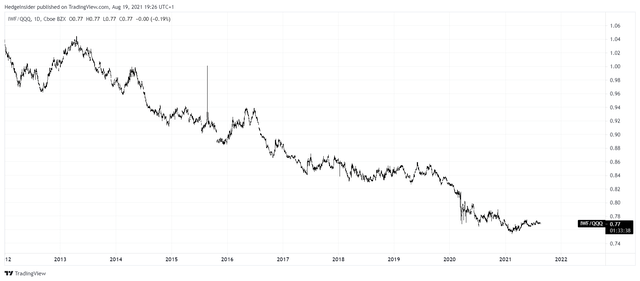 Using the data above, combined with Professor Damodaran's base mature market equity risk premium of 4.31% and the current 10-year of 1.24% at the time of writing, it looks like IWF is probably within the realm of fair value. That is, if we base the valuation off near-term projections, and expect those projections to be met. And further, we have not added any additional risk into our ERP estimate beyond the base ERP recommendation of 4.31%, although this is probably fair as IWF is not a high-beta fund relative to the broader market (its beta is roughly 1.00x, i.e. volatility roughly matches the broader indices). And its level of diversification is comparable with similar funds.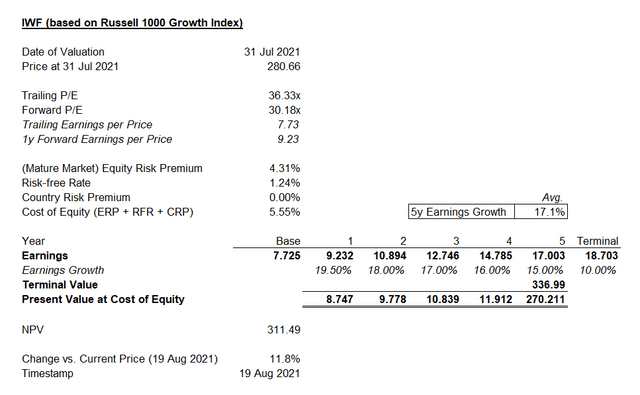 The expense ratio is 0.19%, as compared to QQQ's 0.20%. So, both funds are popular and competitive, but QQQ tends to perform better over the long run albeit with even greater concentration than IWF (QQQ has 102 holdings, as opposed to IWF's 497). While more concentration can create more risk, this has actually seemed to dilute IWF's returns over the long term. QQQ is also exposed to the same kind of investing model as IWF; high earnings growth potential companies, but market-cap weighted instead, as opposed to being based on an unsophisticated filter of the primary Russell 1000 Index.
QQQ has no filter, and TSLA (I regrettably single out as an example) also represented a full 3.9% of the fund as of June 30, 2021 (the most recent factsheet). If we agree that TSLA is probably overvalued on fundamentals, we would also agree that QQQ (like IWF) is therefore not safe from large misvaluations, as the strategy is "blind" rather than being based on some kind of meritocratic stock selection process.
Nevertheless, I think I prefer the concentration of QQQ on balance, because the 'winner-takes-all' market-cap weighted approach has simplicity. IWF in isolation is not particularly appealing; it could be viewed as an alternative to QQQ, but for that matter it does not seem to provide investors with any meaningful solution to tech investing that is not already well served by other funds (i.e., like QQQ). While I have long-term optimism in technology investing, I would be neutral on IWF for these reasons.