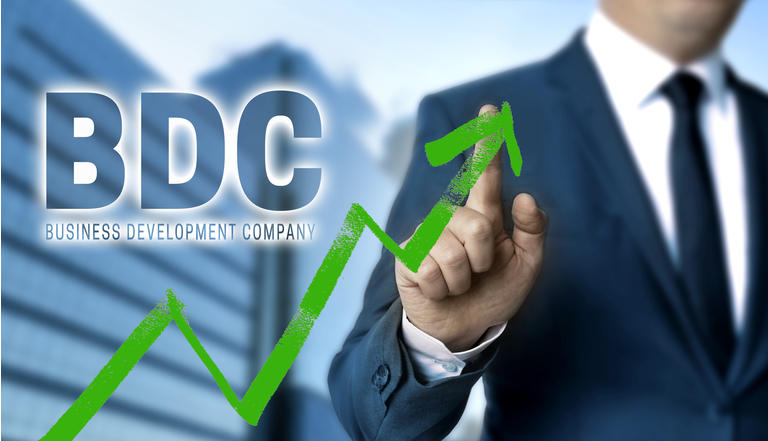 Eight months ago, I wrote about the VanEck Vectors BDC Income ETF (NYSEARCA:BIZD), an index ETF focusing on BDCs. Conditions have materially changed since I last covered the fund, so I thought to do an update.
Eight months ago, I said that the fund's strong 9.8% distribution yield, and possibility of substantial capital gains as economic conditions improved, made it a buy.
I was proven right, with economic conditions soon improving, and BIZD posting strong capital gains.
Today, the situation is somewhat different.
BIZD's distribution yield is now lower, at 8.0%. Still quite high, but these are not high-quality holdings, and this is not a safe, growing distribution.
BIZD's potential capital gains are also lower, as BDC prices and valuations have already normalized. Speculators could always drive prices higher, but the fundamentals for further growth are simply not there.
At current prices, valuations, and yields, BIZD seems fairly valued, and is a hold for me.
BIZD - Basics
Sponsor: VanEck
Underlying Index: MVIS US Business Development Companies Index
Dividend Yield: 8.0%
Management Fee: 0.4%
Total Returns CAGR (Inception): 7.1%
Holdings: 25
BIZD - Overview
BIZD is an index ETF tracking the MVIS US Business Development Companies Index, a U.S. BDC index.
BDCs are financial institutions which provide funds, generally loans but also equity, to small and medium-sized enterprises. BDCs are generally leveraged, funding their loan portfolios with both equity and debt.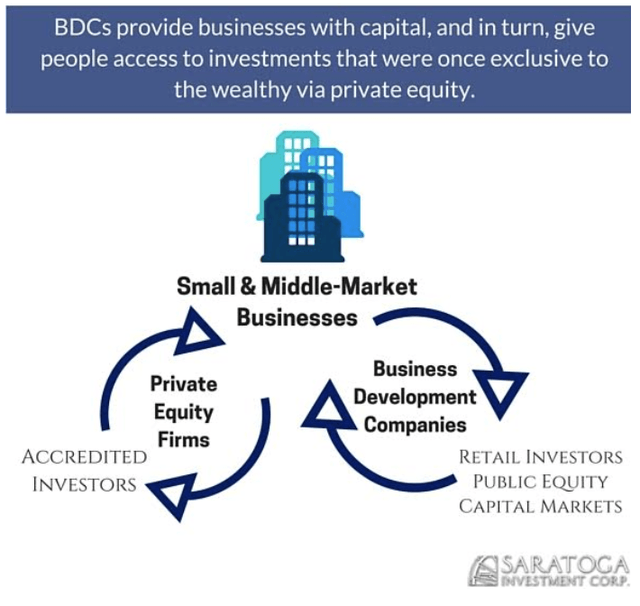 (Source: Saratoga Investment Corporation)
BIZD and its underlying index hold all BDCs meeting a basic set of liquidity, trading, and size criteria, so the fund is appropriate for investors looking for exposure to the BDC industry.
BDCs are generally quite risky, due to their lower-quality holdings, use of leverage, and undiversified revenue streams. BDCs generally see declining NAVs, prices, and distribution cuts during downturns and recessions. BIZD itself significantly underperformed during 1Q2020, the onset of the coronavirus pandemic.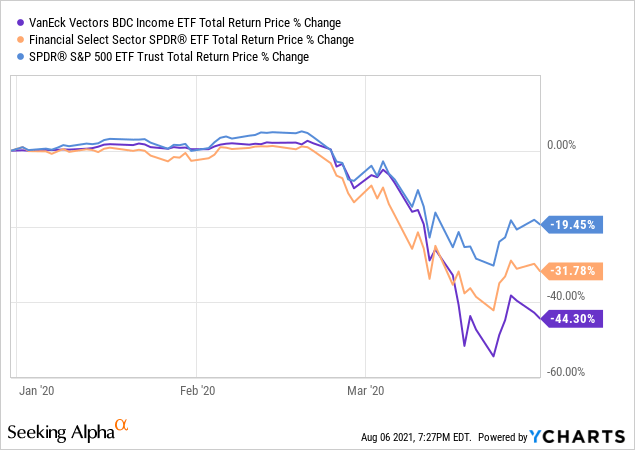 As BDCs are quite risky, BIZD is an inappropriate investment for more risk-averse investors looking for safe, dependable distributions, prices, and NAVs.
As BDCs are a relatively niche, small, industry, position sizes should be kept relatively small too. This is not a diversified equity or bond fund, so plan accordingly.
BIZD - Previous Investment Thesis
BDCs are quite risky, but potential returns are quite strong too. I said as much in my previous article on the subject.
In that article, I argued that BIZD offered investors strong returns for two key reasons.
First, BIZD was yielding 9.8%, a very high amount. BIZD's yield was quite strong, much higher than that of its peers, and quite a bit higher than the fund's 9.0% pre-coronavirus average.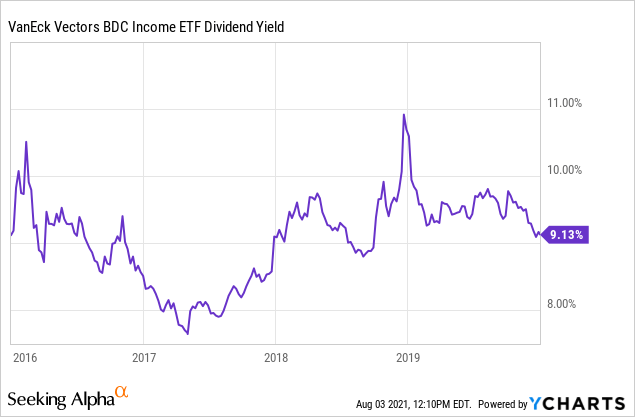 Second, BIZD's price, NAV, and valuation were all quite a bit lower than average or expected, which could potentially lead to strong capital gains.
BIZD was trading around $16 a share pre-coronavirus, collapsed to about $12 following the pandemic, and was still down at $14.75 in early 2021. Although the low price made some amount of sense, BDCs are very risky and economic conditions remained depressed, it seemed clear that prices would recover once the economy more fully reopened and recovered.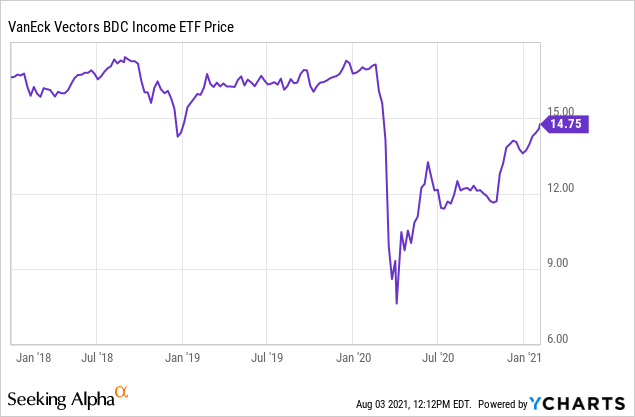 BIZD's valuation was also comparatively cheap. The fund was trading with a PB ratio of 0.90, meaning that the fund was sporting a 10% discount to NAV. As with BIZD's yield, a depressed valuation made some amount of sense, but I did think valuations would normalize as economic conditions improved.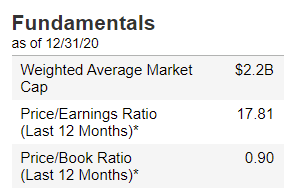 (Source: BIZD Corporate Website)
BIZD was a high-risk high-return investment opportunity, but potential returns seemed to outweigh risks, and so the fund seemed like a compelling investment opportunity.
I was proven right, with BIZD moderately outperforming soon after. BIZD's performance was mostly driven by bullish market and industry sentiment, with the fund matching the performance of the broader financial industry.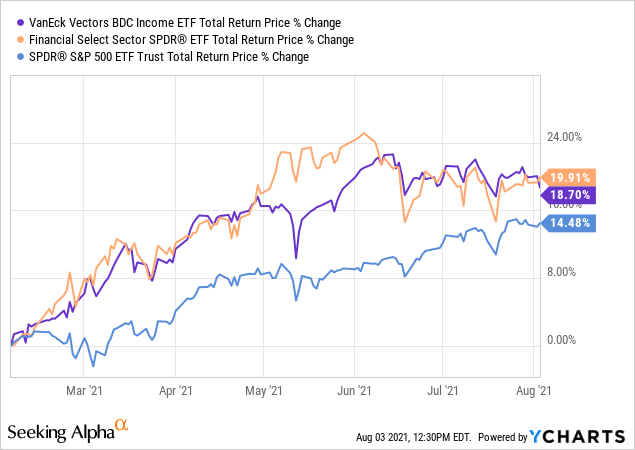 BIZD- Current (Lack Of) Investment Thesis
BIZD was a fantastic investment opportunity in prior months, but conditions have changed for the worse. As such, I now rate the fund a hold.
The reason for the change in sentiment is simple: BIZD's investment thesis has played itself out. Share prices are up, yields are down, and so the possibility of outsized gains is no longer there.
BIZD's dividend yield has decreased to about 8.0%, quite a bit lower than the fund's 9.0% pre-coronavirus average.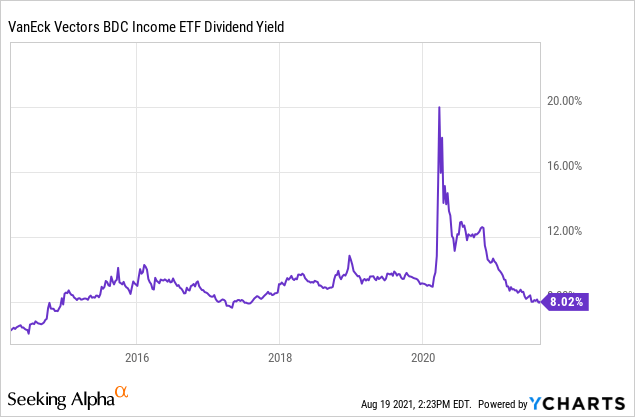 BIZD's yield remains quite strong, but I'm not convinced that it properly compensates investors for the fund's riskiness.
Remember, BIZD focuses on low-quality, risky holdings. The fund significantly underperforms during downturns and recessions, and this tends to be the case both for equities in general, and financials in particular. As a reminder, BIZD significantly underperformed during 1Q2020, the onset of the coronavirus pandemic.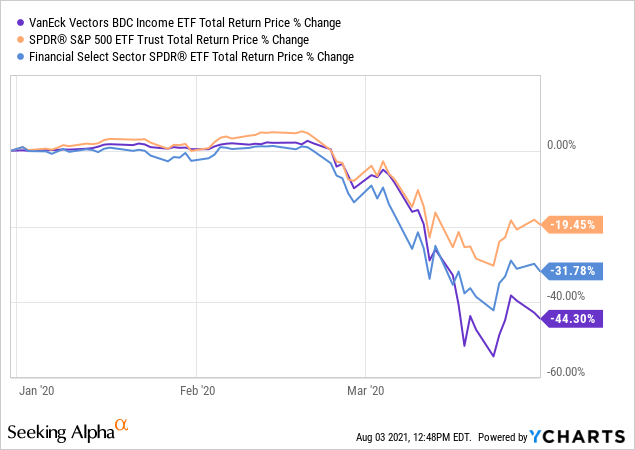 Significant underperformance during downturns leads to long-term capital losses. BIZD's price is down by about 18% since inception, roughly equivalent to 2% in capital losses per year. Capital preservation is paramount, and BIZD does not look strong in this regard.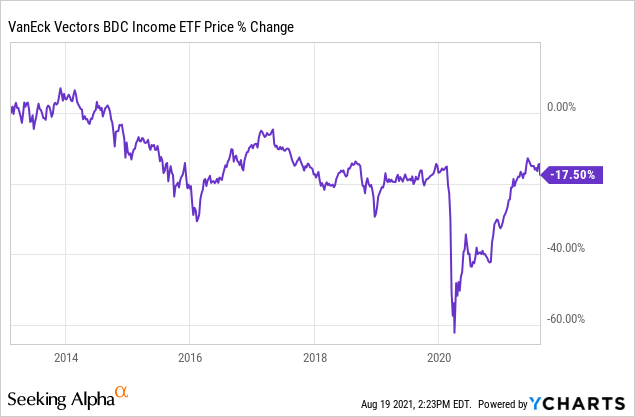 BIZD's dividends are also quite unsafe, volatile, and prone to cuts. As per SeekingAlpha, BIZD's dividends have gone down by about 1-2% per year since inception. Results are rapidly worsening, with BIZD's dividends down 7% during 2020 and 2021 both. As an aside, ignore 2013 figures, the fund only made three dividend payments for the year, and so results are not comparable.

(Source: Seeking Alpha)
BIZD's dividend yield is strong, but capital preservation is weak, and dividend growth is appalling. Taken as a whole, I think these are broadly negative metrics. I would not invest in a fund with an 8.1% yield, but with negative 7% dividend growth, and 2% capital losses.
Besides the above, BIZD currently offers investors comparatively few potential capital gains. As mentioned previously, prices, NAVs, and valuations have already recovered to pre-coronavirus averages. The reopening trade is over, and I see little upside from continued economic strength.
BIZD's holdings themselves seem very slightly overvalued, with the fund sporting a 1.05x price to book ratio.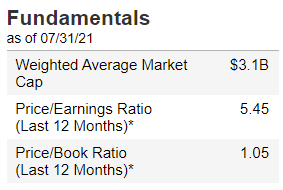 (Source: BIZD Corporate Website)
The fund trades with a small premium to NAV. It is small enough that I'm not concerned about (significant) losses, but the premium does mean that potential capital gains are somewhere between low and non-existent. Prices and valuations have already normalized, so further gains seem extremely unlikely.
BIZD - Alternatives
Under current market conditions, I don't really think there is a suitable replacement for BIZD, but you do have several funds which are very broadly similar, and with strong dividend yields too.
The BlackRock Multi-Sector Income Trust (BIT) is a leveraged, diversified bond CEF. BIT yields 8.0%, is a somewhat safer, less volatile fund than BIZD, and has outperformed the latter for the past ten years or so.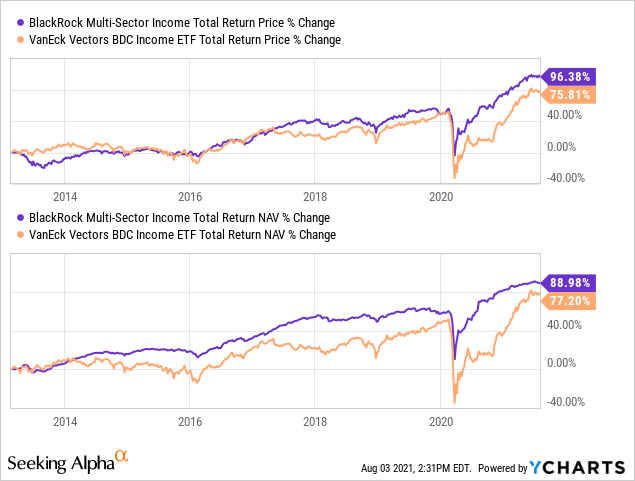 PIMCO also has a fantastic suite of leveraged bond CEFs, but these tend to trade at very high prices and premiums. Currently, the PIMCO Dynamic Income Opportunities Fund (PDO), seems like a good choice, with a low 3.4% premium to NAV, but with a moderately lower 6.7% distribution yields. PDO is too new of a fund to analyze its performance, but the PIMCO name is unparalleled in the space, and I'm confident the fund will perform quite well in the coming months and years.
Conclusion - Hold
BIZD's share price has risen by quite a bit these past few months, leading to lower yields and potential capital gains. BIZD seems fairly valued at the moment, and so is a hold for me.