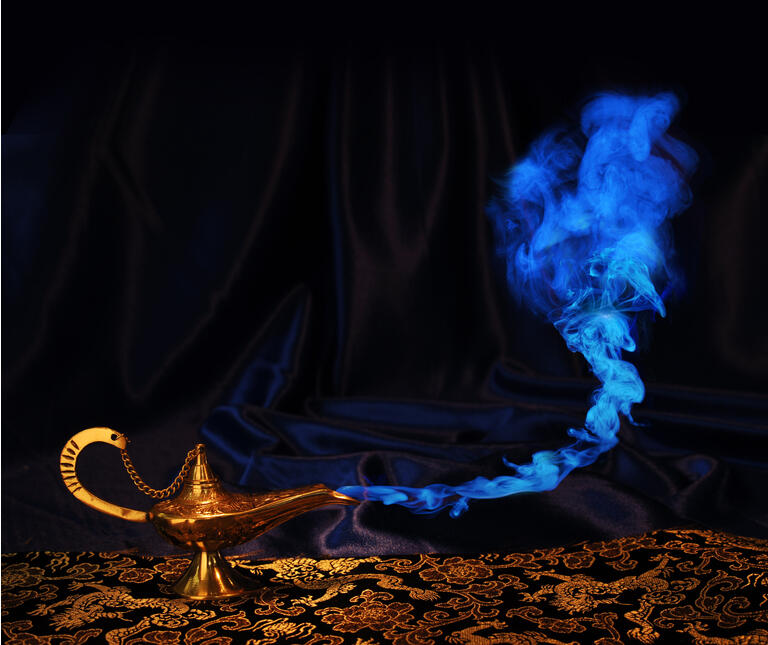 DISCLAIMER: This note is intended for US recipients only and, in particular, is not directed at, nor intended to be relied upon by any UK recipients. Any information or analysis in this note is not an offer to sell or the solicitation of an offer to buy any securities. Nothing in this note is intended to be investment advice and nor should it be relied upon to make investment decisions. Cestrian Capital Research, Inc., its employees, agents or affiliates, including the author of this note, or related persons, may have a position in any stocks, security, or financial instrument referenced in this note. Any opinions, analyses, or probabilities expressed in this note are those of the author as of the note's date of publication and are subject to change without notice. Companies referenced in this note or their employees or affiliates may be customers of Cestrian Capital Research, Inc. Cestrian Capital Research, Inc. values both its independence and transparency and does not believe that this presents a material potential conflict of interest or impacts the content of its research or publications.
The Genie Isn't Going Back In The Bottle
The main innovation achieved by Robinhood (NASDAQ:HOOD) is, in our view, its ability to attract new customers to an old industry. The company is geared to win newcomers to investing and trading and everything about its business, from its simple app and website, modern user interface and focus on accounts with relatively small balances, reinforces this. We don't doubt that over time HOOD will wish to upsell this customer base to some premium version of the service nor indeed that they will try to attract new, experienced clients to any such premium version. But for now the focus is on new-to-securities-trading individuals. That means that HOOD is growing its market and that it stands to win the lion's share of the new market segment.
Whether this new user base is trading options, equities, cryptocurrencies, or something else, is less important in our view. We believe the new cohort will continue to see trading as an important part of their lives, not least because in a world where pay inflation and the savings rate is meager, capital gains become more important in order to develop wealth.
Here's the latest numbers - the gaps are a result of this newly-traded stock having gaps in its reported SEC record, as do all such companies at this stage. As time goes by you will see us complete the additional quarters' numbers following each successive 10-Q or 10-K being filed.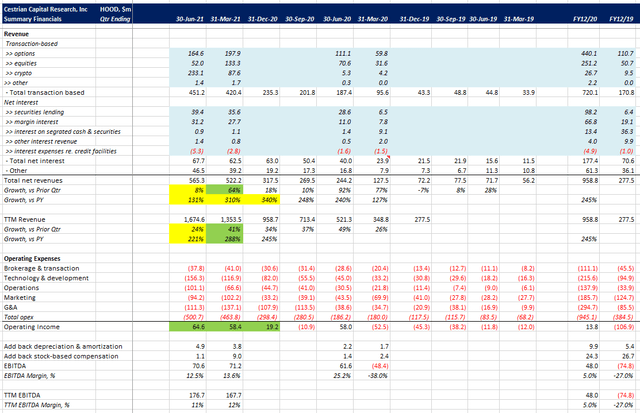 Source: Company SEC filings, YCharts.com, Cestrian Analysis
Revenue growth slowed in Q2 vs. Q1 but it remains exceptional, at 131% growth vs. the same quarter a year ago. Similarly whilst EBITDA dropped a touch from last quarter, it remains low-double-digit positive margin. Unlevered pre-tax free cashflow continues to be prodigious and capital expenditures light. (Note, in the table above, we have averaged out the capex and change in net working capital across Q1 and Q2 of 2021 and also across Q1 and Q2 of 2020, since that's all the company has disclosed so far - as time goes on we hope to be able to break these down into specific quarters).
Valuation remains reasonable in our view; 22.5x TTM revenue for a company growing revenues at >100% per year is not at all elevated in the current environment.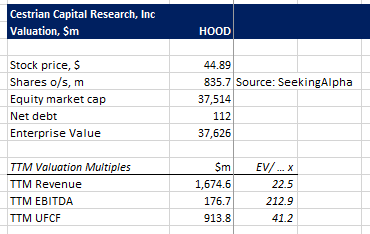 Source: Company SEC filings, Seeking Alpha, YCharts.com
Consistent with the experience of most new listings early in their lives, HOOD stock has sold off following its initial post-listing peak. The stock currently sits at the 0.786 Fibonacci retracement level from its post-IPO runup. It's possible that the stock finds support here (if it does that would suggest we may soon enter a Wave 3 run up) but plenty of stocks fall below their IPO price before going on to beat it. So if you plan on scaling into this name you might consider doing so piecemeal, step by step, not trying to call the bottom or the top of any given cycle, since to do so is very difficult indeed.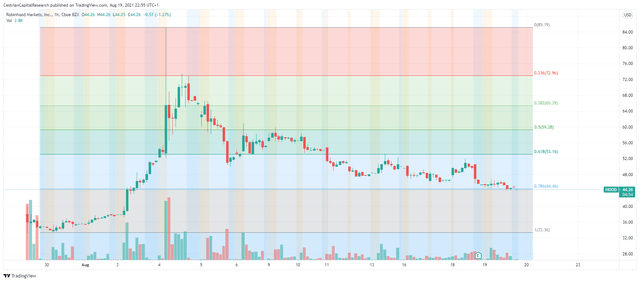 Source: TradingView, Cestrian Analysis
To our mind, if you share our view that HOOD is an innovator in its industry, a cost-leader able to attract new customers into an old-line world, then you might consider adding to your holdings during these sell-off periods.
We remain at Buy on a long term basis and hold the stock in staff personal accounts accordingly.
Cestrian Capital Research, Inc - 19 August 2021.