REIT Rankings: Mall REITs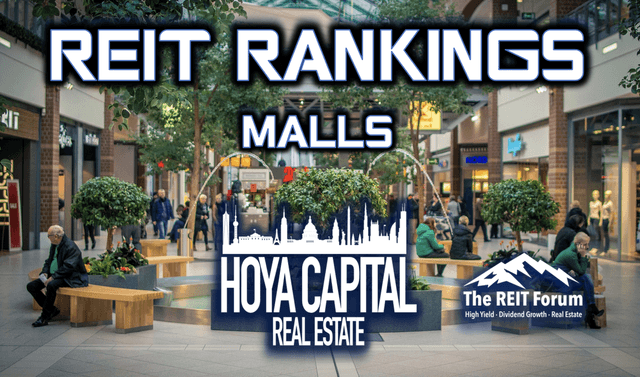 (Hoya Capital Real Estate, Co-Produced with Colorado WMF)
Mall REIT Sector Overview
For the battered mall REIT sector, glimmers of hope were beginning to emerge following a punishing 2020 on signs of stabilizing in occupancy rates and normalizing rent collection, but dark clouds have reemerged amid a resurgence in COVID cases across the globe. Within the Hoya Capital Mall REIT Index, we track the six mall REITs, which account for roughly $50 billion in market value: Simon Property (SPG), Macerich (MAC), Tanger Outlets (SKT), Washington Prime (WPG), Pennsylvania REIT (PEI), and CBL Properties (CBL), along with net lease REIT Seritage Growth (SRG).

Mall REITs are hoping to regain their footing after reporting historic plunges in Funds From Operations ("FFO") and Net Operating Income ("NOI") in 2020. Post-pandemic economic reopening and improving rent collection rates have given investors some reason for optimism recently as the sector reported collection rates improving to nearly 95% in Q2, up from the lows last year around 50%. SPG reported that it collected roughly 99% of net billed rents with in-line tenant collections back to pre-COVID levels. Lower-productivity mall REITs, however, are still struggling to crack the 90% threshold.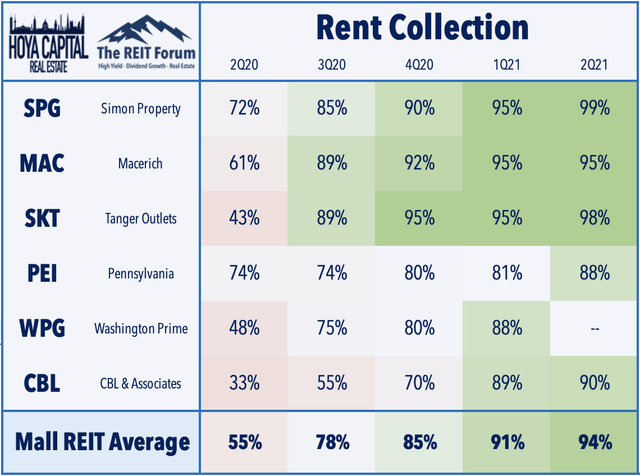 As discussed in State of the REIT Nation, improving rent collection - and the recovery of a modest percentage of deferred rents - helped to power a resurgence in same-store NOI growth in Q2 for mall REITs, albeit from very easy comparables metrics amid last year's lockdowns in which most malls were closed for at least several weeks. NAREIT T-Tracker data showed that mall REITs reported their best quarter on record for same-store NOI growth, but still lagged behind the high-flying storage and manufactured housing sector, along with their open-air shopping center REIT peers which reported a stellar quarter and guidance calling for a full recovery in FFO by 2022.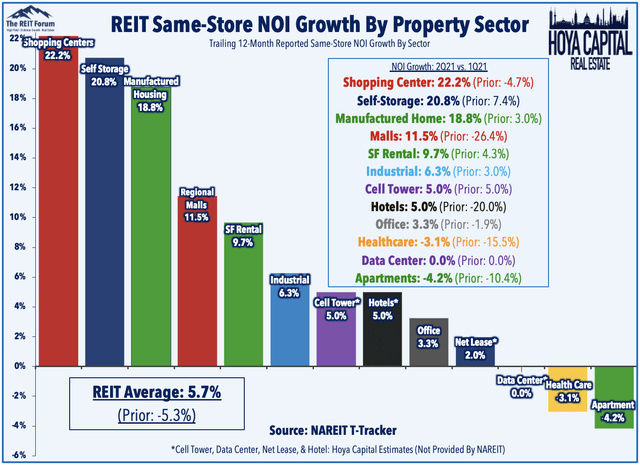 As analyzed in our REIT Earnings Recap, sector stalwart Simon - which accounts for nearly 90% of the total market capitalization of the entire sector - significantly raised its full-year FFO growth outlook to 18.0% from its prior outlook for 7.0% growth. Simon also boosted its dividend by 7.1% sequentially to $1.50/share. Macerich reported mixed results and marginally lowered its full-year FFO outlook calling for a -13.7% decline in its FFO/share in 2021. Tanger - the only other mall REIT that provided guidance - reported that foot traffic in Q2 surpassed the same period in 2019 and boosted its outlook, expecting FFO/share to decline by -1.3% in 2021 versus its Q1 outlook which called for a -5.7% decline.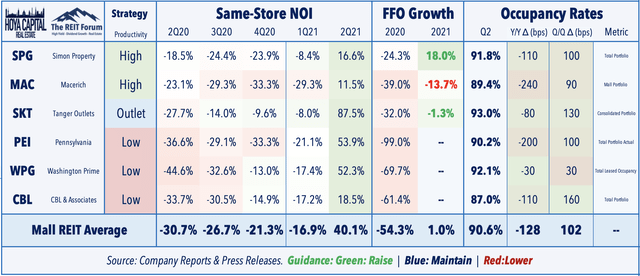 Encouragingly, occupancy rates appear to have stabilized and halted a multi-year downtrend - at least for a brief moment - as each of the six REITs reported a sequential improvement in same-store occupancy. Helping to juice these occupancy figures, however, has been the increased use of shorter-term lease structures which Simon attributes to an inability for landlords and retailers to "agree on fair market value." Additionally, landlords have made increased use of "percentage rent" leases, which can result in higher rent payments when times are good, but sharper declines in rent during downturns.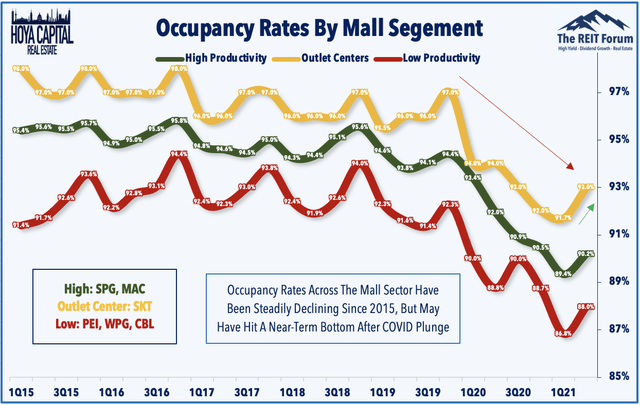 While the guidance was certainly encouraging and occupancy rates appear to be stabilizing, leasing spreads - perhaps the best leading indicator of NOI growth - continue to point to declining same-store cash flows. Rental rates achieved on new and renewal leases continue to slide as SPG reported a comparable spread of -21.8% in Q2 - by far the worst quarter in the company's history - which Simon once again attributed to the "[leasing] mix and the COVID deals that we did" referring to the increased use of percentage rent. Interestingly, for the first time in a decade, high-productivity mall REITs reported weaker average leasing spreads than their lower-productivity peers.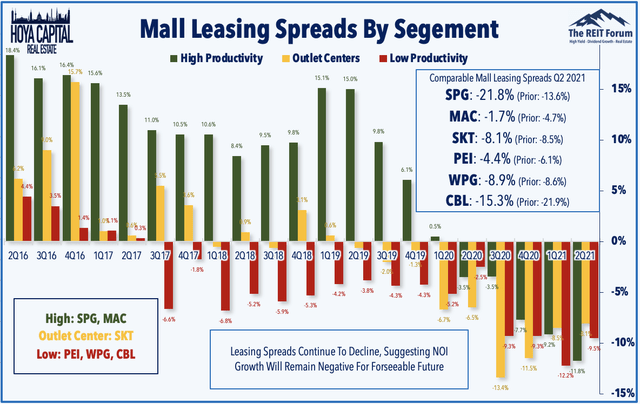 Far more alarming to the medium and longer-term outlook, however, is the recent resurgence in COVID cases and hospitalizations across the globe. High-frequency activity data - including TSA Checkpoint data, Open Table reservation data, Apple mobility data, and the Dallas Fed Mobility Index suggest that economic reopenings have stalled - and even reversed in some areas - amid this "fourth wave" of the pandemic. Despite seemingly reasonable valuations, we believe that risks remain skewed to the downside. Outside of Simon, the balance of the mall sector - particularly the three recently bankrupt REITs - simply cannot afford another "double-dip" back into COVID-related restrictions.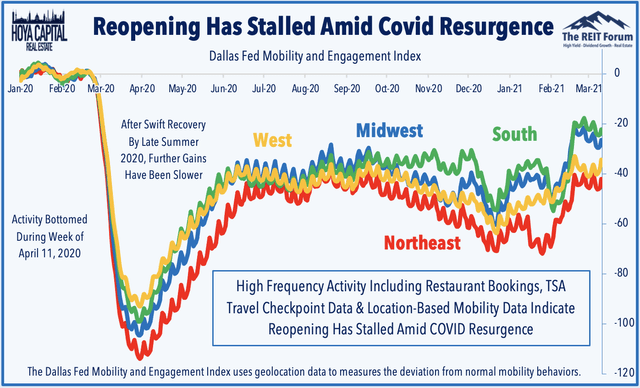 Mall REIT Stock Performance
Despite these signs of a slowing recovery in the most COVID-sensitive discretionary activities, mall REITs remain the best-performing property sector this year, extending their gains from the vaccine-driven reopening rotation that began in late 2020. The market-cap-weighted Hoya Capital Mall REIT Index is higher by 50.0% thus far in 2021, significantly outpacing the 24.9% returns on the broad-based Vanguard Real Estate ETF (VNQ) and the 17.6% gain on the SPDR S&P 500 Trust ETF (SPY).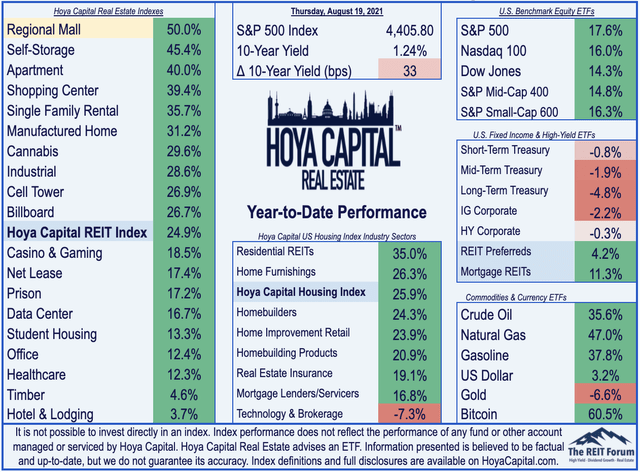 All six mall REITs recorded double-digit declines in 2020, but five of the six mall REITs are higher by at least 44% this year. PREIT has led the gains after emerging from bankruptcy in late 2020 but - despite doubling this year - has still lost 90% of its value over the past five years. CBL Property's 140% gains this year - rising from $0.05 to $0.12 per share on the approval of its bankruptcy plan - also need to be taken with a grain of salt. Absent the 9-for-1 stock split from Washington Prime late last year, WPG would also be a "penny stock" as well after the 80% declines this year following its entrance into bankruptcy in June.

Could 2021 be the year that mall REITs snap their unprecedented streak of underperformance? Mall REITs - a perennial favorite of deep value investors - have underperformed the REIT sector average in each of the last five years and have not recorded a year of positive total returns since 2015. Amazingly, no other REIT sector has seen more than 2 consecutive years with negative total returns since the end of the last recession. Between 2015 and 2020, mall REITs produced an annualized average total return of -10.6%, the worst among major property sectors during this time.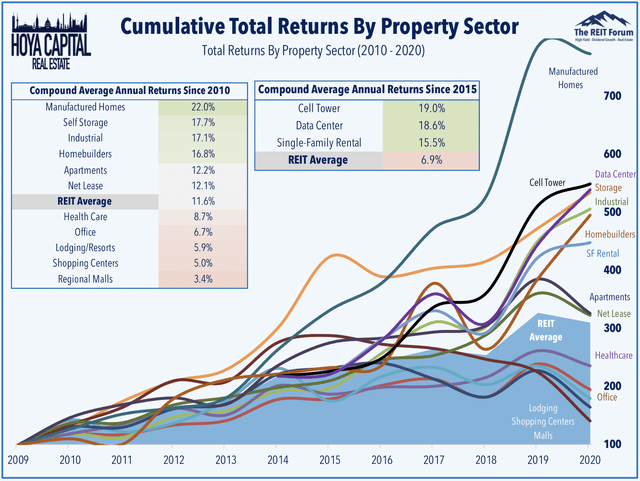 Deeper Dive: Retail Fundamentals
The poor performance for mall REITs over the last several years, interestingly, comes despite several of the strongest years for retail sales in history. Aided by WWII levels of fiscal stimulus, retail sales surged to all-time record highs in early 2021. In the most recent report, the BLS reported that sales in July were 15.8% above 2020 levels and 20.1% above pre-pandemic levels in 2019. Mall-based retail categories including clothing, department store, and electronics were showing strong recoveries in the first half of 2021, but have seen their momentum fade in recent months mirroring the COVID resurgence.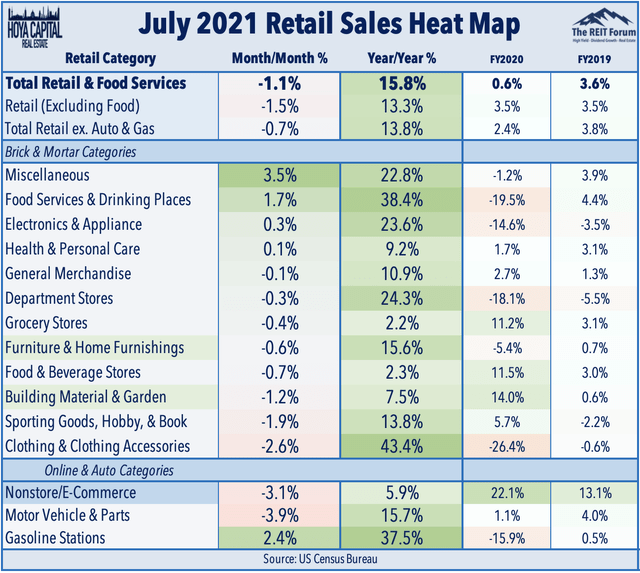 Despite the retail sales strength, the past year has seen a continued onslaught of bankruptcy filings from dozens of mall-based retailers including J. Crew, Neiman Marcus, Ascena Retail Group, Tailored Brands, and Modell's, among others. While several of these retailers have since emerged from bankruptcy, they do so with significantly smaller footprints. The pace of store closings increased substantially in 2020 but has moderated in 2021 with CoStar (CSGP) estimating that we'll see the least amount of retail stores closing up shop in more than a decade. Store openings have outpaced closures in several months this year as retailers - predominately "big-box" and dollar stores located in open-air shopping centers - expanded their footprint.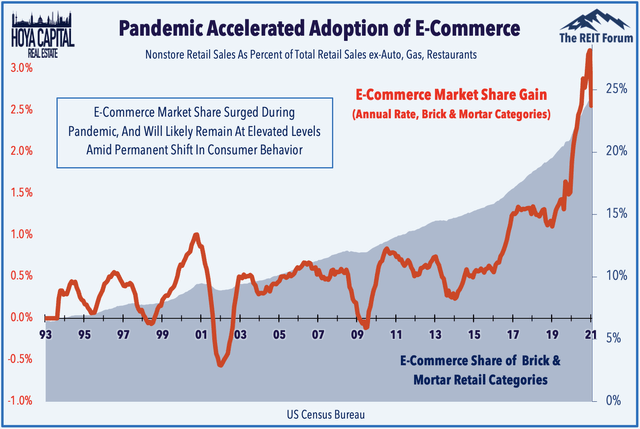 The market share loss continues to hit the traditionally mall-based retail categories especially hard, the majority of which fall into the dreaded "non-essential" category and those that have struggled to adapt to the increasingly digital retail landscape. Below, we outlined the strategies that successful brick-and-mortar retailers have utilized to compete, which we call the "4 Critical Cs of Brick & Mortar Competition." While we are skeptical that the lower-productivity enclosed mall format can remain viable over the next decade, we do believe that well-located high-productivity suburban malls that have the critical mass and "network effects" to offer a value-added retail experience can remain relevant.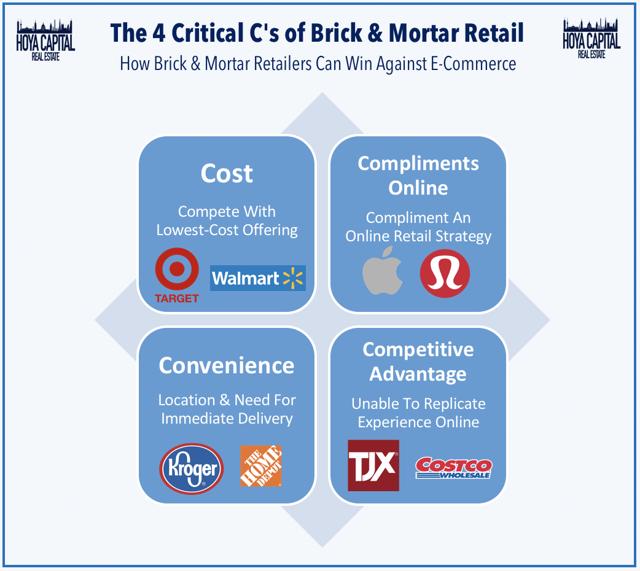 As if the retail apocalypse and coronavirus pandemic weren't big enough concerns for the enclosed mall format, these headwinds have been magnified by the sky-high leverage levels of many of these mall REITs. Simon is the only mall REIT with a decent balance sheet which includes one of the few coveted A-ratings from S&P on its long-term debt. Four mall REITs currently have debt ratios above 65% including Macerich, which finds itself struggling to stay above water despite its relatively high-quality portfolio. In our recent report "Cheap REITs Stay Cheap," we discussed our study that showed that REITs with lower leverage have historically produced better total returns, on average, than their higher-levered counterparts.

Mall REITs Fight For Survival
Desperate times call for desperate measures, and we've been encouraged to see some "fight" from sector stalwart Simon Property, which has been creative in its capital deployment over the last several quarters. Through the SPARC Group, a 50-50 partnership between Simon and Authentic Brands, SPG owns a portfolio of formerly-distressed brands which includes Brooks Brothers, Lucky Brand, Forever 21, J.C. Penney. A strategy that does have successful precedent - notably the acquisition of Aeropostale in 2016 - the investments will keep many storefronts open, at least for now, and appears to be a better use of capital compared to its controversial acquisition of fellow high-productivity mall REIT Taubman Centers just as the pandemic was sweeping across the globe in early 2020.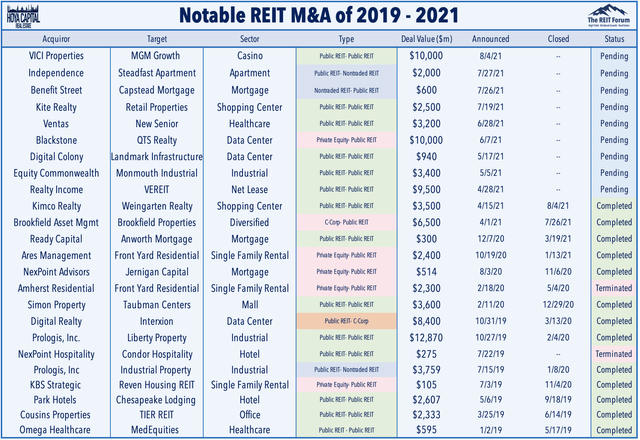 Relatedly, the Special Purpose Acquisition Vehicle ("SPAC") sponsored by Simon is reportedly in talks to acquire security services provider Kastle Systems and take the firm public. Simon's SPAC raised $345 million in its IPO in February, with the goal of targeting a company "at the intersection of real estate and technology." Kastle Systems provides security solutions including access control, video surveillance, visitor management, identity management, and other services to more than 2M people according to a press release in May. This would be the first deal from the pool of four REIT-sponsored SPACs which include entities launched by Alexandria Real Estate (ARE), Lamar Advertising (LAMR), and Sachem Capital (SACH).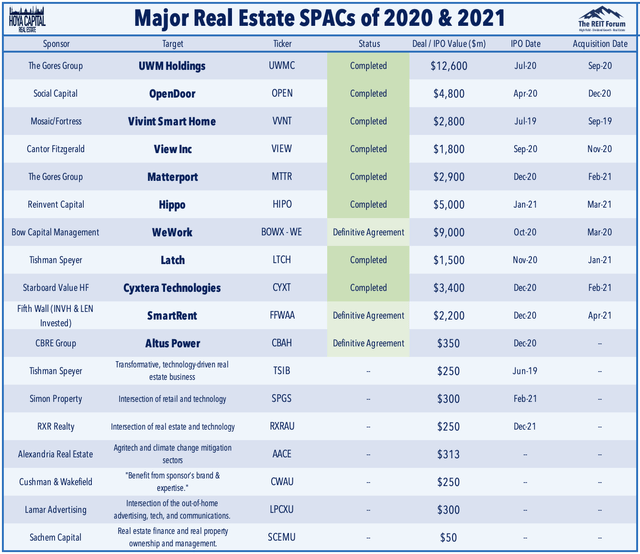 Mall REIT Dividend Yields
For the several larger REITs that have continued to pay their dividend, mall REITs have become one of the higher-yielding REIT sectors, but not necessarily for the right reasons. Helped by the large weighting to Simon Property Group, mall REITs pay a weighted average dividend yield of 4.5%, which is well above the REIT sector cap-weighted average of 2.7% but have achieved muted or negative dividend growth over the past five years.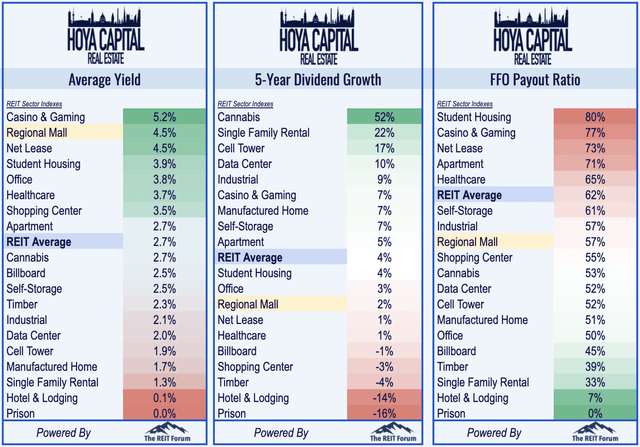 Five mall REITs - SKT, WPG, CBL, PEI - completely eliminated their dividend last year while two others - SPG and MAC - reduced their dividend last year. The tide has turned a bit in 2021 as Simon has raised its dividend twice so far this year while SKT - which was formerly a so-called "dividend aristocrat" - resumed its dividend earlier this year. Both REITs, however, continue to pay dividends well below their pre-pandemic rate. We continue to believe that mall REITs will be among the last to resume or increase their dividend above pre-pandemic rates given the precarious debt situation faced by all of these REITs.

Interestingly, the preferred securities offered by these mall REITs haven't been much safer for investors over the last year. Five mall REITs offer preferred securities, including one issue from Simon Property (SPG.PJ), one from Seritage Growth (SRG.PA), two from Washington Prime Group (WPG.PH, WPG.PI), two from CBL & Associates Properties (CBL.PD, CBL.PE), and three from Pennsylvania Real Estate Investment Trust (PEI.PB, PEI.PC, PEI.PD). The preferred securities from CBL and PEI have been suspended since early last year while WPG suspended its preferred stock dividends earlier this year.

Mall REIT Valuations
Mall REITs trade at some of the lowest valuations across the REIT sector, but while value-oriented and yield-seeking investors may be attracted to these REITs, we caution that the "deep value" strategy hasn't been particularly rewarding to REIT investors over the past decade. Mall REITs trade at a Price-to-FFO ("Funds from Operations") multiple based on consensus 2022 FFO of roughly 11.4x, which is below the REIT sector average of 22.9x. The sector now trades at a roughly 15% discount to Net Asset Value, though the "true" NAV discount may be far lower given the recent lack of private market buyers for enclosed mall properties.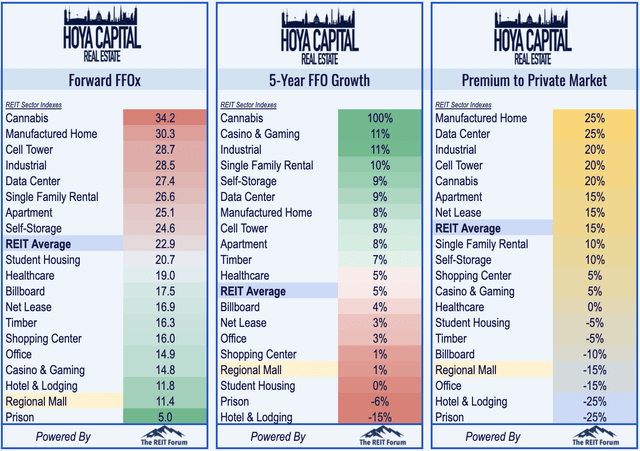 Key Takeaways: Fighting For Survival
Glimmers of hope were beginning to emerge for the battered mall REIT sector, which has soared 50% this year on signs of stabilizing in occupancy rates and normalizing rent collection. Despite the rebound, full-year FFO will remain 20-50% below pre-pandemic levels across the sector. Downward pressure on re-leasing rental rates suggests that it's still too soon to call the bottom, particularly given recent high-frequency activity data which suggests that economic reopenings have stalled - and even reversed in some areas - amid a resurgence in COVID cases and hospitalizations across the globe.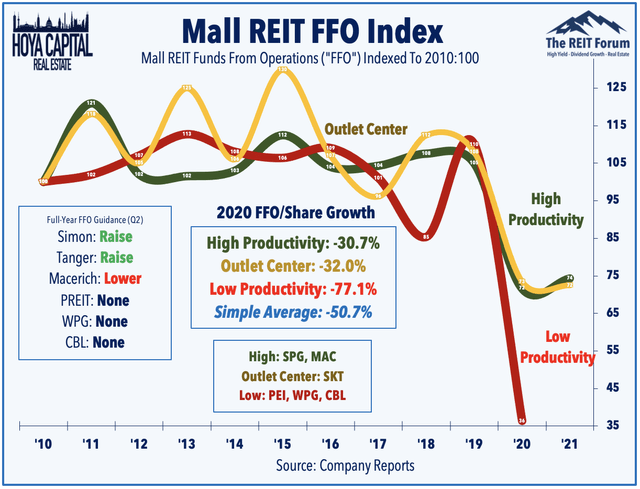 Before the pandemic, we warned that several mall REITs were "one recession away from extinction." Since then, three mall REITs - CBL, PEI, and WPG - indeed entered Chapter 11 bankruptcy proceedings and outside of Simon, the balance of the mall sector likely cannot survive a "double-dip" recession driven by COVID-related restrictions given their already precarious debt-laden balance sheet. For investors looking to play the vaccine-driven rebound through retail exposure, we continue to see a more promising long-term outlook for the Shopping Center and Net Lease REIT sectors and continue to see the best balance of downside protection and long-term growth in the "essential" property sectors including housing and technology.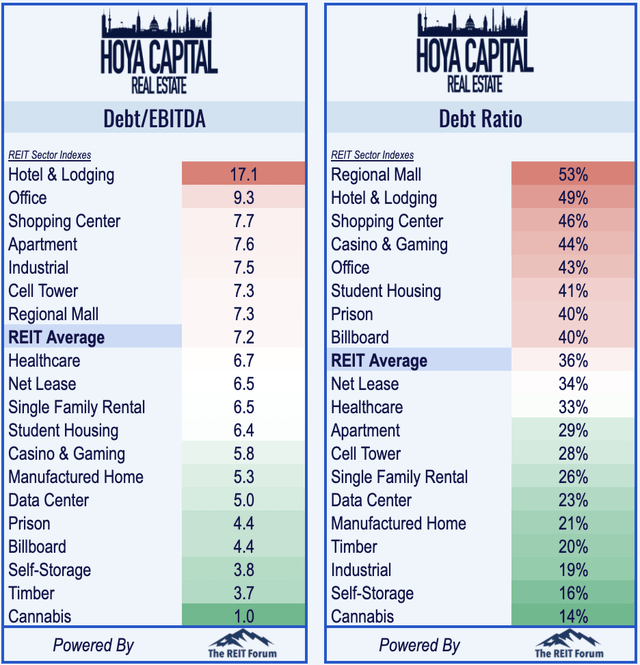 For an in-depth analysis of all real estate sectors, be sure to check out all of our quarterly reports: Apartments, Homebuilders, Manufactured Housing, Student Housing, Single-Family Rentals, Cell Towers, Casinos, Industrial, Data Center, Malls, Healthcare, Net Lease, Shopping Centers, Hotels, Billboards, Office, Storage, Timber, Prisons, Cannabis, High-Yield ETFs & CEFs, REIT Preferreds.
Disclosure: Hoya Capital Real Estate advises an Exchange-Traded Fund listed on the NYSE. In addition to any long positions listed below, Hoya Capital is long all components in the Hoya Capital Housing 100 Index. Index definitions and a complete list of holdings are available on our website.