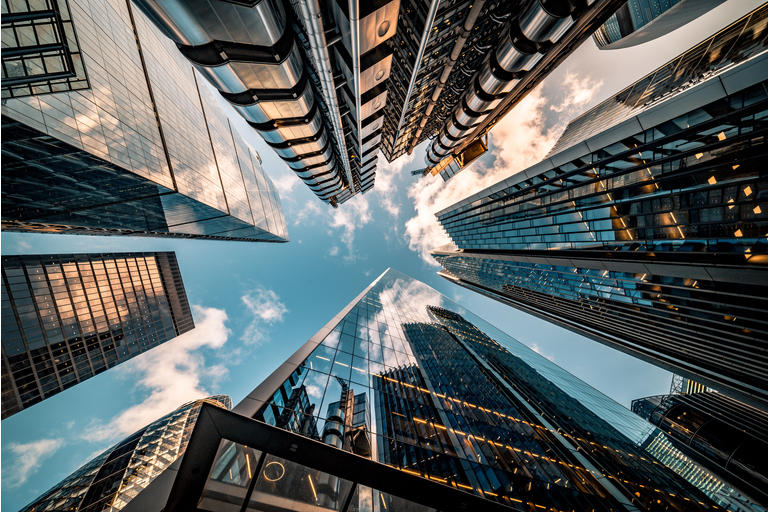 Hallmark Financial Services (NASDAQ:HALL) is trading well below its fair value because the stock price never fully recovered from bad developments in the past. Today, the past issues are no longer a concern, and we're left with a company that's trading well below tangible asset value.
The company has traded undervalued for quite some time - meanwhile, the book value per share and profitability have been increasing, and the stock offers a highly attractive risk/reward.
This company definitely isn't great, but it sure is cheap.
At a Price/Book Value of 0.4x, this company is undervalued, no matter what happens.
I bought a position in this stock a few months ago, and I've put in a new buy order today because the stock's gotten cheaper.
This is a stock I'm very excited about for my portfolio because I expect great returns. I'm very excited to learn more about this industry - because Warren Buffett built Berkshire Hathaway (BRK.B) (BRK.A) on the backs of insurance companies he bought. And I'm very excited to share this with you, because this stock looks like a great investment if you're looking for high returns.
A couple of different things this article addresses:
Why HALL is so cheap
Why cheap stocks are good
What's HALL's worth
2021 improving results (so far!)
Stress testing another blowup in the business
I've tried to cover everything you might want to know before making an investment. I sincerely hope you enjoy this article.
What Caused This Opportunity
Last year, HALL sold off over 80% in March 2020:
Covid might have played a small part in the selloff - but the selloff was mainly due to the fact that the company had to shut down their Binding Commercial Auto Lines because it was losing huge amounts of money.
The company had to write down Goodwill & Intangible Assets - which reduced the company's book value by about 35%.
And to top it off - the company was late on some of its SEC filings - which probably left investors pretty concerned.
Today, these issues have been solved, and HALL is currently trading as the cheapest stock on a P/B basis in the entire Property & Casualty Industry.
3 Slices of Value
Recently, I've been reading a very interesting book that talks about how to value stocks. I only get about 10 pages a day in, but I've been learning a lot.
The book is called, Value Investing: From Graham to Buffett and Beyond, and it highlights some of the best practices for valuing companies.
One idea that I found really interesting is the 3 slices of value. The lowest "slice" is Asset Value, which is basically the sales value of the company's assets, followed by the Earnings Power Value, which is how much money the business can make from the operation of assets (earnings), and lastly is the Value of Growth, which is how much money the business can make from reinvesting money into the business and growing earnings.
If you think about it, a lot of companies are valued based on the value of their growth. That means investors expect companies to do a lot of things right to live up to their valuation. They have to make earnings, and successfully reinvest those earnings over a period of years to grow. And they better have a strong moat - otherwise, the company will see declining profitability as competition drives down prices.
At the end of the day - why not just buy businesses at the lowest "slice"?
We've got a lot higher chance of getting the valuation right when we buy businesses that are so cheap that they're trading well below their book value or liquidation value.
That's basically the idea behind HALL's investment thesis.
Hallmark Financial Services is not a great company. But it doesn't need to be at a Price/Tangible Book Value of 0.4x.
Asset Value
Historically, HALL has traded at a P/TBV of just about 1x:
Does it seem unreasonable that the company will one day trade at a P/B of 1? Or 0.8x?
I don't think so.
Theoretically - if the business was liquidated, which means shutting down shop and selling off assets, the share price should rise 150% to meet the tangible book value.
They have real, tangible assets to back up the share value.
And the company's real, tangible assets are mostly allocated towards incredibly safe assets like US Treasuries, Corporate Bonds, and cash:

HALL 2020 10-K
Of course, with such a large exposure to bonds, rising interest rates would cause bond yields to rise - which would hurt their portfolio. But with such a short duration on their bonds of only 0.8 years, rising interest rates probably won't be a huge concern.
Also - the company has been moving towards cash. So if rates rise - they have "dry powder" that they can use to buy bonds that now have higher yields.
Weighted Value
What's a good value for the company?
I'd have to give credit to fellow SA author Rational Expectations for the valuation strategy.
HALL has 3 segments, each with different levels of profitability:
Specialty Commercial
Standard Commercial
Personal Lines
Specialty Commercial makes up about 60% of revenues, and each of the remaining businesses makes up a little over 10% of revenues (including Discontinued Lines):
Overall, the company does not have a strong combined ratio, but the company generates strong profitability from its Specialty Commercial line, which has a 6-year average combined ratio of 90%. The lower the combined ratio - the more profitable the insurance company is.
I made an updated version of Rational Expectations' chart from his previous article on HALL.
This chart finds the fair book value for each segment based on the segment's profitability.
When you weigh the segments based on their share of revenue and assign a fair value to each - the valuation suggests that HALL should be worth about $8.52/share today:
| | | | | |
| --- | --- | --- | --- | --- |
| Segment | 6-year Average Combined Ratio | Book Value (weighted at most recent net premiums) | Multiple of Book | Per Share Value |
| Specialty Commercial | 90% | $5.98 | 1x | $5.98 |
| Standard Commercial | 100% | $2.00 | 0.8x | $1.60 |
| Personal | 109% | $1.89 | 0.5x | $0.94 |
Updated by Author, Original Idea from Rational Expectations
Even when you factor in that HALL has some very poor lines of insurance that are losing money - the company is still undervalued.
Lower Price = Higher Return Potential
I've talked a lot about how cheap the stock is - but there's one more thing you'll want to see.
It's really important to remember that the cheaper the stock gets, the more upside it has.
You might be thinking, "Well obviously!"
But when the stock dips into really low multiples, the returns start to increase exponentially, which skew the odds heavily in our favor:
| | |
| --- | --- |
| P/B | Upside to P/B of 1x |
| 1x | 0% |
| .9x | 11% |
| .8x | 25% |
| .7x | 43% |
| .6x | 67% |
| .5x | 100% |
| .4x | 150% |
| .3x | 233% |
| .2x | 400% |
| .1x | 900% |
Source: Author
This chart emphasizes the importance of buying at low prices.
In a hypothetical scenario where a stock eventually revalues to a P/B of 1x - you can see that as the P/B sinks, it provides exponentially higher returns.
The difference between buying at .4x P/B and .5x P/B would be 50% higher returns.
And if you buy at .3x P/B instead of .4x P/B - you would get nearly 100% more upside.
With the stock trading at a P/B of .4x - it theoretically offers 50% more upside than it did at a P/B of 0.5x. Little price drops at already low prices can provide big opportunities.
That's why I bought more today. The lower the price goes, the higher upside we have, and lower the risk is that the investment will go poorly.
Business Quality
Of course, it's not enough to just buy stocks that look cheap.
Some people might disagree with me on this - but I think HALL is improving their business.
In 2021, the company no longer collects premiums on the Discontinued Lines, which has had an immediate positive impact on the company's profitability. This is a permanent improvement to the company's profitability: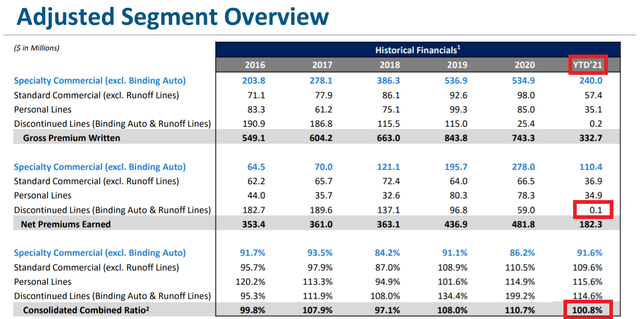 Source, red boxes added
This will help the company remain profitable, and continue growing book value.
In the first 2 quarters of this year, the company is already posting positive results. The company reported a positive net income, positive operating cash flows, an ROE of 5% over the first 6 months of 2021, and Book Value Per Share grew 4%:
We don't need positive developments for this stock to be a good investment. It's already cheap enough.
But hopefully - if the company starts growing - it will attract more eyes. More people will want to invest in it, which can help to bring the stock towards fair value.
Stress Test: What If There's Another Blowup?
One of the biggest risks that I see with this stock is that there could be another big blowup. What if another segment starts reporting huge losses?
When you look at the numbers - I don't think this would be much of an issue.
Take a look at how the book value dropped from 2019 to 2020:
After the Binding Auto blowup, the company's total book value fell 35% - which is pretty devastating.
But tangible book value per share fell only about 21%, $2.46/share.
What if there was another big crash, and the tangible book value fell $2.50/share again?
Well, in this case, the new tangible book value would be about $7.30.
The company's weighted book value based on segment profitability was about $8.52 - after a crash, the weighted book value would be about $6/share.
Even after that stress test - shares would still have over 30% upside. Even if there was more terrible news that came from the company, we still would be holding shares that are less than fair value.
From this stress test, you can see that shares are so cheap that even if something bad were to happen - the stock is still cheap enough that we should do alright.
Recap
Hallmark Financial is the cheapest Property & Casualty insurer stock in the industry - and it shouldn't be that way.
The company is far from perfect, but it's severely undervalued compared to its tangible book value of less than 0.4x.
I estimate that the stock should trade at about $7-$9/share - which means over 100% upside at its current price.
And even though I've said that HALL is not a great business over and over again - there are some great aspects to the business. Their Specialty Commercial line, which is over 60% of revenues, has averaged a 90% combined ratio. The company is seeing book value growth, and the Discontinued Lines have been phased out, which adds to profitability.
All in all, HALL is cheap. If you've got something to say about HALL, please share it in the comments. Thank you very much for reading.