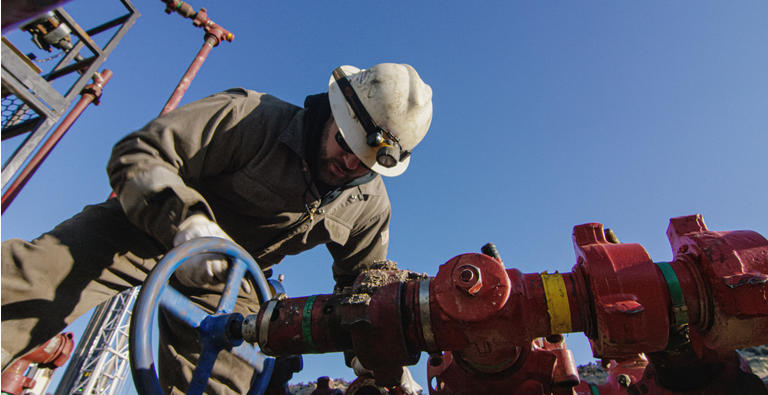 First, I analyze the possible catalysts, thanks to which midstream Oil and Gas companies can flourish in the coming years. Then I pick the most stable mid-cap players in this industry based on comparing metrics, proposed by BCG. After the screening and cross-sectional analysis, I've constructed a portfolio of Top-7 companies in the sample based on their financials, valuation, and prospects.
Why midstream companies may flourish shortly?
Last year was remembered for a large number of bankruptcies in the oil and gas industry - the bankruptcy debt in the US passed $100 billion for the first time in history. So only the most "financially healthy" companies remained in the ranks.
Now we are seeing a picture when natural gas prices began to actively recover - according to the U.S. Energy Information Administration (EIA), "the average price for front-month natural gas futures contracts in July [2021] was $3.82/MMBtu, the highest July average since 2014". Apart from the sharp jump in the Henry Hub natural gas price in February 2021, driven by extremely cold weather, the average price for July was 17.6% higher than June's one - that was the largest monthly increase since 2012. Earlier forecasts for 3Q and 4Q natural spot prices have been revised by +15.22% and +8.96%, respectively.
NG spot prices are expected to stabilize and correct next year: "EIA expects Henry Hub spot prices to average $3.08 in 2022". However, one needs to understand that the long-term trend in fossil-fuel energy generation is on the side of natural gas - since 2009 the US natural gas-fired capacity has been increasing while the coal-fired electricity has been decreasing. So that led to NG's increasing share despite high spot prices: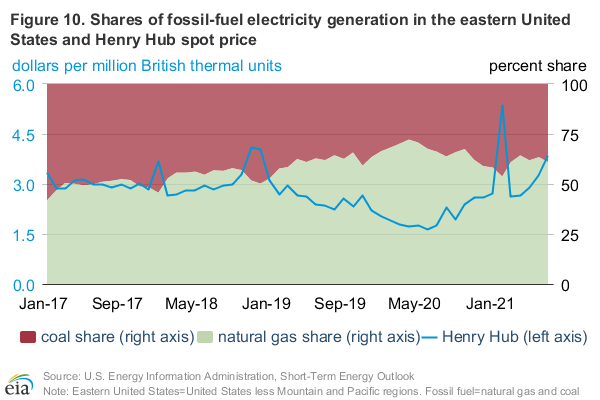 Source: Taken from EIA.gov
Many coal-fired power plants are being repurposed to burn natural gas, supporting and forming the continuation of the trend described above. Since the combustion of natural gas is less harmful to the atmosphere, its usage will continue to grow, as will the consumption of electricity around the world. But in addition to conventional natural gas, there are a few other catalysts to consider.
Firstly, the recovery in commodity prices (after the drop in 2020) will entail increased production volumes, which in turn has the greatest impact on the midstream. As oil prices recovered almost completely after the 2020 drawdown, this led to a recovery in US crude oil production and petroleum products supplies: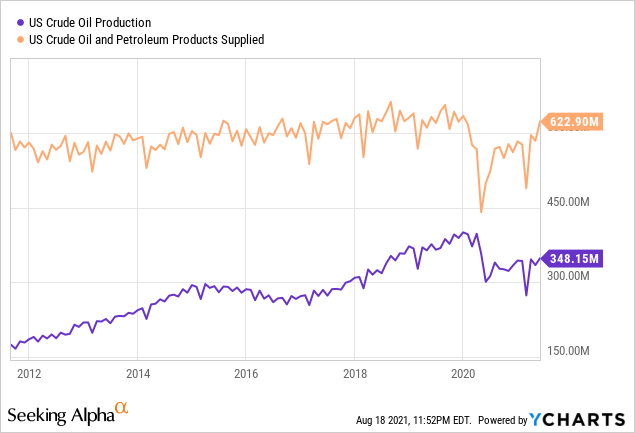 The current numbers, as you can see, are still found well below the pre-covid ones, which means they have room to grow shortly. This means that the volume of transported raw materials will also continue to get up. And as long as the balance of supply and demand goes in different directions without deviating much from the equilibrium level (as is the case with the normal functioning of the economy, which is what I hope for), midstream companies will continue to generate enormous cash flows, keeping on paying high dividends.
Secondly, midstream companies seem to offer some advantages in an inflationary environment everybody's talking about. The midstream is one of the brightest examples of cyclical business, which, in the case of high inflation, may attract a huge number of new investors. A weakening dollar against this background can also play into the hands, promoting drilling activity and higher throughput for midstream systems.
Thirdly, Natural Gas Liquids (NGL) production and Liquefied natural gas (LNG) exports are on their 10-year highest levels after the drops in 2020: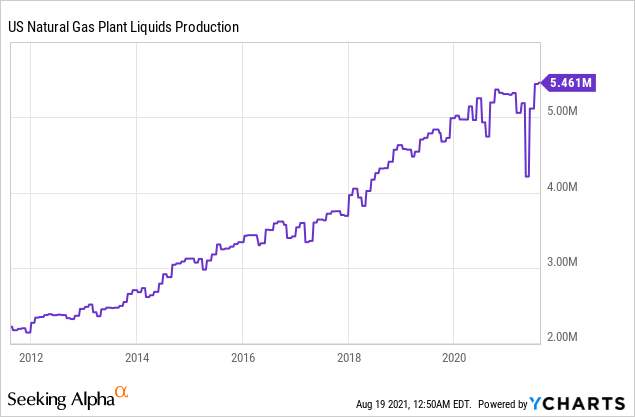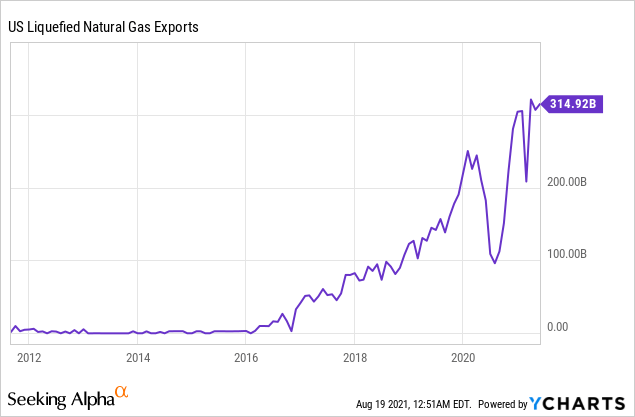 The increase in U.S. LNG exports, being a rather positive sign for midstream companies, is projected to grow further:
<...> we forecast that U.S. natural gas exports will exceed natural gas imports by an average of 11.0 billion cubic feet per day (Bcf/d) in 2021, or almost 50% more than the 2020 average of 7.5 Bcf/d. Increases in liquefied natural gas (LNG) exports and in pipeline exports to Mexico are driving this growth in U.S. natural gas exports. For the first time since U.S. LNG exports from the Lower 48 states began in 2016, annual LNG exports are expected to outpace pipeline exports - by an estimated 0.6 Bcf/d - this year.

Source: U.S. natural gas net trade is growing as annual LNG exports exceed pipeline exports
I think the prosperity of midstream companies will depend on how they behaved during the recent period of high commodity prices:
have they been able to reduce their debt load?
how have their dividends changed and how does management plan to change them?
how attractively are they trading and what kind of catalysts exist for each of them?
Since I'm more focused on growth and great dividends, I prefer mid-cap companies that have historically grown faster than their hulking counterparts and carry less risk than small-cap ones. And since most US-based mid-cap midstream companies have already reported their 2Q 2021 results, I think it's the best time to pick the most promising ones to get more exposure to this industry. So let's get started.
It all starts with a simple screener and valuation
According to FinViz, there are 12 mid-cap companies in the "Oil and Gas Midstream" industry (in the United States):

Source: From FinViz screener
All key information below are taken from Seeking Alpha.
How am I going to pick the best ones out of these 12 names?
My stock-picking process will be based on the method suggested by Boston Consulting Group:
The first dimension is <...> historic ability to deliver returns, which we measure using return on invested capital (ROIC). According to BCG's SmartMultiple methodology, which examines the effects of different operational metrics on multiples, ROIC is a major driver of a company's valuation multiple and, ultimately, its total shareholder return.

<...> The second dimension is the amount of leverage employed, with leverage defined as net debt relative to enterprise value. Companies that have performed well on both dimensions will have strategic options their less financially robust peers do not.

Source: BCG: Next Steps for North American Midstream Oil and Gas
I'll use the Return on Total Capital for the y-axis and the Long-Term-Debt-to-Total-Capital ratio as an indicator of leverage for the x-axis. Here's what I got on the first run: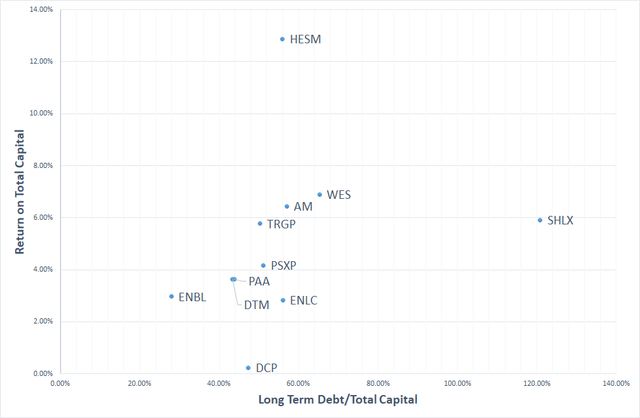 Source: Author's calculations based on Seeking Alpha data
Shell Midstream Partners, L.P. (SHLX) is clearly the outsider of the whole sample - its 120.75% of the LTD/TC ratio brings too many risks and can't be justified by high profitability. The dividend yield (FWD) of 10.19% does not save the situation, since there has been a dividend cut recently amid some other peers' dividend raise. So this is the first company from my list to be excluded.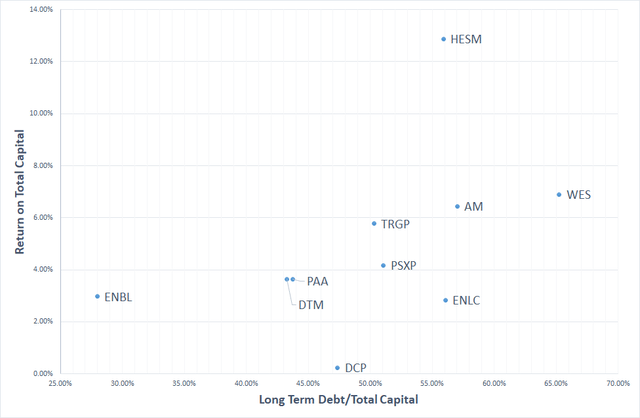 Source: Author's calculations based on Seeking Alpha data
The next candidate for exclusion is DCP Midstream, LP (DCP). Having only 0.24% of return on total capital, the company trades for 9.41x EV-to-EBITDA multiple, which is 12.10% higher than the average of the peer group. Daniel Thurecht's late June article confirms the company's overvaluation from the side of discounted cash flows - DCP turned out to be >40% overvalued according to his calculations. That is why now there are only 10 companies left in my sample: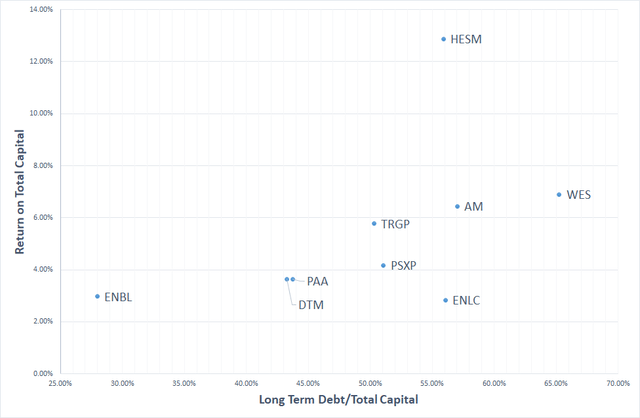 Source: Author's calculations based on Seeking Alpha data
Now I want to take a look at the quarterly results of the above companies, switching from negative to the positive screening process.
Company #1: Antero Midstream Corporation (AM)
Antero Midstream is a subsidiary of Antero Resources Corporation (AR); it was "formed to own, operate and develop midstream energy assets to primarily service Antero Resources' production and completion activity". AM serves the Appalachian Basin - AR's wells in West Virginia and Ohio, as well as freshwater delivery systems, that "consist of permanent buried pipelines, surface pipelines, and freshwater storage facilitates".
In 2Q 2021 AM's revenue increased 6% (YoY), while adjusted EBITDA got up by ~11.78% (YoY as well). Since the supply chain of the company (and AR's one) was not significantly affected by the coronavirus and the prices for transported raw materials, as we know, increased significantly, AM was able to maintain asset utilization rates >90% across its assets. According to the CEO's words, the company intends to maintain such high asset utilization rates shortly, believing in the further growth and recovery of the whole industry.
In addition to this, the company has really done a tremendous amount of work to improve the balance sheet:
<...> I wanted to highlight the debt maturity profiles at both AR and AM given the drastic improvements over the last 12 months, which we have outlined on Slide #7. At this time last year, AR had over $2 billion of senior note maturities within the next 3 years. Fast forward to today, as depicted on the top half of the page, AR does not have any senior note maturities until 2025.

<...> we had $514 million drawn on our $2.13 billion revolving credit facility, resulting in $1.6 billion of liquidity as of quarter end. As a reminder, we previously announced that we are targeting approximately $500 million of free cash flow after dividends from 2021 through 2025 and low to mid-single-digit annual EBITDA growth as a result of the drilling partnership between AR and QL Partners. This financial strength and free cash flow outlook at both entities positions us well as we expect to extend the credit facilities over the next year.

Source: From AM's Earnings Call Transcript
The stock is currently trading at 8.62x EV/EBITDA (FWD) - slightly above the average of the analyzed sample (8.39x). However, this fact is offset by the growth of EBITDA: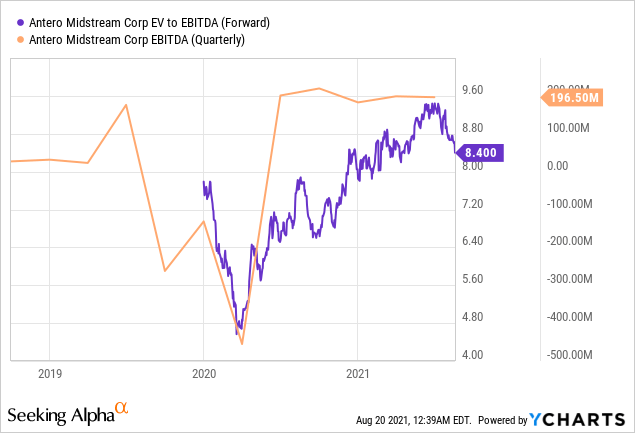 Note: the multiples' values may differ because the sources used are different.
Due to the observed correction, the dividend yield (FWD) increased to 10.34% - the highest one among the peers: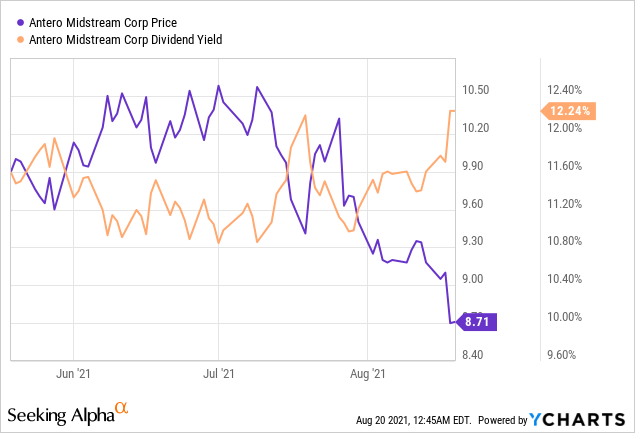 Based on the above, I think AM is an interesting idea and should definitely be included in my top list.
Company #2: DT Midstream, Inc. (DTM)
DT Midstream is an undercover midstream company, that is trading as a standalone enterprise since July 1, 2021, as a result of a spinoff from DTE Energy (DTE). On August 16 the company declared a dividend payment of $0.60/share, which translates to a forward dividend yield of ~5.69%. The yield is not that big considering the average of this industry of ~7.44%. But that is going to be the first payment ever made, so the management assures that DTM will "maintain a durable and growing dividend that is competitive with its peers".
Operating in "Pipeline" and "Gathering" segments, DTM generated 12.90% more of adjusted EBITDA in 1H 2021 compared to 1H 2020, "reaffirming its 2021 guidance with a bias to upper ends". The CEO also increased the 2022 outlook for adjected EBITDA and operating earnings.
DTM has no significant debt maturities for seven years from the initial debt offering, and its "strong cash flow generation is underpinned by long-term take-or-pay contracts".
I expect that in the next couple of years, given the current prices for the raw materials transported (even if these prices correct slightly), the company will be able to continue its development amid increasing dividends. Yes, the EV/EBITDA multiple is ~15% above the average, but the company is not burdened with short-term debt, so I think this premium is quite reasonable and even slightly underestimated.
Company #3: Enable Midstream Partners, LP (ENBL)
Enable Midstream's assets are primarily located in Oklahoma, Texas, Arkansas, and Louisiana, consisting of 2 business segments: "Gathering and Processing" and "Transportation and Storage".
For the six months of 2021 ENBL generated $413 million of cash from operating activities, which is 32.80% higher than in 1H 2020 - that was mainly driven by a) higher net income (+69.57%, YoY) and b) the increase in the timing of cash receipts and disbursement. Adjusted EBITDA increased by 13.53% in 1H 2021 and by 12.05% in 2Q 2021, both YoY.
However, the analysis of this company is complicated by the fact that Energy Transfer LP (ET) is buying it:
Energy Transfer LP & Enable Midstream Partners, LP today announced that they have entered into a definitive merger agreement whereby Energy Transfer will acquire Enable in an all-equity transaction valued at approximately $7.2 billion.

Source: ET's press release
For each unit of ENBL, the shareholders are supposed to get 0.8595 ET common units - that's 3.81% more than the current price of ENBL. The deal is expected to close during 2H 2021 - CenterPoint Energy and OGE Energy (79% owners of ENBL) "delivered their consents to the transaction". So buying ENBK now would actually mean earning the 3.81% premium plus owning a good business, that has improved its margins back to normal levels and reduced debt dependence while the commodity prices were high: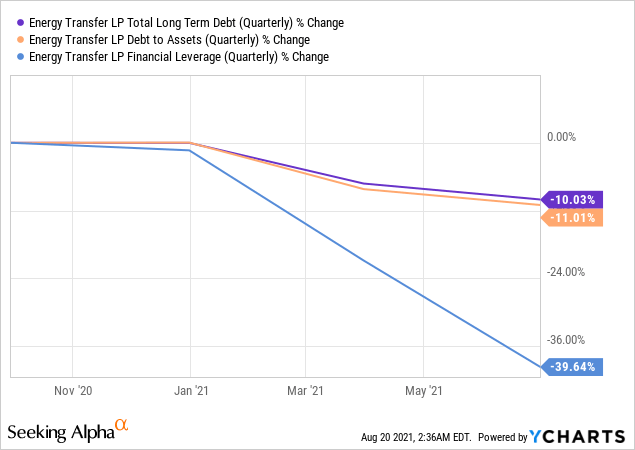 ET is currently trading at 6.50x forward EV/EBITDA (and it's still contracting), and delivering a dividend yield of 6.82% - not bad for a large-cap midstream company.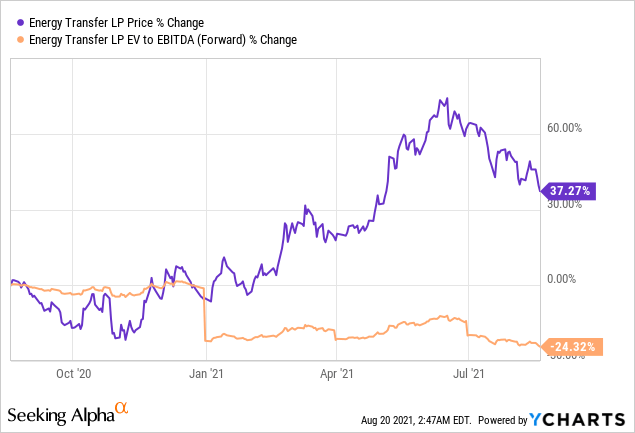 ET's size is slightly different from my original focus, but I don't suggest buying it - ENBL is a pretty good play.
Company #4: EnLink Midstream, LLC (ENLC)
Being ~90% focused on natural gas and NGLs, EnLink Midstream is expecting to be in the upper end of the adjusted EBITDA range of its 2021 full-year outlook due to a favorable market environment. It is important to note that these positive expectations of the company are based on quite conservative assumptions about the average commodities prices in 2021: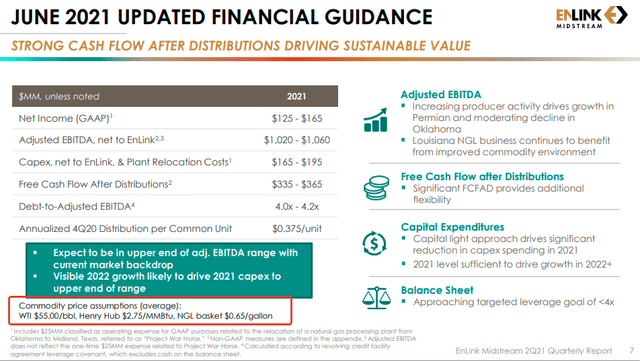 Source: Author's notes based on EnLink's IR presentation
The company's adjusted EBITDA in 2Q 2021 increased by 6.5% (YoY) but declined for the half-year period by 1.59% (YoY as well). ENCL did reduce its long-term debt levels, but the financial leverage is still growing, while current liquidity is worse than in 2020: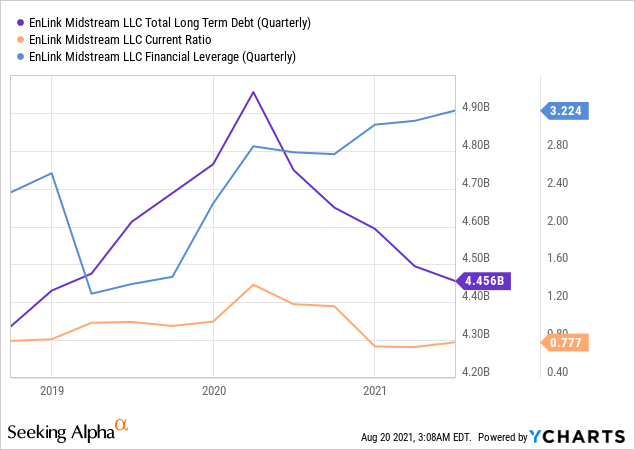 Therefore, after seeing the results for the 2nd quarter, I had a rather ambiguous feeling: the management says that they are satisfied with the results, although it's clear from the analysis of the peers that the company has not done enough to stand out.
The stock trades at 8.95x EV/EBITDA (FWD), which is close to the average multiple - only 0.77% lower, while the EBITDA margin is only 20.53% (according to SA) - the peers' average is ~42.95%. At the same time, YTD stock performance surpassed the group's average performance by ~13.90%, which adds a certain amount of risk for potential buyers. Therefore, I am more neutral towards EnLink than bullish.
Company #5: Hess Midstream LP (HESM)
As you can remember, HESM had the largest return on total capital in the group with a fairly average LTD/TC ratio. The company's benefits don't end there - on July 28, it increased its dividend by 11.48% to $0.5042/share, resulting in a dividend yield (FWD) of ~8.49% (one of the highest values in the peer group). Unlike other industry players who did not raise their 2021 outlook, but only indicated that they were "targeting the highest range", HESM increased its full-year 2021 adjusted EBITDA guidance to $880 - $900 million - that'll lead to a YoY increase of around 19%.
Looking ahead, we are poised for organic growth and continued adjusted free cash flow as Hess Corporation adds a third rig in September. Furthermore, our decision to return capital to shareholders underscores our confidence in Hess Midstream's financial stability and trajectory for future volume growth.

Source: John Gatling, President and Chief Operating Officer of Hess Midstream
Hess is actively decreasing its long-term debt and financial leverage, while its liquidity levels remain somewhat constant: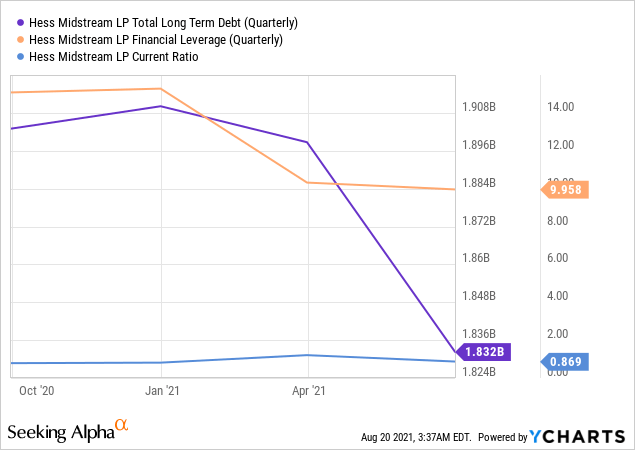 As Daniel Thurecht states, it looks like HESM is "priced for a bearish scenario whereby its distributions cease growing". I agree with that because the 5% annual growth in distribution Hess' management targets will be more than enough to justify the current 4.12x EV/EBITDA (FWD) multiple, which is already >50% lower than the peer group's average of 8.39x. More surprisingly, the multiple is still contracting: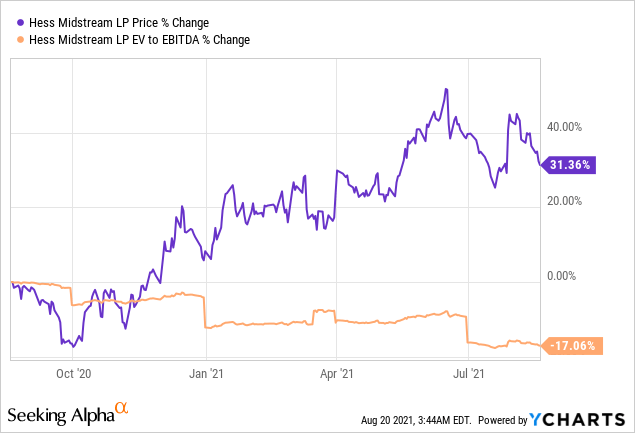 With such a high forward dividend yield and with the levered FCF margin of 22.77% (compared to an average of 3.00%), Hess Midstream for me is one of the strongest buy ideas in the whole industry.
Company #6: Plains All American Pipeline, L.P. (PAA)
As it's stated in PAA's recent 10-Q, Plain All American Pipeline is the "largest midstream service providers in North America, we own an extensive network of pipeline transportation, terminalling, storage and gathering assets in key crude oil and NGL producing basins (including the Permian Basin) and transportation corridors and at major market hubs in the United States and Canada".
PAA's adjusted EBITDA turned out to be 10% higher in 2Q (YoY), but 15% less for the half-year 2021 (YoY as well). Despite the words of the management that after the cash distribution for dividends the company plans to pay off the debt, that was not evident from its factual results in the 2nd quarter: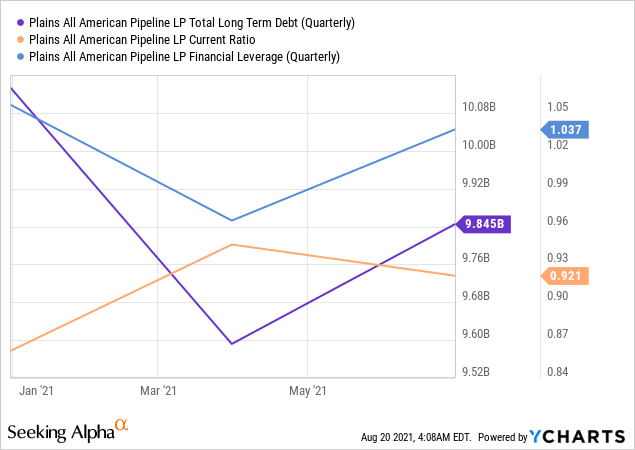 PAA is trading at 8.9x EV/EBITDA (FWD), which slightly exceeds the average, and the growth of the multiple is outpacing the stock's one:
The company's EBITDA margin of 6.23% is lagging far behind the 42.95% average figure - and it's still rolling down: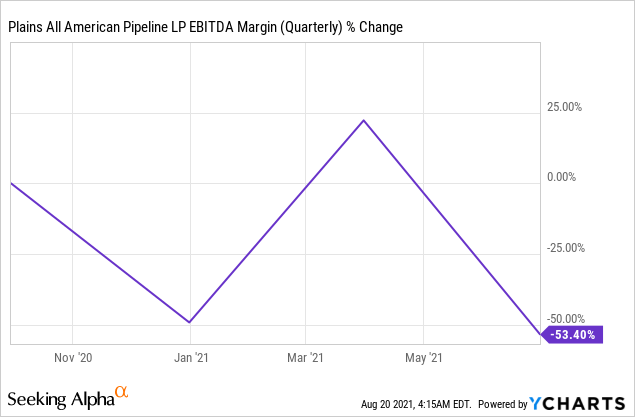 When the industry is filled with so many good companies that have already managed to do something in the 2nd quarter, PAA looks like an outsider, even with a fairly good forward dividend yield of ~7.64%.
Company #7: Phillips 66 Partners LP (PSXP)
Phillips 66 operates in "crude oil, refined petroleum products, and NGL transportation, terminaling, processing and storage assets" segments, delivering fee-based services to Phillips 66 and other customers. In its recent 10-Q, PSXP reported a 1.63% YoY decrease in sales for 2Q 2021 and a 4.20% YoY decrease for the first half-year 2021. Due to double-digit growth in costs (in 1H 2021 compared to 1H 2020), Phillips 66 reported a net income of just $223 million - 53.64% less, than in 1H 2020. But in the following periods, I do not think that this can be repeated - most of the increase in costs in 1H 2021 was associated with the sale of the Liberty Pipeline project ($198 million impairment cost). Excluding this cost item, the adjusted EBITDA increased by 25.28% in the 2nd quarter (YoY) and by 6.10% in the first half-year (YoY as well). Few of the peers can boast of such a large increase in the adjusted EBITDA.
The company shares the opinion of its competitors regarding price stability in the coming years, therefore, it actively continues to expand its operations:
During the quarter we advanced our capital program, to continue construction of the C2G pipeline connecting the Clemens storage Caverns to petrochemical facilities in the Corpus Christi area. The pipeline is expected to be operational in the fourth quarter of this year.

Source: PSXP's Earnings Call Transcript
Phillips 66 Partners eased its long-term debt in the 2nd quarter, but financial leverage remained largely unchanged. The company's liquidity is far from recovering: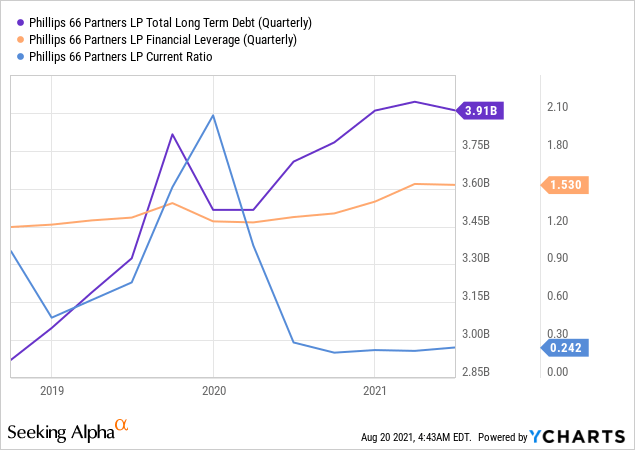 This is not to say that PSXP is undervalued, because the stock is traded for 10x EV/EBITDA (FWD), and the multiple isn't contracting: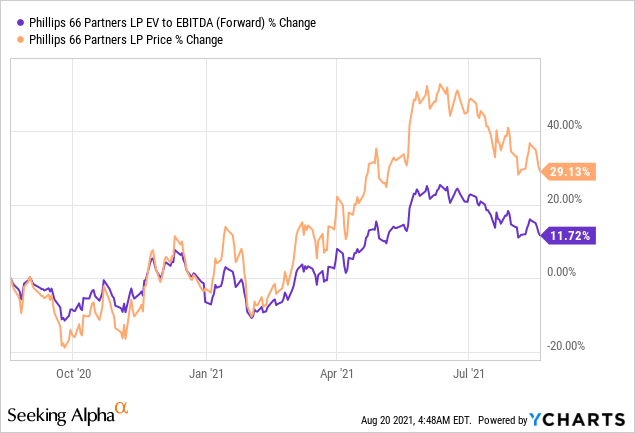 On the other hand, the company's key financials have already recovered to the pre-covid levels; so given its plans for the near future, PSXP is a rather risky, but worthwhile thing to invest in.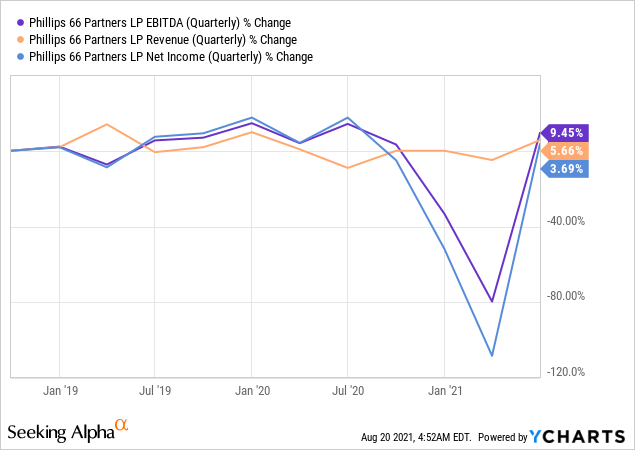 Company #8: Targa Resources Corp. (TRGP)
Targa operates in 2 main segments: "Gathering and Processing", and "Logistics and Transportation" (also referred to as the Downstream Business).
At first glance, the company seems like an obvious outsider - it's trading at 10.62x EV/EBITDA (FWD) with a net profit margin of 2.60% and a forward dividend yield of 0.94%. However, if the financials have yet to be sorted out, then such a low dividend yield can already be explained by the management's attempts to deleverage. At least this is what the executives said in 2020. At the moment, their efforts are not obvious: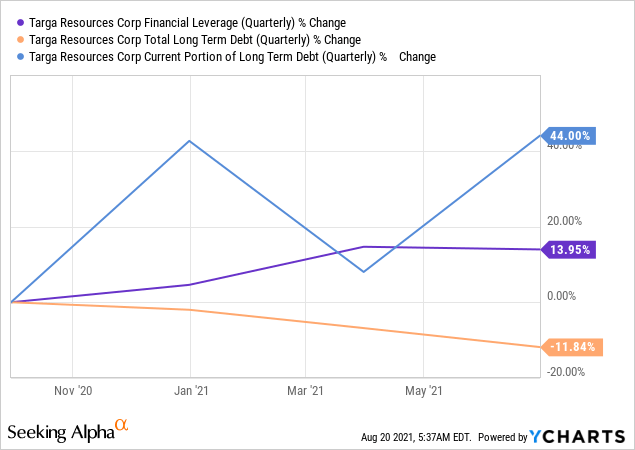 Anyway, the second quarter turned out to be quite successful for the company: the adjusted EBITDA in 2Q increased by 30.98% (YoY), and in the 1st half of the year - by 25.20% (YoY as well). Due to decreased growth CAPEX (net of contributions), the 1H 2021 free cash flow increased ~3.5x and doubled in 2Q (both YoY).
Operating margins have grown significantly in both segments due to increased transportation volumes and high commodity prices; the outlook for FY2021 and FY2022 looks very encouraging:

Source: from Targa's IR presentation
However, take a closer look at the average commodity prices taken for basis - they are significantly higher than those, shown by EnLink in its outlook. Therefore, I think Targa's forecasts are significantly more risky than EnLink's ones.
Over the past year, the stock has grown the most, while its EV/EBITDA hasn't contracted: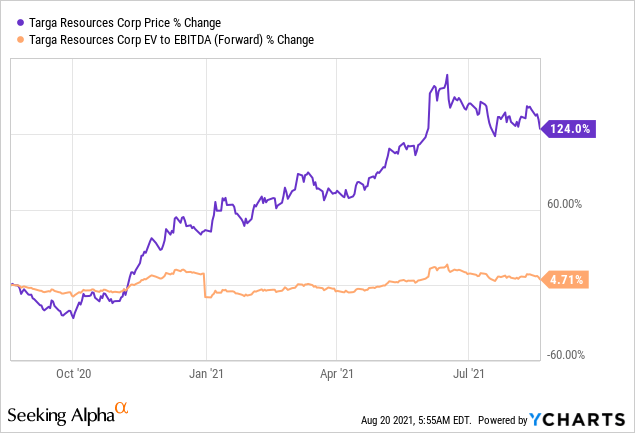 It seems to me that Targa is too vague an investment at the moment. Yes, there is growth and it is impressive. But the quotes did not lag behind during this time. The company's forecasts were based on average prices slightly higher than what can be considered conservative. The management is talking about plans for deleveraging, but the company's financial leverage continues to grow. Such low dividends are only a matter of time, but you won't be full of just dividends.
Company #9: Western Midstream Partners, LP (WES)
In terms of its operational activity, the company is no different from the aforementioned names. I've selected the key highlights from its 2Q report to give you an idea of the company's operational and financial performance over the past quarter:
WES Operating redeemed the total principal amount outstanding of the 5.375% Senior Notes due 2021 at par value, pursuant to the optional redemption terms in WES Operating's indenture.
We repurchased 1,115,808 common units for an aggregate purchase price of $16.2 million during the six months ended June 30, 2021.
Our second-quarter 2021 per-unit distribution of $0.31900 increased $0.004 from the first-quarter 2021 per-unit distribution of $0.31500.
Natural-gas throughput attributable to WES totaled 4,265 MMcf/d and 4,157 MMcf/d for the three and six months ended June 30, 2021, respectively, representing a 5% increase and 6% decrease compared to the three months ended March 31, 2021, and six months ended June 30, 2020, respectively.
Crude-oil and NGLs throughput attributable to WES totaled 687 MBbls/d and 645 MBbls/d for the three and six months ended June 30, 2021, respectively, representing a 14% increase and 13% decrease compared to the three months ended March 31, 2021, and six months ended June 30, 2020, respectively.
Produced-water throughput attributable to WES totaled 688 MBbls/d and 642 MBbls/d for the three and six months ended June 30, 2021, respectively, representing a 16% increase and 12% decrease compared to the three months ended March 31, 2021, and six months ended June 30, 2020, respectively.
Gross margin was $503.2 million and $958.7 million for the three and six months ended June 30, 2021, respectively, representing a 10% increase and 11% decrease compared to the three months ended March 31, 2021, and six months ended June 30, 2020, respectively.

Source: From WES' 10-Q
Despite the decline in gross margin for the first half-year of 2021, free cash flows increased by 77.61% in 2Q (YoY) and by 40.26% (YoY) in 1H 2021. Since it's a fee-based company, it is highly sensitive to volumes and therefore, can be a good play on the catalysts, described at the very beginning of this article:

Source: From WES' IR presentation
The company is reducing its financial leverage and long-term debt - that corresponds with its commitment to maintaining leverage levels at 4.0x in FY2021 and 3.5x in FY2022. As of the date of the 2Q report release, WES retired the entire $431 million senior notes due in 2021.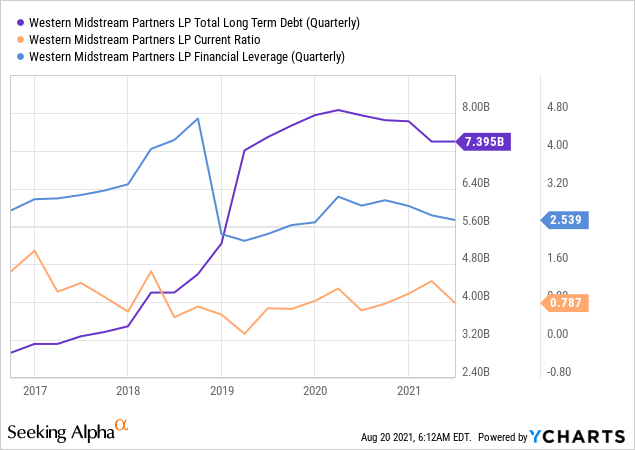 WES's EV/EBITDA multiple lags 5.41% concerning the average value, while its margins are significantly outpacing the peers' ones: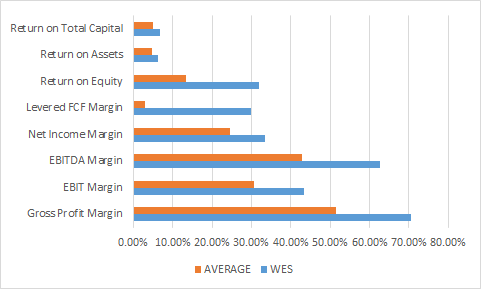 Source: Author's calculations based on Seeking Alpha's data
In contrast to Targa, WES's stock price has been increasing amid the multiple contraction: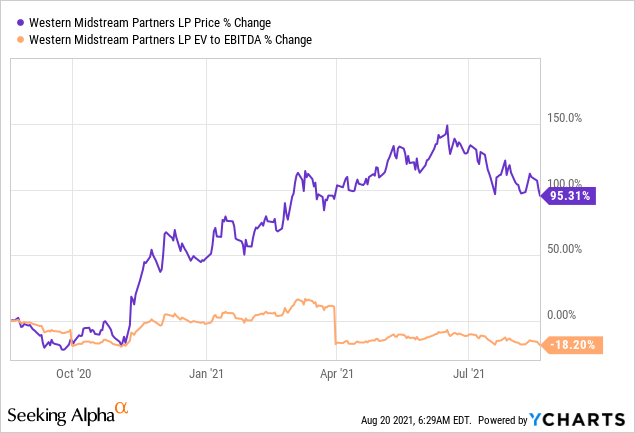 Since the company has increased its outlook figures (EBITDA and per-unit cash distribution), like almost all other companies, I believe that it has some advantage in terms of margins and good management, so the ~7% dividend yield (FWD) will remain that way (or will grow) as long as the market environment remains stable.
So who's left?
Using positive screening, I decided to keep the following 7 companies and ranked them to increase the chances of the final portfolio delivering the maximum return: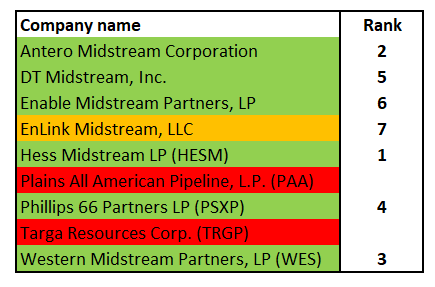 Source: Author's selection and ranking
Based on the rankings above, I suggest the following portfolio: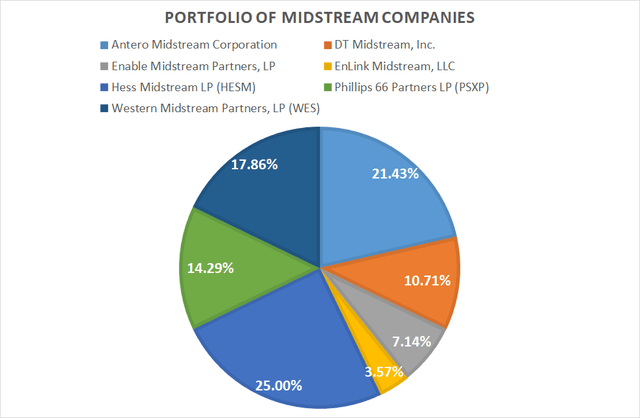 Source: Author's calculations
However, you should keep in mind that the cornerstone of the portfolio is the assumption of stable demand for the services of the midstream companies in the coming years. The companies themselves agree with this assumption. However, the risk that the events of 2020 may repeat itself has not gone anywhere.