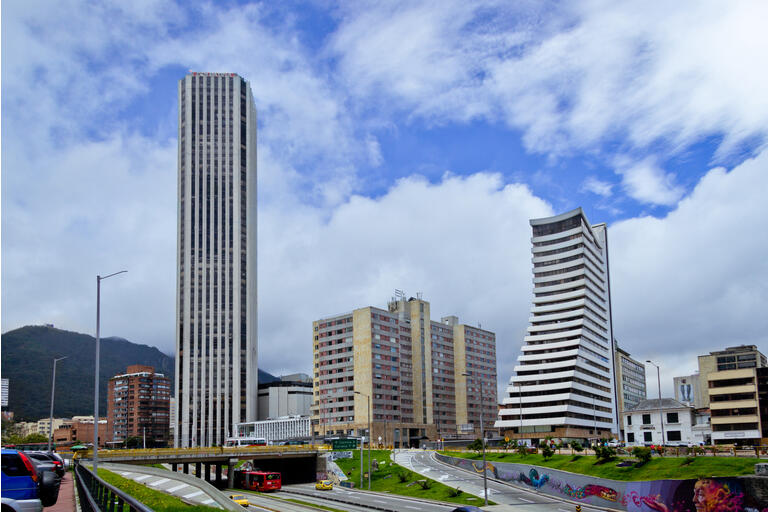 Grupo Aval (NYSE:AVAL) is a Colombian holding company. Its primary interests are in four different Colombian banking franchises, some of which in turn hold investments in other subsidiaries such as infrastructure/concessions, construction, and insurance.
Aval also owns the largest banking franchise in Central America, which it bought from GE (GE) in an asset sale after the Great Financial Crisis. Aval's Central American franchise has more than 30% market share across the combined Central American markets.
I've invested in Bancolombia (CIB) and Aval before, so why do I prefer Aval shares at the moment?
First things first, it's important to note that the banks have similar performance, both in terms of operations/profitability and their stock returns. So either choice should work well assuming the thesis is correct.
Also, when comparing the two, please use total returns. Aval pays an abnormally large dividend and Bancolombia does not, so Aval's stock looks worse by comparison if you don't add the yield back in. Anyway, here's how they stack up over the past five years: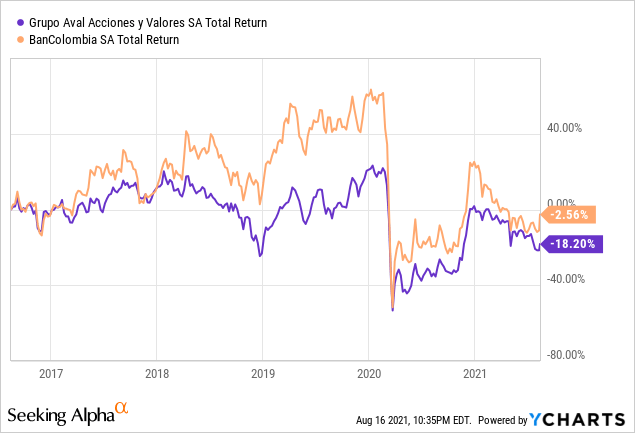 There was only one real divergence between the two. This came back in 2018-19 when Aval was implicated in a corruption/bribery scandal over the awarding of a toll road concession in Colombia.
Aval's infrastructure subsidiary, Corficolombiana, was part of a group that bribed politicians to help win that concession. Corficolombiana is separately operated and publicly-traded, but Aval owns a controlling stake. Traders (myself included) trimmed their positions in Aval on concerns that it would face grave consequences from this scandal. Instead, prosecutors couldn't find evidence that Aval and its CEO were directly involved. Corficolombiana was fined, however, most of the punishment went to Odebrecht (the Brazilian firm that was the ringleader) and individuals involved.
Now, as you can see, Aval and Bancolombia have largely closed the performance gap, with Bancolombia only modestly ahead of Aval since the pandemic struck.
It's also worth considering the ownership structure. Namely, Luis Sarmiento, Colombia's wealthiest man, owns roughly 80% of Aval and has built a $10 billion fortune over the course of his 88-year life, making him the #200 richest person in the world: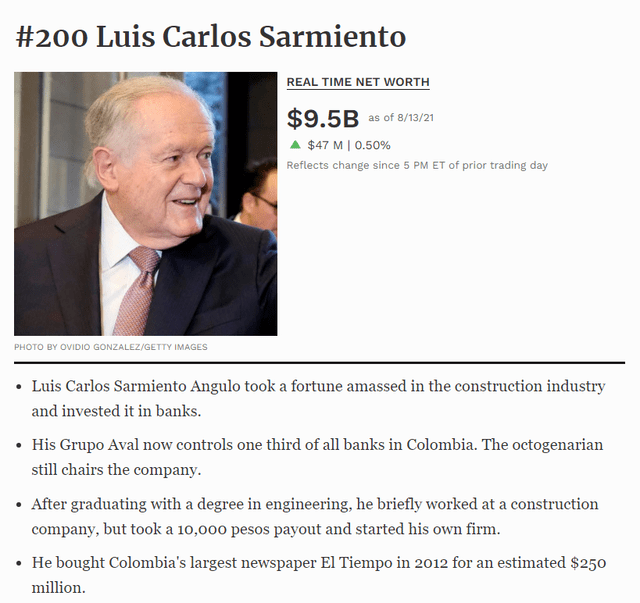 Source: Forbes
Being worth $10 billion gets you considerable influence in an emerging market country, as you might expect. Owning a large newspaper also helps as we've seen with Jeff Bezos and his Washington Post. In any case, you tend to reduce your political risk when you invest with a country's most powerful or wealthy person. There's a notable difference in corporate culture as well, as Aval is closely tied to Sarmiento's family, whereas Bancolombia has outside management.
Also, it's important to consider that AVAL stock has extremely limited free float.
1.1 billion shares of Aval exist. However, since Sarmiento owns the vast majority of them, fewer than 200 million freely trade. At $5.70 a pop, AVAL has just over $1.0 billion of freely trading shares. Aval is on pace to make about $1 billion in profits annually.
I'm not aware of too many companies that have only one year of earnings' worth of stock available to purchase. That's a roundabout way of saying that if anyone wants to buy a significant chunk of the company, they could drive the stock to unexpectedly high levels with a small amount of capital.
Aval's lack of any meaningful free float hasn't mattered since there hasn't been any rush to buy the stock in many years. However, if emerging market and Colombian stocks get hot, there won't be nearly enough AVAL stock available to meet demand -- at least not at prices anywhere near today's level.
Colombian Bank Earnings Are Skyrocketing
Aval's most recent quarter was excellent. It posted 23 cents a share of earnings, which puts it on pace to earn 92 cents annualized.
Analysts totally missed the inflection point, and had their estimates much too low: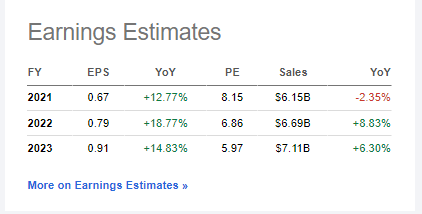 Aval earnings estimates at the time of its most recent earnings release. | Source: Seeking Alpha
Aval is already earning 92 cents annualized now, but analysts had forecast just 67 cents for this year. They had only 79 cents for 2022. But, the economy has kicked into high gear, Aval will have strong loan growth going forward, and the bank's return on equity "ROE" should keep climbing. So earnings should be trending to at least a buck a share, if not a little higher.
In other words, there is plenty of room for upgrades and analyst price target hikes going forward on the stock. 10x earnings on analysts' (stale) estimate of 91 cents of EPS in 2023 would put the stock at $9.10 versus $5.70 today. Meanwhile, true earnings power is likely to be above a buck by then, getting the stock into the double digits even using a conservative P/E multiple.
The analysts were even more wrong about Bancolombia, with this set of estimates: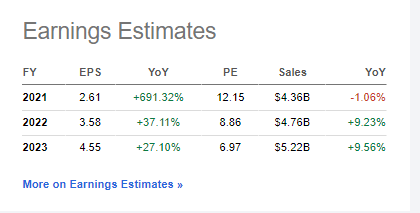 Instead, Bancolombia earned more than $1.25/share this quarter, which annualizes to north of $5. Analysts didn't even see Bancolombia getting to $5 of earnings in 2023. My house view for a while was that Bancolombia could earn $6-$7/share once the Colombian economy really got cooking again, so it's gratifying to see the bank already above a $5 pace way ahead of when anyone expected it.
However, it should be noted that Bancolombia is enjoying a big tailwind from decreasing loan loss provisions, so that is giving a boost to their near-term earnings. Aval, by contrast, didn't have to provision as much, and thus has a smoother credit curve coming out of the recession. Put in English, because Bancolombia provisioned more, now it is earning more since those feared potential loan losses didn't materialize and it gets to reclaim them. When you actually look under the hood, Aval's results were moderately better than Bancolombia's on an operating basis, in my view. However, Bancolombia had the flashy way-above-expectations earnings number and thus drew analyst praise (and an upgrade from JPMorgan).
Longer-term, however, Aval is generally the best-run and most profitable of the Colombian banks, and its scandal discount should reverse and even end up at a quality premium.
The bank is likely heading for a 17-18% ROE this year (that's extremely good) and usually would trade at 1.5-2.0x book value given that high a level of profitability and the strong economic outlook. Instead, Aval is trading at just 1.1x book value. It's nuts not to assign a premium to book value for a bank at an 18% ROE. Generally, banks with ROEs north of 10% deserve a premium.
Furthermore, Aval historically tends to trade in the 1.6-2.0x book value range (was much higher than that prior to oil crashing in 2014, but let's be conservative today), which implies dramatic upside from here: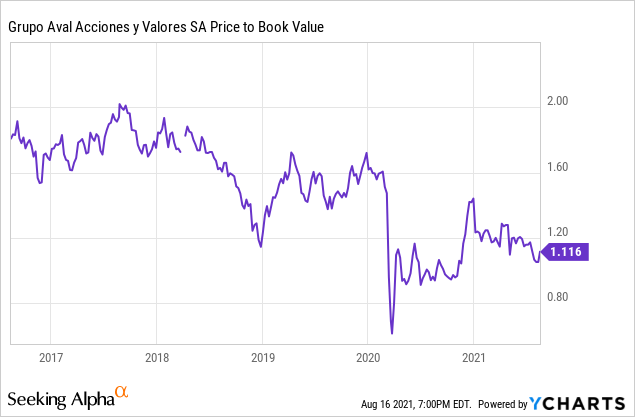 Aval pays out a large portion of its earnings as dividends, as it makes sense given that Sarmiento owns the lion's share of all outstanding AVAL stock and thus is paying dividends to himself in large part. Aval currently yields just north of 5% and is a monthly-pay dividend thus offering an appealing income option.
Aval Risks
So what's not to like about Aval? There's the insider ownership, which some view as a negative. There's definitely a case for having outside management rather than a family structure, though I'd argue both have their benefits.
Switching gears, Colombia's economy had been in a deep funk. This is rapidly changing, however. Both NYSE-listed Colombian banks pointed to a stronger-than-expected economic recovery and job additions this summer. One of the biggest things holding back the economy now is a shortage of construction materials, which is generally a good sign compared to other potential issues.
Political risk is always a concern. Colombia had some disturbing political protests and strikes earlier this year, particularly in the city of Cali. Given the unfortunate political developments in Peru and elsewhere recently, it's not surprising that investors are taking a more wary view of LatAm politics/investments.
That said, Colombia doesn't vote for president until next spring. This gives the economy almost a year to continue improving. There are no two ways around it, the current president and his allies are brutally unpopular, and it's hard to see a solidly right-wing president following in his wake.
That said, the leading leftist candidate has been losing steam in the polls and betting markets, and there appears to be a sharp rise in interest in moderate/centrists who would be a break from both the current leadership and the ingrained resistance. Long story short, the left-winger (who lost by 12 points last time around) is not looking particularly strong, and even if he did win, he's not nearly as extreme as, say, Peru's current president. Fellow contributor Ohio Capital Ideas had an excellent take on Aval and Colombia's political risk recently.
If Colombian equities and its currency were trading well, I'd say to put more caution into politics. With Colombian stocks and its currency just off 10-year lows, however, and the left-wing risk not being unusually high for the next election anyway, the market has massively overreacted to perceived risk.
The protests, while never reaching a breaking point, dragged on long enough to create the appearance of something big happening. However, with the economy now rapidly improving, I expect things to be trending in the correct direction for centrist or center-right candidates ahead of the presidential vote, while the left-wing's message around economic reform will lose steam as Colombian GDP hits double-digit growth rates.
There's also the risk that key Colombian commodity exports such as oil, metals, and coffee go down in value. Again, however, I'd say that's baked in given that Colombian assets are near 10-year lows: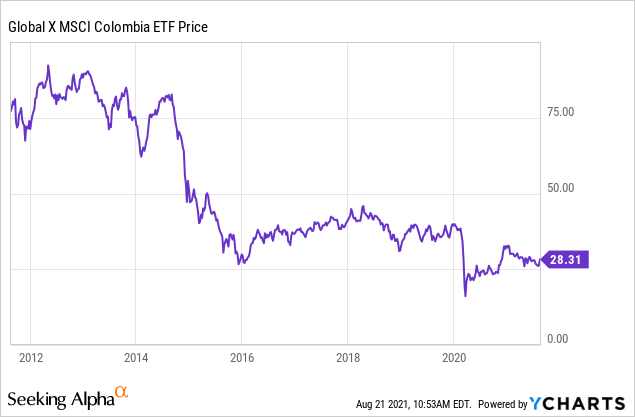 The more appropriate question is how is Colombia still trading way down here when oil, coffee, gold, etc. have moved sharply higher and the economy is heading toward its best performance since 2013? You could say that oil going back to $40 would be bad news for Colombia. But it's not like Colombia ever traded up when oil returned to $70 so that risk is mitigated.
What Happened The Last Time Colombia Recovered
Turning to upside, what happens when Colombia finally wakes up from its 10-year slumber? Colombian assets got pulverized in 1998-2001 with the Colombian Peso losing the majority of its value and its stocks getting pummeled. Argentina and several other LatAm countries went bust during this period, and investors bet that Colombia would go bankrupt as well. It didn't, but it was still quite the panic.
Coming out of that, Colombia produced utterly breathtaking annual returns:
2003 +67%
2004 +133%
2005 +108%
2006 +14%
2007 +15%
2008 -25% (this was one of the best in the world during banking crisis)
2009 +85%
If you want to imagine that in picture form, here's Bancolombia stock during that stretch (neither AVAL nor the GXG ETF was listed in New York yet):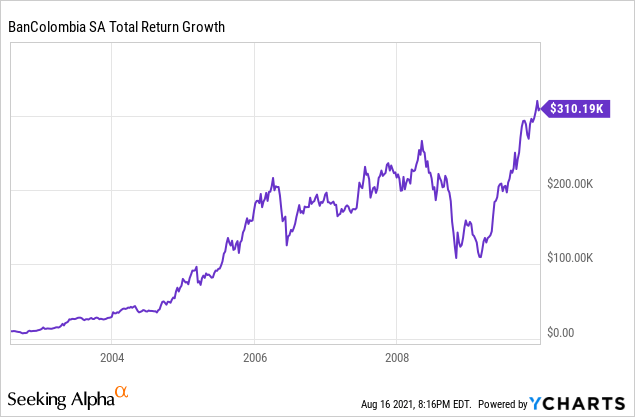 That's right, Bancolombia 30-bagged, turning $10,000 into $310,000 in a decade.
Am I predicting a 30-bagger this time around? No. Colombia was only down 80% off its 2011 highs this time, instead of down 90% as it was in 2001. Also, investors got way too optimistic about Colombian assets at the peak in 2010-11. Barring another China "commodity super-cycle", it's hard to see folks getting quite so bulled up on emerging markets again.
But could Colombian stocks go up 5x from here by 2030? Absolutely.
For one example, insurer Grupo Suramericana (OTCPK:GIVSY) is trading at half its NAV and its NAV is made up of dominant businesses selling at single-digit P/E ratios on far-from-peak earnings.
Aval specifically could double earnings from here and get to a 12-14x P/E ratio from the current 6x in a good market all while kicking out a 5% annual dividend off the starting price. The upside on these is incredible from here, and prices have already come down so dramatically that it's hard to see too much downside risk from there (that said, it's still an emerging market, so prices can get even sillier in the short run).
However, both Bancolombia and Aval announced way better than expected results last. Aval's head nonchalantly reported that it was the bank's best quarter in its history.
And that wasn't even the highlight. Rather, it was Bancolombia earning at fully twice the pace that analysts had expected for this year. The Colombian economic recession is long gone and the banks are back to targeting double-digit growth while spitting out high teens ROEs and selling at around 6x starting earnings. This is a mighty fat pitch.
Colombia has been at fire sale prices for a long time. But I'd been waiting for a sign that sentiment would finally turn the corner before committing fresh capital.
Last week's blowout earnings and the resulting big upgrade from JPMorgan indicate the buyers are finally looking at Colombian stocks. As they do, they'll see that prices are currently far too low.