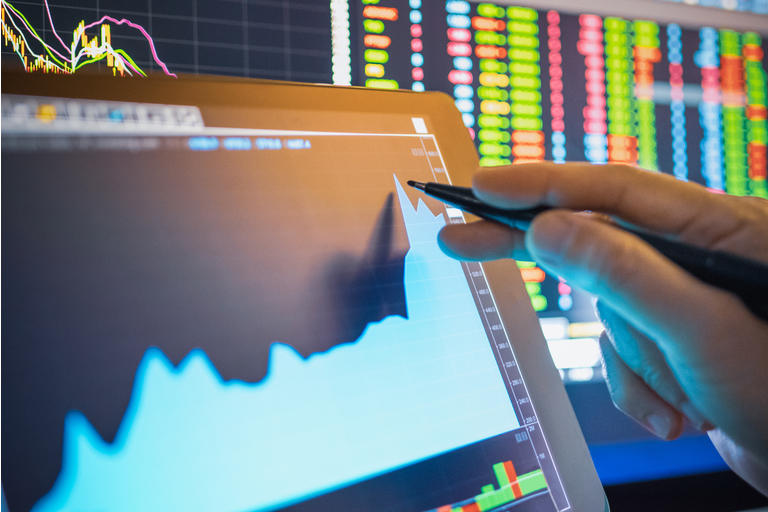 Post-merger, the combined FS KKR (NYSE:FSK) entity is now the second-largest BDC on the market (after Ares Capital (ARCC)), with not only a conservative net leverage profile but also increased portfolio diversification and enhanced capital markets access. With the first quarterly results post-merger with FS KKR II (FSKR) also trending positively, I view FSK shares as attractively valued at the current c. 20% NAV discount. As FS KKR continues to leverage its expanded scale to capitalize on accretive longer-term opportunities and out-earn its distribution (currently at an annualized c. 12% yield based on FQ2 '21), expect to see the FSK valuation multiple further improve as the path to improved results becomes clearer.
Solid Post-Merger Fundamentals Backed by NII Growth
Overall, the FQ2 '21 results were strong - net investment income came in well ahead of consensus estimates, underpinning continued improvement in asset quality metrics and a moderating leverage profile. Nonetheless, market conditions remain competitive with asset pricing now through pre-COVID-19 levels, although I would note that the increased fundraising for middle-market private equity has provided a partial offset to the competitive pressure. Still, on a pro-forma basis, net investment activity was positive at c. $500 million for the quarter, of which c. $2.3 billion was in investment purchases, net against c. $1.8 billion in sales and redemptions.

Source: FS KKR FQ2 '21 Earnings Presentation Slides
The company also completed the FSK/FSKR merger in the quarter, with the surviving entity continuing under the FSK ticker. The combined FSK/FSKR portfolio stood at c. $14.7 billion as of quarter-end, helped by the considerable net gains in the quarter, with the top ten largest portfolio companies now representing c. 20% of the portfolio. Looking ahead, the company reiterated its investment focus on less volatile industries with higher EBITDA generation in the $50–$100 million range, while diversification will be maintained across industries and issuer position sizes. I see lots of positives in this approach – a less cyclical/de-risked portfolio not only helps to preserve the value of its legacy investments, but also positions its investment portfolio to capitalize on KKR's (KKR) private credit capabilities.
Accretive Portfolio Repositioning Post-HPA Sale
Leading into the quarter, KKR had disclosed that the Blackstone Real Estate Income Trust would acquire Home Partners of America (in which FSK holds significant debt and equity stakes) for c. $6 billion. On the one hand, the transaction scale is relatively small - the equity assets to be monetized represent 1+% of FSK's total portfolio assets. Yet, I would note that the common equity is currently non-income producing (per the footnote in the schedule of investments), and assuming a markup on the common equity, FSK will likely have up to $300 million in proceeds to be reallocated into income-generating investments.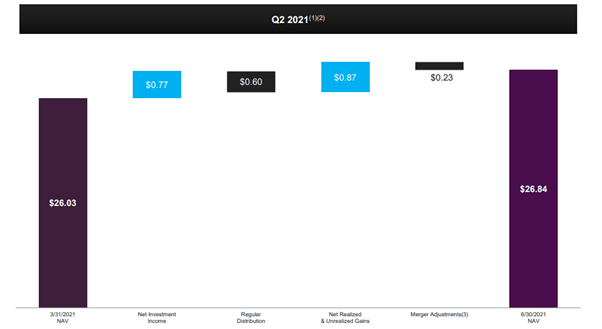 Source: FS KKR FQ2 '21 Earnings Presentation Slides
An accretive portfolio shift should add significantly to the NAV, which is already on the rise at $26.84 in the latest quarter (+3.1% Q/Q) on the back of c. $749 million of portfolio gains (comprising c. $51 million net realized and c. $698 million net unrealized gains). FSK's reported NII ("net investment income") is also running well above management's prior 9% dividend yield target on NAV, and therefore, any incremental value from a potential repositioning could be significant. For instance, c. $300 million in equity assets converted to income-producing investments at a c. 8% yield would imply c. $24 million or ~$0.05-$0.06/share in incremental income adjusted for the relevant fees (and without additional debt or equity contribution).
Focus Turns to the Shareholder Return
Relative to its targeted c. 9% yield on NAV, it was positive that FSK is already over-earning the dividend - management declared a $0.65/share dividend for the quarter, which largely reflects the FQ2 '21 NII outperformance. To recap, FSK is transitioning to a variable dividend policy where the base dividend is to approximate a c. 9% yield on NAV, which would imply a c. $0.60/share dividend. However, in certain quarters (like in FQ2' 21), where additional income via one-time dividends and additional prepayment income boosts the P&L, FSK will pay out a portion of the additional earnings. Therefore, based upon the FQ2 '21 adjusted NII of $0.74/share, the latest payout will amount to an additional $0.05/share for a total dividend payout of $0.65/share this quarter.

Source: FS KKR FQ2 '21 Earnings Presentation Slides
Coupled with the dividend, FSK's Board has also authorized a c. $100 million share repurchase program post-merger at prices below NAV over the next twelve months. And with the recent increase in NAV bringing the adjusted P/NAV to c. 0.8x (one of the lowest relative to its large-cap BDC peers), there is plenty of room for repurchases ahead. As things stand, however, the size of the repurchase seems too small – as the merged FSK entity has c. 285 million shares outstanding, a c. 4 million share repurchase would only retire 1-2% of the outstanding shares. Nonetheless, with the sale of the HPA stake potentially offering an additional funding source for accretive share repurchases, I see an upsized repurchase down the line (assuming the wide discount to NAV persists).
Final Take
Overall, the quarter was positive as key metrics came in better than expected, leading to a healthy combination of an EPS beat, dividend increase, and an expanded NAV as well. While management did caution that the investment environment remains competitive, with some spreads even tightening from pre-COVID-19 levels, the scale of the FSK platform means it can still access plenty of attractive risk-adjusted opportunities at the upper end of the middle market. At these levels, I view the valuation as attractive – in addition to the wide c. 20% discount to NAV, the BDC has also out-earned its targeted distribution, underpinning an attractive c. 12% dividend yield.