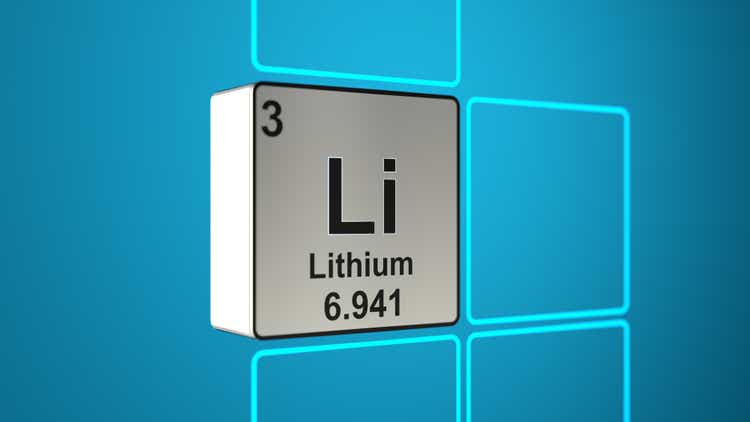 This article first appeared on Trend Investing on July 21, 2021, but has been updated for this article.
Trend Investing followers, and increasingly the investment community, are aware of the 10-11x lithium demand surge that is forecast for this decade. More recently the International Energy Agency [IEA] forecasts lithium demand to increase between 13x (low scenario) and 42x (high scenario) from 2020 to 2040.
I forecast lithium demand to have surged from ~0.350mtpa LCE in 2020 to ~3.5mtpa LCE by 2030. This is an increase of 3.15mtpa LCE which is a staggering increase and cannot be met just by existing producers expanding, especially later this decade.
Yes, the major lithium producers will expand, but there will also be plenty of opportunity for quality new lithium miners to emerge. The two early stage lithium junior explorers discussed today are higher risk / higher reward, long term opportunities to be potential winners by 2030.
2021 IEA forecast growth in demand for selected minerals from clean energy technologies by scenario, 2040 relative to 2020 - Increases Of Lithium 13x to 42x, Graphite 8x to 25x, Cobalt 6x to 21x, Nickel 7x to 19x, Manganese 3x to 8x, Rare Earths 3x to 7x, And Copper 2x to 3x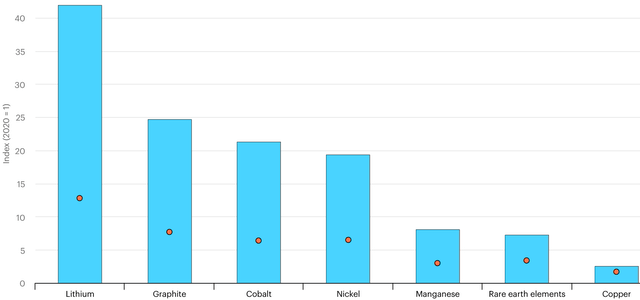 Source: International Energy Agency 2021 report
Global Lithium Resources [ASX:GL1] - Price = AUD 0.33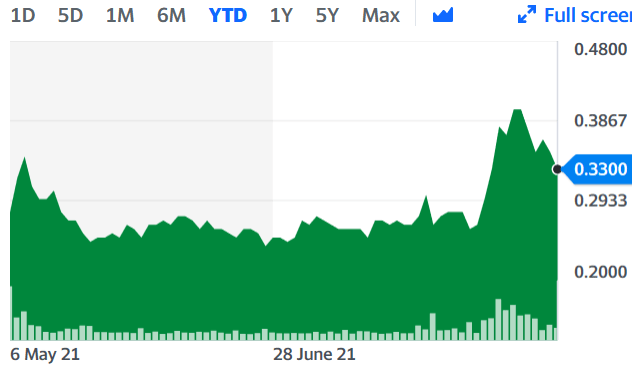 Source: Yahoo Finance
Global Lithium Resources ("Global Lithium") has a primary focus on the 100%-owned Marble Bar Lithium Project ("MBLP") in the Pilbara region of Western Australia. The Project is located 150km south-east of Port Hedland and 15km north-west of Marble Bar. Global Lithium is also very new, having listed and raised A$10m on May 6, 2021 at A$0.20 per share.
At MBLP, the Archer deposit has a maiden Inferred Mineral Resource of 10.5Mt @ 1.0% Li2O. The Archer deposit comprises a swarm of spodumene bearing pegmatites over a 3km by 1km zone.
There is significant exploration upside both at the Archer deposit (open in all directions) and across the MBLP Project. Global Lithium has identified outcropping pegmatites over 2km from the current Archer area that have yet to be followed up. There are also gold and base metal targets across the MBLP Project, as reported on recently with the news "12m at 2.95g/t Gold Intercepted at Twin Veins Prospect."
MBLP has similar geological setting as nearby Pilgangoora (Pilbara Minerals [ASX:PLS] (OTCPK:PILBF)) and Wodgina deposits (Mineral Resources [ASX:MIN] (OTCPK:MALRF)/Albemarle (ALB) JV).
The Marble Bar Lithium Project ("MBLP") is in the Pilbara region of Western Australia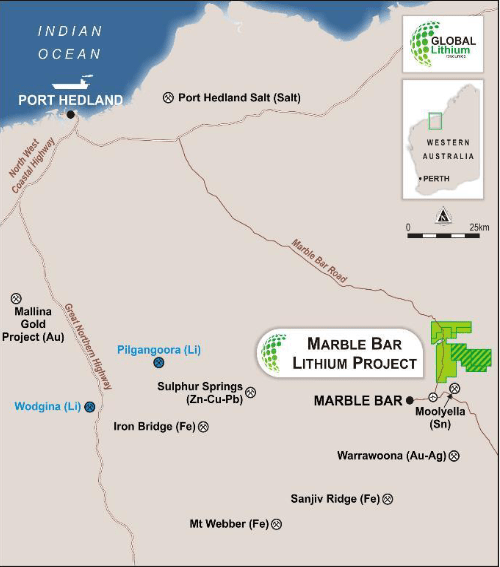 Source: Company presentation
The MBLP is located in a well-established mining region, with access to infrastructure. The sealed Marble Bar Road that connects Port Hedland to Marble Bar traverses the tenement area.
Global Lithium plans to continue exploration with a goal of achieving a Mineral resource update in Q4, 2021. The Company is currently well funded with A$8.6m in cash at 30 June 2021.
Global Lithium trades on a market cap of A$43m compared to regional neighbor Pilbara Minerals (large lithium resource & producer) on a market cap of A$5.9b.
I rate Global Lithium as a good highly speculative long term buy, for investors with patience and a high risk tolerance. Invest only what you can afford to lose.
You can view the latest company presentation here.
Highlights of the Marble Bar Lithium project 100% owned by Global Lithium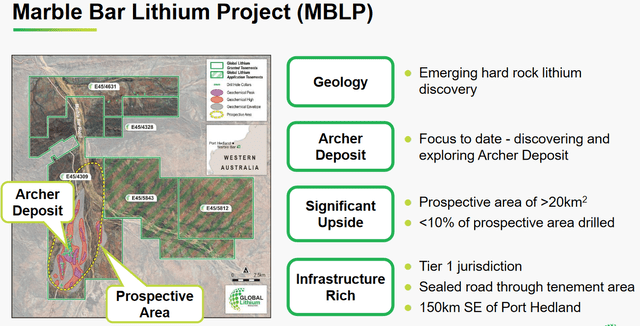 Source: Company presentation
Lithium Energy Limited [ASX:LEL] - Price = AUD 0.585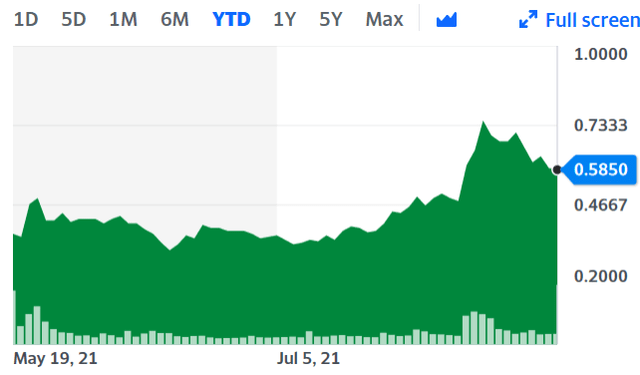 Source: Yahoo Finance
Lithium Energy majority owns two projects, one lithium (Solaroz Lithium Project, Argentina, 90% owned) and one graphite (Burke Graphite Project, Australia, 76.5% owned, potential for 100%).
The Burke Graphite Project has potential to move to be 100% owned by Lithium Energy (pursuant to the Burke SPA, the Company will own a 100% interest in the Burke Tenements upon quotation of its securities on the ASX). The project has a maiden Inferred Mineral Resource of 6.3 million tonnes at 16% Total Graphitic Carbon [TGC] for 1,000,000 tonnes of contained graphite.
Today I plan to focus only on the lithium project.
Lithium Energy was recently spun out from Australian iron ore miner Strike Resources [ASX:SKR] with a May 19, 2021 IPO raising A$9 million at A$0.20 per share. The stock is still largely unknown to many international investors and still trading on a low market cap.
Lithium Energy 90% own the Solaroz Lithium Project. It comprises of 12,000 hectares of very well located lithium tenements within the northern part of the Salar de Olaroz Basin in Argentina. The Solaroz Lithium Project is directly adjacent to and surrounding the tenements held by Orocobre Limited [ASX:ORE][TSX:ORE] (OTCPK:OROCF) and adjacent and near to the tenements of Lithium Americas Corporation [TSX:LAC] (LAC)/ Ganfeng Lithium [SHE:002460] (OTCPK:GNENY).
The Salar de Olaroz is already successfully producing low cost lithium carbonate from Orocobre's mine, and by 2023 should also begin producing from the currently under construction LAC/Ganfeng project. In other words, the Salar has a proven track record of success with local infrastructure (road, electricity, gas) already in place.
Lithium Energy stated:
The location of the Solaroz Lithium Project is considered by Lithium Energy to be highly strategic and prospective for containing commercial quantities and concentrations of lithium-rich brine upon the basis that Lithium Energy believes the aquifer which supplies the lithium-rich brine being extracted by Orocobre Limited is likely to extend under the Solaroz Tenements.
Lithium Energy tenements [red] adjacent to Orocobre [yellow] and both adjacent and near LAC/Ganfeng [blue]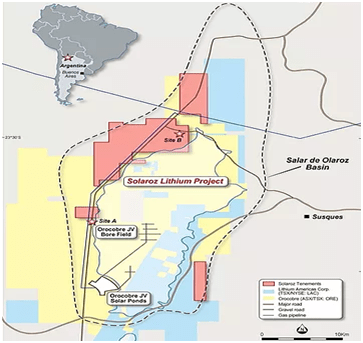 Source: Lithium Energy
The Solaroz Lithium Project is still in the very beginning stages. Strike has completed and lodged an EIA Report with the Jujuy Mining Authority with respect to the Solaroz Lithium Project. Once the EIA Report is approved, the exploration and development works for the Solaroz Lithium Project will commence. From this point, Lithium Energy intend to spend the next 2 years exploring their tenements with the goal of proving up a JORC compliant Mineral Resource estimate.
The takeaway point for investors is they will need patience and ability to see the potential. Orocobre trades on a market cap of A$2.98b, but they are a decade and a half in the making.
Lithium Energy currently trades on a market cap of A$47m. Tremendous long term upside potential, but significant risk tolerance and patience required. Invest only what you can afford to lose. My strategy is to invest a small dollar amount and see what happens the next decade.
Views of the Solaroz Lithium Project tenements and the Olaroz basin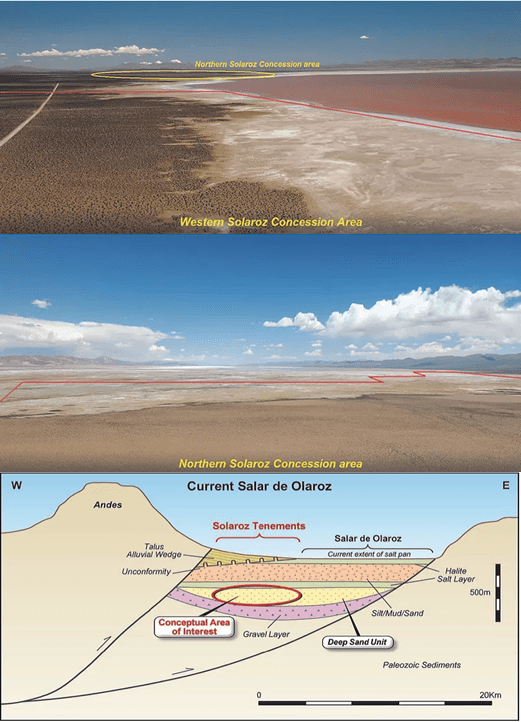 Source: Lithium Energy website
Risks
Macro risks may impact the lithium sector, such as a global slowdown of EV sales.
Lithium prices may fall.
Technology change away from lithium-ion batteries.
Risks associated with getting new projects to be developed and up and running such as funding, exploration, permitting/environmental, technical & viability risks.
The usual mining risks - Production risks, partner risks.
Company risks - Competition, management, debt, liquidity, and currency risk.
Sovereign risks - Argentina is moderate risk, Australia is low risk.
Stock market risks - Dilution, lack of liquidity (best to buy on local exchange), market sentiment.
Further reading
Lithium demand is being driven by surging EV demand especially in China (15.0% electric car share in June, 2021) and Europe (19% electric car share in June, 2021)
Conclusion
Both Global Lithium Resources and Lithium Energy are new early stage lithium explorers with similar low market caps. Both listed on the ASX in May at A$0.20 raising A$10m and A$9m respectively. Valuation is probably fair for both (market caps of A$43m and A$47m respectively), with huge upside potential in the next decade IF they progress and find significant amounts of economical lithium and/or become significant producers.
Global Lithium Resources has completed some exploration and already has a small reasonable grade resource (10.5Mt at 1.0% Li2O) with drilling set to deliver an updated resource in Q4 2021. Plus they have some nice gold drill results.
Lithium Energy is so early there are no results yet, but we do know the Salar de Olaroz in Argentina is world class. Also the Company has an Australian graphite project with 1m tonnes contained graphite at 16%. Investors will need more patience as brine projects typically take longer to develop than spodumene, have higher initial CapEx, but once developed, typically have lower OpEx.
Overall, I like the potential of both companies. I would suggest considering a smaller investment in both, provided it is cash you can afford to lose and you have a 5-10 year time horizon.
Risks are significant for early stage explorers, so please read the risks section.
As usual, all comments are welcome.