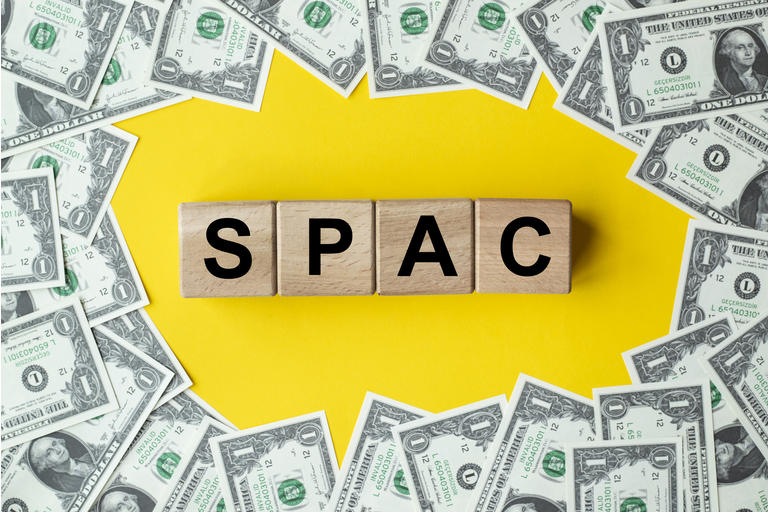 XBRL service providers have seen revenue increase thanks in part to a hot IPO and SPAC (special purpose acquisition company) market. In Q2 2021, SPAC activity declined but the overall activity has still greatly increase compared to 2020.
See the below SPAC and IPO data which shows the large difference between the current and prior year SPAC and IPO activity. 2021 is still far from over as well so the discrepancy between these figures will only grow larger as we near the end of the year.

Large XBRL providers such as Toppan Merrill, DFIN (DFIN), and Workiva (NYSE:WK) have reaped the benefits from this uptick in activity. Workiva and DFIN have both seen their stock prices rise to near their 52-week highs (Toppan Merrill is a private company but I'd venture to guess they are benefiting from this activity increase as well).
This SPAC activity coupled with the rise in global acceptance and adoption of XBRL will bring even more customers and revenues to the industry. Dangote Cement became the first Nigerian company to file with XBRL and more European companies will be filing with iXBRL as well (see this article which references the European Securities Market Authority (ESMA) mandate).
It's hard not to be bullish on the XBRL industry given the activity thus far in 2021 and the opportunities likely ahead. As the industry leader, Workiva is in an excellent position to continue to grow.
Let's now dig into some details and discuss the company's first acquisition as well as their financial results and XBRL data quality.
OneCloud Acquisition
Workiva made their first acquisition recently as they acquired a company they had been partnering with in the past, OneCloud. OneCloud is an iPaaS (integration platform as a service) software provider who has been working with Workiva since 2019.
Regarding the acquisition CEO Martin Vanderploeg said, "We acquired OneCloud to extend our platform capabilities and data integration and preparation. OneCloud has been an OEM partner of ours since July of 2019. Their technology expanded the Workiva platform enabling our customers to connect data from third-party sources such as ERP, GRC, HCM and CRM systems, as well as other third-party cloud and on-premise applications. We believe connecting, harmonizing and controlling data across multiple disparate source systems further differentiates the Workiva platform from its competition."
In my opinion, this isn't an eye-popping acquisition. I do think OneCloud will smoothly integrate into Wdesk, but I don't see this as an acquisition that particularly mores the needle in their favor, as they had already been working with OneCloud.
XBRL Quality
New XBRL rules have continued to roll-out from the XBRL US Data Quality Committee. As it stands currently, only Workiva, and Toppan Merrill are up to date with the latest rules.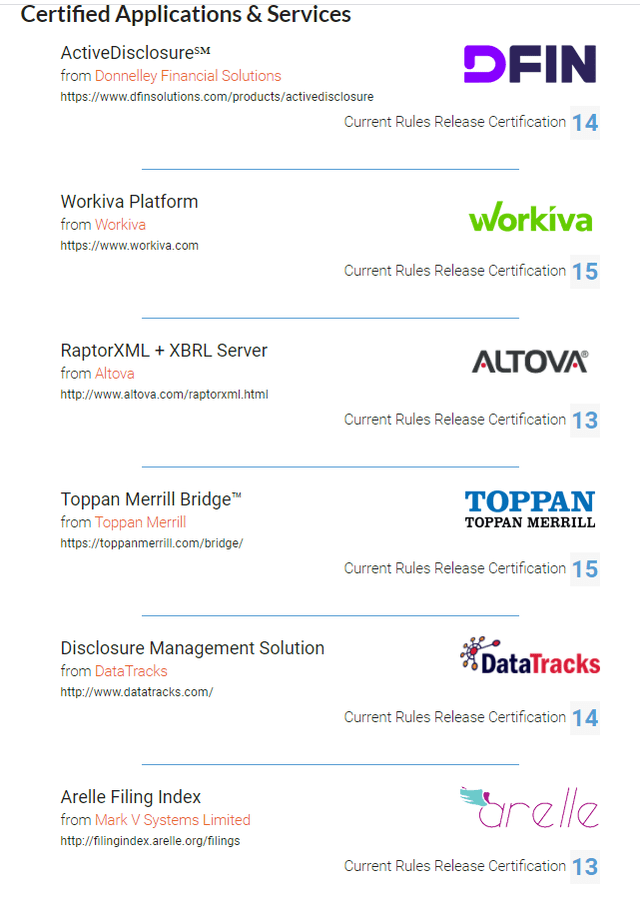 One promising note I'd like to share is that XBRL quality continues to improve. The findings from XBRL US show, XBRL data quality errors have gone down significantly. Below are a few screenshots of common issues and as you can clearly see the number of errors has been decreasing over the last several years: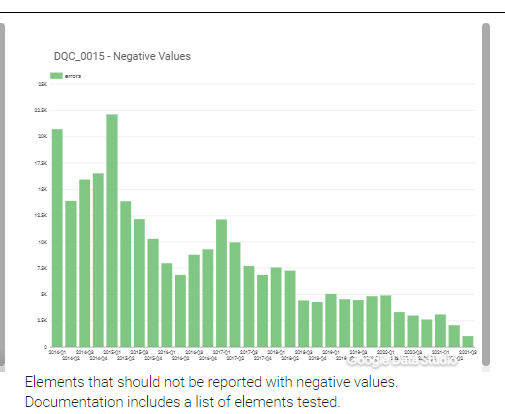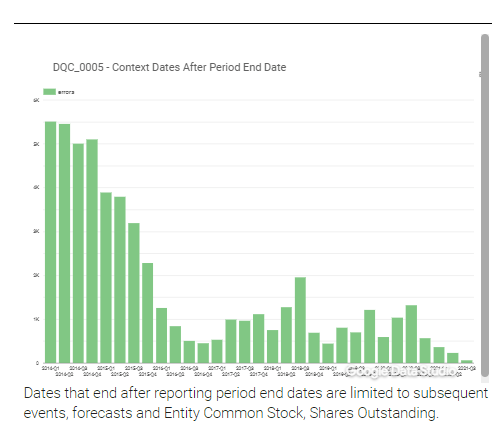 Context Dates After Period End Date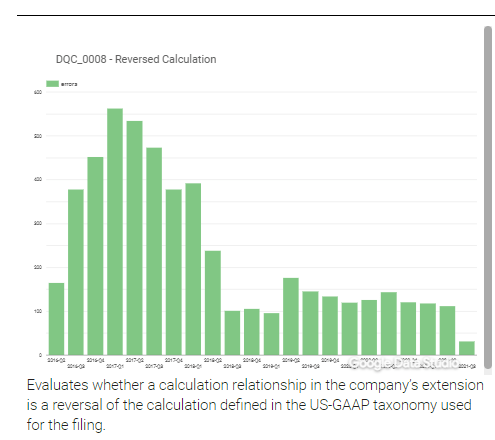 In the past, Workiva has generally had the worst XBRL quality compared to peers Toppan Merrill and DFIN. This quarter, I did notice when reviewing various large companies on XBRL US's website, I found far fewer companies with issues compared to years prior. Still, it didn't take me long to find some Fortune 500 companies with issues. The companies with issues I noted during this quarterly search included:
Pfizer (PFE)
Workiva has been providing the XBRL services for this company and you can see the following results from the XBRL US website: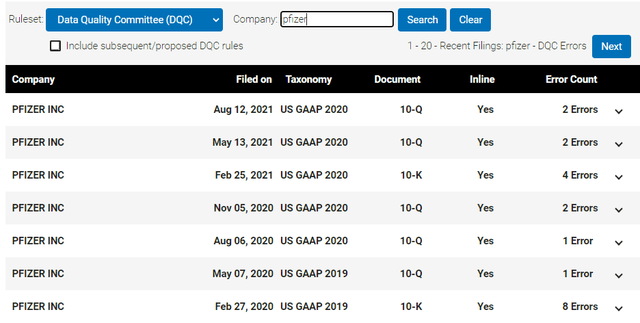 A few issues persist, it appears in every filing.
Walmart (WMT)
Workiva has been providing the XBRL services for this company and you can see the following results from the XBRL US website: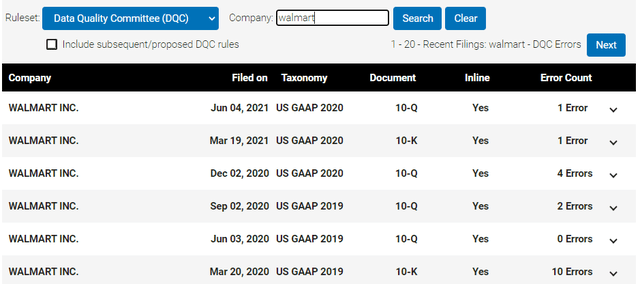 Similar to Pfizer, a few issues every quarter.
Yum Brands (YUM)
Workiva has been providing the XBRL services for this company and you can see the following results from the XBRL US website: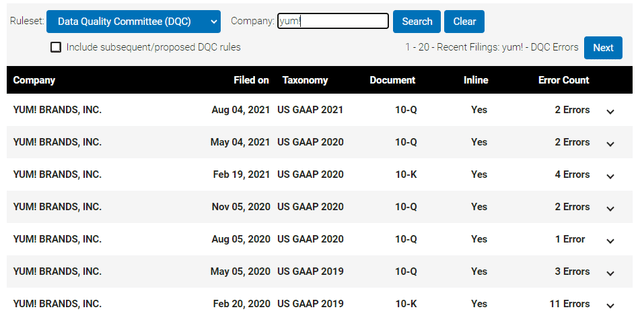 Not terrible but still has issues every filing period.
During my search, I was unable to find any DFIN or Toppan Merrill filings with issues. I don't view this quarter as any different from prior ones, as DFIN and Toppan Merrill have continued to have the best-in-class XBRL data accuracy.
I'm not picking on Workiva as I've noted previously some public companies do their XBRL "in-house" and thus are more likely to get XBRL errors. Overall, I think Workiva has seen the biggest improvement over the years when it comes to XBRL accuracy. Also, I doubt the SEC will be knocking on the doors of Pfizer, Walmart or Yum Brands because of a few XBRL errors. However, facts are facts, and I believe Workiva is still likely to file with more errors than either of their main competitors.
Again, I would also like to state due to the complexity of XBRL, I'd urge any public company to avoid the "in-house" model because you will get an error. It's not a matter of if, it's a matter of when.
Financials
In Q2 2021, the company delivered fantastic financial results. The company generated revenue of roughly $106 million in Q2 2021 which is an increase of nearly 26% compared to Q2 2020. As usual, most of this revenue was generated from subscription and support revenue and the rest from professional services. Subscription and support revenue was roughly $91 million, an increase of 29% compared to prior year's second quarter. That revenue came from many new clients (various SPAC and IPO clients). Professional services revenue was roughly $14 million for the quarter, an increase of 9% compared to prior-year fourth quarter. Professional services revenue was higher due to additional XBRL services.
Not only is revenue rising but so is client count. Workiva finished Q2 2021 with 3,949 clients, a net increase of 437 compared to Q2 2020. The company gained 149 new clients since Q1 2021. Retention remains outstanding as well, as the subscription and service revenue retention rate was roughly 96% for the second quarter of 2021.
Valuation
The company still has yet to achieve profitability, but their P/E ratio is improving. Over the last month, Workiva's stock has risen close to 10%. Over the last three months, the stock has jumped up nearly 45%. Workiva's stock is now very close to its 52-week high of roughly $140. Based on many analysts' projections, it is very near target estimates.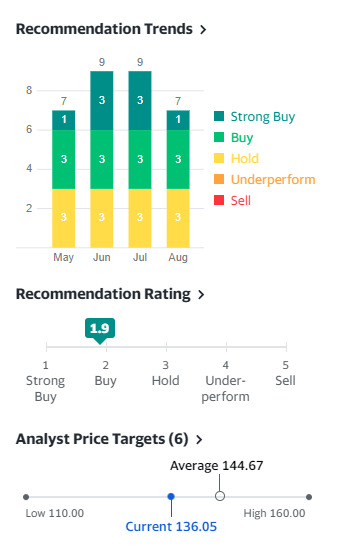 Source: Yahoo Finance
Given the stock at its current levels and recent run-up, I would wait for a pushback and perhaps buy at a close to $120 to $125 per share.
Conclusion
As I mentioned above, I am bullish on the industry. I believe XBRL service providers will continue to generate higher revenue as XBRL usage continues both nationally and globally. As the XBRL leader, Workiva is in a great position in the years to come. The only downside I see is a potential loss of market share to competitors with better XBRL quality.