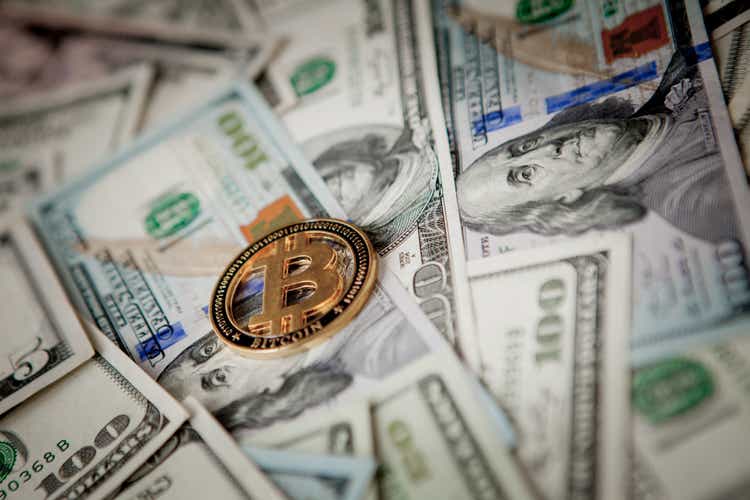 (Source: MKTY - Soluna merger presentation)
Introduction
Mechanical Technology (MKTY) was founded in 1961 as a developer and manufacturer of energy-efficient rotating machinery and instrumentation. In 2016, Brookstone Partners purchased ~39% of the common shares and Brookstone's founder (Michael Toporek) subsequently assumed the role of CEO. The CEO is a sharp operator, laser-focused on ROIC. In 2020, MKTY started EcoChain to develop a network of cryptocurrency mining operations powered 100% by renewable energy. In Aug-21, MKTY announced they were acquiring Soluna Computing to further augment their mining efforts.
MKTY is successfully building a "green" cryptocurrency mining business that is significantly undervalued based upon fundamental analysis and peer comparisons. They can be successful even if BTC goes to zero. MKTY growth will be visible as they continue releasing monthly site-level financials, providing an imminent catalyst for the market to recognize their growth.
Bitcoin Mining Overview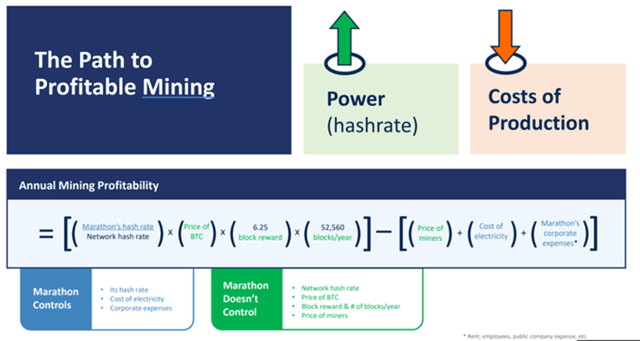 (Source: Marathon Digital Investor Presentation)
Bitcoin mining is the process of creating new bitcoins by solving a computational puzzle. Bitcoin mining is necessary to maintain the ledger of transactions upon which bitcoin is based. Miners have become very sophisticated over the last several years using complex machinery to speed up mining operations. The main valuation consideration for bitcoin miners is the cost structure of their mining operations. Low power costs, low overhead, and higher hashrate all drive returns.
MKTY Enterprise Value Calculation
| | |
| --- | --- |
| Enterprise Value | $ in m |
| Market Cap | $99 |
| Legacy Business | (20) |
| Warrants | 6 |
| Soluna Consideration (Mostly Contingent) | 25 |
| EcoChain EV | $110 |
(Author Calculation)
The instruments business contributed ~$2M of FY20 EBITDA on ~$10M of revenue (70%+ GM), and ~$1m EBITDA through H1-21. The sale of the legacy business could net MKTY $15M-25M – I will use $20M.
The $12M in cash MKTY had at the end of Q2 will be deployed to reach the earnings goals for FY21, so will be ignored for valuation, though the associated dilution is included.
The $18M preferred share offering is ignored in this valuation. The timing of the offering suggests it was not part of the initial 50MW growth plan but related to developments in China (more detail in later slides). Since the preferred shares have no conversion mechanism and no material voting rights, this is essentially 9% debt.
12.7M shares were outstanding as of August 9th, and ~800k warrants (cash ignored again). Up to 3.2M more will be issued for Soluna transaction if targets are hit. With a $7.80 share price, this is a $99M market cap, less the $20M for Instruments, plus $6M for warrants, plus up to $25M for Soluna, net

$110M EcoChain EV.
MKTY Growth Expectations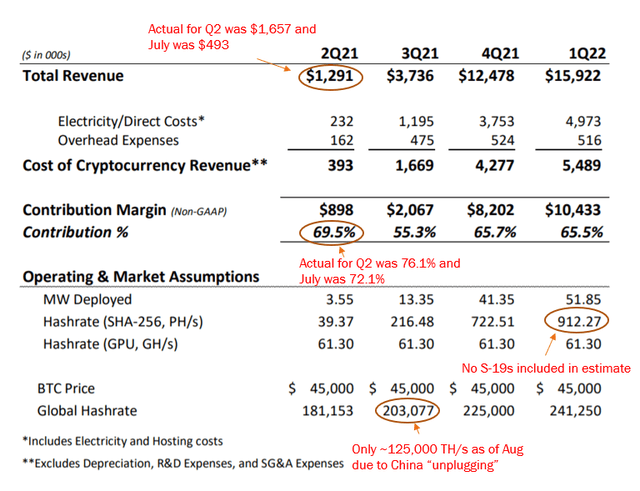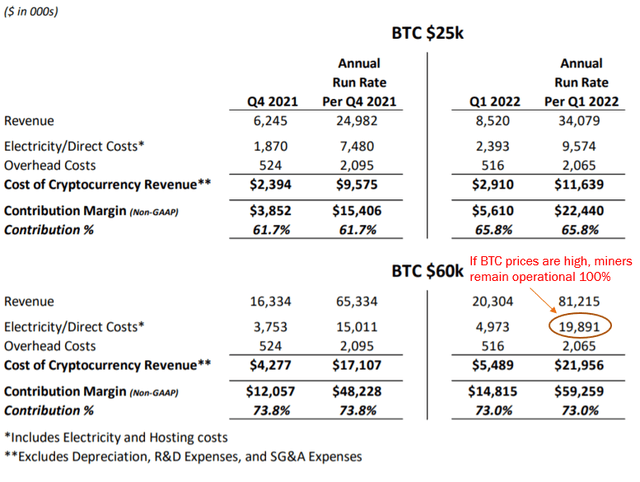 (Source: MKTY May-21 estimates, author notations in red)
EcoChain previously has provided growth expectations from their secured mining capacity ramp, showing a commitment to transparency that rivals other miners.
MKTY has provided their roadmap to 0.9 EH/s of hashing power as of Q1-22. At $45k BTC, this produced run-rate EBITDA of $41.7M by Q1-22.
To account for the volatility in BTC price, MKTY provided the following sensitivities to their projections:
$22.4M of run-rate EBITDA at $25K BTC
$59.3M of run-rate EBITDA at $60K BTC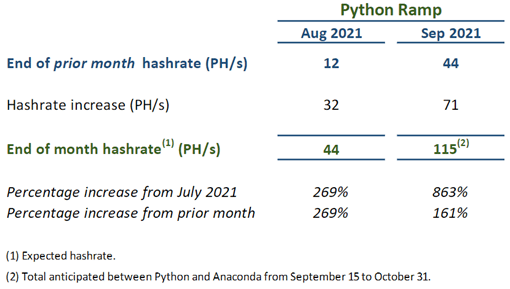 (Source: MKTY July Update)
While future growth expectations should always be viewed skeptically, MKTY has already secured the capacity for this growth, which cannot be said for some peers. Python revenue, with 12 PH/s hash rate and a $34k average BTC price, was $217k in July. Taking the PH/s midpoint for August & September, 10% monthly increase in network difficulty, and $45k BTC, we get the following:
August: $610K revenue
September: $1.6M revenue
End of September monthly run-rate for Python/Anaconda: $2.1M (additional TNT Q2 revenue was $988k, July reported at $277k.)
Peer Expectations
Looking at the roadmaps provided by competing miners, it becomes increasingly clear that EcoChain is significantly undervalued.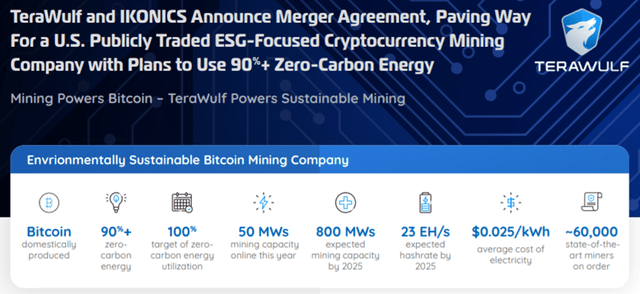 (Source: TeraWulf.com)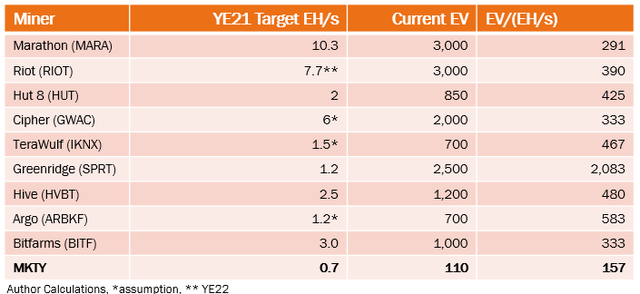 Other valuation comparisons:

(Source: FY22 EH/s - Core Scientific Investor Presentation)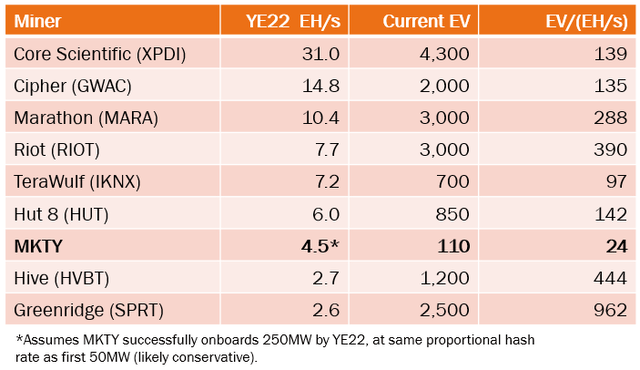 Note - Marathon has since slightly raised their FY22 target to about 13 EH/s, but this does not materially change the above calculation.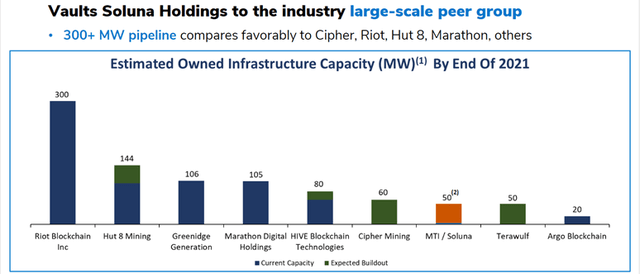 (Source: MKTY presentation - Soluna acquisition)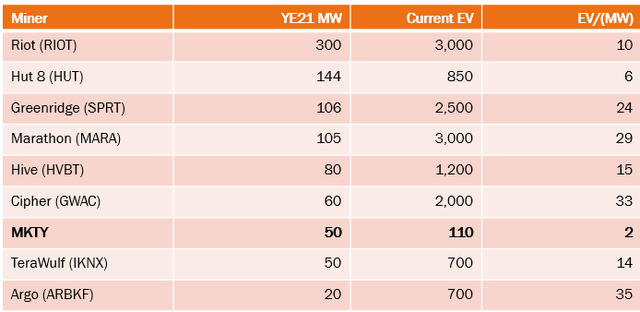 (Source: Author Calculation)

Due to legacy business contributions, MKTY even stacks up well against peers using most recent results (EV adjusted to include instruments business again). Many competitors have been excluded above (SPRT, ANY, IKNX, GWAC, etc.) who have not completed proposed mergers.
Power Costs
MKTY has power costs (largest variable input) lower than leading competitors, creating a long-term margin advantage and protecting against any drawdowns in the price of cryptocurrencies.
| | |
| --- | --- |
| Miner | $ per KwH |
| Global Average | $0.046 (Cambridge) |
| Riot | $0.025- $0.05 |
| Hive | $0.04 |
| Bitfarms | $0.022-$0.04 |
| Digihost (OTCQB:HSSHF) | $0.038 |
| Core Scientific (XPDI) | $0.0355 |
| Argo | $0.03 |
| CleanSpark (CLSK) | $0.0285 |
| Marathon | $0.028 |
| Hut 8 | $0.0274 (w/ $25m paydown) |
| Gryphon (ANY) | Targeting $0.027 |
| Cipher | Targeting $0.027 |
| TeraWulf | Targeting $0.025 |
| MKTY | $0.023 |
| Greenridge | $0.022 (Own natural gas plant) |
| Stronghold Digital Mining (SDIG) | $0.018-0.034 (Coal reclamation credits) |
(Source: Various investors presentations and press releases)
Valuation
At a $110M EV, MKTY's stock could triple before their EcoChain division begins to be valued comparably to peers. They may demand a premium due to lower power costs, but at a minimum, they should be valued at 5x EcoChain EBITDA. Run rate EBITDA for Q1-22 is estimated at $22-59M and will be highly sensitive to the price of Bitcoin and global hashrate.
Bear, base, and upside valuations (using prior, conservative guidance):
$22.4m EBITDA @ 5x = $112M

(2% upside)

$41.7m EBITDA @ 5x = $209M

(90% upside)

$59.2m EBITDA @ 5x = $296M

(169% upside)
This does not include upside from global hashrate decrease, upside from additional mining capacity due to preferred share issuance, Soluna transaction, and premium for lower cost of power. I expect revised guidance from the company will indicate these scenarios could have 50-100% additional upside with S-19 miners and lower network difficulty than anticipated. For example:

(Author estimate)
The Q1-22 illustration was provided by the company assuming 0.912 EH/s and 241,250 PH/s network difficulty. At a high level, one can see above how this estimate might change given lower global hash rate and potential increases or delays in MKTY bringing their miners online.
Based on ~3-5 year average useful miner life and buildout costs, I estimate maintenance CapEx to be around $5m – generating very healthy FCF margins.
As a further upside, 10x $100m FY22 EBITDA (a normal valuation for peers) gets one to $1.0B -> 900% upside.
Additional Considerations
MKTY disclosed in July that they are pursuing buying S-19 miners, as the

estimated payback period on these top-end miners has dropped to 7-9 months (from ~2 years).

Given their growth scenarios were done prior to this decision, the valuation I have done is based on mining equipment much less efficient than S-19s.
MKTY also disclosed a JV in August that will use 10MW at their Python facility. They will host S-19 miners for their partner and

still be able to attain their prior goal of 450 PH/s

in the remaining capacity, again due to using higher quality miners than previously anticipated. The JV will provide 60-70% of the contribution they would have received with their own S-19s, but requires

no CapEx.

Soluna Computing is being acquired by issuing up to 3.2M shares (2.9M

contingent

on bringing pipeline online) and paying $800k cash. This will add their 300MW of LOIs and 200MW of additional pipeline (and 200MW rights to Morocco project). Soluna expects to have 200MW of this capacity operational by the end of FY22.
Average position size of five blockchain ETFs is ~4.0% of average market cap. This would be ~5 days of average trading volume for MKTY. Significant institutional capacity exists for shares of a green miner with best-in-class power costs.

MKTY is significantly underfollowed among peers, per the following statistics taken from Seeking Alpha and Stocktwits:
The Great "Unplugging"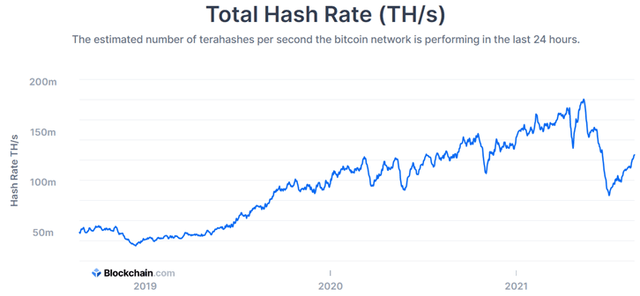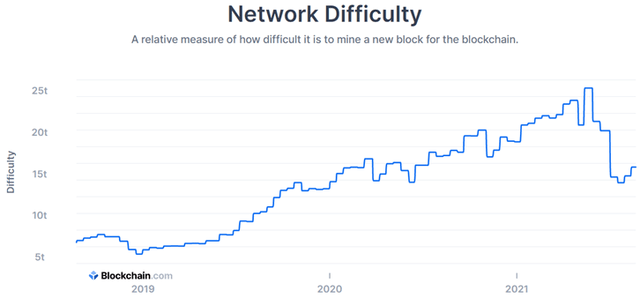 (Source: Blockchain.com)
The crackdown on bitcoin mining in China has caused the hashing power on the Bitcoin Network to plummet (i.e. less total miners). A decrease in global hash rate increases profitability to miners, as demonstrated in the formula earlier in this presentation. This has served as an offset to declining bitcoin prices and partially insulated MKTY from the volatility of Bitcoin pricing.
The China crackdown is having a massive impact on the mining world - pricing on mining equipment has gotten so bad that Bitmain temporarily suspended selling new miners. Just a few months ago miners were fighting for the front of the line to order as much new mining equipment as possible.
For businesses that are looking to scale and haven't committed all their capital (i.e. MKTY), this is a perfect opportunity to buy used equipment at a massive discount. As referenced earlier, MKTY just completed a preferred share offering to raise additional funds for mining equipment.
ESG
EcoChain (via Soluna) achieves a low cost of electricity by working with utilities to help bring renewable energy onto their grid. One of the issues with renewable energy is intermittent generation and storage concerns - if hydropower is being generated 24/7 but used less off-peak, it's hard to store the energy until it is needed. EcoChain offers a solution - locating their data centers next to substations to help take load at off-peak hours from renewable generation - this helps both the utility and EcoChain. TeraWulf is copying this strategy, but so far has been unable to fully replicate the cost of power EcoChain has achieved.
This compares very favorably with peers like Marathon and Hut 8 who rely on fossil fuels to power a significant portion of their mining operations.
Risks
Annihilation Risk: What happens if BTC implodes or mining is outright banned in the US?
Soluna's solution meets the exploding demand for computing power, particularly forms of computing that are "batchable," which can be interrupted. Soluna can offer customers batchable computing with rates as low as 25% of what they pay current service providers such as AWS. Batchable computing is a method of running high-volume, repetitive data processes. Batchable computing data centers require far less expensive infrastructure redundancies compared to data centers serving customers that must be always on. The demand for batchable computing – such as cryptocurrency mining, scientific computing, artificial intelligence and machine learning – now collectively represents $60B a year, 19 percent of the entire data center sector. (Soluna acquisition PR)
Iron Mountain (IRM) currently operates 144MW of data centers earning ~$300m revenue. Lease rates for data centers consistently price >$100/kwH/month – suggesting ~$60m of annual revenue and ~$20m of FFO for EcoChain is not an unreasonable pivot should bitcoin mining implode and they want to sell their capacity to a larger data center REIT. Most of these REITs trade north of 20x P/FFO.
I think about it this way - batchable computing compared to traditional data centers is similar to listing a property as an AirBnB vs. a traditional rental. Income potential is greater, but will require more effort to build a customer base.
Other risk considerations:
Brookstone recently terminated the "poison pill" rights agreement, which had been in place to protect NOLs.
The Soluna transaction, done in a shareholder-friendly manner, removes related party overhang that was previously present.
The preferred share offering came without any odd voting rules or conversion rights that would circumvent common shares. Brookstone only holds a position in the common shares, aligned with fellow investors' interests. Preferred is a non-dilutive way of raising funds as the cost of debt for most miners is above 9% (most miners issue equity instead of entering debt arrangements).
Risks surrounding the price of cryptocurrencies, mining rules in the US (including the new infrastructure bill), and miner multiple contractions are all present. I believe the ESG-focus of MKTY insulates it from these risks better than miners like Hut 8 or Marathon that depend on fossil fuels. EcoChain enabling renewables to be strategically added to the grid should help their case for continued mining operation.
Network hash rate has generally increased over time, and block rewards are periodically reduced by 50% (next "halving" expected in early 2024). Without BTC price increases, these trends will squeeze miner margins.
Conclusion
MKTY has best-in-class power costs, a significantly lower valuation than any publicly traded mining peers, and was perfectly positioned for China unplugging. There are imminent catalysts – 50MW of capacity already secured and currently being brought online. In the event of a US mining ban or market collapse, MKTY has viable, profitable alternatives to mining should the cryptocurrency market collapse. MKTY is also an inspiring ESG story – enabling grid operators to add renewable power to their mix more effectively. All these factors make MKTY an asymmetric investment at the intersection of green energy, digital cryptocurrencies, and computing.