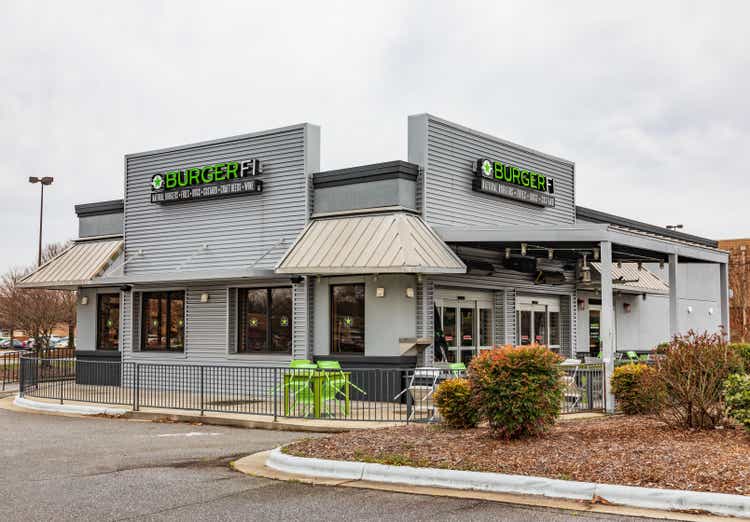 Investment Thesis
BurgerFi (NASDAQ:BFI) is an East Coast burger chain that has been catching on in recent years. The exponential growth that began in 2019 was ground to a halt when Covid hit, but they are back on track with a target of 25-30 new brick and mortar locations and 15-20 new ghost kitchens throughout 2021. Their existing locations are rapidly growing revenue YoY, and these new locations offer a lot of upside potential. We rate BFI as a buy at these levels.
Business overview
BurgerFi is a modern fast-food burger chain operating with brick-and-mortar locations on the East Coast, and "ghost kitchens" all over the country. (Ghost kitchens are a new delivery-only restaurant concept that uses a commercial kitchen to make food for delivery.) They offer cruelty-free, steroid-free, grass-fed wagyu burgers as well as vegetarian options like the beyond burger and sides such as their famous onion rings and crispy fries.
The current share price
After a nearly doubling post-merger to $19, BFI has ridden a volatile roller coaster to the ground, despite impressive earnings.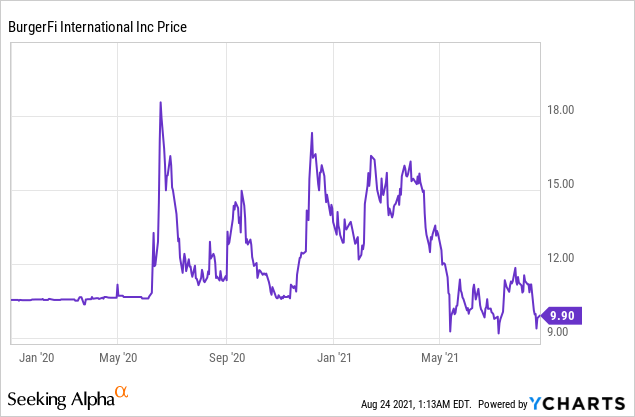 The growth
During this beatdown, BurgerFi announced a 63% increase in YoY sales, from $27.1 million to $48.2 million. More notably, in our opinion, was the 44% increase in same-store sales. To us, an increase in same-store sales indicates that a restaurant is "catching on." People are trying BurgerFi out and coming back with their friends and family.
Margin growth
In response to a labor shortage and increased CapEx requirements, BFI enacted a 4% price increase across all corporate-owned restaurants, while advising franchisees to do the same. While too early to see the results of this move, management expects operating margins to increase from 10-11% all the way to 14-16%.
New locations
In the first half of 2021, 8 new BurgerFi restaurants were opened. A lot more expansion is planned for 2h21. As of their 2Q earnings call, management is confident that in the 13 months ending January 31st, 2022, they will hit their target of 25 new restaurants and 15 new ghost kitchens opened. Of those 25 restaurants, 14 will be franchises and 11 will be corporate-owned.
For their ghost kitchens, they have beneficial partnerships with two companies, Reed and Epic. Both of which allow them to set up a kitchen essentially anywhere in the country and begin fulfilling delivery orders. Through ghost kitchens, BFI is able to see how their product sells in other regions. For example, they have one in Chicago. After testing, however, BFI decided to focus the majority of its ghost kitchens in suburbs of cities with a brick and mortar location, as people are more likely to place a delivery order if they are familiar with the company. As of 2Q, they plan to open 70% of ghost kitchens in areas near a BFI, and dedicate the remaining 30% to major cities in an attempt to test out the product.
The balance sheet
On June 30, 2021, BFI held $34.8 million in cash. This is down from $37.2 million as of Dec. 30, 2020. They forecast a CapEx of $13 million for the remainder of 2021, which is quite reasonable considering this includes plans for 18 new restaurants and 15 new ghost kitchens. Even at this current pace of rapid growth, BFI has a cash runway of just under 3 years. A 3-year cash runway free of any capital injections for a company is satisfactory, especially at this intense CapEx stage.
Aside from cash, BFI has $286 million in assets and a mere $23 million in liabilities. Their quick ratio is 3.6, meaning theoretically they have the ability to pay off their liabilities 3.6 times over if necessary.
Valuation
Valuing an early-stage company such as BFI can be difficult, so I will focus on the underlying book value of BFI along with similar companies.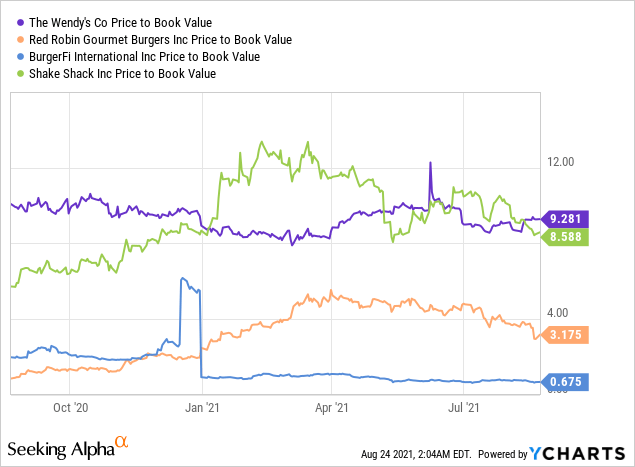 Right here we can see the price to book ratio of BFI is significantly lower than that of its peers. Keep in mind this should be taken with a grain of salt as those other companies are much more established and should be trading at higher multiples. But the really interesting thing is that BFI is trading below a P/B of one. The book value of one share is $14.07, meaning in the event of liquidation at market value, each shareholder would theoretically receive $14.07 cents for every share that they own. The actual number would likely be lower, but as demonstrated in the balance sheet section of this article, forced liquidation is unlikely, and on top of that, there is a real bull case for this company as it expands on the eastern seaboard.
Price Target
Valuation is always an imprecise art, but in this case, that is especially true. For the sake of an initial price target, I will briefly look at the numbers and decide if BFI deserves the same, or better, P/B ratio that Red Robin (RRGB) has.
Here is BFI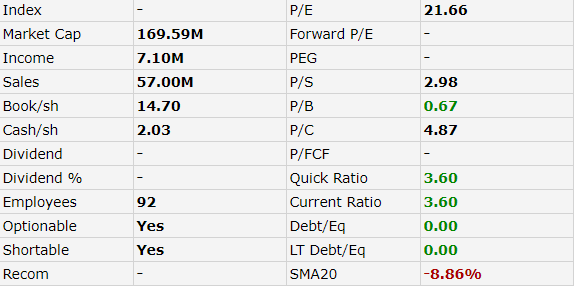 Source: Finviz
Here is RRGB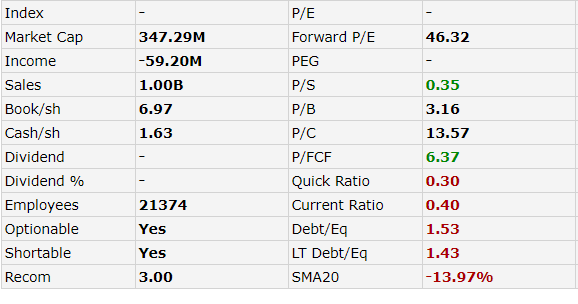 Source: Finviz
Right away we notice a couple of things. BFI has a positive income, RRGB does not. Red Robin does have considerably more revenue, but that is expected as they are a much more mature company. BFI has a higher book value per share, despite trading at a much lower share price. BFI has the ability to wipe all debt three times over with their assets, whereas red robin lacks the assets to even clear 1/3 of their debt. Red Robin does have free cash flow which is something important that BFI lacks, and for that, RRGB does gain some points.
All said and done, we feel that BFI deserves a P/B ratio of 2. This gives us a conservative price target of $29.55. We feel that this is a reasonable valuation relative to book value given the growth prospects regarding their new locations, as well as high cash balance.
Risks
Insider selling
10% owner John Rosatti has sold a massive amount of shares.

Source: Finviz
Over the recent 4 months, Rosatti has sold over $5 million dollars worth of shares. When asked to comment on this in the recent earnings call, BFI had this to say.
On the sales of any of our shareholders, it wouldn't be appropriate for us to comment or hypothesize what their individual strategies may be. And so, I -- unfortunately, I don't have more to say there.
This is an appropriate and professional response but unfortunately does not give us an answer as to why he sold his shares. An analysis of the balance sheet and income statements don't set off any red flags, so it's likely this was a typical case of insider selling for other opportunities. However, keep an eye on the insider activity to watch for others.
Can stay low for a long time
BFI is not a highly followed stock. There is currently 0 analyst coverage, and this is the first seeking alpha article on the company. Investors will likely have to wait for some form of catalyst to realize the true value, which can take a long time.
Conclusion
At the current price level, BFI seems to have found a floor. Given that the stock is trading below its book value by a considerable amount, we feel that an investment with a 6-18 month time horizon is wise. While some questions remain about the company's ability to scale effectively, the margin of safety is large enough that we feel comfortable putting out money where our mouth is. We issue a buy price of under $12.5 and an initial price target of $25.