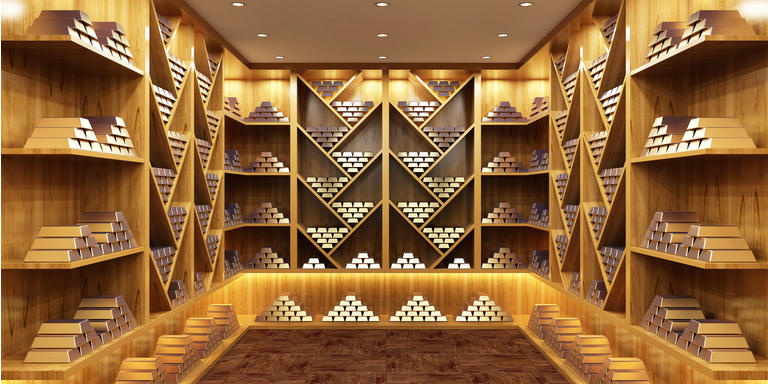 Sprott Physical Gold and Silver Trust (NYSEARCA:CEF) (TSX:CEF.TO) is a closed-end fund that is perfectly designed for investors that are bullish on bullion, and want a safe and easy way to express that view. The fund takes away the hassles that come with owning and storing the commodities directly. This is particularly true for silver which requires far more storage space and is extremely cumbersome to handle. Those that don't believe us, should try running out of their house with a 1,000 oz Silver bar. That 70 pound bar costs just around $24,000 and if you invest anything substantial in the asset, you have to outsource the storage.
CEF has a long history that predates it changing its name and manager to Sprott Asset Management. The old website showing a good deal of its history is still maintained to give investors a sense of continuity. Sprott was the ideal choice for this transfer as very few asset managers have publicly spoken so much about the dangers of central bank largesse as much as Sprott. Alongside that, they have also repeatedly espoused an ultra-bullish view on the precious metals and also backed the theories that the paper markets on the futures are used to depress the bullion prices. We look today further into the risks and rewards of owning this fund and tell you why it does have some interesting characteristics that we like.
Fund Structure
The Fund (and we will not use closed-end fund, or CEF from here on as that can get confusing) is geared towards investing for the longer-term horizon and abstains from speculating to the short-term market gyrations. It also has decent trading volumes (about 300,000 shares a day in US) with modest bid-ask spreads and can be traded during regular and extended market hours. TSX volumes though leave a lot to be desired and most days see under 20,000 shares traded.
All of the bullion is held in physical allocated form, i.e., every single gold and silver bar is accounted for, and all of is unencumbered. You can actually download these bar lists if you are so inclined, for both gold and silver.
Investors can redeem their investment in exchange for the bullion on a monthly basis. This is however subject to minimum amounts and there are few associated with the secure transfer of the metals. The minimum amount is pretty substantial here (100,000 shares) so don't expect to surprise your loved one with a 1 oz. gold bar on his or her birthday via redemption.
The bullion is stored at the Royal Canadian Mint, a Federal Crown Corporation of the Government of Canada.
The fund has about two-thirds invested in gold and the balance in silver. These ratios do of course change with price movements of the two metals.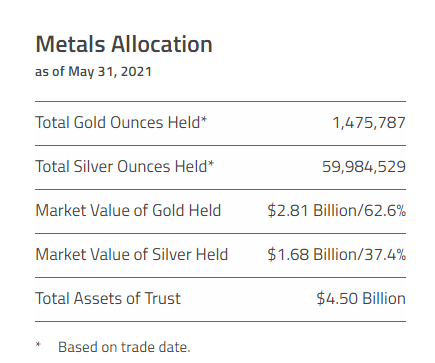 Source: Sprott
Expenses
The fund charges its investors an annual management fee of 040%, 1/12th of which is paid on a monthly basis. Other expenses are mainly the storage fees and rather minimal in nature. Overall, the fund costs about 0.51% a year.

Source: Annual Report
It is unlikely an individual would do much better than that if they took the task of storing substantial amounts of bullion in external vaults. The added time lost in purchasing and transporting should also be considered. Finally, the economies of scale of CEF allows them to buy bullion at virtually zero premium. Individuals would not be able to replicate that.
Performance
The fund has more or less kept up with spot silver prices and lagged gold. This makes sense as the fund is a blend of the two metals and has expenses.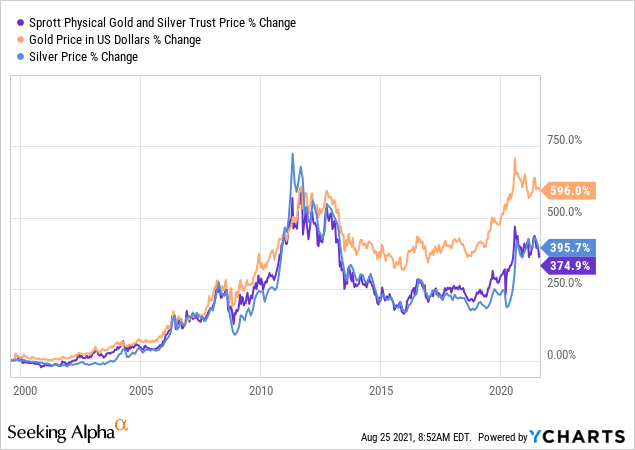 Comparing the fund to iShares Gold Trust (IAU) and SPDR Gold Trust (GLD), we can see that the fund has lagged both, again thanks to silver lagging gold.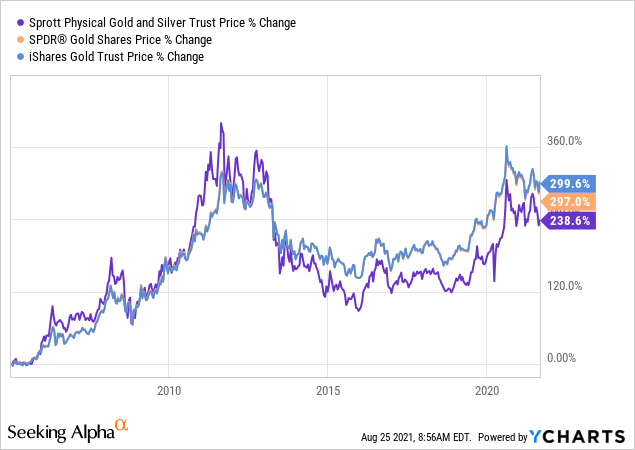 Fundamentals
There is a certain group of investors who have never seen a reason not to buy bullion. For them, come rain or shine, bullion is the best place to be. Their outlook is frequently mixed with tales of hyperinflation and/or a US Dollar collapse. Unfortunately, they also provide the bulk of the commentary on the bullion market and tend to blur the investor lens. From our perspective, bullion should make up some part of your portfolio and this fund certainly provides investors an easy and convenient way to do it. The fact that it is run by Sprott Asset Management is likely a big positive to those that are worried that the bullion may be missing or encumbered in other ETFs. Bullion is also a remarkably safer bet than 80-90% of precious metal mining companies.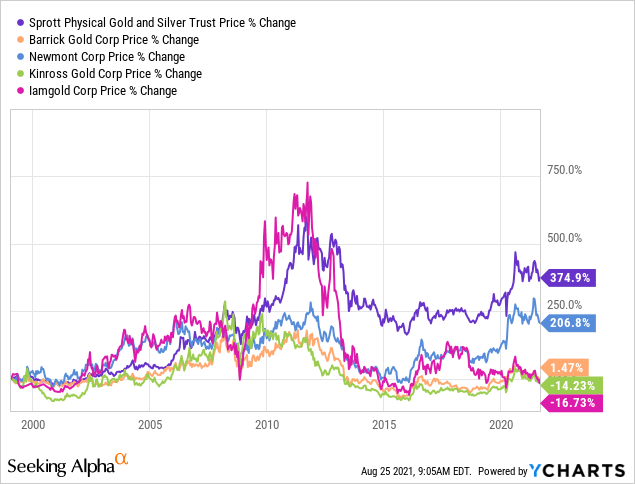 At present we think that as long as the US Dollar remains in an uptrend, bullion will struggle to gain significant traction. This is despite the rather obvious inflationary trends in place. Longer-term, we expect strong returns from this asset class and this fund is a convenient way to play it.
Verdict
Sprott Physical Gold and Silver Trust is one of the best ways to own gold and silver bullion. Unlike the popular ETFs that are around, this fund trades at a nice discount. Do keep in mind that the discount can get a lot more in turbulent times.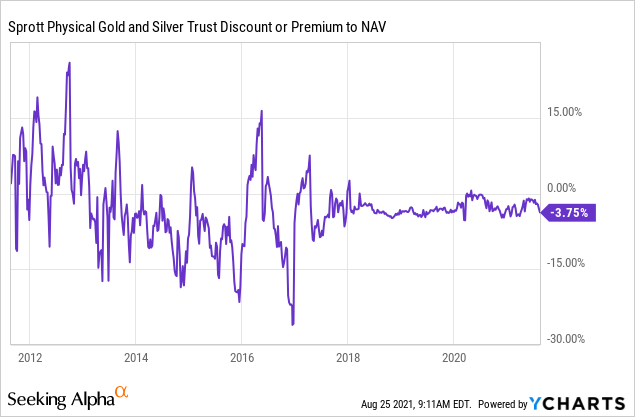 But the mere presence of a discount at least suggests that there is a lack of euphoria in the precious metals market. Investors could dollar cost average into this fund overtime to get the bullion allocation and position themselves for the next bull phase.
Please note that this is not financial advice. It may seem like it, sound like it, but surprisingly, it is not. Investors are expected to do their own due diligence and consult with a professional who knows their objectives and constraints.