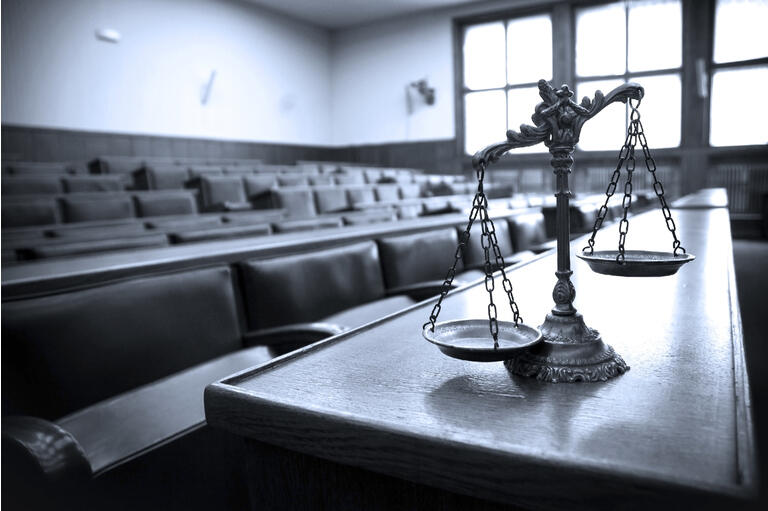 Investment Thesis
Between September 2020 and the end of July 2021, Cassava Sciences (NASDAQ:SAVA) shares rose in value from a price of $3.20, to $124 - a 3775% gain - making it one of the best investments across any sector of the stock market.
The company is developing an Alzheimer's Disease ("AD") therapy - Simufilam - that preclinical and clinical trial data suggests does not just slow cognitive decline in Alzheimer's patients - but may actually reverse it.
Given that the FDA's controversial approval of Biogen's (BIIB) Aduhelm in early June was based purely on its ability to slow cognitive decline - and even this assertion is highly contestable, based on the results of Phase 3 studies that were originally discontinued after a futility analysis - it is no wonder that Cassava shares have skyrocketed, and its market cap soared past $5bn.
In trading today, however, Cassava's shares have fallen by 31%, to $80.5, after the law firm Labaton Sucharow filed a citizen petition with the FDA, requesting that the agency halt both of Cassava's Phase 2 studies of Simufilam, and complete a full audit of the laboratory studies carried out that support Cassava's claims surrounding the efficacy of Simufilam.
It's probably no exaggeration to say that if Labaton Sucharow's allegations - apparently filed on behalf of an unnamed "whistleblower" - are proven correct, Cassava shares would be all but worthless, given that Simufilam is its only drug in development.
But Cassava bulls will likely dismiss the allegations as a slightly more sophisticated than usual attack by short-sellers, desperate to disprove the thesis that Simufilam is a potentially highly effective treatment for Alzheimer's, and drive the share price down.
The investment case for Cassava has always been polarising - back in June last year, I covered the stock when it was trading at just $2.75, after Simufilam had failed to meet its primary endpoint in a Phase 2 trial.
But a few months later, Cassava published results from that same Phase 2 trial - re-evaluated by a separate laboratory - in which Simufilam achieved statistically significant improvements across a panel of validated biomarkers.
The failed trial data was all but forgotten after Cassava announced results from an open label trial in February this year showing that after six months of treatment, cognition scores rose 1.6 points on the ADAS-Cog11 score - up 10% from baseline - whilst dementia-related behaviour also improved by 1.3 points on the Neuropsychiatric Inventory, a 29% mean improvement from baseline.
Last month, Cassava went one better, releasing nine-month data from the same trial, showing that cognition scores, based on ADAS-Cog-11, had improved still further, rising 3 points overall.
12-month data is due before the end of the year, and this week, Cassava announced that it had agreed to protocols for two pivotal, placebo controlled, Phase 3 trials of Simufilam, that will enroll a combined total of 1,600 subjects.
Too Good To Be True?
There is an old saying in the investment world, that "if it sounds too good to be true, then it probably is!".
Cassava's transition from a company with a single asset, targeting a disease for which no drug had been approved by the FDA in nearly 20 years, that had recently failed a Phase 2 trial, to the leading player in a field into which several major pharmaceuticals had poured tens of billions of investment dollars, without success, certainly sounds too good to be true.
On the other hand, as Cassava insisted today when responding to the whistleblower's allegations, "as a science company, we champion facts that can be evaluated and verified".
Cassava's science and data has been open to public scrutiny for months, if not years, plus a pivotal trial with a placebo arm ought to clear up once and for all whether Simufilam is the wonder drug that recent data suggests it might be.
In the rest of this post, I will consider the arguments put forward by Labaton Sucharow to the FDA, and also discuss Cassava's response to the allegations.
I will also consider the context surrounding the allegations, and speculate about where this leaves the company, its investors, and the direction of the share price.
Whilst many investors or prospective buyers of Cassava stock will be screaming to "buy the dip", others may be thinking of selling out their holdings while the going is good.
Somewhere in the midst of all this lies the most important question of all - what can Simufilam do for long-suffering Alzheimer's patients, and their loved ones?
What Allegations Have Been Made In Relation to Cassava and Simufilam?
All the documents in relation to the citizen petition can be found via the FDA's website. The initial enquiry is addressed to Billy Dunn - Director of the Office of Neuroscience at the FDA.
It begins bluntly enough:
Cassava Sciences apparently didn't get the Theranos memo. Their desire to do groundbreaking scientific research doesn't give them a get out of jail free card from regulators, patients or investors. All stakeholders are entitled to nothing less than the complete truth about what its drug can do today, not what the company hoped it might do someday.
The main concern seems to go all the way back to the failed Phase 2 study I mentioned above. Cassava blamed "an outside lab with whom we had no prior work experience" for the lack of efficacy revealed by CSF samples.
Cassava then used a different lab to re-evaluate the samples, which showed that Simufilam did in fact "rapidly and robustly" improve numerous CSF biomarkers.
The petitioner believes the lab that Cassava used the second time around was one that it almost exclusively used in the past - the lab of Dr. Hoau-Yan Wang at City University of New York (CUNY).
According to the petitioner, this lab has apparently been used, and funded by Cassava over a 15-year period, and that together with Dr. Lindsay Burns, Cassava's senior Vice President of Neuroscience, Dr. Wang "has published nearly a dozen papers connecting Filamin A protein with pain and Alzheimer's".
The petitioner's issue is that no other lab has "confirmed the thesis that Simufilam binds or modifies Filamin A or has effects in AD models".
The three primary concerns raised are that:
After the Phase 2b trial data, the reassessment - thought to be by Dr. Wang's lab - that confirmed biomarker efficacy may have been the result of data manipulation
Dr. Wang's lab primarily used western blots to support the scientific efficacy of Simufilam, but detailed analysis suggests "systematic data manipulation and misrepresentation"
The integrity of analysis using human brain tissue is questionable, since the same samples were used over a 10-year period, which is "contrary to a basic understanding of neurobiology".
And the petitioner makes six specific recommendations:
Audit the publications of Dr. Wang to determine if there is any data manipulation
Audit the IND applications for Simufilam
Audit all clinical biomarker studies
FDA should oversee 3rd party reanalysis of clinical biomarker studies of Simufilam
Pause all ongoing trials
Academic journals who published the research to review and retract articles as necessary.
Detailed Document Raises Specific Concerns
After stating these issues, a document (downloadable using the link above) goes into specific detail. In relation to the CSF biomarkers, the document reproduces data from the re-evaluation conducted by what the petitioner believes is Dr. Wang's lab.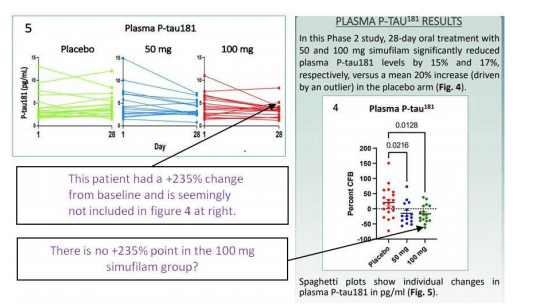 Slide from Cassava presentation at the Alzheimer's Association International Conference 2021 with notes added from Labaton Sucharow's Statement of Concerns sent to FDA.
The point here is that 1 patient who experiences a 235% change from baseline in P-Tau181 level in the first chart appears to have been omitted from the second chart. If it were averaged in with the other data points, the beneficial effect of Simufilam may have been negated. With no proven biomarker benefit, the trials of Simufilam ought to therefore be halted, the petitioner claims.
Next comes the detailed accusation concerning Western blots, which is a process that separates proteins from tissue samples, with antibodies used to detect specific proteins.
The proteins are expressed as "bands", and in Cassava's case, the petitioner contends, the bands from a paper released in 2005 are alleged to have been reproduced in a 2010 paper.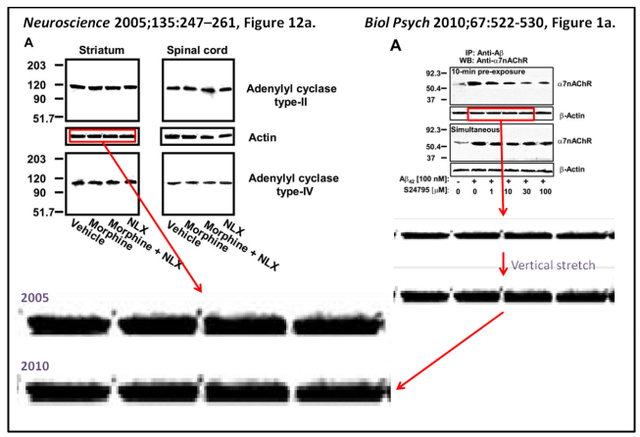 The petitioner alleges that "bands" from a 2005 publication are reproduced in a 2020 paper, suggesting data manipulation. Source: Labaton Sucharow's Statement of Concerns sent to FDA.
The suggestion is that Cassava may have been cherry-picking data from one experiment and transposing it into another, which, if true, would necessitate the retraction of all papers where such duplication had been used. Further examples are presented in the full document.
Finally, the petitioner raises numerous questions around Cassava's use of post-mortem brain tissue to demonstrate that Simufilam blocks the interaction between β-amyloid and the α7-nicotinic acetylcholine receptor, and modifies NMDA signalling, Toll-like receptor signalling - causing an anti-inflammatory effect - and decreasing tau phosphorylation.
The concerns raised include temperature - the brain tissue is stored at -80 degrees Celsius, which may be too low for the enzyme responsible for phosphorylation to still be active, and even if it were, to do its work properly the enzyme would require a body temperature of 37°C, yet the experiments were reportedly conducted at 4°C.
The document states that "we are not aware of any research group which has effectively used this technique", and raises various further concerns including that the same brain tissues appear to have been used for all experiments over a 10-year period, when it is highly unlikely that the enzymes responsible for phosphorylation would remain active for so long.
Substantially more concerns are raised, mainly along the same lines, with further examples of questionable Western Blotting included, and no fewer than six further areas of concern raised, mainly related to Filamin A - the protein often found to be misfolded in the brains of Alzheimer's patients that is repaired by Simufilam.
The high affinity binding between Simufilam and Filamin A is questioned, as is the binding between Naloxone and Filamin A. Other accusations are that isoelectric experiments showing filamin restored to its correct confirmation after treatment with Simufilam use forged data, that Western blots pertaining to Cassava's blood test for Alzheimer's, Sava DX, have been manipulated, that experiments in mice showing improved memory are questionable, and that proof that Simufilam blocks interaction between beta-amyloid and α7-nicotinic acetylcholine receptor lacks scientific rigour.
How Has Cassava Responded?
First of all, it is interesting to note that the petition was submitted to the FDA on the 18th August, and yet six days later, on 24th August, the FDA approved all protocols for the two Phase 3 trials of Simufilam.
Investors can probably take this as a strong sign that the FDA has not taken the petition seriously, and has no plans to act on any of its recommendations to dig out decades old reports and re-evaluate pre-IND data and experiments.
Cassava responded "fully" to the accusations levelled at it yesterday in a press release. As well as pointing out that the FDA's agreement on Special Protocol Assessments ("SPAs") for the Phase 3 trials "underscore alignment with FDA on key scientific, clinical and regulatory requirements" of the trials, Cassava addresses many of the data manipulation claims.
The claims around Western Blotting results being manipulated are dismissed.
Identical bands in presentations are "control bands", supposed to be more or less identical, Cassava says. Blot data is not "overexposed", but "sharp", as they are supposed to be, and certainly not manipulated, and "unusual looking" bands are perfectly normal and exhibit typical behaviour of proteins subjected to this technique, the company insists.
So too, are the claims concerning the post-mortem brain tissue: "Cassava Sciences is not aware of an industry-wide 'expiration date' on human post-mortem brain tissue that is properly collected, processed and stored."
The various claims that experiments demonstrating the efficacy of Simufilam i.e. its high affinity binding to Filamin A and Naloxone, and that 100% of Filamin A is altered in an Alzheimer's Disease patient, and largely restored by Simufilam - have been falsified, are also dismissed.
In relation to the restoring of Filamin-A by Simufilam, Cassava simply points out "Cassava Sciences agrees - This nicely describes the mechanism of action for Simufilam".
What Happens Now - Is There Any Case For Cassava To Answer?
Arguably, both the whistleblower and Cassava may have got the result that they wanted from this initial skirmish.
If the goal of Labaton Sucharow's client - the petitioner / whistleblower - was to publicly cast aspersions on Cassava and Simufilam, and perhaps also to damage the share price when doing so, then it has succeeded. Cassava stock tumbled by 30% in trading yesterday.
Equally, Cassava appears to have emerged relatively unscathed - if the FDA does not follow up on the law firm's requests, i.e. that trials be stopped, old data re-examined etc., then a ~$1bn short-term hit to its market valuation is a far from disastrous outcome - once the publicity storm is over, the stock price will likely recover any lost ground.
And yet, Cassava - a fairytale story of a tiny biotech developing a therapy of major global significance - could probably use a period with no more negative publicity.
Arguably, the company has attracted a significant amount of goodwill from the market, and the media, simply by virtue of the fact it is not Biogen, and it is not attempting to bring Aduhelm to market.
Biogen ultimately secured approval for Aduhelm on the flimsiest of clinical evidence, but the company has been under siege from the media ever since, for bringing a product to market that has no clear benefit for Alzheimer's patients, for its pricing strategy, for its too close relationship to the FDA, for the rejection of Aduhelm by an FDA AdCom, which was ultimately ignored, etc. etc.
Now, it seems to be Cassava which is facing mounting public scrutiny. After releasing its nine-month open label trial data, which showed cognitive scoring in patients based on ADAS-Cog-11 improve by 3 points, up from 1.6 points at six months, it might have been expected that the company's stock price would surge again.
In fact, Cassava's stock price initially fell from $136, to $71, as observers began to question the validity of results from an open-label trial, i.e. one without a placebo to measure performance against. Granted, cognitive scores were going up - practically a miracle in Alzheimer's terms - but there was no yardstick to measure performance against.
A damaging report from Stat News suggesting that many scientists felt Cassava's trial results were "overblown, inappropriate, and uninterpretable" only added to the suspicion that Cassava's Simufilam might be "too good to be true".
Cassava's bullish investors will likely take the view that the additional scrutiny is welcome, that the company has nothing to hide, and that most importantly, Cassava is about to embark on two year-long pivotal, placebo controlled trials, which will answer the question about the efficacy of Simufilam once and for all.
Conclusion - Cassava Will Likely Avoid A Scandal After Latest Attack, But The Company's Halo Is Slipping Slightly And The Scrutiny Will Continue
Another old saying - "if you are going to tell a lie, tell a big lie", is usually more associated with mass media than scientific experimentation.
If Cassava is attempting to pull the wool over the eyes of investors, the media, and the scientific community, then the likelihood is that the company will be found out.
This has happened with Theranos, referenced by the Citizens' Petition, and more recently, on a more minor scale, with the likes of Sesen Bio (SESN), whose shares have fallen from $5, to $1 after accusations from journalists of trial misconduct following the FDA's refusal to approve its bladder cancer therapy, and Athira Therapeutics, whose share price fell from $20, to $10, after its CEO was placed on temporary leave following allegations of data manipulation in their early academic research.
Although Cassava has responded to the allegations with a statement that begins "as a science company, we champion facts that can be evaluated and verified", it's also true that "facts" in science do not always turn out to be quite what they seem, and that they can be challenged, and sometimes proven to be false.
Proving a thesis correct is a challenge that every biotech faces, and in Cassava's case, its thesis happens to make some bold claims about how its drug Simufilam can help Alzheimer's patients.
It's natural that such claims will be challenged, and also that, as a publicly listed company, such claims can be used to attract public funding - >$250m of in Cassava's case - and to drive up a share price, turning company founders into millionaires overnight, and helping some institutional investors make millions of dollars in profit.
Still a major case for upside
In some cases - a good example would be Moderna (MRNA) - accused of market manipulation after insiders sold shares following its selection as part of the government's fast track COVID vaccine program - the scientific theses are proven correct, and investors are rewarded handsomely.
In other cases, e.g. Theranos, a major fraud is exposed, investors lose nearly everything, and worst of all, end users/patients are badly let down.
In Cassava's case, the likelihood seems to be that the damage caused by the Citizen's Petition will be minimal, old studies will not be re-evaluated, and that Cassava's phase 3 studies of Simufilam will go ahead.
In theory, the good will win out, and if the pivotal studies successfully meet safety and efficacy endpoints, and show anything approximating the ability to slow or even reverse cognitive decline in Alzheimer's patients that Simufilam has shown in early studies, then Simufilam will be approved, and heralded as a major breakthrough in the fight against Alzheimer's.
If that does happen, then at current market cap of $3.2bn, Cassava Sciences stock is a screaming buy.
There are 5.8m Alzheimer's patients in the US alone, and as an oral therapy with a better safety and efficacy profile than Aduhelm, Simufilam - which will likely have a price point that is a fraction of Aduhelm's ~$50k per annum - let's say $10k - would have an addressable market of ~$58bn in the US alone.
Let's cut that figure by 10x to give us a more realistic target of $5.8bn peak sales per annum, and if a biotech trades at 5-10x earnings, Cassava's market cap could rise to >$40bn - meaning Cassava stock still has "10-bagger" potential even after making a >3,500% gain in the past 12 months.
But Bear In Mind Cassava Is Still A Long Way From Approval
That is the best case scenario, but investors should anticipate Cassava shares to be extremely volatile until there is a definitive verdict on Simufilam.
In truth, it is difficult for the layman to distinguish between shorts throwing mud at Cassava for personal gain, and genuine scientific evidence that something is awry with the data presented in relation to Simufilam.
The citizen's petition is not meritless, in my view - some of the concerns raised appear plausible - perhaps the most significant being Cassava's use of a single lab to verify all of its biomarker efficacy - apparently, the one time it did not use the lab in question, its Phase 2 trial failed to meet endpoints.
On the other hand, neither is the petition likely to bring about an FDA investigation, in my view, and the FDA's trial process will ultimately decide the fate of Simufilam, Cassava's share price, and whether patients can expect to have access to a breakthrough therapy within the next 2-3 years.
The level of disinformation that the mass media can generate should not be underestimated, and although it is a frustration, without it, all investors would likely be worse off.
The final point to make is perhaps the most uncomfortable - as Aduhelm/Biogen has proven, even a failed pivotal trial and no sign of efficacy does not necessarily derail a marketing application.
We all want to believe the level of scientific scrutiny that drugs are subjected to is sufficient, but ultimately, in medicine as in investing, we are all, to some extent, responsible for our own due diligence.