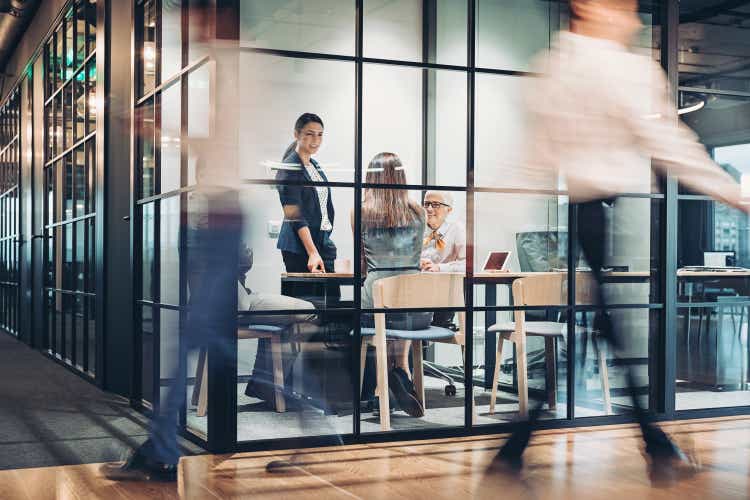 Buybacks offer a simple way for investors to own an ever-expanding portion of exceptional businesses. - Warren Buffett
The Invesco Buyback Achievers ETF (NASDAQ:PKW) is a $1.6bn worth ETF that tracks the Nasdaq US Buyback Achievers Index; the raison d'être of the index is to focus on a set of "buyback achievers", or in other words, fish for companies that have effected a 5% (or more) net reduction in their shares outstanding, over the past 12 months. PKW's current portfolio works out to a little over 100 stocks and the ETF follows a full replication methodology whilst tracking its underlying index. PKW also appears to be an ETF that is well-set to cope with different environments and appeal to different types of investors; currently, the top three sectors are a mix of cyclicals (financials-29%), growth (tech- 26%), and defense (~13%) so it feels rather well-hedged.
Rationale for PKW
When gauging the worth of a stock, I often find that investors tend to be quite myopic in their hopes, latching onto overzealous narratives over the future potential of a project/product/service. More often than not, investors run the risk of being let down, as a lot of "intangibles" need to come together for a business to achieve certain landmarks and this often tends to get cast aside when rosy forecasts are drawn up.
Alternatively, there's also an underappreciated school of thought that seeks to measure the quality of a stock based on how effectively it allocates its capital; this is a more tangible lens and gives one a sense of the financial strength of a company. An increasingly popular route (particularly in the US) of allocating capital is by way of buybacks; meanwhile, the popularity of dividends as a form of capital distribution is losing its sheen.
A capital distribution study by S&P Global measuring trends from 1980 showed that by 2018 only 43% of US corporates paid dividends, down from the 78% figure seen in 1980. Conversely, 53% of US corporates were engaged in buyback programs as of 2018, a sharp increase from the 28% figure seen during 1980. Presumably, corporates have come to better understand that buybacks are a more effective way of boosting their valuation multiple (by reducing the supply of shares, the EPS goes up, consequently forcing investors to reassess the multiples they would be prepared to shed out).
In addition to that, buyback programs are also more flexible and investors tend to be more tolerant even if this is curtailed; conversely, when dividends get cut, the associated sell-off in the stock can be quite brutal, and thus companies are often reluctant to commit themselves to ever-increasing dividend payouts.
PKW currently appears to be a very promising bet as US corporates are currently well-stocked with excess cash after a rather challenging year in 2020 when many of these stocks sought to boost their liquidity and capital buffers to stave off a potential cyclical slowdown.
Fortunately, the slowdown wasn't as bad as initially feared and thus these companies are in an excellent position to share their excess resources with their respective shareholder base which will likely be deployed by way of greater buyback momentum (All that excess borrowing by global corporates last year resulted in record post-pandemic cash piles of $5.3 trillion). These companies also don't have to be overly concerned with their debt servicing capacities as the combination of potentially higher economic growth and heightened inflation reflects well on the credit fundamentals.
To get some sense of the strong cash flow position, I've prepared a table measuring the current trailing FCF levels of PKW's top-10 stocks relative to their 5-year averages. These 10 stocks in aggregate jointly makeup for ~49% of the total portfolio.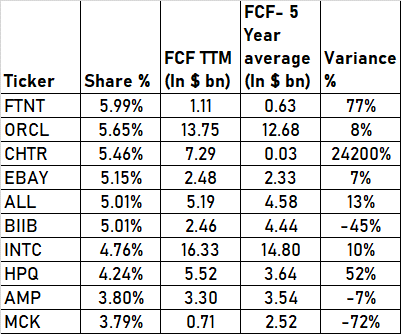 Source: YCharts
All the top five stocks and eight of the top ten stocks currently have an excess FCF position that is well ahead of the 5-year average; in addition to that, the top three stocks (Fortinet (FTNT), Oracle (ORCL), and Charter Communications (CHTR)) have FCF positions that are at record highs. Such strong free cash flow positions provide some substantial ammunition for these companies to engage in buybacks this year and beyond.
As highlighted recently in The Lead-Lag Report, the allocation of buybacks by US companies this year will likely hit its highest point in more than two decades. Already in Q1 and Q2, we've seen some solid buyback momentum; according to S&P Global, US corporates did about $178bn in Q1 and this was increased sequentially by another ~12% in Q2 to cross $200bn.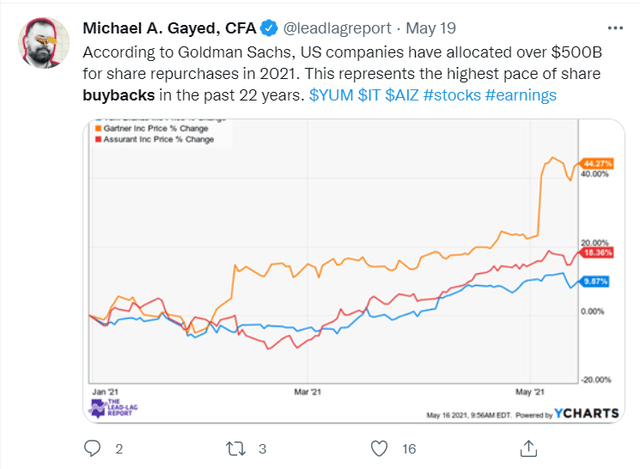 Source: Twitter
Summing up
To sum up, US corporates are well-stocked with excess cash and this should likely benefit stocks that resort to buybacks. Some of you may be averse to the idea of pursuing a portfolio of stocks solely on the basis of their buyback credentials but you can't argue with the results as PKW has proven to be a far more lucrative bet than say, a portfolio of stocks focused on a dividend achievers segment; as you can see from the image below, since PKW's inception, it has comfortably outperformed the Invesco Dividend Achievers ETF (PFM) - an ETF that focuses on stocks that have increased their annual dividend for 10 or more years.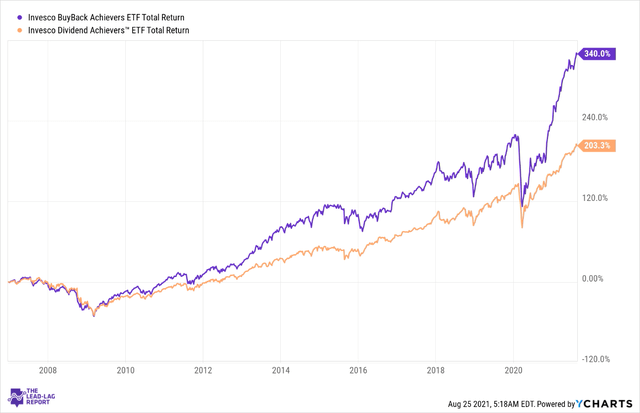 Even if one were to look at the valuations, you'd note that PKW appears to be a more attractive bet; currently on a weighted average P/E basis, the holdings of PKW trade at 12.79x and offer a 5-year earnings growth profile of 17%; contrast this with PFM that currently trades at a premium of ~83% on a weighted average P/E basis (23.44x) and only offers earnings potential of 11% over the next 5 years.

Anticipate Crashes, Corrections, and Bear Markets
Sometimes, you might not realize your biggest portfolio risks until it's too late.
That's why it's important to pay attention to the right market data, analysis, and insights on a daily basis. Being a passive investor puts you at unnecessary risk. When you stay informed on key signals and indicators, you'll take control of your financial future.
My award-winning market research gives you everything you need to know each day, so you can be ready to act when it matters most.
Click here to gain access and try the Lead-Lag Report FREE for 14 days.