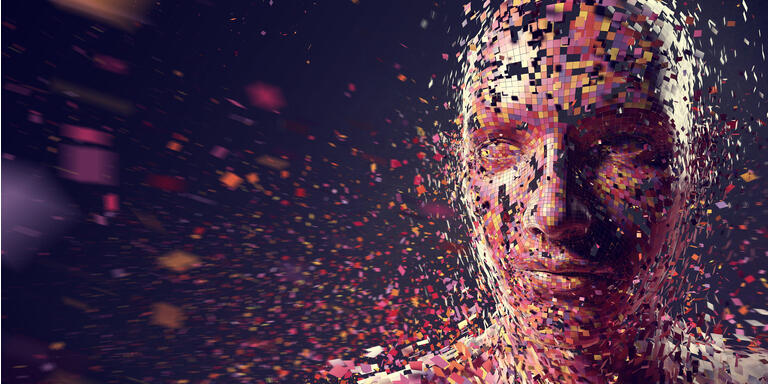 DISCLAIMER: This note is intended for US recipients only and, in particular, is not directed at, nor intended to be relied upon by any UK recipients. Any information or analysis in this note is not an offer to sell or the solicitation of an offer to buy any securities. Nothing in this note is intended to be investment advice and nor should it be relied upon to make investment decisions. Cestrian Capital Research, Inc., its employees, agents or affiliates, including the author of this note, or related persons, may have a position in any stocks, security, or financial instrument referenced in this note. Any opinions, analyses, or probabilities expressed in this note are those of the author as of the note's date of publication and are subject to change without notice. Companies referenced in this note or their employees or affiliates may be customers of Cestrian Capital Research, Inc. Cestrian Capital Research, Inc. values both its independence and transparency and does not believe that this presents a material potential conflict of interest or impacts the content of its research or publications.
How To ETL IRL
In long-run technology investing, many of the truly big wins come from buying into a company in its early days, when its ultimate destination is but a dream, but its ambition and potential is boundless. In decades of professional technology investing, never once have we come across a company like this that ever looked cheap. Ever. All the best companies, all the names that form the arteries, the skeleton, the skin of the Internet today, they have always been "too expensive". When these companies develop compelling financials they are "too expensive", as we recently noted here, and before they develop an attractive financial profile and have just a vision and the beginnings of execution, they are still "too expensive". This is the basis on which scores of venture capitalists passed on Amazon, Tesla, Skype, Google, and many others. Even Masters of the Universe get it wrong when things appear to be "too expensive". For a sobering lesson in this particular error of investing judgment, it's always worth reading the Bessemer Anti Portfolio page - and when reading it bear in mind that this collection of individuals is one of the all-time-greats in tech investing.
Our interest and indeed modest staff personal account allocation in Matterport (NASDAQ:MTTR) stock stems not from its current line of business, which is focused around capturing real estate with large proprietary cameras, digitizing the output, and turning that data into 3D models used by, amongst others, realtors to sell fancy homes. That is not an exciting business. It's labor intensive for the user, serves a fairly limited addressable market, and doesn't appear to lend itself to an expanded product set. Such a company, you might conclude, is likely to end up as acquisition fodder for an Autodesk (ADSK), a Nemetscheck (NEMTF, NEMKY) or some other CAD software vendor searching for an edge. So if you take a look at MTTR in this light and you say, well, this thing is tiny at just $56m of revenue for the first half of 2021, it's neither accounting profitable nor cash generative, it appears to already be going through the late-in-life transformation from perpetual to subscription licensing that is so painful for even big vendors like Splunk (NASDAQ:SPLK), and, what's this? It's valued at an enterprise value of $3.5bn representing something like 25-30x a bullish estimate for FY12/21 revenues? Thanks, I'll pass - is what you can most justifiably say. And nobody could say you were wrong, on the facts in front of you.
We take a slightly different view. Despite being wizened old folks here at Cestrian, we are all-in on the notion that the Metaverse - the totality of the online world which offers inhabitants of IRL (c'mon people, not the green pastures and roaring coastlines of Ireland, we mean of course, In Real Life) retreat, respite and, indeed, plenty of spite - is going to be big. No, not just big. BIG. We will expand on this in a future blog post here on Seeking Alpha, but in short - we think the move from the physical reality of IRL to the virtual world now on offer on the Internet is gathering momentum and won't slow down any time soon. You might think of the Metaverse as one grand infinite game, characterized by a series of sub-games. Over the last ten years you have seen increasing mention of "the gamification of X" in software circles - a natural extension of the concepts discussed in the surely soon-to-be-classic "The Hook Model" by Nir Eyal - gamifying personal or enterprise workflows in software is a way to reward the user with dopamine shots, the better to have that user complete the task or game and then re-up for another go-around. Well, gamification is now pervasive. The whole beef that folks have with stocks like Robinhood Markets (HOOD) or Roblox Corporation (RBLX) is that they gamify serious matters like investing or causing minors to spend money they may or may not have, sometimes with rather unpleasant consequences. But games, immersive infinite games, are exceptionally attractive places for many people, as the success of the videogame industry attests. People like gamification. And we think those same people are going to walk headfirst and headlong into the Metaverse, willingly, and spend more time there, willingly. Op-ed pieces in old-line newspapers may decry this, but we believe the move is inexorable. (Those same old-line newspapers spent a good two decades telling us all why online news was bad, before having to latterly embrace it in a desperate bid to stay solvent).
One thing that the Metaverse needs is a way to digitize and import physical aspects of IRL, in order to provide an environment that is at least in part recognizable to its participants. When we were young, this task in software used to be known as ETL or "extract, transform, load". Take a dataset from System A over here, throw all the pieces up in the air, rearrange them in a way usable by System B over there, and then suck the data into System B.
We see Matterport as a company, maybe the company, too soon to tell, which can ETL IRL. They even tell you they are doing this. In the Matterport narrative, you don't see the phrase "extract, transform, load". You see the phrase "capture, share, collaborate". Capture IRL; digitize it; manipulate it; share it; collaborate within its new "digital twin" (also a Matterport narrative phrase).
And on this basis, we bought a starter position for staff personal accounts. The stock is likely to be a rollercoaster and recent coverage on Seeking Alpha taking the view that the name will likely offer better value in the future than today is, in our view, absolutely correct. Speaking for ourselves, we like to buy modest opening positions in new names where we think stock price growth could be explosive - that way we avoid the potential psychological trap of waiting forever for a dip that doesn't come, then chasing the stock up right before a reversal. We're building ourselves a Metaverse portfolio on this basis - we own RBLX and HOOD on exactly this logic. If you think this whole Metaverse thing is going to become a real thing (pun intended?), You might consider doing the same. (You can read our recent coverage on Roblox here, and on Robinhood, here. The comments in the HOOD note are worth reading because there is some excellent quality debate in there).
For what it's worth, here's the numbers on MTTR. You will notice the many gaps and also we've had to average out capex and change in working capital and other items across a couple of quarters - this is a new issue (it went through a SPAC deal to get to the public markets) and so it takes time for the historic numbers to get filed; as time goes by we'll fill in the missing parts, as we have in our coverage of Palantir, Unity and other new-to-market names.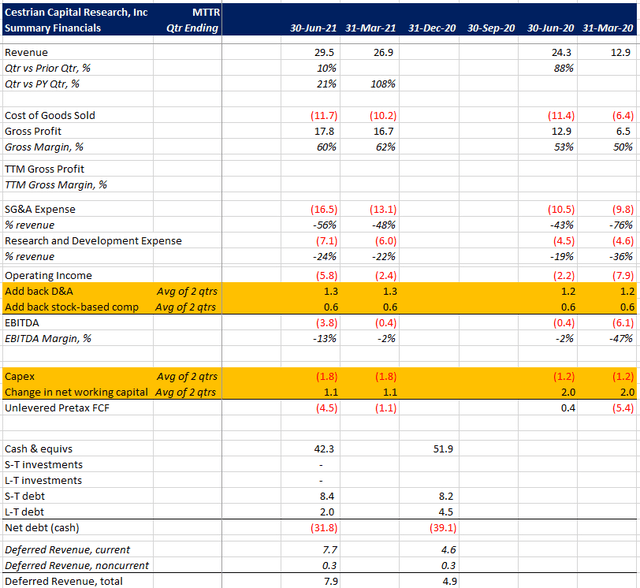 Source: Company SEC Filings, Cestrian Analysis
Here's that too-expensive valuation: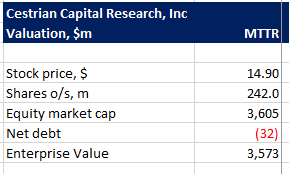 Source: YCharts.com, Company SEC Filings, Cestrian Analysis
(On a wild guess let's say the company achieves $120m of revenue in FY12/21, meaning an EV/FY21 Revenue of 30x. Which is most certainly too expensive for the numbers you see above).
The stock chart is too young in our view to be of much use, save to say that $13/share or so looks to be acting as a support level thus far.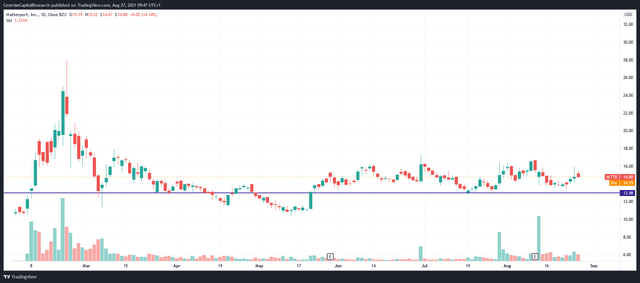 Source: TradingView
Our plan here is, follow the company closely, look in particular at the success or otherwise of its move to subscription revenues (remember, we're old folks - this isn't our first such rodeo, as you can see from our note on SPLK to which we link above), look at the degree to which it is truly participating in the digital construction of IRL within the Metaverse, and if this is looking good, layer in additional capital at opportune moments. If our thesis here is right, this name can be a decade-long winner. And if not? Well, the thing with the new thing is you are often wisest to buy a basket of plays, giving you multiple shots on goal - this is our Metaverse strategy; not every name will end up a big win, but we think some will, and we think that overall, we can make great returns in this category. Time will tell!
In the meantime, for its potential not its reality, we rate MTTR at Buy on a long term basis; as you can tell, we would not and have not bet the farm, but see plenty of logic in buying a small starter position at this time.
Cestrian Capital Research, Inc - 27 August 2021.