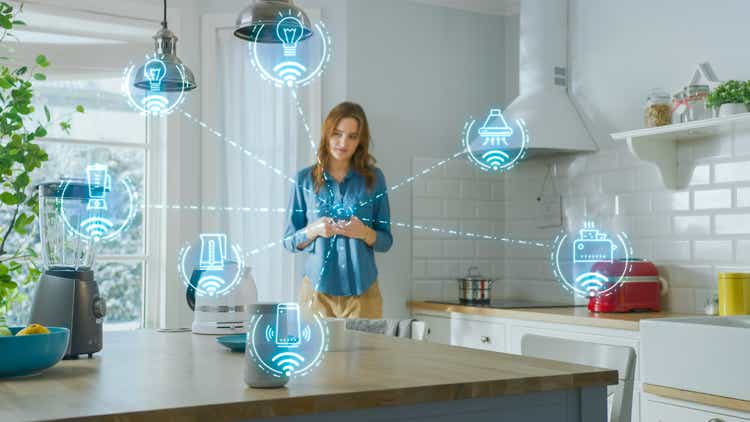 Investment thesis
Alset EHome (NASDAQ:AEI) is a growth company with early results to show, despite the stock getting hammered following listing. They own two mini towns, both of which are under construction to become eco-friendly, cost-saving utopias. Their business model is unique and largely untapped. We rate AEI a buy with significant upside potential but warn investors to exercise extreme caution as a result of dilutions.
Company overview
Alset EHome is a holding company that operates under many different industries, such as real estate, nutrition, and biotech.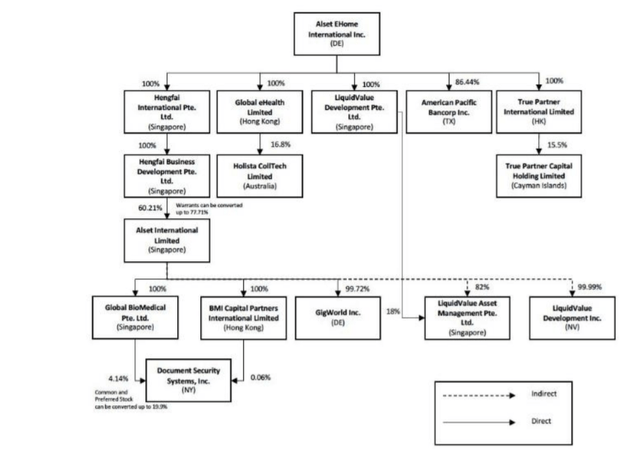 Source: Company 10-K
The majority of their revenue, 84%, comes from their subsidiary, LiquidValue development, so that is what we are focusing on for this article.
LiquidValue
LiquidValue development creates advanced eco-friendly cities with technology integrated at every level. AEI generates revenue from both the sale of land for construction, the sale of homes, and the renting of homes. When constructing homes, AEI focuses on the ability to control everything with a smartphone. The homes include everything from solar panels, a modular vertical community farm, a Tesla car (yea, an actual car), a Tesla power wall, and an air purifier. They claim that the focus on clean energy enables their customers to live a greener life while promising long-term savings. This concept is hard to put into words, so if this is still unclear, here is the link to their overview video.
If they can execute the ideas in the video, this type of community would offer buyers significant benefits. A large community solar farm in both towns provides green energy at a low cost. Tesla Powerwalls allow for energy to be stored for off-peak hours as well as protect residents from a blackout. AEI also expressed interest in the battery to grid technology, where a small amount of power from the Tesla car's battery is used to power the grid. A modular vertical farm would offer residents low-cost fresh fruits and vegetables, and HEPA air filters in the home to protect against poor air quality. Most interestingly, AEI also plans to allow users to use their car as a source of income through Robotaxi, generating income on its own. Robotaxis would accelerate the ROI of investing in a property like this. Recently, a video on their YouTube channel expressed interest in plans to use excess energy from the solar farm to power individuals' computers and mine cryptocurrency.
This is all quite ambitious, so let us dive into the two towns they currently are developing/operating to see how it is going.
Ballenger Run
Located in Maryland, Ballenger run is a 197-acre property with 479 residential lots and 210 multi-family homes. The property was acquired in November of 2015 for $15.65 million. Recently, they agreed to transfer 30 acres to the local town to begin construction on a K-6 school, a process that they will not be involved in but feel it will raise the value of the property. AEI also mentioned that the town is one of the densest towns in regards to doctors and lawyers, both of which have the income levels to afford to live here.
AEI has a partnership with NVR (NVR) to sell the homes. NVR has agreed to purchase all of the single-family buildable lots. Here is what AEI had to say about the partnership.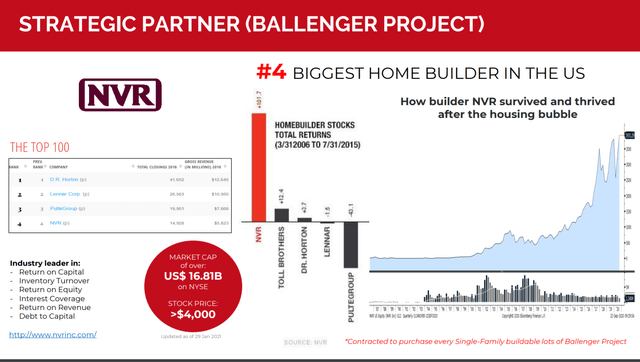 Source: Investor presentation
We view this town as bullish for the stock. We see NVR's early investment as a sign of confidence that the homes will sell. The amenities provided will be unmatched, and the residents can afford to pay a premium. The addition of a school should help draw families, and the green nature of the town should draw the environmentally conscious.
Black Oak
Black Oak is located outside of Houston, Texas. The 136-acre property includes a lake, which AEI plans to construct homes around to provide residents with lakeside living. They have subdivided the land into 511 buildable lots, which are expected to include recreational facilities, instructional works, and other amenities.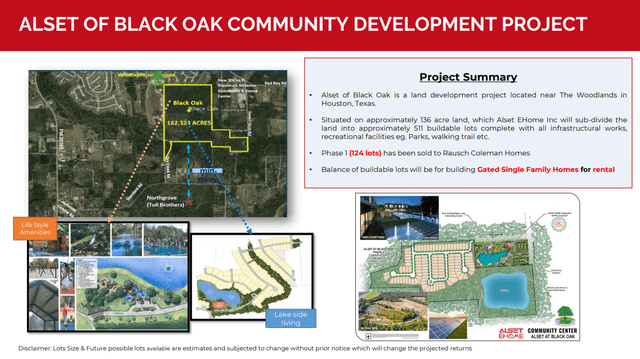 Source: Investor presentation
Like Ballenger run, Black oak also includes a strategic partner. Rausch Coleman is contracted to build 124 homes. Here is a little bit more detail on Rausch Coleman.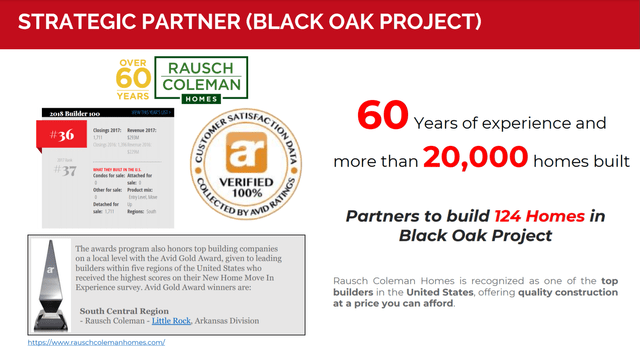 Source: Investor presentation
The homes are expected to look something like this.

Source: Investor presentation
We are also impressed with this. These modern-looking homes should have no trouble selling, and their ability to include form in a home so focused on function is impressive. The strategic partner once again affirms the business model. The lake should draw additional buyers, as a lake house is the dream of many retirees.
Financials
Income statement
The trailing twelve months revenue at the time of writing is $23.4 million, up from $16.2 million last year. 2020 numbers are depressed by covid, therefore the exponential growth is hard to plot, but from 2017 to 2019, their revenue increased from $10.3 million to $24.2 million. Their cost of revenue is consistently low enough to generate a gross profit margin of 37% in the TTM. We see this as an early indication that the company is able to manage its funds well, as such rapid expansion into the construction of two cities is usually not a time when profit is feasible.
Balance sheet
As of the most recent report, AEI holds $90 million in cash and short-term investments. That figure is larger than their total market cap of $76.52 million. Their total debt is just $7 million, giving them an exceptional liquidity ratio. They have $103 million in total assets and just $11.7 million in total liabilities. While this is impressive, this company is a fan of stock issuance and has issued a whopping $50.4 million in common stock in just the recent 12 months, which is largely responsible for the low share price we are currently seeing. I will revisit this later in the risks category.
Valuation
This is an exceptionally difficult company to value. They lack consistent free cash flow, earnings are inconsistent and have zero credible analyst predictions. So, we will use several ratios to determine if AEI is undervalued. We will not compare to other companies, as their dilution, as well as unique business model, makes finding a similar company that would shine any light on valuation nearly impossible.
P/B and P/C ratio
AEI currently sits at a .32 P/B ratio. This means that, theoretically, they could liquidate and return that 3 times the current share price to the shareholder. In a normal circumstance, this would be a screaming buy, but keep in mind that this number is skewed by the recent share offerings, and more offerings are essentially guaranteed at some point in the future.
The price to cash ratio at the time of writing is .84. This means that AEI has enough cash to repurchase all of its shares at current prices, and still has some leftover. Once again this typically would be an extremely bullish indication, but this is skewed by the offerings, as well as the cash burn. One way that we can evaluate cash burn is to look at the net change in cash, minus the cash raised from financing activities, and see how much cash runway we have at current levels. In the most recent report, AEI had a net change in cash of $51.7 million, and $59.3 million in cash from financing. By finding the difference, in this case, $7.6 million, we know how much cash they are burning. $7.6 million in annual cash burn from a cash balance of $89.8 million is not concerning and provides plenty of runway, so we consider this a bullish indicator.
Price to sales
While the first two are largely impacted by dilution, the price to sales multiple should offer us a better look at the way the market is pricing AEI. Trading at a P/S ratio of 3.46, we are led to believe that there may be some value to this stock.
The potential for massive revenue growth in the near future is obvious, so the fact that the current P/S ratio is this low gives us the confidence we need to take a long position.
The price target
We assign AEI a price target of $4 dollars for right now. Despite all the risks, we feel a 93.3% decline from the 52 week high is unwarranted. We would like to remind investors that at the peak this was trading at a market cap of $250 million, and is currently at $76 million. If their plans continue to work out, a price target of around 10 dollars is reasonable, however, the time horizon may be longer than we would like due to the frequent dilution of shareholders and microcap. We truly do believe that AEI is overlooked, but it may take a long time for enough people to find it for significant moves in price.
More on dilution
The chairman of the company, Mr. Chan Heng Fai, has a history of working at Document Security Systems (DSS). DSS is known for frequent and large share dilution. As a result, DSS has traded at extremely low valuation multiples for a long time, and the same pattern seems to be arising here. DSS, like AEI, does have considerable underlying value, but dilutions keep the price low. Investors should keep in mind that dilution is not exclusively a bad thing, as the cash gained could be a positive on a long time horizon. But if you are holding AEI, it is exceptionally likely that the price will fall dramatically on news of a share offering, potentially as high as 1/3 of the total outstanding shares. We do not forecast another share offering happening in the next 6 months, as their last offering gave them an extremely large cash pile, but that is no guarantee.
Conclusion
AEI does have a lot of underlying value, and the growth story is not only present but compelling. If not for massive dilution with seemingly no regard for shareholders, AEI would be a no-brainer. We rate this stock as bullish with a price target of 4, representing 100% upside, but strongly encourage investors to allocate only a small portion of their portfolio and plan on a long-time horizon.