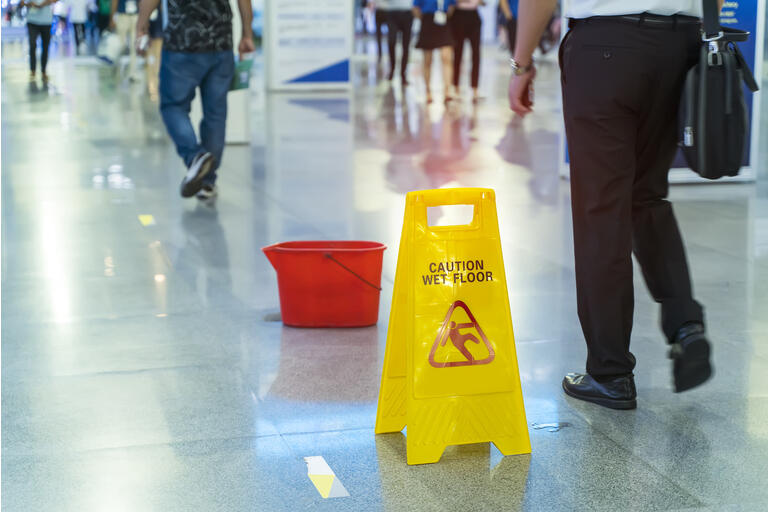 One of the most basic ideas in investing is that, whether you are a corporation or a fund, or just a corner grocery store, you can only pay out in dividends to your owner the amount of money you actually earn. That is, if you want to stay in business.
Paul Simon's classic song "Slip Slidin' Away" talks about what happens in life if you squander your opportunities. The same lessons apply to closed-end funds that squander their earnings paying out more money in distributions than they actually earn. If a fund pays out more than it earns and keeps doing it on a regular basis, the fund will get smaller and smaller and eventually run out of assets and disappear.
For Income Factory® investors, where our entire strategy revolves around collecting high distribution yields from our investments and using those high cash yields to create our own income growth over time (by reinvesting and compounding) it is especially important to be sure that the distributions we collect are stable and sustainable over time.
Without A Crystal Ball, We Look At History
Since we can't tell the future, the best way I know to predict whether a fund will actually earn enough in total return* to maintain its distribution level going forward, is to see whether it has done so in the past. If a fund has consistently earned X amount per year for the past 5 years, and has paid out a distribution each year that is less than X, then that shows the fund has been earning its distribution and, absent other evidence to the contrary, suggests the fund is a reasonable bet to continue doing so. In other words, the distribution is considered to be "sustainable."
*Note that total return is the amount of interest and dividends the fund collects, plus the appreciation or depreciation on its assets, minus its expenses.
On the other hand, if a fund has been earning X amount per year for the past 5 years, but has been paying out a distribution each year that is more than X, then we can clearly see that the find has been "over-distributing" its earnings, paying out more to shareholders than it actually earns (i.e. more than its total return). That suggests the distribution may not be sustainable. I say "may not" be sustainable because there are instances where a fund's prospects looking forward may be better than they were previously, because of changes in the market it participates in, changes in strategy, etc. In those cases, the burden is on the fund management to explain to us why they believe the future will be different than the past, or why the statistics we've just laid out (i.e. comparing past earnings with past distribution levels) don't tell the whole story.
Seems Straightforward To Me; What Am I Missing?
This whole sustainability issue, especially looking at history to see whether a particular fund has actually earned the distributions it has paid out in past years, seems awfully straight-forward to me. That's why I'm sometimes amazed at how much confusion the whole topic of "distribution coverage" still seems to generate whenever I write about it.
Recently I wrote an article about MFS Intermediate Income Trust (MIN), which I called the "Poster Child" for distributing more than a fund actually earns. MIN's distribution of 8%-plus while only earning between 3-4% per annum over the past 10 years is an extreme example of a destructive distribution policy that, if continued, will eventually lead to a substantial shrinkage in the fund's value.
In fact, this spreadsheet (Annuity_erosion_table.xlsx) shows the rate at which a fund's capital, as well as the size of its distribution, would deteriorate if it continued to pay an 8% distribution while only earning a 4% total return over a 25 year period.
As you see, after 25 years, the fund is only one-third of its original size, and its distribution, while still 8% of the now greatly reduced capital value, is only a small fraction of the original distribution. (On the attached spreadsheet, readers can plug in their own assumed distribution yields and earnings, and see what the results would be of various combinations for up to 80 years.)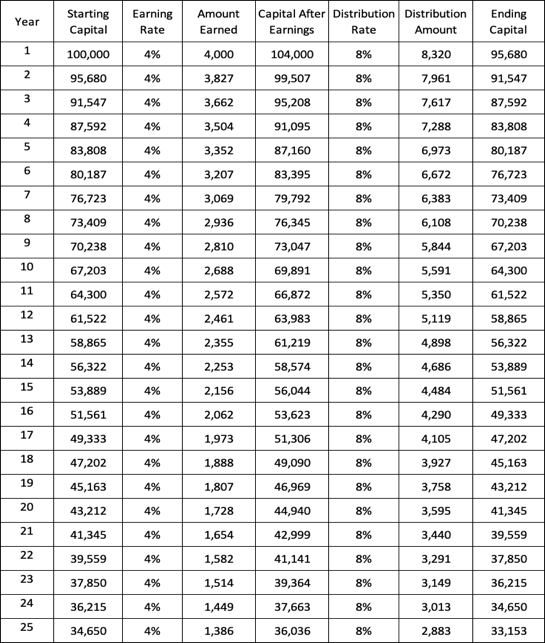 But MIN is far from the only closed-end fund that over-distributes its earnings, resulting in an unsustainable payout that erodes the value of the fund as a whole and the value of its individual shares. Here is a list of 15 closed-end funds that all have been paying distributions at a rate that is higher than their annualized earnings rate over the past 5 years.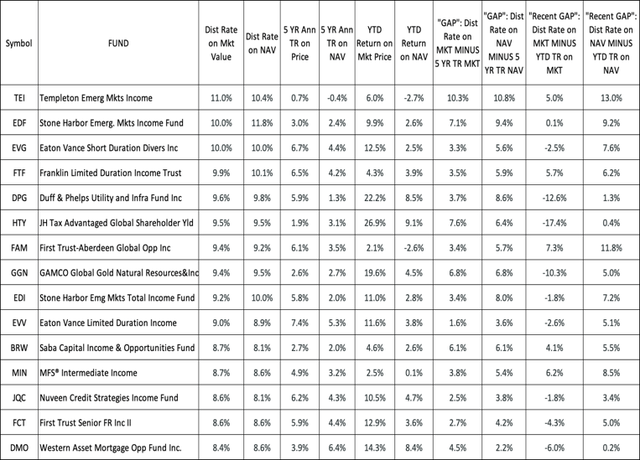 To make it on to this chart, a fund had to show a "gap" between its distribution yield, measured as a percent of its market value as well as its net asset value ("NAV"), over the past 5 years. That would mean that its market value and its NAV must have decreased over the past five years in order for it to pay distribution yields at its current level. Looked at another way, if it were to continue to pay out a distribution yield like it currently does, and its earnings remained at the rate they have been for the past 5 years, then its market value and/or NAV would have to fall.
"Serial Eroders"
There are some funds in the list where the erosion of value has been so obvious that, in my opinion, it would be hard to justify owning the fund, assuming one wanted to maintain the value of one's investment while collecting the distribution. These funds I would regard as "serial eroders" that I would probably not touch with the proverbial ten-foot pole.
There are a few other funds on the list where, even though the distribution rate is less than the earnings over the past five years, there might be some glimmers of hope or other sort of "redeeming" reasons for optimism that could justify holding the funds despite their record of not earning their distributions over the past five years.
Let's examine the list and see which ones fit into which of the two categories. I'll be surprised if this discussion does not elicit some readers' comments.
In the "serial eroders" category I would put:
These "serial eroders" make the decision to avoid them a relatively easy one. Some of the others on the list present a more complicated picture, providing investors more of a rational reason to invest in them, despite their past records, if they choose to do so.
One such example is John Hancock Tax-Advantaged Global Shareholder Yield (HTY), which pays a distribution of 9.52% on market value and an almost identical 9.47% on NAV, and yet has only earned an annualized total return of 1.9% (market price) and 3.1% (NAV) for 5 years, and if you dig a bit deeper, it turns out has only earned in the 4.5% range on average for the past 10 years. Despite this, a recent article here on Seeking Alpha expressed confidence that HTY should be able to sustain future distributions because it had managed to do so for the previous 6 months (!) without ever mentioning the dismal 5 and 10 year records (or the fact that the reason the past 6 months looked so positive was because the previous year (2020) had been so negative with huge realized and unrealized losses, that were merely reversed during the most recent 6 month period).
I use this example to emphasize the importance of looking at the broader historical picture and not just a brief recent snapshot in determining the likelihood of a fund continuing to sustain its earnings and distributions.
While HTY may be an extreme example of over-optimism and/or incomplete analysis, there are other examples here where it is genuinely difficult to know how sustainable the current distribution is or how risky it is to hold the fund in spite of the warning signs presented by a historically-based analysis. Two examples are the Eaton Vance funds, Short Duration Diversified Income (EVG) and Limited Duration Income (EVV). Both pay distributions in the range of 9% (EVV) or 10% (EVG), and have only earned 7.4% (EVV) and 6.7% (EVG) for the past 5 years. So based on their history there is no particular reason to expect them to maintain distributions of 9-10%. The reason many investors are finding them attractive right now is the concern about inflation and the expectation that low duration, floating rate funds like these will likely benefit from rising rates, if inflation persists and interest rates rise with it, as they always do. (Disclosure: I own both funds in my personal account, as well as FCT, mentioned below, in one of our Inside the Income Factory model portfolios.)
Similar thinking may be driving investors to hold on to or acquire other shorter duration funds, like Nuveen Credit Strategies Income (JQC) and First Trust Senior Floating Rate (FCT), which are both perceived as potential hedges against inflation and higher interest rates. Similarly for Western Asset Mortgage (DMO), which has had a very strong year-to-date, and many investors may feel will benefit from rising rates in the future.
Conclusions, Anyone?
I take away several things from this discussion/analysis:
Cash distribution yields are very important to many of us who follow an Income Factory® or similar strategy.
Fund managers know that, and also know some investors hardly look beyond yield in making their decisions on what funds to buy.
So there can be an inclination among some fund managers to "pay beyond their means" knowing that will attract some investors who fail to notice, or who even ignore, the erosion in the value of their investment while they are enjoying the cash dividends (some of which are "phantom" or unearned).
So we have to really examine closely whether a seemingly generous distribution is real or not.
Fortunately that is easy to do, since Total Return equals just two things: cash dividends received, plus appreciation or depreciation in price.
So, by definition, if the distribution is more than the total return, for any period, then the price must have dropped, to make up the difference.
At the same time, there may be cases where it is reasonable to think the future will not be just like the past, if a fund's prospects look better going forward than they were previously.
The problem is that every analyst who likes a particular fund is likely to argue that their fund is special and the future will be different, etc.
So be skeptical.