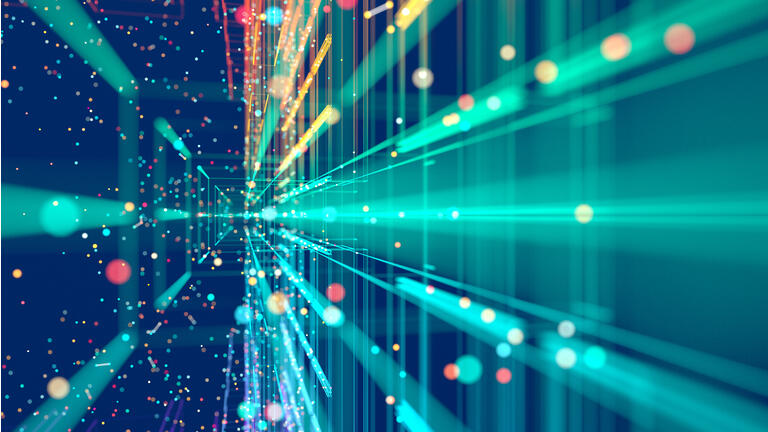 As we detailed in Why High Yield Should Pummel Tech, our portfolios focus primarily on high yield value stocks (SPYD) and largely avoid tech (QQQ). This approach has paid off handsomely as our portfolios have crushed the broader market over that period.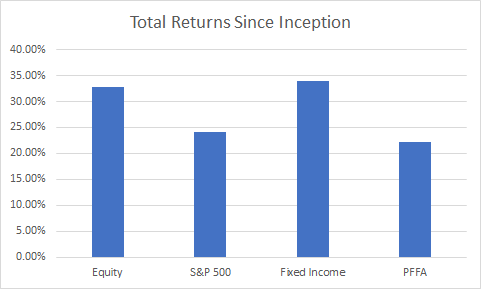 Moving forward, we continue to have conviction that there remain numerous attractive opportunities among dividend paying value stocks and that the overall risk-reward proposition in this sector of the market is superior to that found among most disruptive tech (ARKK) stocks due to:
Sky-high valuations across much of the disruptive tech sector, especially when you factor in the likelihood of rising inflation devaluing long-dated cash flows from unprofitable tech companies with long-term growth runways.
Reduced COVID-19 tailwinds for tech stocks.
As a result, we remain on the sidelines of most tech stocks and keep our portfolio's exposure to the sector small.
That said, we have had several successful forays into tech, including:
Roper Technologies (ROP): A proven SaaS wealth compounder which earned us a 57.1% annualized return after buying it on its most recent dip below $400 and then selling it at over $480 per share. You can read our thesis here: Roper Technologies Stock: Proven SaaS Wealth Compounder Has A Long Growth Runway
SuRo Capital (SSSS): An EdTech-focused pre-IPO company which has generated outstanding returns for us since we purchased it on March 29th and more than tripled the performance of ARKK over that span.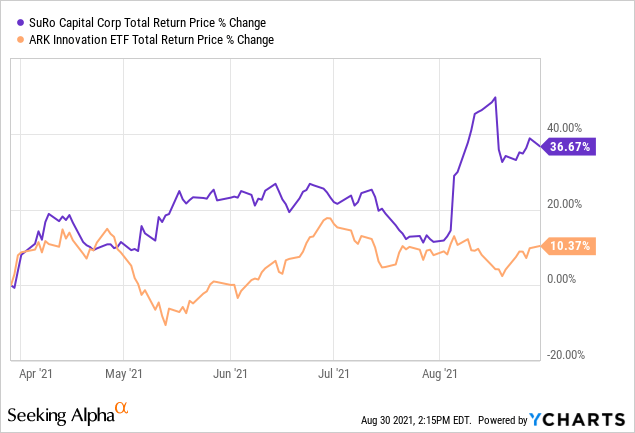 Palantir Technologies (NYSE:PLTR): A data analytics and artificial intelligence company that has crushed the market since our initial piece on the company.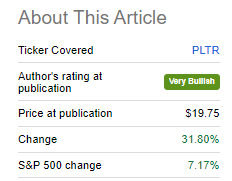 Source: Seeking Alpha
Moving forward, PLTR remains our highest conviction pick of our very few in the tech sector for the following reasons:
#1. Increasingly Wide Moat For Gotham
Between winning contracts with Space Force, the Air Force, government healthcare and law enforcement agencies, and providing improved A.I. and data analytics for defense satellites and large-scale defense exercises, PLTR's Gotham and Apollo for A.I. platforms have become indispensable elements of the U.S. government's operations.
Given that A.I. supremacy will play an increasingly important role in national defense and economic might in the future, and the Chinese, in particular, are investing extremely aggressively in an effort to overtake the United States in this area, it is highly likely that the U.S. government and its allies will increasingly demand PLTR's services.
This was on full display in the company's Q2 results as government revenue surged a whopping 66% year-over-year on the back of new deals with the U.S. Army, U.S. Air Force, U.S. Coast Guard, Health and Human Services, and Center for Disease Control. This strong and rapidly growing base of support helps provide a firm floor for the company's valuation and combines with their debt-free balance sheet to make it very unlikely that the company will experience financial distress for the foreseeable future.
#2. Accelerating Foundry Growth
The other side of the PLTR coin - the commercial Foundry business - is also seeing signs of life.
While the 28% headline year-over-year growth number significantly underperformed the government revenue growth rate, it is still pretty solid. Additionally, U.S. commercial revenue saw accelerating 90% year-over-year growth during the quarter and the seeds of future growth were sown with 62 deals of at least $1 million closed in Q2, pushing the total contract value booked up by 175% year-over-year to $925 million and total deal value up 63% year-over-year to $3.4 billion.
With 20 net new customers signed in Q2, the commercial customer count increasing by a whopping 32% sequentially, and the average revenue from the top 20 customers increasing by 8.3% sequentially, it appears Foundry is poised to see accelerating growth in the coming quarters. Additionally, management believes that its platform is becoming increasingly indispensable, stating on the earnings call about companies that haven't joined the platform:
Probably at a fundamental and compounding disadvantage. To remain relevant, you need to join.
#3. Improving Profitability
Last, but not least, PLTR's profitability metrics - adjusted for stock-based compensation (more on that later) - continue to improve significantly year-over-year. After a surge in profitability metrics in Q1, PLTR's numbers declined a little bit sequentially in Q2, but still held up well and were up sharply year-over-year.
The adjusted free cash flow margin was 13% (up significantly year-over-year), prompting management to double their 2021 adjusted free cash flow guidance from $150+ million to $300+ million.
Adjusted operating income expanded year-over-year to 31%, the adjusted gross margin was up 200 basis points year-over-year, and the contribution margin improved by 300 basis points year-over-year.
These numbers should only continue improving further as the company continues to scale rapidly thanks to its near 50% year-over-year revenue growth rates.
Investor Takeaway
PLTR continues to have all of the elements needed to generate phenomenal long-term growth by capturing share in a massive total addressable market that is already well over $100 billion and is likely to multiply into several times that number over the coming decades. Between the dominant moat in the increasingly mission-critical government business, the accelerating growth in the commercial business, and their improving profitability metrics, PLTR is poised to generate attractive cash flows for investors in the future.
However, one major item to keep an eye on is the stock-based compensation. While the adjusted profitability numbers look good, every single one of them is adjusted to remove stock-based compensation. This continues the concern we detailed in our recent piece The 3 Biggest Reasons To Avoid Palantir:
...stock-based compensation is significantly eroding shareholder returns. In Q1, for example, subtracting stock-based compensation related taxes reduced free cash flow to $116,173,000 during Q1, making the adjusted free cash flow margin only 33.9% instead of the much more impressive 44% headline number reported by management. Their stock-based compensation also crushed the adjusted operating income numbers, turning them from positive to deep in the red.
We are happy that insiders have skin in the game and that their ongoing compensation continues to be impacted by the stock price. Our issue is not that the company is issuing new shares to pay employees. It keeps them aligned with shareholders and also helps them to attract and retain talent without placing undue stress on the balance sheet.
However, we do have two big issues with how PLTR is going about it:
(1) PLTR is running up massive losses when factoring in stock-based compensation. Thus far, their profitability growth is failing to sufficiently offset stock-based compensation, making us wonder when the company will actually become profitable on a GAAP basis.
(2) We do not like that management adjusts out the stock-based compensation when reporting their profitability figures. If stock-based compensation was a short-term program that was going to be sunset in the next 5 years or less, that would be understandable. However, management has made it clear that they expect stock-based compensation to stick around for the long term. While the company should scale to the point where stock-based compensation plays a decreasing role on the cash flow statement, it will be a while before it reaches that point.
Overall, however, we remain bullish on PLTR as a leader in an industry that is all but certain to see explosive growth for the foreseeable future. Additionally, if Foundry continues to accelerate its growth, we think that PLTR could generate exceptional returns and one day become a trillion-dollar company as we discuss in detail in Palantir Stock: The Path To A $1 Trillion Valuation.
We rate PLTR shares a Buy here with a fair value estimate of ~$27 per share.