Well, there is something of a robbery going on at broad daylight. It really is an object lesson of a financial scam, and with that, it should also serve as an example for those that think that financial markets are 'efficient,' and don't need regulation.
It is the story of BroadVision (NASDAQ:BVSN). The shares got in the hands of a notorious small caps pumper called Jonathan Lebed last autumn, and it's not hard to see why. It has a small float (only some 2.5M shares), an no options are traded in the stock. It is also operative in an industry that is hypable, the social media business space.
Broadvision's hope of revival (the company has been shrinking revenues at almost 20% per year for a decade, see figure below) depend on the combination of social media software and business applications. That is, it could (with considerable imagination), be associated with stuff like Facebook (NASDAQ:FB) and Jive (NASDAQ:JIVE).
We have already argued extensively why we think the shares are worth no more than the $8 they were trading before Lebed started his campaign, and others have done so as well (see links below).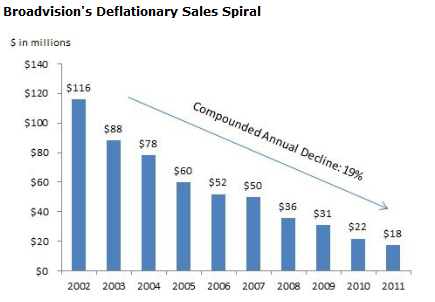 The company has done terrible the last decade and their hope of a turn-around is invested on ClearVale, a software platform in the social media business (a sort of Facebook for company purposes, enabling employees to contact one another and form informal groups). However, there are few, if any barriers to entry for the social-media business space, and there are other, much better placed competitors already, like Microsoft (NASDAQ:MSFT), Salesforce.com (NYSE:CRM), IBM (NYSE:IBM), Google (NASDAQ:GOOG), EMC (EMC), Cisco (NASDAQ:CSCO), HP (NYSE:HPQ), Jive, Yammer, Lithium, IdeaPlane and a host of others.
Since Clearvale isn't a new product but has been available since 2009, it hasn't racked up much traction (although they did have a deal with Softbank, but that could have been helped by the fact that BroadVision's CEO Chen sits on the board).
Here is what we believe a summary of happened:
Lebed starts the National Inflation Association (NIA), which produces slick videos warning about the coming hyperinflation. This gets the website quite popular, as there is a big investment crowd worrying about the risks of hyperinflation, and they're quite fanatical about that. It is also sign that there is significant money behind this, as the site doesn't generate revenue or ad income, but the videos are very slick and professionally produced.
The real purpose of the website wasn't to warn about anything, it was to gain the trust, and more importantly, the email addresses of part of the investor basis that have strong views.
After Lebed starts pumping Broadvision on his personal website on September 21 (the same day a hedge fund, Marlin Capital, files a 5.5% holding and an intention to take over the company), the NIA joins in from December 12 and the stock really takes off quickly.
The stock comes from $8 to as high as $56 early March before falling back a bit.
The people behind this obvious pump are gathering very large profits:
It is extremely improbable they didn't pre-load before the pump began, that's a five-six fold increase..
According to NIA co-founder Geore Hemminger, they sold the info for $1000 per head to NIA members, basically charging a fee for their ability to scam late comers from the NIA
At times, they seem to unload (the variation in figures in the disclaimers to their articles and mails testify to this) and the stock plunges10%+ in a couple of minutes. Enough to trigger SEC rule 201 prohibiting short sellers to hit the bid. They reload, send a few more mailers and rinse repeat
They are also likely to profit from lending out shares. Rates are in the order of 80% a year.
With the float so small and the stock not being optionable, it could go on for some time more. But sooner or later they will run out of mail addresses and sooner rather than later, BroadVision is likely to have another quarter with shrinking sales, cash-burn, and little to no traction of their ClearVale platform.
After several extremely damaging exposes by Peter Schiff, NIA cofounder George Hemminger (see link above), AlphaVolume, ShareholdersUnite (see link above), and the Association of International Deflation Society (indeed, a wordplay on the NIA), the stock has only given back a little from it's high in the 50s.
However, they are getting so cocky that Gerard Adams (the NIA front man, also a penny stock pumper at WallStreetGrand) signed up at Seeking Alpha and produced a rather stunning piece. It's pretty obvious from that piece that they don't take anything they say too seriously themselves anymore (we doubt very much they ever did) and they make only razor thin efforts to hide that.
All of it has already been refuted multiple times, by the exposes mentioned above (and the comment section has a few additional tidbits to that effect), and even by the CEO Chen himself (in the latest 10K), who is at a complete loss to relate the six-folding stock price to anything happening in the business:
"There has been an unusually large amount of trading activity and price movement in our stock to date in fiscal year 2012 and on March 6, 2012 the high price of our common stock reached a four year high of $56.46 per share. We are not aware of any corporate developments that we believe would explain this unusual activity."
Adams claims to have thoroughly researched all the other offerings in the crowded social enterprise space and arrived at the conclusion that:
there is one company in particular that is way oversold and what I believe to be the most undervalued social enterprise stock in the world, Broadvision Inc.
Too bad he's not willing to share even a single morsel of that "research." If he had, he would have arrived at the same conclusion of the 10K, ClearVale hasn't generated significant revenue. With entry barriers in the industry so low and the space so crowded with much more established players (see above) it's very unlikely this will happen. Here is the 10K again, if you still had any doubts:
The market for our products is intensely competitive. We expect competition in this market to persist and increase in the future ... Many of our competitors have significantly greater financial, technical, marketing and other resources, greater name recognition, a broader range of products and a larger installed customer base, any of which could provide them with a significant competitive advantage.
But meanwhile Lebed and Adams (and perhaps the people from Marlin Capital) are laughing all the way to the bank. The curious thing is, by now, more or less everybody knows this is a complete scam, and even the perpetrators make only token gestures to pretend otherwise.
Yet, the stock keeps up relatively well. After another disaster of a quarter with more losses and shrinking revenues published on January 26, the stock is now probably worth even less than the $8 it traded at before the pumping began.
Since ClearVale hasn't raked in any significant sales, one might wonder whether this all too visible stock pump is doing the company any good. Who would want to buy software from a company that is the subject of this much obvious hype? Especially since there is a host of ready made alternatives available from much more reputable companies.
Apart from stating that there isn't any corresponding change in the business, the company has been silent. It's a pretty awkward dilemma for them since they're substantial holders of equity in their own company (the CEO has 35% and the CFO seems to have filed shares to sell.
Conclusion
This is a rather curious situation. Anyone who has given this even a casual glance will have arrived at the fact that the stock price has come completely detached from the business reality. What's more, even those that tout the company are hardly making an effort to hide this. So we've entered an almost Baudrillard-like world of self-referential simulacra detached from reality.
This isn't the first time we see something like this. It happened on a much grander scale during the dot.com bubble early in the century.
The touters basically dare us, almost giving up even the pretense that this company is going places. That has so comprehensively been refuted by critics and, more important, the company filings itself that it would be useless to pretend otherwise.
What's left is their grip on the stock price, however temporary or tenuous, and the threat that the shorts will be squeezed out. Buyers are latching on thinking they can hatch a ride on this for a quick buck. But apart from the all too real issue of the legality (let alone morality) of all this, reality has a habit of biting people in the back when they least expect it. It always does.
Disclosure: I am short BVSN.