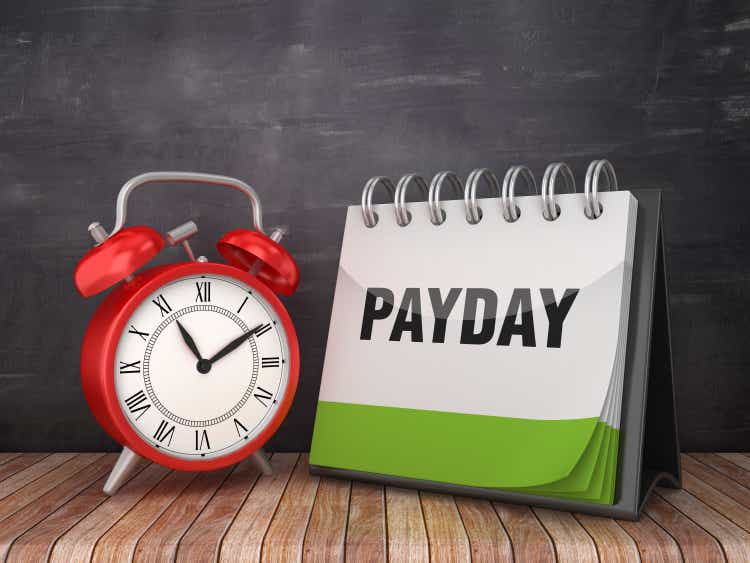 Co-produced with Beyond Saving
As income investors, we are always looking for investments that pay a high dividend today and will be able to continue producing a high level of cash flow into the future.
Have you ever felt tempted to favor a single investment? "I'll put all my money here, it's an easy win!" you may think to yourself. That's often a terrible idea, even champions stumble and every team needs a full complement of players.
A key tenet of the Income Method is diversification. A team is more powerful than even a very talented individual. When building your income stream, you don't want all your dividends coming from one pick. You need a multitude of income sources to provide security and safety.
Instead, you want to approach building your income portfolio like a sports manager building a team. You want to start with a core of talented and reliable players that you can count on. Then once you build that core, you might experiment with some rookie players that provide higher risk/higher reward. The rookies will come and go. Some will work out, and others prove to be an ill fit. The core players don't change.
Today, we look at two core players for your income portfolio that can fuel your income portfolio indefinitely.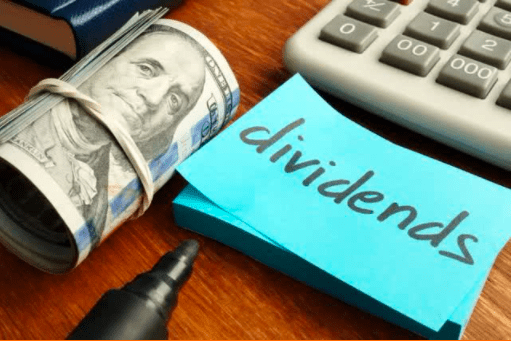 Source: Shutterstock
Pick #1: WPC - Yield 5.3%
The "Dividend Aristocrats" list is an elite group of investments that have increased their dividend every single year for a minimum of 25-years. This elite list and its constituents are the "pro bowl" players for dividend growth investors.
Companies that pay a dividend and consistently raise it every single year provide you with a growing income. A Dividend Aristocrat is attractive because, over a span of +25 years, the company will have run into unfavorable macro conditions a few times. So it says a lot of positive things about the durability of the business model and management's commitment to the dividend.
Some investors will only buy "Dividend Aristocrats". But when is the best time to buy an Aristocrat? Before it becomes one. Drafting a pro-bowl player is substantially cheaper before they become a pro-bowler! Once a stock is added to the Dividend Aristocrat list, its popularity increases, and it will attract more interest.
W. P. Carey (WPC) is well on its way to "Dividend Aristocrat" status. WPC has increased its dividend every single year since 1998 and every single quarter since 2001.
WPC is a "triple-net" property REIT, meaning that it invests in a diversified portfolio of real estate with contracts that make the tenant responsible for property-level expenses like property taxes, insurance, or maintenance. WPC invests primarily in the U.S. (62% of its portfolio) and Europe (36%).
This limited exposure to property level expenses means inflation is not a material headwind for WPC's costs. The majority of WPC's costs are fixed. Meanwhile, inflation does drive higher rent growth, with 61% of WPC's leases having contractual rent increases linked to CPI.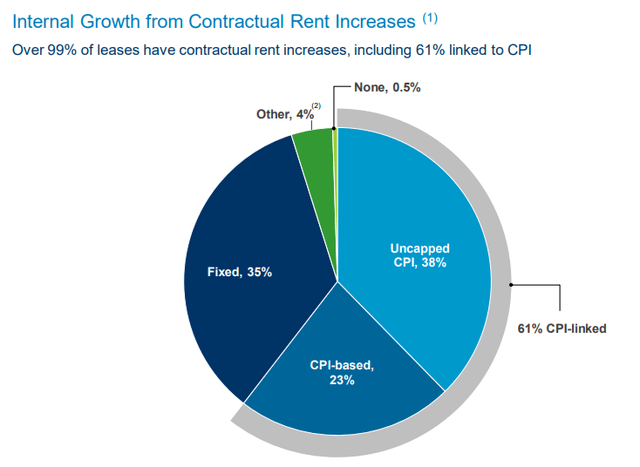 Source: WPC Q1 Presentation
For the past 3 months, CPI has been over 5%, and inflation isn't likely to slow down anytime soon. WPC will see rents rising much faster than they have in the past decade - next year and quite likely in the following years if inflation remains high.
In addition to internal growth from properties WPC already owns, they are setting an aggressive acquisition pace. Current management guidance is that WPC will buy $1.5-$2.0 billion in new properties for 2021.
The beauty of the "triple-net" lease structure is that it does not require much work from the landlord after the lease is signed. WPC has 188 employees with a portfolio of over 1,260 properties worth well over $12 billion. The business is very scalable, and WPC can add properties without significantly increasing corporate-level costs.
Talk about a great holding for an inflationary environment. You have exposure to physical assets with the real estate, which usually goes up in value with inflation, revenues directly linked to inflation, and few expenses that are impacted by inflation.
We are confident that WPC will continue raising its dividend every quarter and will achieve "Dividend Aristocrat" status. In fact, their raises in 2022 are likely to be larger than we have seen in recent years, thanks to inflation and aggressive acquisitions. When investors start lining up to look at the new Dividend Aristocrat and driving up the share price, we will already be holding it.
This is exactly the holding you want to have in an inflationary environment. Revenues that go up with inflation and expenses that are primarily fixed.
Pick #2: ETO - Yield 6.7%
Eaton Vance Tax-Advantaged Global Dividend Opportunities Fund (ETO) is firing on all cylinders, recently raising its dividend 25% to $0.17992/month. ETO had the "problem" of its gains outrunning its dividend.
CEFs are required to distribute the majority of income and capital gains to shareholders. One of the great things about CEFs is that they convert investments with no dividends, but great capital gains, into an income for us.
ETO's NAV (Net Asset Value) is now higher than it has been since 2007 and still climbing. With NAV still climbing, we will not be surprised to see another dividend raise late this year or early next year.
ETO calls itself tax-advantaged because it looks to generate its distributions from qualified dividends and long-term capital gains. Both of those sources are tax-advantaged in that they are taxed at a lower rate than unqualified dividends, interest, and short-term capital gains.
Among ETO's largest investments, you see well-established mega-caps like Alphabet (GOOGL), Amazon (AMZN), Microsoft (MSFT), Apple (AAPL), and Facebook (FB). U.S. companies make up about 60% of its portfolio, with the other 40% in international investments, which also tend to be well-established companies.
These are companies that you generally will not see in an income portfolio. ETO allows us to get exposure to the companies that often drive the market indexes, converting them into tax-advantaged dividends.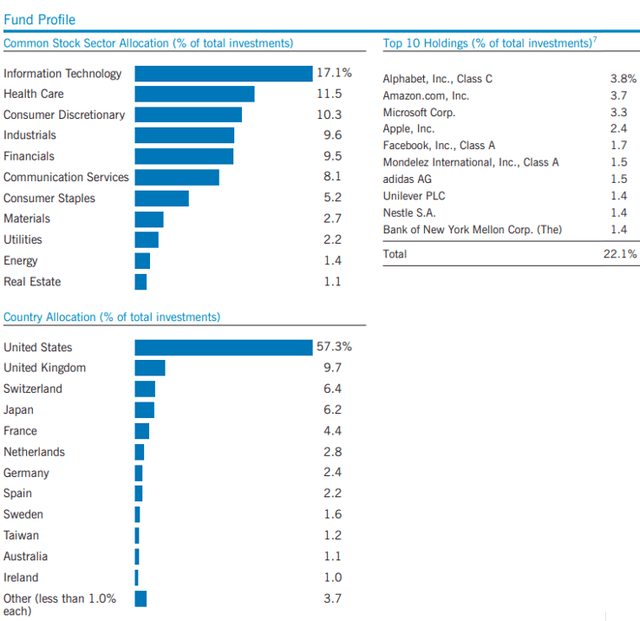 Source: ETO Fund
ETO provides us with fantastic diversity, plus a high yield that is tax-efficient. It invests in well-established, very low-risk large and mega-caps. Equity markets will continue to be driven up by the substantial amount of liquidity in the financial system, and ETO is exposed to the major market movers.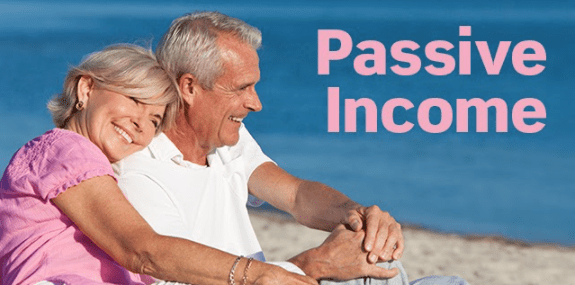 Source: Shutterstock
Conclusion
While you are building your team of dividend stocks, you must stack your lineup with some power players that you can count on - companies that don't need to be babysat but can be relied upon to do exactly as expected.
WPC is an opportunity to buy a Dividend Aristocrat before it becomes one. WPC paid and raised its dividend through the dot-com bust, through the Great Financial Crisis, through COVID, and the good times too. WPC proved the quality of its portfolio during COVID, posting 95%+ rent collections throughout when many peers saw collection rates below 90%. Looking forward, there is a lot to be excited about with inflation at multi-decade highs. WPC's inflation-connected leases will provide a strong tailwind. Additionally, WPC is on pace for $1.5-$2 billion in new acquisitions. WPC is stronger than ever and still trading below pre-COVID highs.
ETO invests in some of the most widely recognized companies in the world. ETO uses a modest level of leverage (~17%) to boost returns. ETO converts the capital gains from the stocks that drive the market indexes into a large income stream for investors.
Combined, these two picks provide you with significant diversity and international exposure. The best part is that while both are paying a generous yield today, it is also likely that both will be raising their dividends further in the future. That's a clear win-win.
These are two dividend power players to add to your line-up. Build your portfolio one investment at a time, and you will have an unstoppable team fueling your income stream!
Let your team handle earning you money while you enjoy the freedom of financial security. One less thing for you to micro-manage or worry about. You can go enjoy all the experiences life has to offer while your team of expert heavy-hitting income securities churn out outstanding income for you. They say that a boss can make or break a workplace. In your portfolio, you are the boss. Hire the right team members and you will never regret it.