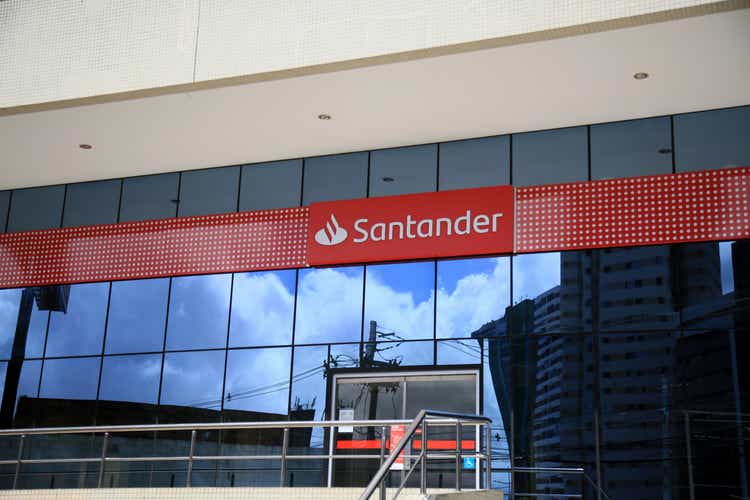 Banco Santander Brazil (NYSE:BSBR) has a good business profile due to good growth prospects, very high profitability and strong capitalization. It has recently increased its quarterly distributions, being now an interesting income play.
As I've analyzed in a previous article, Santander Brazil is a quality bank within the Brazilian banking system and its valuation is attractive considering its very high profitability. Since my last article, the bank has reported earnings and has maintained a good operating momentum, while its valuation remains reasonable.
BSBR Recent Earnings and Growth
During the first six months of 2021, Santander Brazil has maintained a positive operating momentum, having reached its highest quarterly net profit in its history.
Its revenues increased in the last quarter to $3.53 billion (up by 4.6% YoY), boosted by fees that increased by close to 27% YoY, supported by strong growth in several products including credit cards, insurance, asset management and credit lending. However, most of the bank's revenues come from net interest income, which reported a small drop of 1.5% YoY, explained by lower loan margins and results from markets activities that weren't offset by higher loan volumes (credit portfolio was up by 15% YoY).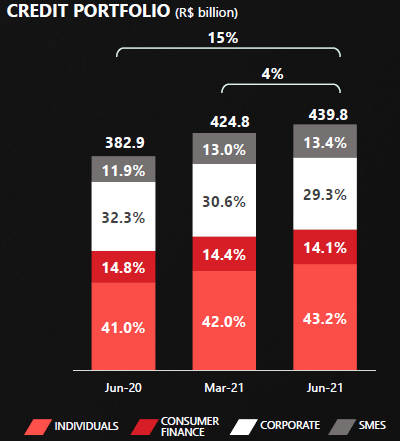 Source: Santander Brazil.
Regarding costs, Santander Brazil has good cost control and general expenses increased by 3.6% YoY in the last quarter, which means that the bank was able to report positive jaws (revenue growth – cost growth), which is a very positive trend that leads to improved efficiency. Moreover, inflation in Brazil during the past 12 months was above 8%, showing that cost control is a critical factor to maintain a superior efficiency.
Within the Santander Group, its Brazilian unit is among the most efficient operations, given that its cost-to-income ratio was only 33% in the past quarter, while the group has a C/I ratio of close to 52%. This impressive level of efficiency is a key factor why Santander Brazil has a superior profitability level within the banking sector, which is sustainable over the long term considering that the bank has good growth prospects and its track record in controlling cost growth is quite good.
Due to COVID-19, provisions for loan losses increased significantly during 2020, a trend that has stabilized in the past six months. This explains why provisions only decreased by 0.3% YoY to $643 million in the last quarter, as the bank maintained its "normal" buildup of provisions in its balance sheet, while it has not made extraordinary provisions related to the pandemic.
This means that total provisions declined by close to half compared to the second quarter of 2020, being a strong boost to its profitability. Indeed, Santander Brazil's net income was $806 million in Q2 2021, up by 98% YoY. This strong growth in its bottom line led to an outstanding profitability level, considering that return on equity (ROE) ratio, a key measure of profitability in the banking sector, was 21.6% in the last quarter.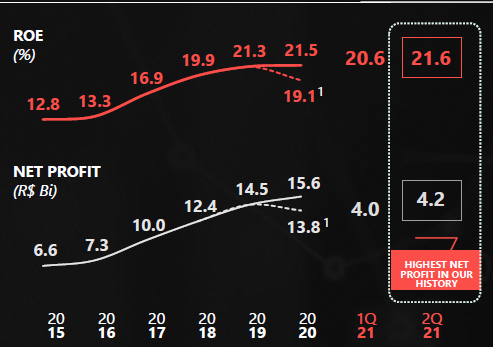 Source: Santander Brazil.
Going forward, Santander Brazil is expected to maintain a positive operating momentum, both from cyclical factors as the Brazilian economy is recovering from the impact of the pandemic (GDP growth was 12% YoY in Q2 2021) and also from the bank's organic growth prospects.
Santander Brazil's growth strategy is not expected to change much and is mainly focused on organic growth, even though the bank has made several acquisitions in the past and further transactions may not be ruled out in the future. As usual within the banking sector, Santander Brazil is investing in digitalization and technology to offer a better customer service, being an important way to retain customers over the long term and also cross-sell more products within its existing customer base.
Indeed, Santander Brazil has grown its business by increasing the total number of customers, which at the end of June was above 50 million, but also has good growth prospects by increasing engagement with its existing customer base.
Of its total customers, a relatively small part (about 14 million) represents some 80% of total revenues, which means that Santander Brazil has very good growth opportunities organically by increasing customer engagement with clients that have a smaller number of products with the bank.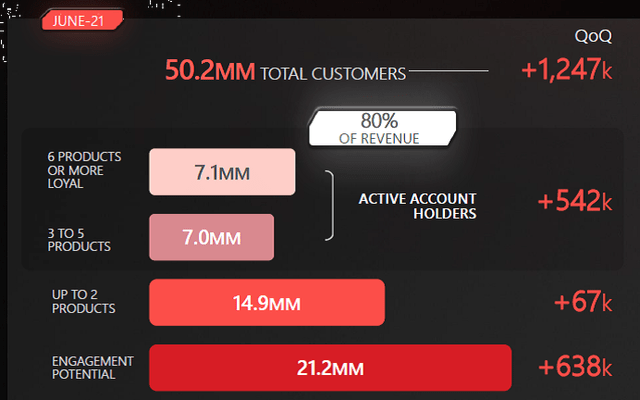 Source: Santander Brazil.
Capital and Dividends
Regarding its capitalization, Santander Brazil has a strong balance sheet given that its core equity tier 1 [CET1] ratio was 12.6% at the end of June, a small decline of 30 basis points (bps) from the end of 2020. Beyond a good capitalization, its funding and liquidity situation also is comfortable, given that Santander Brazil has a loan-to-deposit ratio of 93% which means that its lending is funded by customer funds and does not need to finance itself in capital markets.
This provides a strong backdrop for the bank to distribute excess capital to shareholders, which has been its strategy in recent years. Indeed, one of its goals is to be the largest Brazilian bank in terms of value generation to shareholders, with dividends and interest on capital being the preferred way to return capital to shareholders. This aligns with the interests of minority shareholders and the Santander Group, being a good signal regarding the bank's corporate governance policy which sometimes can be an issue in less developed markets, such as Brazil.
Santander Brazil's dividend payout policy is to distribute about 50% of its annual income to shareholders, with a quarterly dividend frequency. This payout rate is double the minimum legally required (25% of profits), being a strong signal that Santander Brazil is clearly committed to having an attractive shareholder remuneration policy over the long term.
The bank has increased recently its quarterly distributions to more than $0.17 per share, but these are discretionary and don't follow a predictable path. This means that's difficult to forecast of much Santander Brazil will distribute in the coming quarters, but at least distributes the same as in the previous four quarters combined, its annual distributions can be around $0.37 per share. At its current share price, it offers a forward dividend yield of close to 5%, which is quite interesting for income investors.
Conclusion
Banco Santander Brazil is a bank with a very good business profile, even though it's based on a geography with a higher risk profile than the U.S. It's currently trading at a price-to-book value of about 1.7x, which is attractive considering the bank's quality profile and high ROE, plus it's now also an income play given that it offers a dividend yield close to 5%, being a good alternative to U.S. banks given that most of them offer lower yields.