DiDi Global (DIDI), the ride-hailing colossus, isn't the first private sector Chinese tech company to fall from grace, nor the most recent. Still, the fall was precipitous by any measure for both investors and shareholders alike - worldwide. While the crackdown is conservatively estimated to have wiped out more than $1 trillion of market value off China's biggest private sector tech firms, the exercise holds out the distinct possibility of drastically curtailing the flow of foreign (western) capital into the Chinese tech sector for the foreseeable future. Further, the regulatory action appears to sound the death knell of the variable interest entity ((VIE)), the curious legal roundabout underpinning the flow of foreign capital into Chinese tech for the last several decades. And the days of runaway growth in for-profit primary, secondary and bilingual tutoring services appear gone.
While Silicon Valley, to date, has not been able to rein in Chinese tech, President Xi Jinping now appears both willing and crushingly able to do so. Lest we forget - or should have remembered - China's modus operandi was always wedded to politics, not market forces or the rule of law. Pulling back from the financial abyss of the 1990s to edging out Japan as the number two economy in 2010, the ensuing period was pockmarked with glaring ideological contradictions. In many respects, improvisation was the mother of invention. Most glaring was the role played by the private sector - brazenly entrepreneurial in scope, highly skilled at attracting foreign capital and export-oriented in market outlook. Fast forward several years, and it is now much harder being a private sector capitalist in a newly assertive state-owned authoritarian economy. We are now witness to the reimposition of Chinese Communist Party's ((CCP)) control over information, data and the enforcement of common prosperity in the greater economy.
Yesterday's Gone
Since the 1990s, China has placed rapid development and attracting ever bigger inflows of foreign direct investment above all else. Local governments lowered taxes and even gave land away in hopes of attracting internet companies and their jobs to their jurisdictions. DiDi, e-commerce giant Alibaba (BABA), gaming giant Tencent (OTCPK:TCEHY) and many other Chinese internet companies carved out extraordinary models of foreign-financed growth that, in many instances, thrived in the gray areas of party orthodoxy and regulatory reach. For the past two decades, Chinese tech was providing jobs and, most importantly, wealth. DiDi was, for a time, a home-grown hero for slamming the door on Uber's (UBER) Chinese expansion. Uber quit China for a quid pro quo stake in DiDi, making the US company the second largest stockholder to Japan's SoftBank.
Figure 1: Chinese ADRs on US and World Exchanges since 2016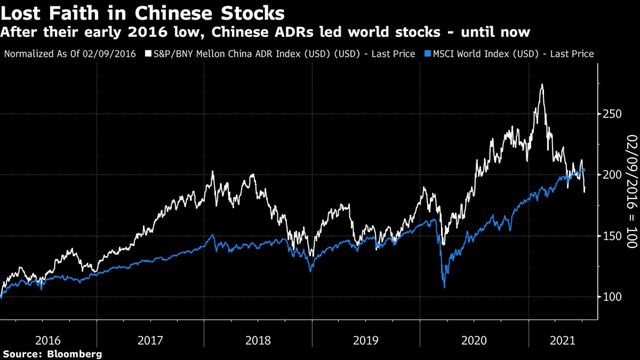 In an abrupt about-face, Beijing appears to be using the same carrots of days past, alongside an array of newly devised regulatory sticks, to rein in China's burgeoning private sector. The recent regulatory pushback has accused the Chinese tech sector of myriad sins including monopolistic proclivities, privacy, cavalier approaches to data, the exploitation of workers, addictive video games, not to mention excessive profit making. Common prosperity is the government's new clarion call for action on China's ever-burgeoning income gap between urban and rural sectors of the country. In the 1980s, China's Gini coefficient on income distribution languished around 0.05, typical of an overwhelmingly rural-based Third World economy. Since 2016, the Gini coefficient on income distribution in China has reached an eye-popping reading of 0.44, placing the country among the top 20% of unequal countries in the world.
The collection and use of personal data by Chinese tech firms come at a particularly sensitive moment, a moment that weighed heavily on DiDi Global's operations worldwide. At least one example of the data gathering capabilities of DiDi appeared recently on Chinese social media with a virial pictorial splash of the comings and goings of government officials using the company's ride-hailing services. DiDi touted its repository of real-time traffic data in its US securities filings. DiDi's in-car video cameras and recording devices automatically capture the conversations of users. In 2017 the company secured a government license to produce high-level maps, a sector closed to foreign companies on national security grounds. The circulated documents underscored just how sensitive collected data can be. Of course, all governments worry about the use of personal data by the private sector. In China's case, however, the collection and use of data by the private sector has turned into a very public, frontal attack on Chinese tech by the CCP. While US tech counterparts have also been accused of similar marketplace antics, Chinese companies operate in a very different political and economic environment. Unlike its US and European governmental counterparts, Chinese authorities are using the guise of antitrust to reinstate the CCP's monopoly on power and governance. The shock therapy the CCP is now employing will likely undermine what is left of Chinese tech independence as market players in the global economy - and the eventual nationalization of the sector. Simply stated, Chinese platform companies have too much data, too much capital and too much power - and too much autonomy - to continue to operate in an authoritarian polity such as China.
Once again, the hardline stance could reduce to political theater over time. South Korean and Japanese companies have faced off against Chinese boycotts and CCP-fanned protests in the past that have faded with time. This time appears different. Investors worldwide have lost hundreds of billions of dollars. The likelihood of altering the supply of global capital to China for the foreseeable future appears to be a foregone conclusion. In the wake of such losses, Chinese tech will be forced to rely on the inefficiencies of mainland markets for funding purposes. At the same time, global investors will be forced, once again, to weigh anew the political risks of investing in China.
A flood of new rules and directives from China's Supreme People's Court (CSPC) and the Ministry of Human Resources (MHR) have notably proscribed the so-called 996-overtime policy under which workers toiled from nine in the morning to nine at night, six days a week - a fixture in Chinese tech employment. Companies like closely held ByteDance (BDNCE), the owner of the short video platform TikTok as well as Alibaba and Tencent have cut back working hours as a result. The CSPC ruling is important as the decree will now frame the discussion of lower courts throughout the country on disputes in the workplace.
At the same time, China's regulatory blitzkrieg appears to be rewarding what government officials consider more productive tech developmental channels like semiconductors, artificial intelligence and cloud storage that better frame the goals and aspirations of the greater economy - not to mention the goals of the CCP. Beijing's funding of state-owned enterprises (SOE) in the semiconductor space remains a strong priority, attracting record increases in the 2nd quarter QoQ. Companies plying social media platforms, gaming and those gathering of sensitive personal data are now being targeted, while their foreign funding sources are systematically being cut.
Beijing has also set in place new anti-monopoly rules for online platforms, aiming specifically at the practice of forcing exclusivity on vendors and consumers alike to sell, shop and pay on one platform. Curiously, a suit filed by the Federal Trade Commission last December accused Facebook of pursuing a program of "buy and bury" to neutralize competitors. The FTC suit sought to unwind Instagram and WhatsApp from the company's platform as a legal remedy, thus restoring competition to the US social media marketplace. A federal judge dismissed the case in June, arguing the government had failed to establish the suit's main claim that Facebook had monopoly power, a term that carries precise economic meaning under existing federal law. Under the law, courts usually look for rising market prices as an indicator of monopoly power. Facebook's main social media service is free, creating a high bar for the FTC to prove otherwise. In late August, the FTC resubmitted a revamped case against Facebook on a 3-2, party-line vote.
Of course, in an authoritarian state such as China, the rule of law is whatever current government sentiment says it is at any given moment in time. China now has 18 Xi-thought research institutions around the country, focusing on a disparate array of topics from politics to economics to religion to education to common prosperity. The last time we saw this much attention paid to the thought of one man was under Mao Zedong. The resulting personality cult rivaled that of Stalin in the 1930s. Perhaps the most fundamental of these tenets is the reinstatement of the preeminent role of the CCP in China. The party leads the judiciary. The party leads the parliament. The party leads the People's Bank of China, the country's central bank. And the party leads the bureaucracy at all levels of government. Western notions of separation of powers, or judicial review or institutional independence are simply non esset. Ditto for due process for individual and corporate relief under Chinese law. As a result, Chinese companies, not to mention investors and shareholders, are simply left swinging in the breeze when such fundamental changes in law blow across the political landscape.
In lieu of due process, targeted companies are donating billions to charitable foundations in a concerted effort at currying favor of regulators. Food delivery giant Meituan (OTCPK:MPNGY) donated $2 billion to a foundation created at Tsinghua University in Beijing. Both CEO Wang Xing and President Xi Jingping are alumnus of the university. In March, Colin Huang, 41, founder of the ecommerce platform Pinduoduo (PDD), is stepping down to make way for the next generation of company leadership. The ecommerce group pledged to donate all of its earnings until the total reaches $1.5 billion to charity. In May, Zhang Yiming, 38, founder of ByteDance, is also stepping down as CEO. He also donated $77 million to set up an education foundation in his hometown. Lei Jun, founder of Xiaomi (OTCPK:XIACF) donated $2 billion in company shares to two foundations. Following the deadly Henan floods in July, Alibaba, DiDi, Tencent and Pinduoduo donated tens of millions of dollars to recovery efforts.
Ideologically Pragmatic or Pragmatically Ideologic?
At first glance, the Chinese regulatory move appears wildly wrong-headed. Of all the accomplishments of the Chinese economic renaissance of the past two decades, the rise of its estimated $4 trillion technology sector has been just short of spectacular. China's fast-growing, private sector tech startups have been a magnet for foreign capital flows from Japan, the US and Europe. The country's technology prowess continues to chip away at the world dominance of Silicon Valley. China's semiconductor space has long laid claim to ever-burgeoning swaths of governmental budgetary real estate over the past several decades, now more important than ever as a means of countering perceived US efforts to stifle its growth in the space.
Without question, Chinese tech firm listings on the US Nasdaq were much anticipated events over the recent past. Alibaba 2014 IPO raised $21.8 billion, valuing the company at $167.6 billion. The offering made the company's co-founder and then-CEO Jack Ma a newly minted billionaire. The social media group and gaming firm Tencent (TME) raised $1.1 billion in its 2018 US offering. More recently, DiDi Global listed on the Nasdaq this past June, raising $4.4 billion, after selling its American depository receipts at $14/share for the biggest stock sale by a Chinese company since Alibaba.
Yet also seared in recent memory was the forced, last-minute cancellation of a $37 billion offering by Jack Ma's Ant financial group this past November which increasingly appears to be the high watermark for the era of loose regulatory oversight of the country's private tech sector. Since then, Chinese gaming and ecommerce companies have collectively dropped 96% and 54% to $121 million and $4 billion, respectively, through the end of the 2nd quarter QOQ. At the same time, Chinese fintech groups have fallen 36% to $360 million. DiDi Global's fall from grace erased almost 36% of the company's IPO gains from early July (red-green line, Figure 2, below). The company's IPO has attracted a flurry of class action suits from investors burned by Beijing's scorched-earth regulatory zeal. Invesco's China Golden Dragon Index (PGJ) is now deep in bear territory, having fallen almost 44% from its mid-February (orange line, Figure 2, below).
Figure 2: DiDi Global, Invesco China Golden Dragon Index against the S&P 500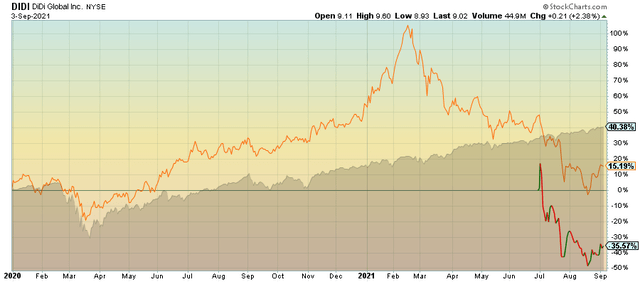 Confusing? Only at first glance. When Xi Jinping talks about the importance of technology to the Chinese development model, he is not referring to the dollar value of the latest Tencent gaming offering or even about the quadrupling of consumer credit between the years 2014 and 2019 - with almost three quarters of that amount coming from platform users 35 years old or less. Xi's message is keenly and ideologically strategic. It is a brazen, East versus West comparison. In Xi's mind, the West's political and economic moorings are coming unglued, as the storming of the US Capital on the 6th of January aptly demonstrated in China's tightly controlled news environment. China's future, of course, remains bright, with a vast array of impressive developmental statistics already on the board to back up such laudatory claims. The party faithful lap this up with a spoon. With next year's party conference in the wings, Xi faces little-known political opposition that would challenge him to a third term. Once a third term solidifies, there is even less in the way of political opposition that will stop him from a lifetime appointment. Solidifying the CCP around restructuring China's raucous technology space aligns the party with cracking down on corruption and vested interests - unsurprisingly popular themes at the street level. Government pronouncements accuse DiDi Global and Meituan of creating thousands of dead-end, low-paid drivers and motorcycle delivery positions with no cradle-to-grave benefits found in China's public sector. As for social media and ecommerce platforms, the party takes great care to choreograph its policy initiatives as anti-monopoly rather than anti-workers. These themes ring clearly in many a struggling ear.
The Musical Chairs of Chinese Tech Startup Funding
There were two common funding paths for Chinese tech startups with two very different outcomes. For renminbi financed enterprises, entrepreneurs would set up entities that Chinese investors can directly fund. The general aim here is to list on the technology-heavy Star-50 market on the Shanghai exchange or, more rarely, abroad on Hong Kong's Hang Seng exchange. For the dollar financed startups, the creation of an ever legally murky VIE, bypasses China's foreign investment restrictions while providing a highly lucrative funding conduit from foreign investors. An IPO on the Nasdaq or Hong Kong's Hang Seng exchange was the surest way for foreign investors to cash out while making founders insanely rich by Chinese standards. For the past several years, dollar funding accounted for about 70% of Chinese internet startups. With the July blowup over the $4.4 billion DiDi listing on the Nasdaq, the dollar funding percentage has plunged to about 30% - and falling (see Figure 3, below).
Figure 3: Recent IPO Activity on the Star-50 and Nasdaq Exchanges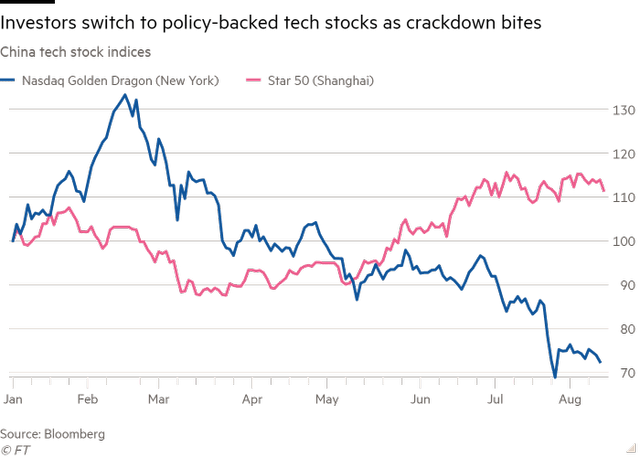 Of course, China's current regulatory blitz has now made dollar financing of Chinese tech much more problematic. US underwriters of pending Chinese IPO issues have frozen pending deals awaiting new rules from Chinese regulators that still do not exist in final form.
Beijing has put into place several restrictions on IPO listings abroad, including the stipulation of any Chinese company with over one million users must first undergo a cyber security review. The dollar funding path is essentially closed for all those Chinese startups that routinely collect copious amounts of personal data from their daily operations. More restrictions on foreign, particularly US, listings are clearly in the offing.
Unsurprisingly, unwinding a company's VIE, a legal structure that was never recognized in China despite the underwriting of some $2 trillion of investments in US markets, is no simple task. The structure allows foreign investors to share in the profits of a Chinese startup but conveys no ownership rights. Startups must be in a sector path that allows for foreign investment and joint ventures or find new investors willing to buy out their VIE/dollar shareholders. The resulting status confusion weighs heavily on short-term growth and funding considerations. Long-term growth prospects under an emerging regime that essentially cuts out US listings and venture capital are simply unknown at this juncture.
Following the Party's Lead
Less mention is made on the deficiencies of China's overall development strategy during the period. The focus has been overwhelmingly urban rather than rural centric. Bullet trains and super-highways, while impressive technological achievements, connect the leading cities of the country. Luxury goods and private tutoring are goods and services bought and consumed by a growing urban elite, not those still moored in the countryside with fingernails forever stained with the soil of the motherland. Urban factories pull workers from, not to, the countryside. The resulting economic growth largely excluded, rather than included rural villages. Private sector high technology attracted both foreign investment and the highly educated, many times with degrees from foreign universities and technical institutes - all of whom commanding pay packages without precedent. High incomes usually beget higher concentrations of appreciating assets. China's rapid and concentrated economic development over the past twenty years has fueled current inequality measures.
China tax policies have yet to catch up, contributing measurably to an increasing Gini coefficient. More progressive tax structures that generally include income, property, and inheritance taxes make up only about a third of the country's fiscal revenue. China has yet to pass a property tax at any level of government. Inheritance taxation is even more of an anomaly in a country where almost half of the population lives on a monthly sum of Rmb1,000 or about $153/month at current exchange rates. That will likely change soon: Through the end of 2020, China minted more than 1,000 billionaires - a rather dubious distinction for a socialist country. Tax regimes that fall on everyone equally, irrespective of income, make up the other two-thirds of annual revenue, which does little to narrow income inequality.
Parting Shots
China, now a much richer nation, is making its preferences clear for the future: Private sector capital will now be raised on its own exchanges under the guidance of its own rules and on terms that China dictates. Western governments, too, worry about big tech stifling competition in the greater economy. The big difference is democratic jurisdictions respect the ability of markets to allocate capital. In authoritarian systems, it is the state that makes such decisions. Over the past several decades, China has made spectacular gains with state-sponsored economic development. Once China roughly caught up with western economic advances, labor- and capital-intensive industries have seen returns on investment sag as targeted industries became awash with capital and excess capacity - not to mention debt. China's market, vast as it is, no longer can absorb all of the domestic production, forcing Chinese manufacturers to export excess goods. The net effect amounts to China forcing its production excesses on its trading partners.
The crackdown will likely stifle forward innovation in Chinese tech, the very stuff that defines great technology. Much foreign capital is now hopelessly frozen while new rules are penned. Meanwhile, dollar financing of Chinese tech appears closed for the foreseeable future. Even of more concern is foreign investment in any Chinese investment now appears to be subject to arbitrary changes in the rules of engagement. Borrowing costs for Chinese tech, as well as other onshore investments, are certain to rise which will further misallocate capital moving forward. While investors are notorious for their short memories, Chinese regulators now own a dubious distinction for arbitrary and capricious high-handedness that will only be shed by greater transparency moving forward. For now, China appears headed in a very different direction.