Editor's note: Seeking Alpha is proud to welcome Obsidian Limited as a new contributor. It's easy to become a Seeking Alpha contributor and earn money for your best investment ideas. Active contributors also get free access to SA Premium. Click here to find out more »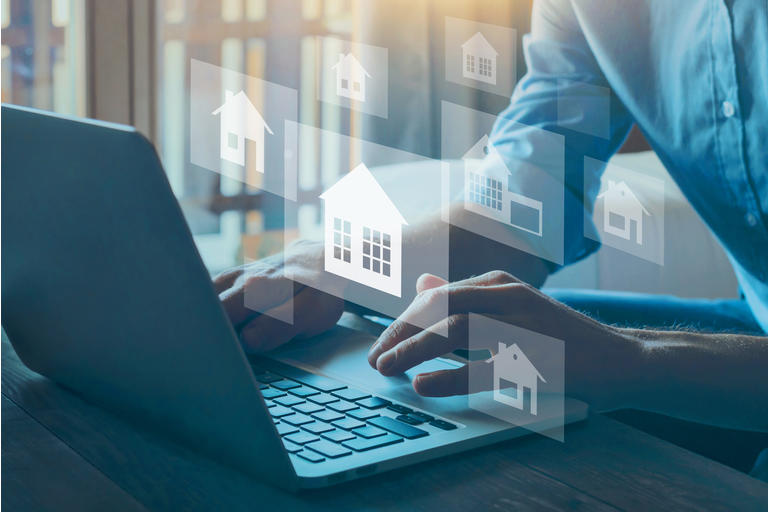 The Vanguard Real Estate ETF (NYSEARCA:VNQ) offers scalable access to a well-diversified portfolio with an attractive yield and substantial dividend growth potential.
Today's investment environment is difficult for income investors. Inflation has begun to rear its ugly head after substantial supply chain disruptions and aggressive monetary policy implemented by the Federal Reserve. As inflation eats into our purchasing power, yield and income growth have become a priority for investors across the spectrum. From retirees looking to cover their cost of living to young professionals looking to purchase a first home, inflation presents a challenging obstacle that requires focused navigation.
Investors have limited options to generate necessary yields to fight an inflationary environment. Treasury yields have increased since the height of the pandemic, but the 10YR still remains below 1.50%. Fixed income yields have remained near historic lows and even the S&P 500 has lost its flavor as an income producing opportunity. For reference, between 1960 and 1990, the dividend yield of the S&P 500 rarely dropped below 3.00%. Today, the dividend yield is 1.28%.
This is where real assets can begin to alleviate the pressure of the aforementioned factors. Historically, real estate has presented investors with an opportunity to provide current income through rent collection, complemented by capital appreciation achieved through rising asset prices (inflation). Over the past decade, VNQ has underperformed the S&P500 in absolute return, however, its outperformance relative to bonds and treasuries has been substantial. Furthermore, it's cash flow to investors over that same period is where VNQ shines.
Let's look back to 2011 and review the past decade of cash flow. In 2011, if you had invested $10,000 in VNQ on the first trading day of the year and held through the end of 2020, you would have collected $5,793 in total dividends. That's nearly 60% of your investment returned in the form of income. If you had instead invested that $10,000 in the SPDR 500 ETF Trust (SPY), you would have collected $3,617 in total dividends. Put simply, VNQ offered 60% greater cash flow over the same ten-year period. (Source: Nasdaq)
Let's look deeper at three specific areas that the Vanguard Real Estate ETF offers value to income investors.
1. Diversified exposure to the US Commercial Real Estate Market
The Vanguard Real Estate ETF invests in stock issued by domestic Real Estate Investment Trusts, seeking to track the return of the MSCI US Investable Market Real Estate Index. The fund casts a wide net to capture exposure to a broad list of US Real Estate firms including primarily equity REITS, but also mortgage REITs and hybrid REITs. According to Vanguard, the fund currently holds 172 different equities broken into 12 sectors including, Specialized REITs (37.50%), Residential REITs (14.90%), Industrial REITs (11.00%), Retail REITs (9.60%), and others.
The fund's top ten holdings currently account for 35.30% of the total portfolio, creating a top-heavy portfolio that is well diversified across the addressable index while concentrated on successful large capitalization REITs. Each of these REITs holds hundreds or thousands of individual income producing assets spreading your risk across a substantial portion of the United States' real estate market which totals in the trillions of dollars. With the Vanguard Real Estate ETF, you are certainly not holding all your eggs in one basket.
The table below illustrates the portfolio's top ten holdings and their weight. Please note the list excludes the Vanguard Real Estate mutual fund which constitutes more than 10% of the portfolio but contains the same underlying allocation as VNQ.
| | |
| --- | --- |
| Name | Portfolio Weight |
| American Tower Corp. (AMT) | 7.23% |
| Prologis Inc. (PLD) | 5.45% |
| Crown Castle International Corp. (CCI) | 4.73% |
| Equinix Inc. (EQIX) | 4.19% |
| Public Storage (PSA) | 2.83% |
| Digital Realty Trust Inc. (DLR) | 2.44% |
| Simon Property Group Inc. (SPG) | 2.33% |
| SBA Communications Corp. Class A (SBAC) | 2.15% |
| Welltower Inc. (WELL) | 2.09% |
| CBRE Group Inc. Class A (CBRE) | 1.86% |
Source: Vanguard Group
2. Differentiation from the S&P 500
At this point, we have all heeded, or at least considered, Warren Buffett's praises of the S&P 500. For decades, the Oracle of Omaha has touted the S&P 500 as one of the greatest money-making machines in history. Given near double-digit performance since its inception, it's a difficult point to contest. However, as we've pointed out, the S&P's current yield of 1.28% is disappointing in terms of cash flow, partly due to the enriched valuations we've seen post-Covid.
S&P 500 PE Ratio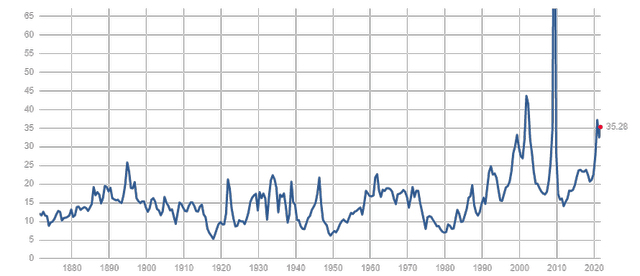 Source: Multpl.com
These elevated valuations and the top-heavy concentration of the S&P 500 have created outsized risk for investors looking to place new capital. Remember, the top five holdings of the S&P 500 (Apple (AAPL), Microsoft (MSFT), Amazon (AMZN), Facebook (FB), Tesla (TSLA)) account for approximately 20.8% of the total index. While these companies have carried a large portion of the returns of the index over the past decade, the idea that this will continue into perpetuity seems unlikely.
Out of the 500 companies constituting the index, 19 are REITs accounting for 2.80% of the total index. For reference, AAPL alone represents 6.8% of the index. For every dollar you invest in the S&P 500, AAPL will receive an allocation more than double the entirety of the real estate category. To reiterate, these are the 19 companies included in the index. An investment in the Vanguard REIT ETF will allocate capital to 153 additional REITs not included in the S&P 500 index.
3. Superior cash flow and low fees
As we've mentioned, the yield compression of the S&P 500 has created a challenge for income investors looking to survive in an inflationary environment. While inflation eats at our purchasing power, it highlights the absolute importance of not only current yield, but also income growth. While traditional fixed income such as bonds offer safety and low volatility, the low yields and fixed coupons lack the firepower to adequately fight an inflationary environment. The S&P 500's inadequate yield is compensated by strong historical dividend growth, however its dividend is not invincible. Despite an impressive run over the last decade the S&P's dividend decreased by over 3% in 2020.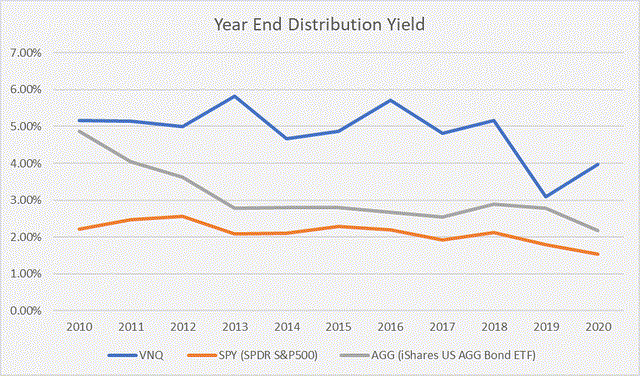 Source: Created by author using data from Seeking Alpha
The Vanguard Real Estate ETF has the potential to offer a current yield superior to the aforementioned assets and income growth supported by increasing market rent and inflation. Investors in real estate benefit from inflation in several key ways. First, the real estate itself offers an opportunity to hedge inflation by taking part in rising asset prices. Second, inflation is often passed through to growth in market rent in addition to organic growth in healthy markets. Both factors have the potential to lead to capital appreciation and dividend growth. As they say, a rising tide lifts all ships.
VNQ has successfully grown its dividend by 5.55% annually since 2011, far outpacing inflation over the same time frame. According to the Rule of 72, this growth rate means your income stream will double every 13 years. If this growth rate can continue, VNQ has a fighting chance to not only offer current income, but the growth necessary to combat an inflationary environment.
As is traditional with Vanguard funds, the Real Estate ETF has an extremely competitive management fee of only 0.12%. For every $1000 invested in the fund, you can expect to pay Vanguard $1.20 annually to manage the assets. In another scenario, $10,000 invested over the course of ten years will cost you approximately $283 in total management fees.
Conclusion
Outside of owning a rental apartment or other commercial real estate available to individual investors, real estate is often an underrepresented asset class in investment portfolios. The past decade has reconstituted the S&P 500 in such a way that little room is left for the real estate sector.
To reiterate, real estate represents 2.80% of the total S&P 500 index. The diversification available through VNQ combined with the powerful cash flow stream relative to a traditional 60/40 portfolio creates a valuable opportunity in today's investment ecosystem. Additionally, low fees and a seasoned manager such as Vanguard add to an already successful recipe.