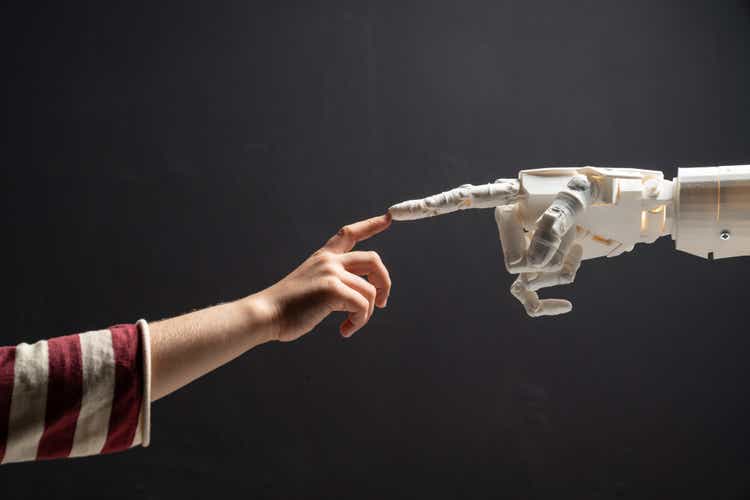 The Global X Robotics & Artificial Intelligence ETF (NASDAQ:BOTZ) invests in companies involved in some of the most dynamic, innovative, and fastest growing markets on the planets. The sub-sectors within this space include industrial robots, self-driving EVs, and specialized hardware and software to enable AI/ML algorithms to crunch large data-sets in order to gain business insights to make them more efficient and data-driven. This article will first look at the growth projections of the global robotics and AI markets. I will then analyze the BOTZ ETF to see how it has positioned investors to benefit from these market opportunities.
Market Opportunities
As I recently reported on my Seeking Alpha article on the ARK Autonomous Technology & Robotics ETF (ARKQ), the global robotics market is thriving and the global pandemic only put it in a higher gear:
The Global Robotics Market was valued at $27.73 billion in 2020 and is expected to reach $74.1 billion by 2026, registering a CAGR of 17.45%, during the period of 2021-2026. The rising demand for industrial robots has been triggered by the workforce shortage, owing to the COVID-19-related lockdowns and an upgrade of traditional industries. According to the National Bureau of Statistics data, in June 2020, China's industrial robot production increased by 29.2% year-on-year, reaching 20,761 units in the first half of 2020.
Source: Mordor Intelligence
At $27.73 billion, robotics certainly isn't the biggest market on the planet today, but expectations for a 17.45% CAGR is attractive and fertile ground for investors. Meantime, the AI market opportunity is - in a word - massive. According to Grand View Research:
The global artificial intelligence market size was valued at $62.35 billion in 2020 and is expected to expand at a compound annual growth rate, CAGR, of 40.2% from 2021 to 2028. The continuous research and innovation directed by the tech giants are driving the adoption of advanced technologies in industry verticals, such as automotive, healthcare, retail, finance, and manufacturing.
Indeed, in Asia-Pac alone the AI market is expected to more than quadruple within just the next four-years: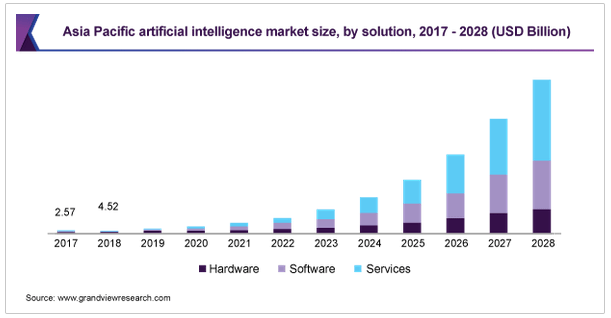 Source: Grand View Research
So let's take a closer look at the BOTZ ETF to see what companies it is investing in to take advantage of these dynamic markets.
Top-10 Holdings
The top-10 holdings in the Global X Robotics & AI ETF are shown below and equate to what I consider to be a very concentrated 67.3% of the entire portfolio: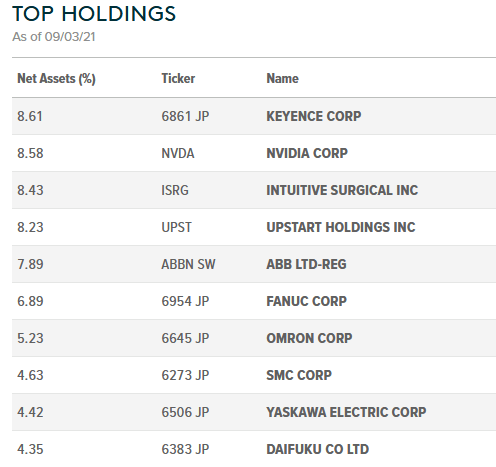 Source: Global X BOTZ Webpage
The #1 holding with an 8.61% weight is Japan-based Keyence Corp. (OTCPK:KYCCF). Keyence focuses on factory automation solutions using its vision, measurement, and positioning technology and products. Despite the fact that past revenue growth has been nothing to crow about, the next couple of years are expected to be significantly better: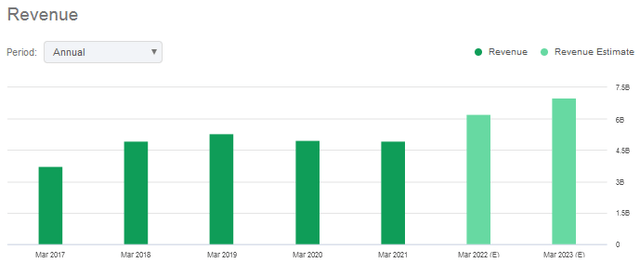 Source: Seeking Alpha
The stock is up 54% over the past year and currently trades at a rather rich forward P/E = 73.8x.
High-performance semiconductor designer and up-and-coming AI titan NVIDIA (NVDA) is the #2 holding with an 8.58% weight. NVIDIA is much more than a gaming, data-center, and automotive centric company. The company's high-performance computing chips & platforms have enabled NVDA to also offer Enterprise AI solutions to its customers: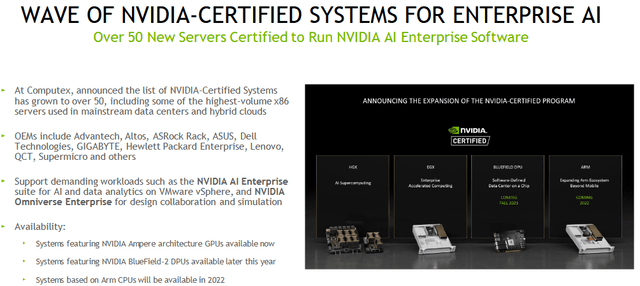 Source: NVIDIA Q2 Presentation
Indeed, NVIDIA has identified AI as a primary growth catalyst moving forward. NVDA is up 75.5% over the past year and currently has a forward P/E = 54.9x, and it's worth every cent in my opinion. I say that because the company has an excellent track-record of revenue growth (up 68% yoy in Q2) and also growth in bottom line net income as well (gross margins are ~66%).
The #5 holding with a 7.9% weight is ABB (ABB) - a global electrical components and infrastructure equipment maker that also manufacturers industrial automation and robotics solutions. The stock is up 49% over the past year and Seeking Alpha contributor Stephen Simpson says ABB: Delivering A Powerful One-Two Punch With Recovering End-Markets And Self-Improvement. The stock yields 2.3% and has a forward P/E = 28.9x.
The #10 holding is Japan-based logistics specialist and material handling company Daifuku (OTCPK:DFKCY). Daifuku's stock has done next to nothing over the past year and BOTZ appears to be betting on a turnaround in the company's fortunes: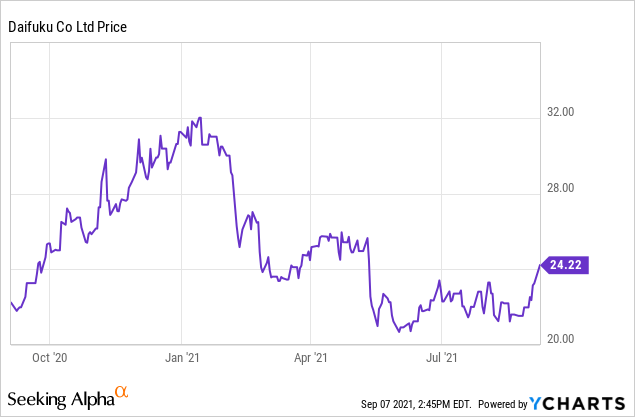 Glancing through the list of top-10 holdings I am surprised to find no Tesla (TSLA) for its autonomous-driving expertise. Let alone a Google (NASDAQ:GOOG), Amazon (AMZN), Apple (AAPL), or Microsoft (MSFT) - all of which are investing heavily in AI at the enterprise level. These are the leading companies when it comes to AI on a large-scale, yet none of these companies are in the BOTZ portfolio.
As I reported on Seeking Alpha last year (see Google: Next Stop $2,100), Google is a giant in the AI space:
On November 30, Deep Mind - Google's AI Lab - announced it had cracked the code on the "protein-folding problem" (see graphic above) with a neural-network based algorithm called Alpha Fold. This is considered to be a major breakthrough that one evolutionary biologist Andrei Lupus told Nature is "a game changer. This will change medicine. It will change research. It will change bio-engineering. It will change everything."
Google (ok, Alphabet ...) also owns Waymo, which has been leading the self-driving car race.
With the possible exception of NVIDIA, the BOTZ strategy appears to be focused more on the lower level nuts-and-bolts of robotics and AI rather than the top-level big players. That's odd to me given the Asia-Pacific AI market share graphic earlier clearly indicated that "hardware" was the smallest piece of the AI pie. That being the case, BOTZ's performance over the past year is quite impressive given its strategy.
Performance
The price performance of the BOTZ ETF is compared below against the returns of the ARKQ ETF, the iShares Self-Driving EV and Tech ETF (IDRV), and the ROBO Global Robotics and Automation Index ETF (ROBO) over the past year: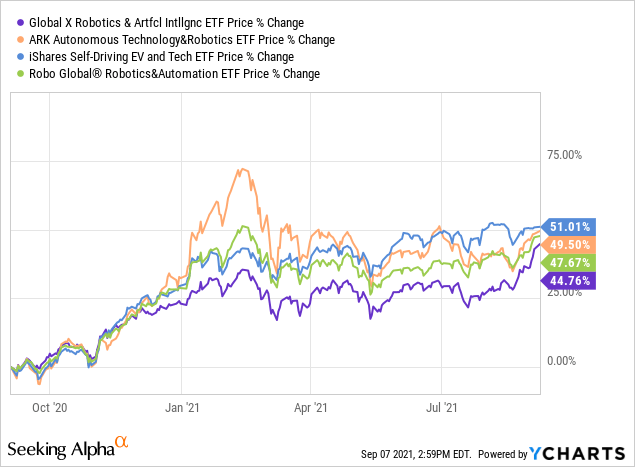 As can be seen in the graphic, since ARKQ came back to Earth earlier this year, it's a relatively dead-heat between these ETFs. Those who want exposure to Tesla are likely to favor ARKQ due to its 10%+ weighting in TSLA. However, I have been rotating out of ARKQ to the IDRV ETF because I like its greater focus on the semiconductors that power HPC for AI.
The long-term performance track record of the BOTZ ETF is impressive:
Source: Global X BOTZ Webpage
Indeed, over the past three years, BOTZ has outperformed both the S&P 500 (SPY) and the DJIA (DIA):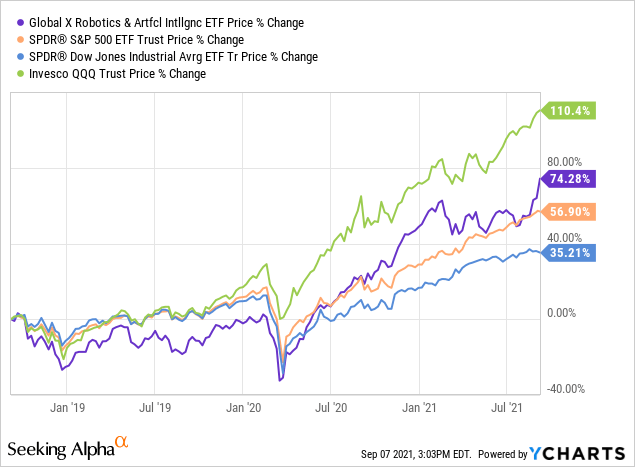 ETF Basics
The following ETF metrics were taken directly from the Global X BOTZ Webpage:
| | |
| --- | --- |
| Inception Date | 9/12/2016 |
| Net Assets | $2.79 billion |
| Expense Ratio | 0.68% |
| # Holdings | 36 |
| ROE | 12.60% |
| P/E 2021 | 45.4x |
| Price-to-Book | 5.5x |
As can be seen by the table, BOTZ has been around for about five years yet has $2.79 billion in net assets, which means it should be able to weather any potential market sell-off liquidity issues. The expense ratio is a bit rich in my opinion, but that is typical of funds that hold such a large percentage of foreign stocks.
BOTZ's valuation metrics deserve a closer look. Given the relatively high P/E and price-to-book ratios, investors might be expecting a higher ROE. After all, as my Seeking Alpha article published Tuesday pointed out, even a very broad-based ETF like the Schwab U.S. Broad Market (SCHB) ETF - which hold 2,360 companies - has an ROE of 19.2%: much higher than BOTZ.
However, investors should consider that many companies in the innovative robotics & AI space are investing heavily in equipment and R&D for the future. The "prize" comes from disrupting old and embedded companies, products, and processes by assisting or replacing them with new and more efficient robotics and AI technology - and that requires investment.
Risks
With the market at or near all-time highs, and - as mentioned earlier - the relative rich valuation of the BOTZ ETF, investors wanting exposure to this space should scale-in over time to ensure they aren't going "all-in" at market top and can take advantage of volatility to buy on dips.
The global pandemic continues to wreak havoc with global supply chains and some manufacturing sites. In addition, there is a global shortage of semiconductors - and that can delay the roll-out of new leading-edge robotics and AI solutions.
The fund is well-diversified both geographically (which is good for FX exposure) and with respect to individual sectors: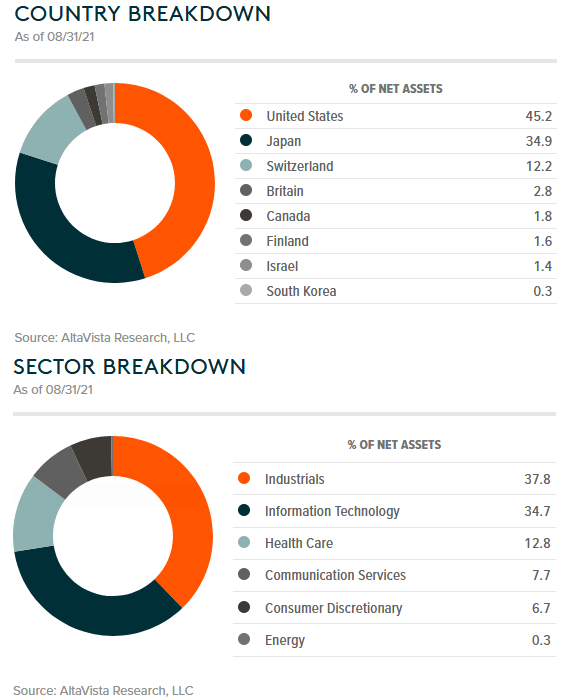 Source: Global X BOTZ Webpage
The fund has generally benefited from its ~35% exposure to the Japan market, especially late last year: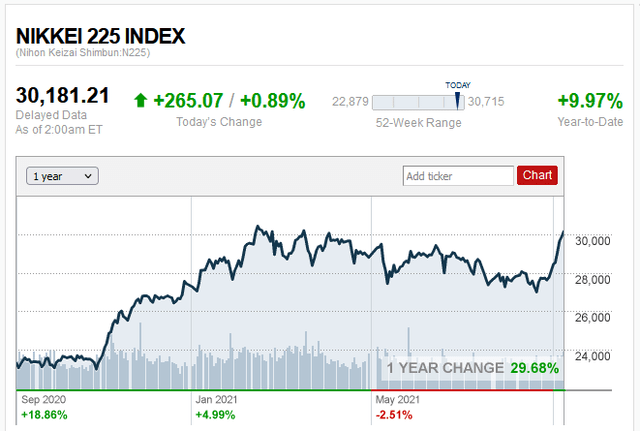 Source: CNN Business
However, the best way for BOTZ to reduce overall risk might be to build a few positions into some of the bigger and highly profitable AI companies like Google and Amazon, which - interestingly enough - trade at lower valuations than do some of the companies in BOTZ's top-10 list of holdings.
Summary & Conclusion
The BOTZ ETF is a high-performing fund that appears to justify its relatively high expense ratio of 0.68%. The fund is well diversified geographically and sector-wise. However, with only 36 total holdings - and 67.3% of the entire portfolio in the top-10 stocks - it doesn't offer the overall diversity one might expect from an ETF. In addition, when it comes to AI the BOTZ ETF appears to be much more focused on hardware as compared to software and services. One could make a good argument - and I did in the article - that this is a mistake - hardware is the smallest piece of the overall AI pie. In addition, BOTZ appears to be over-emphasizing robotics when clearly AI is the bigger market opportunity.
As a result, and due to its rather lofty valuation, I can't get bullish on BOTZ. That said, it's hard to argue with success - and BOTZ's 20%+ average annual return since 2016 is very impressive in my opinion. I'll give BOTZ a "Neutral" rating - mostly because I am more bullish on the IDRV ETF for the reasons mentioned earlier.