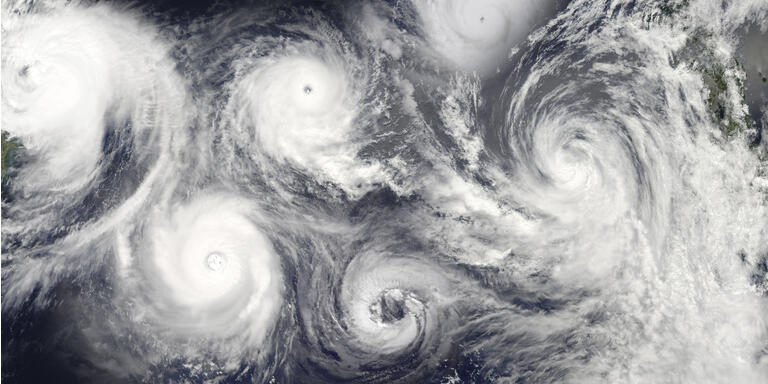 In our first article on AllianzGI NFJ Dividend, Interest & Premium Strategy Fund (NYSE:NFJ) we will analyze whether its portfolio construction and options writing strategy can maintain a steady rate of quarterly distribution even during turbulent times. It has already passed the first serious unprecedented shock, as the distribution rate has remained steady at $0.2250 per share, even though global economies were shocked by the outbreak of the COVID-19 pandemic last year. In addition, market price and NAV are trading higher these days compared to pre-pandemic levels. NFJ has a primary objective of generating income and is using the options strategy of writing covered calls to collect premiums and protect the investment portfolio on the downside. In our article, we would like to check whether this type of options strategy is adequate enough to protect investors in NFJ in the case of some unexpected black swan event. On the other hand, they might still have high exposure to the market valuation performance of the investment portfolio. In that case, the options strategy might not fit the defensive mechanism they might be looking for in their portfolio.
Options Strategy
The covered call option strategy is generally used to boost the income generation portion of the CEF received from premiums that come from selling options. However, the real risk remains once the underlying stock price achieves a significant swing on the long or short side. In that case, investors are still better off by receiving a small premium, but they might face a sizeable loss in the underlying market value of the option.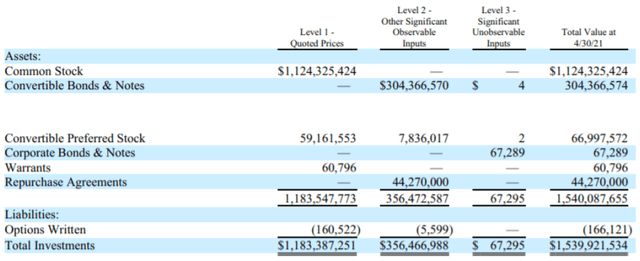 (Source: Quarterly Holdings Fiscal Q1 '21)
According to the figure above, we are slightly concerned that this CEF has a very small exposure to its options portfolio - only 0.01% of total investments. Given that some financial experts anticipate a very uncertain period for the remaining 2021, due to the race of western economies, whether they can achieve a desirable vaccination rate and avoid lockdown restrictions to deal with the COVID-19 pandemic or not.
Unfortunately, some news has been spreading around of a mu variant, which could be resistant to existing available COVID-19 vaccines on the market. In the worst-case scenario, even though most of the developed economies might achieve a desirable vaccination rate of more than 70% of the population, and even more infectious and vaccine-resistant variants could still lead to nationwide lockdowns and shutdown of non-essential businesses. In addition, Palantir (PLTR), a company co-founded by Peter Thiel, has surprised the world by saying that it has been stockpiling gold bars (GLD) as it prepares for a potential 'black swan event' and is even considering alternative investments like bitcoin.
Unfortunately, we cannot now predict the impact of such a 'black swan event' on the global financial markets, but we would prefer to have some downside protection in our portfolio. The covered call option strategy might be the perfect tool, but we believe that the portfolio management team could use a slightly higher percentage of the total portfolio to sell options.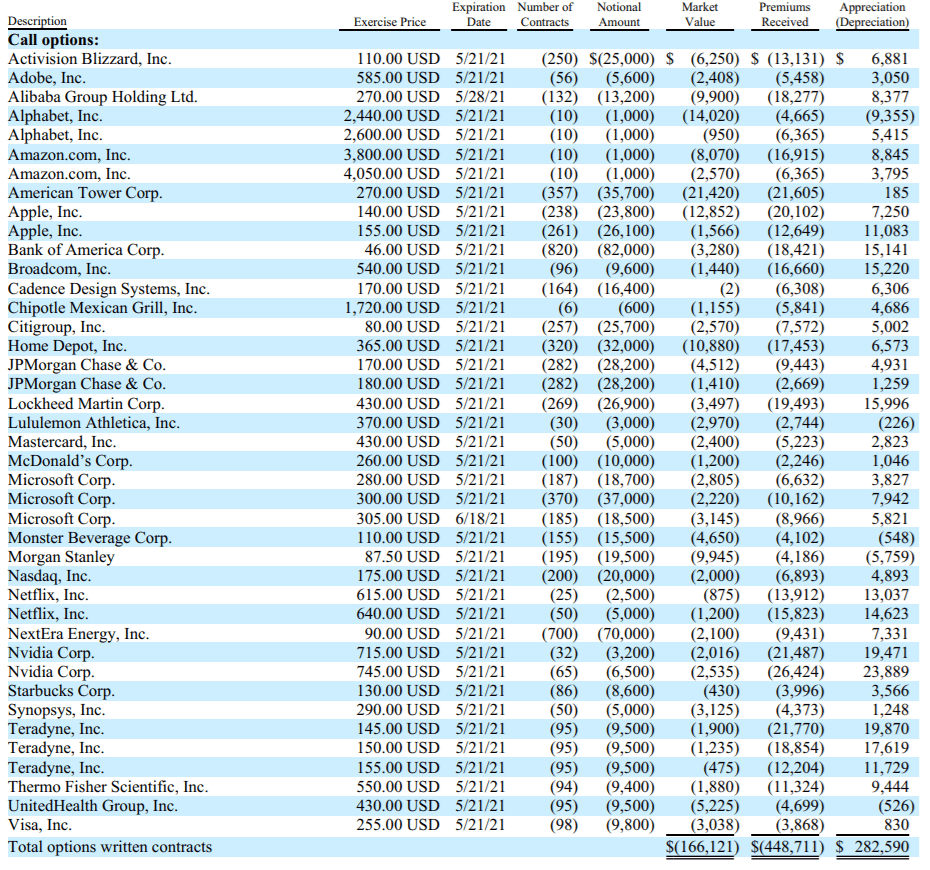 (Source: Quarterly Holdings Fiscal Q1 '21)
In the figure above, our readers can find all the listed written options of this CEF and we can see that they are primarily big tech names including Alphabet (GOOG), Apple (AAPL), Microsoft (MSFT), Netflix (NFLX), and NVIDIA (NVDA). For instance, the nominal amount is not greater than $70,000 for individual positions. Another issue we found is that the existing covered call strategy of NFJ only covers the largest holdings of the fund and not also the holdings with smaller individual exposures. Therefore, if companies that are listed on small to mid-sized indexes tend to underperform bigger peers, that will most likely drag the market price performance and distribution rate of this CEF.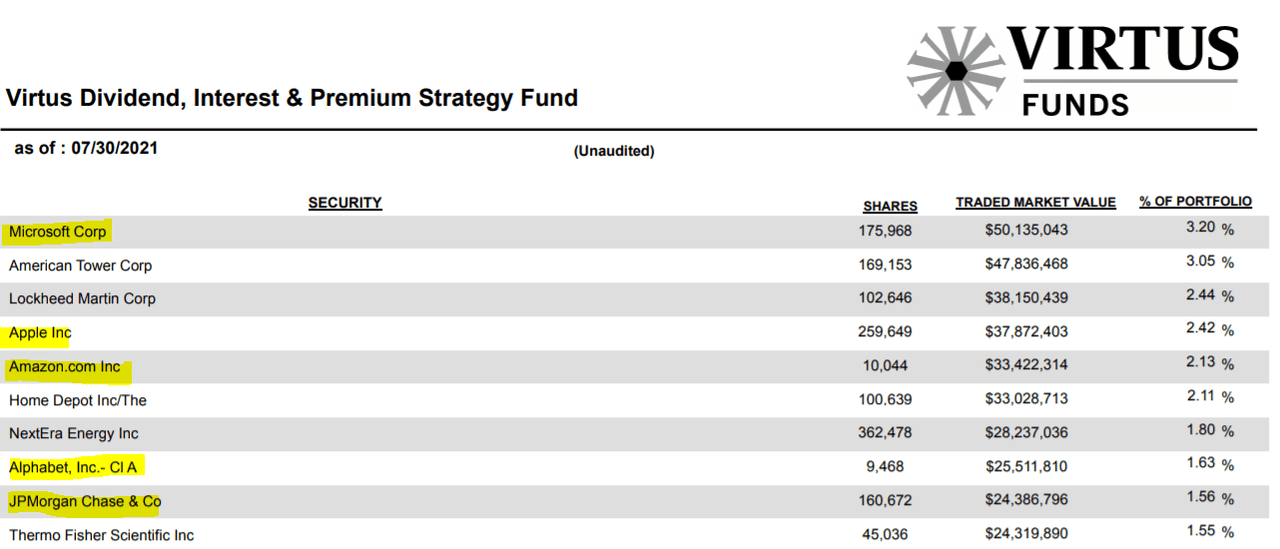 (Source: Monthly Holdings)
According to the figure above, the top 10 holdings of NFJ make up slightly less than 22% of the total portfolio. Now, if we compare this list with previously presented options holding we can see that approximately one-third of all options are written on the top individual names of the top 10 holdings. The issue arises with such a concentration on only the largest names if we face a significant market meltdown like was the case in March 2020, when stock market indexes crashed by more than 30% over a month period. In such a case, retained premium from covered call options strategies which were listed as slightly less than $0.5 million as of the end of Q1 2021, could not offset the market value losses of equity and convertible debt securities. NFJ has a market value of total investments excluding options of approximately $1.5 billion and a general 10% decline of all major asset classes could lead to a total market value loss of investments of over $150 million. In our view, this CEF might be better protected if it could allocate 10% or even 20% of total investments to use for covered call options. Then we would be slightly less concerned in the case of significant short-term downside fluctuations. Nonetheless, in the case of a prolonged strong bull market, where options would expire above their strike prices on a regular basis, that would lead to losses of existing options investments and limit the upside potential of underlying common stock positions.
To sum it up, our readers should be aware of the fact that this CEF has labeled itself to use a covered call option strategy to add additional quarterly income received by premiums from selling options, but it is a very small portion of a total portfolio. We would prefer to have a slightly higher allocation of downside protection given that we are most likely facing a very turbulent period over the next 6 months in most developed economies.
Distributions and Their Safety
Investors in this CEF are automatically enrolled in dividend reinvestment plans, as distributions are reinvested in additional common shares of this CEF. Some readers might think that they are exempt in such a case from paying ordinary taxes as they receive distributions in common shares of the fund instead of cash but that is not the fact. They would still have to pay normal taxes as they would receive a cash dividend. When it comes down to brokerage charges and open market purchases, the following is true for dividend reinvestment plan participants:
No brokerage charges are imposed on reinvestments in newly issued shares under the Plan. However, all participants will pay a pro rata share of brokerage commissions incurred by the Plan Agent when it makes open market purchases.

(Source: Annual Report FY 20)
On the other hand, shareholders can still choose an option to receive distributions paid in cash. However, in that case, they will have to cover the brokerage commission if they decide later on to reinvest in common shares of this CEF by buying its shares on the stock market.

(Source: Seeking Alpha)
According to the figure above, the quarterly distribution of NFJ has been steady at $0.2250 per share since January 2018. Beforehand, it was a bit higher at approximately $0.30 per share between January 2016 - January 2018.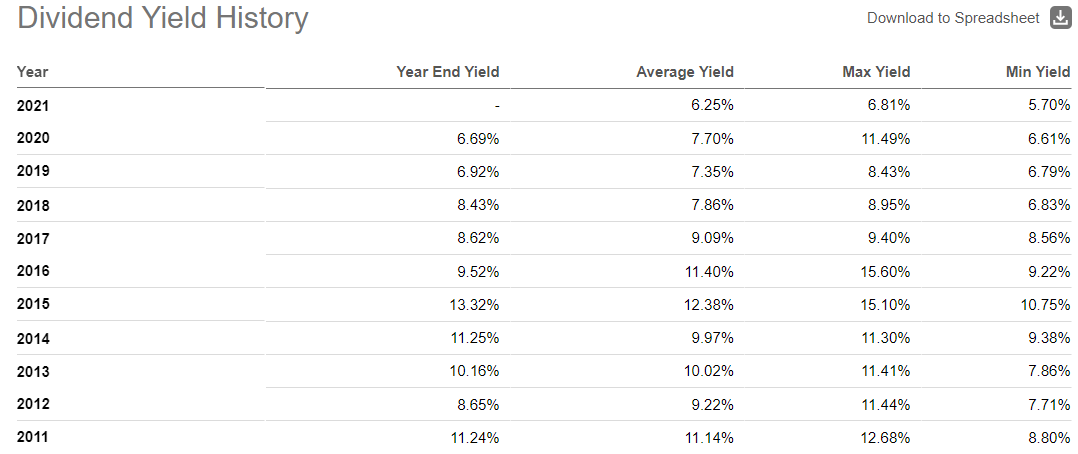 (Source: Seeking Alpha)
In addition, shareholders have received an average dividend yield of 6% - 8% between 2018 - 2021. Prior to that, the average dividend yield was between 9% - 12.5% between 2011 - 2017. Now, we would like to see whether this dividend yield is comparable to the underlying benchmark of this CEF, which consists of 75% of Russell 1000 Value Index and 25% of ICE BofA all convertible securities. For our analysis, we will pick the most relevant ETFs - iShares Russell 1000 Value ETF (IWD) and SPDR Bloomberg Barclays Convertible Securities ETF (CWB).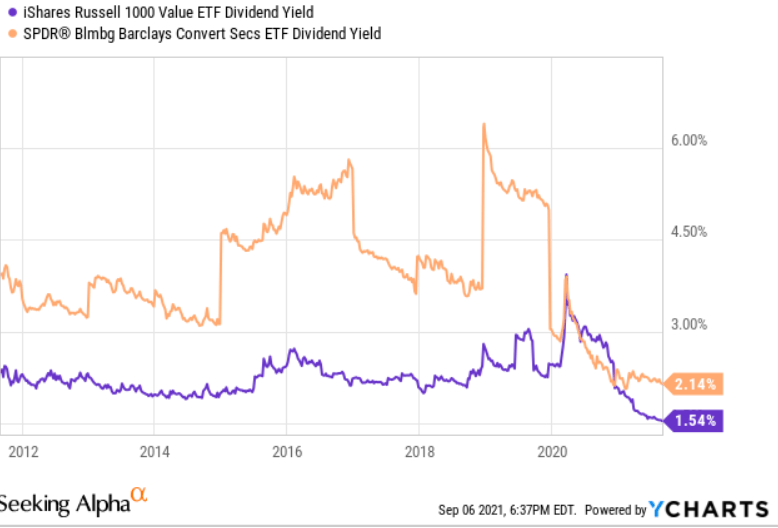 According to the figure above, the dividend yield of IWD has been in the range of 1%-3% over the last 10 years. On the other hand, the dividend yield of CWB has been less than 3% over the last year, while in the prior decade it was in the range of 3%-6%. Based on our analysis, we can conclude that NFJ has generated a higher dividend yield compared to the other two relevant ETFs which represent its composite benchmark. However, ETFs unlike CEFs do not have an advantage to maintain a target dividend rate as they are not allowed to return capital back to shareholders.
Now, the biggest question is whether the quarterly distribution of NFJ arrives from an increase in the market value of portfolio investments, their generated income, or is it just a return of capital.

(Source: CEF Connect)
According to the figure above, the most recent quarterly distribution of NFJ was $0.2250 per share in Q2 2021. Out of that total distribution, the market value gain of portfolio investments has contributed $0.1575 per share, while $0.0360 per share was generated from income from portfolio investments. Given that NFJ has been marketed with a primary goal to generate steady income for its shareholders, we are a bit worried that only 16% of the total distribution comes from income. In our view, NFJ shareholders might still take quite a sizable exposure to the market value performance of portfolio investments. We see it as a big red flag as they are perhaps not as well hedged as they would be in a more conservative CEF, ETF, or a fund, which is generating income solely from fixed income securities. In addition, our readers should also be aware of the fact that $0.0315 per share or 14% of total distribution has been returned to shareholders as a return of capital.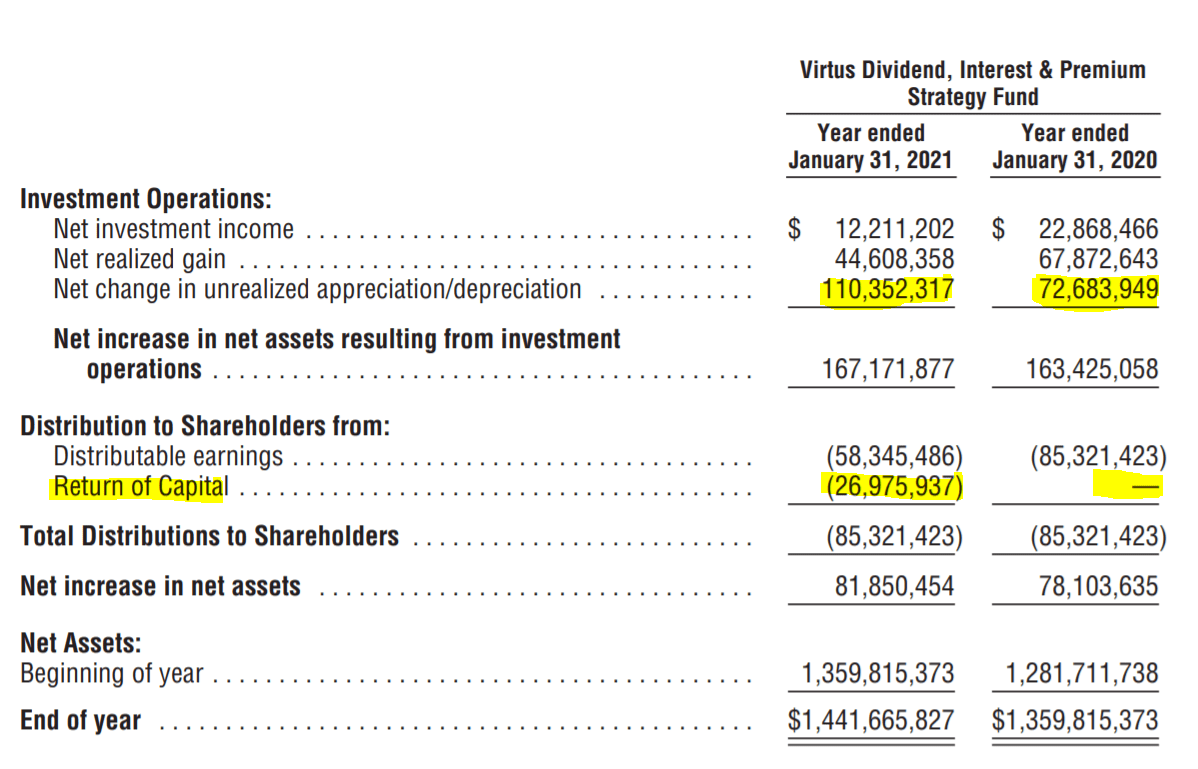 (Source: Annual Report FY 20)
According to the figure above, NFJ was able to generate a net increase in net assets of $81.85 million in FY 20 or up roughly 4.8% y/y. As we have previously described, a quarterly distribution to shareholders has remained consistent over the last couple of years, but interestingly, there was no return of capital to shareholders in FY 19. In fact, distributable earnings were approximately 32% lower in FY 20 compared to FY 19. Therefore, almost $27million was returned to shareholders as a return of capital, so this CEF could maintain its target quarterly distribution rate. Nevertheless, we are optimistic over the fact that a significant increase in net change in unrealized appreciation/depreciation of approximately $37.7 million in FY 20 y/y can lead to higher distributable earnings over coming years, once the portfolio management team decides to close those positions. But our readers should keep in mind that particular portfolio investments should be closed at neutral or better market prices compared to the end of fiscal 2020. Therefore, any worsening of the COVID-19 pandemic in developed economies that could disrupt or crash global stock market indexes could have a devastating impact on the portfolio investments of this CEF. That is also one of the reasons why a sound option strategy is important to protect income-generating abilities and market value of portfolio investments of this CEF even during unexpected and turbulent times like the COVID-19 pandemic.
Market Performance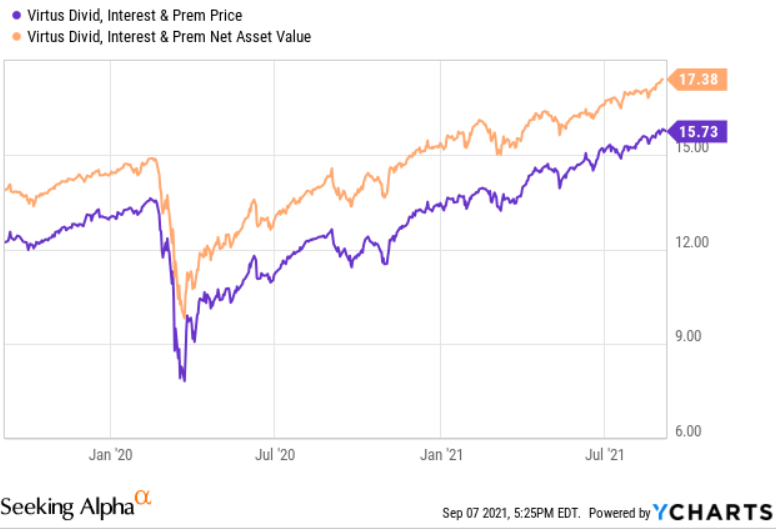 According to the figure above, market price and NAV have managed to recover from their sharp sell-offs, which were triggered by the initial outbreak of the COVID-19 pandemic in the U.S. back in March 2020. At the peak of the U.S. stock market turmoil, this CEF had reached a bottom of $7.83 on March 23, 2020, or down approximately 40% within a month. Nonetheless, these days NFJ trades at a market price of approximately 100% higher compared to its March 2020 bottom. Furthermore, it is even roughly 15% higher compared to its pre-pandemic market price peak level of $13.62 per share. This definitely points out the resilient nature of this CEF to well absorb unexpected market shocks like the initial outbreak of the COVID-19 pandemic. We are also delighted that the portfolio management team did a solid job of following along with both the financial markets and the U.S. economic rebound afterward.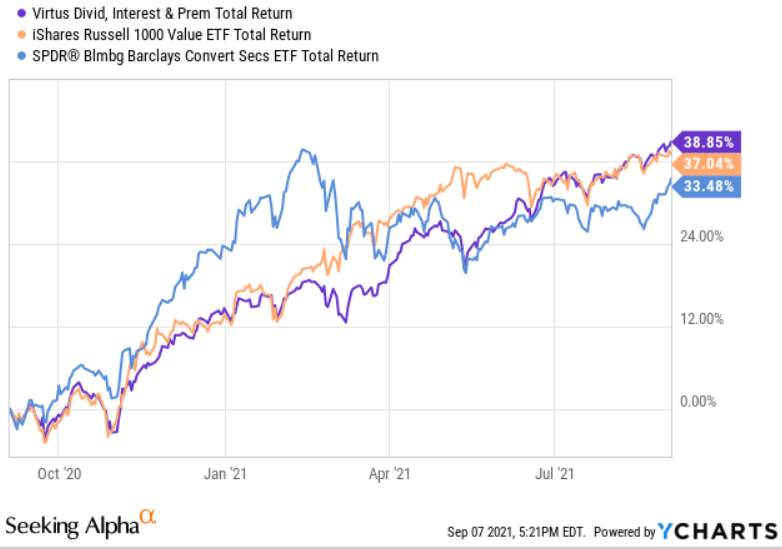 According to the figure above, NFJ has beaten by a margin of less than 5.5 percentage points, both iShares J.P. Morgan EM High Yield Bond (EMHY) and iShares iBoxx $ High Yield Corporate Bond (HYG). We have selected both ETFs as we see them as one of the closest available peers among the ETFs which can track the performance of the composite benchmark listed by the NFJ's portfolio management team.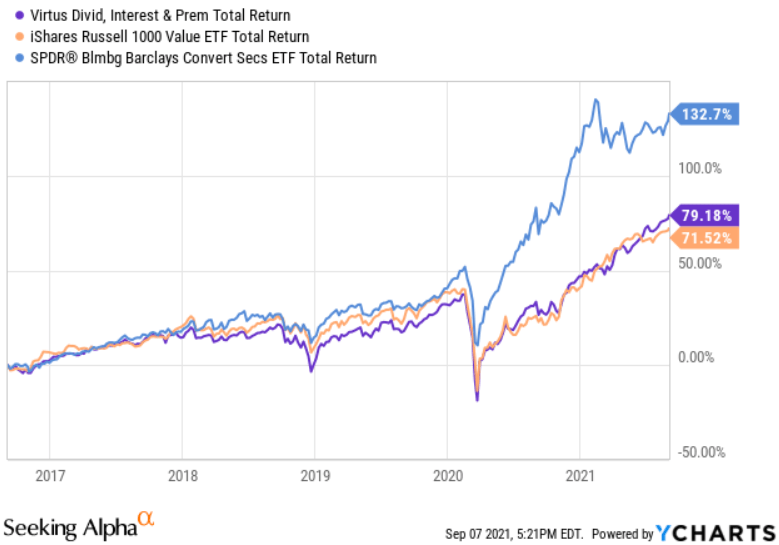 If we take a look into the relative performance of the last 5 years, then NFJ has outperformed IWD by 7.7 percentage points, while it has underperformed CWB by 53.5 percentage points. We would like to expand our relative performance analysis to its closest peers in the CEF universe.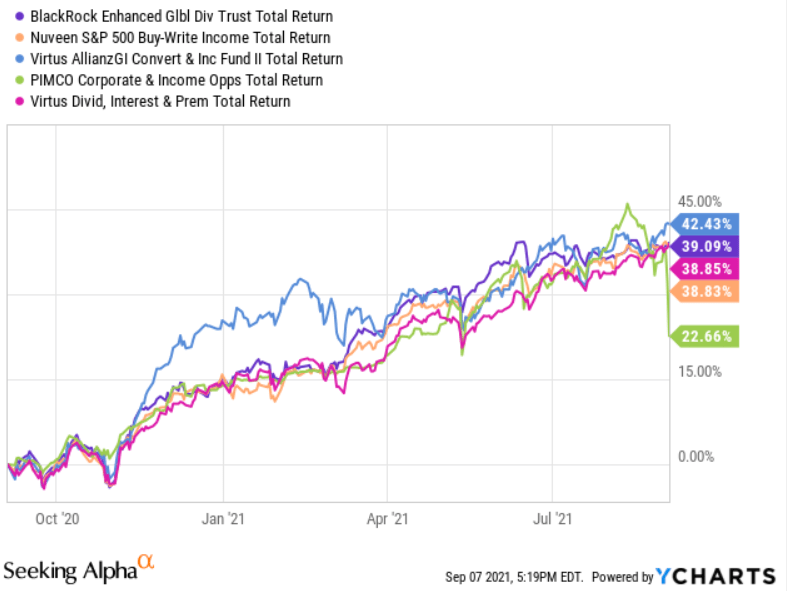 According to the figure above, NFJ has been the strongest outperformer in our selected peer list over the last year. All three peers, Blackrock Enhanced Global Dividend Trust (BOE), Nuveen S&P 500 Buy-Write Income Fund (BXMX), and AllianzGI Convertible&Income Fund II (NCZ) have underperformed NFJ by a very slim margin of less than 4 percentage points, while PIMCO Corporate&Income Opportunity Fund (PTY) has managed to generate almost half of the total return of NFJ over the last year.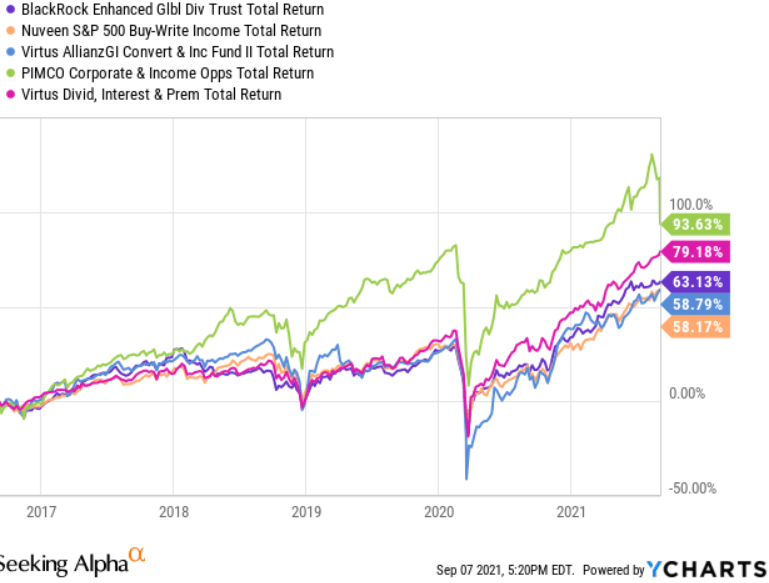 If we take a longer horizon of the last 5 years, then NFJ has been the second-worst performer and falling behind PTY, BOE, and NCZ by a significant margin. That is why we emphasize how important it is for any CEFs, Mutual Funds, or ETFs to always take a longer horizon in historical performance analysis and also to keep in mind long-term investment goals of more than 5 to 10 years.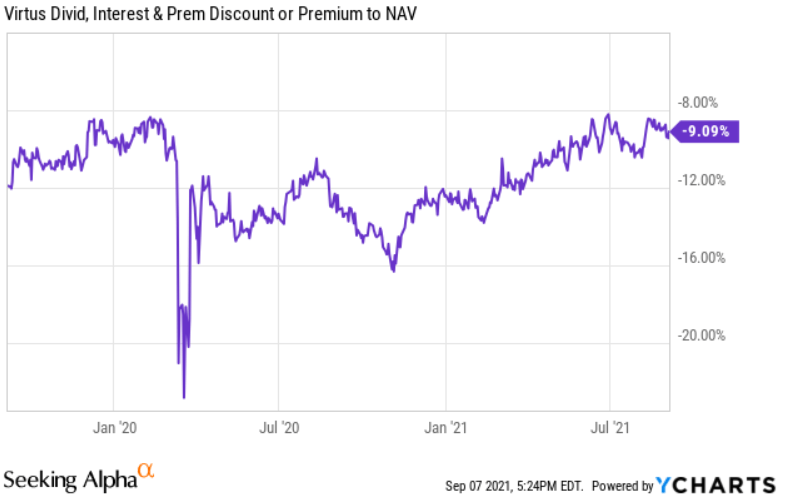 According to the figure above, NFJ has been trading at a discount to NAV of more than 8% over the last year. It was even lower than -20% during the U.S. stock market meltdown in March last year. Afterward, it has managed to return back to pre-pandemic levels and we believe that is a reasonable discount to NAV compared to some other peers. For instance, its direct peer BOE trades right now at a discount to NAV of -6.25% vs -9.09% of NFJ. However, we would still like to encourage our readers to maybe consider buying this CEF, if something like a short-term financial markets rout of March 2020 re-occurs in the near future. Unless we experience some catastrophic black swan event that could put our planet back in the ice age or some force of nature completely destroys it, we believe that a more than 20% discount to NAV should be a more than decent enough bargain to consider buying this CEF.
Conclusion
This year we have been very cautious when assigning ratings to our selected CEFs, ETFs, or equities, primarily because we do not like all the uncertainty and evolving issues surrounding the COVID-19 pandemic. In general, we do feel optimistic about the long-term performance of this CEF, which has already been proven by the solid but not the best total return historical performance compared to its peers. However, we really cannot ignore the consistent worsening of the COVID-19 pandemic in most global economies with upcoming variants like mu, which might be even vaccine-resistant. That is why we will stay cautious with our rating assignments until there is an end of the COVID-19 pandemic and our lives, social activities and global economies can return back to normal. In terms of key short-term risks, investors should consider the following: (1) worsening of the COVID-19 pandemic in the U.S., (2) a stronger than expected bull run which could initiate losses in options writing strategy of this CEF, and (3) potentially higher than expected return of capital or even a lower quarterly distribution.