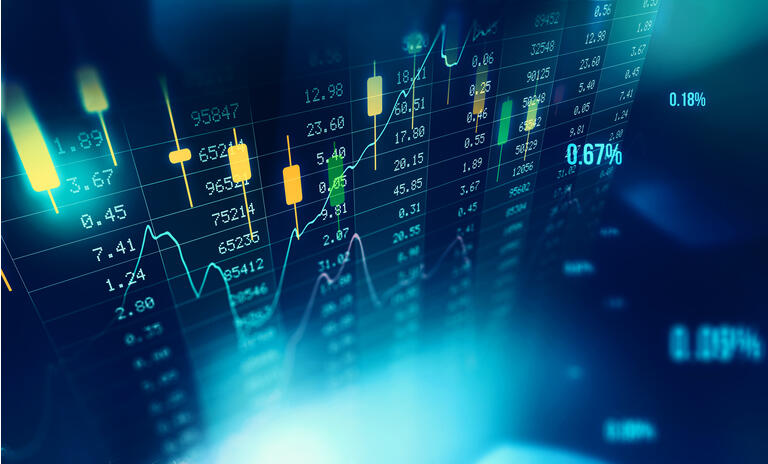 This article was first released to Systematic Income subscribers and free trials on 4 September.
It was a busy month in the PIMCO CEF space. The shareholder report for the June fiscal-year-end set of funds was released, the taxable trio merger was consummated, borrowings levels moved higher, and, of course, 3 funds saw distribution cuts. In this article we focus on the distribution cuts as well as what the recently released shareholder report tells us about the taxable suite. The key takeaway is that investors should focus on NAV distribution rates, leverage levels and NAV trends as proxies for distribution vulnerability. Overall, we like the PIMCO taxable suite for its ability to generate consistently positive alpha which is now likely to drive a larger share of returns in the presence of low historic yields on underlying assets. We keep an allocation to the Dynamic Income Opportunities Fund (PDO) for its distribution resilience, low premium and term structure.
Distribution Update
As many followers of PIMCO CEFs know by now, three funds made cuts in their most recent distribution announcement. Specifically, the following funds made cuts of around 8-10%:
Corporate & Income Opportunity Fund (PTY)
PIMCO Income Strategy Fund (PFL)
PIMCO Income Strategy Fund II (PFN)
In this section we take a look at some of the dynamics behind the recent distribution cuts. Overall, it's hard to make definitive statements about the drivers of the cuts. This is because the features of this trio that, in our view, drove the cuts, are also apparent in the trio of merging funds. However, it is possible that PIMCO are leaving these funds alone until the merger is finalized.
As we discussed in our distribution vulnerability framework, there are a number of key factors investors should watch when gauging distribution vulnerability. Whether or not to make a distribution cut is a discretionary decision by the fund's board and many funds make it a feature of their business model, so to speak, to run funds at low coverage levels. That said, funds that are sensitive to distribution coverage will make changes to their distributions in response to changes in income. In other words, funds that are unlikely to be able to sustain a certain level of income often feel the need to make an adjustment. The key question then is to find the right metrics that allow investors to gauge the relative sustainability of fund income.
The PIMCO taxable suite is atypical in the sense that it contains quite a few funds which run with broadly similar multi-sector credit investment strategies. This makes gauging distribution vulnerabilities in the sector more tractable. Within this suite, they key factors driving distribution vulnerability are 1) borrowings, leverage and changes in both, 2) the NAV distribution rate and 3) to a smaller extent, fees. Ultimately, all these 3 things feed into how much income a given fund can generate on a net basis, all else (e.g. underlying assets) equal.
If we plot fund leverage against the NAV distribution rate we see significant variation.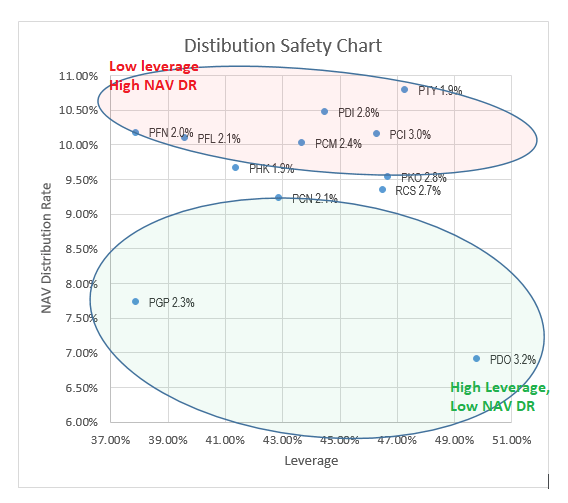 Source: Systematic Income
The most vulnerable quadrant is the upper-left one featuring funds with relatively low leverage and a relatively high NAV distribution rate. In other words, these funds have fewer assets with which to sustain a high NAV distribution. Obviously, fees and leverage costs make a difference here but they are more marginal. The less vulnerable quadrant is the lower right with high leverage and a low NAV distribution rate. The red and green ovals are highly illustrative and aim to capture more and less vulnerable areas of the chart rather than highlight a sharp cut-off.
As the chart suggests, PDO remains much less vulnerable than the rest of the suite due to its lower NAV distribution rate and its highest leverage in the taxable suite.
PDI remains relatively vulnerable. As we discussed in our merger article, PKO investors are at a kind of disadvantage because they have moved from a lower NAV distribution rate fund into a higher one. This has placed them in greater distribution vulnerability.
In our framework discussion we also highlight that investors may want to eyeball the NAV trajectory. This metric is volatile and, hence, not our favorite one. For instance, the fact that yields have ground lower over the last few years has supported NAVs of fixed-income funds and has given many investors a false sense of security. Now that yields are unlikely to keep marching lower this tailwind has been removed and is likely to result in a steeper NAV fall-off, causing more funds to adjust distributions, particularly as short-term rates rise back up.
In any case, if we look at the trajectory of PIMCO taxable CEF NAVs since the start of the year we see that PFN and PFL are towards the bottom. This is a different view of the fact that these two funds have relatively low leverage and a relatively high NAV distribution rates which creates a larger drag on their NAVs. In other words, the NAV trajectory simply confirms the pattern discussed above. The path of PTY NAV has been very strong which is due to a combination of its lowest fund fees and leverage costs in the suite and close to the highest leverage level. As it turns out, that was not enough to counterbalance the highest NAV distribution rate in the suite.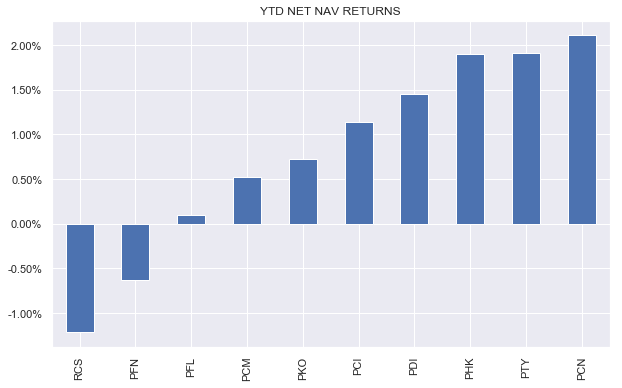 Source: Systematic Income
The table below shows a summary of the taxable suite as of the close of the day of the distribution announcement.

Source: Systematic Income
The table has a few interesting data points.
First is the fact that the change in the distribution rate on price is more compressed than the change on the NAV. For example, PIMCO reduced the PTY distribution rate on NAV by 0.93% but that number translates to a reduction on price of 0.66%. This is simply due to the fact that the price of PTY is much more elevated than its NAV which is another way of saying that it trades at a high premium.
Secondly, and it's more obvious in chart format, but the three funds that made the cuts had some of the highest distribution rates on NAV (discussed above) but relatively low distributions on price.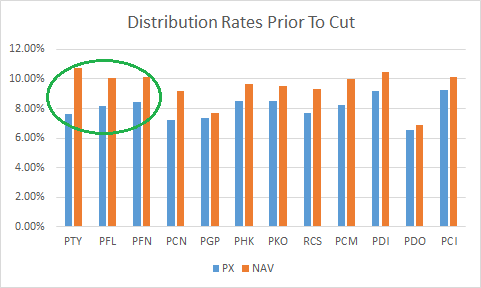 Source: Systematic Income
If we subtract the two we calculate something we call a distribution "tax" - a figure that was over 3% for PTY and in the range of 1.5-2% for PFL and PFN. PTY had, by far, the largest "tax" while that of PFL and PFN were among the highest.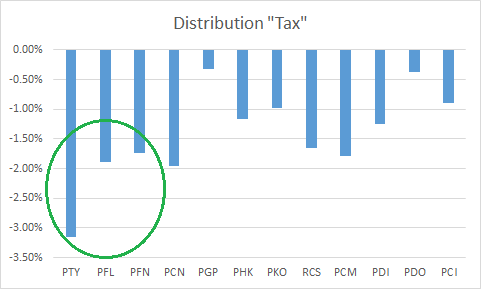 Source: Systematic Income
A distribution "tax" is the flipside of the funds' premiums and also a function of their NAV distribution rate. It captures how much of the NAV distribution rate investors are willing to forego by buying (or holding) the fund at its premium.
The obvious question is why do these funds have such high distribution "taxes". A large part of the answer has to do with the fact that these funds have been viewed by investors as "rock solid" from a distribution perspective, having had no cuts for more than a decade - much longer than some other PIMCO funds have even existed. This suggests that these funds enjoyed a kind of premium for their perceived distribution safety.
A key question facing investors is how much should the prices of the funds adjust? A first order analysis suggests that their prices should move by the same amount as their distribution cuts.
The chart below shows that on the first trading day after the distributions were announced prices of the three funds fell on the order of 5-7% on an intra-day basis (1-Sep Close to 2-Sep Low) - not far from the 8-10% cut range. However, in terms of closing prices, they ended only about 3-5% lower - finishing surprisingly resilient.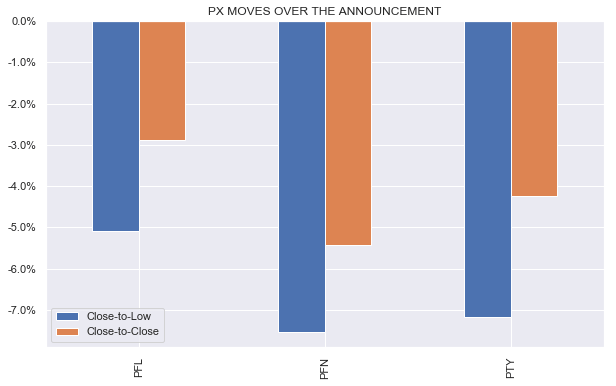 Source: Systematic Income
What explains the relative resilience of these funds on their first trading day with the new lower distributions? It's hard to know for sure, however, the liquidity of these funds is fairly high and so they can, arguably, accommodate a larger amount of selling - their average volume is more than 2x of the average multi-sector CEF. Some investors also like to put in lowball bids and then forget about them - this can soak up some of the selling as well. Plus, investors who are most likely to be in funds like PTY are likely to be low-information investors so they may not have heard about the cuts and so have not acted yet. Our view remained that there was more selling to be done as the lowball bids got filled and low-information investors found out about the cuts.
The elevated starting level of the distribution "tax" for all three funds also suggested that not only should the price and discount moves at least as much as the distributions, but they should move more than the distributions as the funds lost their "rock solid" distribution halos.
The second trading day after the distribution changes was weak as well - the chart below shows the aggregate total price return over 2 trading days from just prior to the announcement. At this point, prices have only marginally overshot their distribution cuts. We expect more weakness in the coming days though we have less conviction now. Investors who were not involved in these funds prior to the cuts are unlikely to backstop them at their current levels. In other words, investors who avoided PTY at a 40% premium are unlikely to fund a 25% premium attractive enough to pile in. It is also interesting to note that PDO managed to rally during these two days. In our view, this speaks to, not only the fund's lower premium to begin with, but also its term structure which provides an anchor to the premium and a measure of discount control.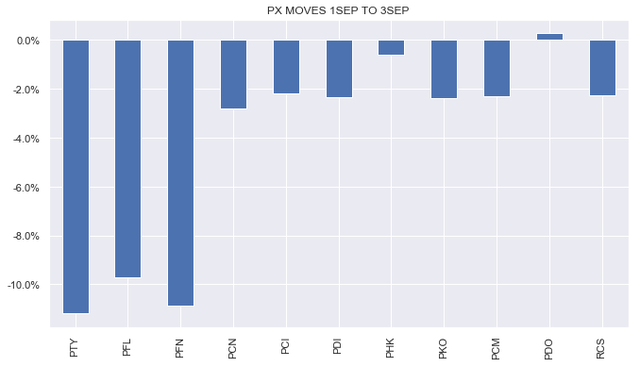 Source: Systematic Income
To orient ourselves in the broader taxable suite let's take a look at the funds on a current yield (i.e. price distribution rate) versus discount / premium basis. We exclude PDO and PGP which are a bit different from the rest of the suite - PDO being a term CEF so its premium will stay more anchored and PGP being a hybrid fund).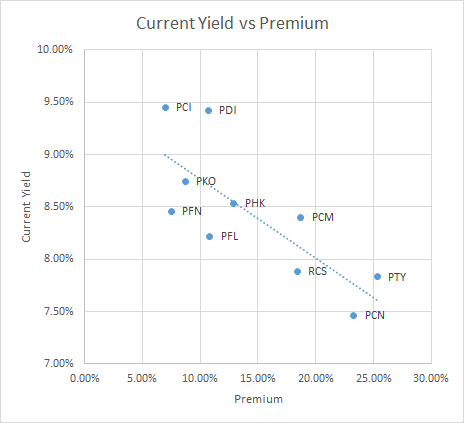 Source: Systematic Income
This chart is very unusual in that funds with higher current yields (PCI, PDI, PKO) have lower premiums and funds with lower current yields (PCN, PTY, PFL, PFN) trade at higher premiums. This tends to be the other way around elsewhere in the CEF space where high current yield funds are rewarded by investors with higher premiums.
One reason for this unusual dynamic is that the lower current yield funds had (until yesterday) a longer track record of not cutting distributions.
Another reason is that they have delivered stronger performance over the last 3 years or so in NAV terms.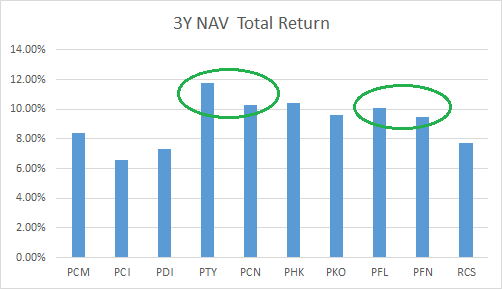 Source: Systematic Income
A big reason for this is the fee differential between these funds. One way to think about these two groups of funds is that the higher current yield group are the more recently launched funds which is probably why they have higher management fees and higher leverage costs due to lacking ARPS (auction-rate preferreds effectively disappeared after the financial crisis with only legacy instruments remaining on the books).
For example, a difference in management fees between PTY (0.65%) and PCI (1.15%) of 0.5% translates to a performance differential of 1% per annum for a 50% leveraged fund (PTY and PCI are 47% and 46% leveraged right now) on net assets. Lower fees allow the fund to either distribute more or retain more of its income to allocate to new income-producing assets. A leverage cost advantage for PTY of around 0.5% over pure repo funds such as PCM, PKO, PCI and PDI translates into, roughly, a 0.4% annual return advantage as well.
Tilting to lower-fee funds has been in our playbook for some time, particularly in the current market environment where fees as a proportion of underlying asset yields are quite high - much higher than they were when the funds got going. Low CEF fees are a kind of guaranteed alpha - the managers don't even have to do anything to have a tailwind for their fund relative to higher fee funds. This is also precisely why fees are a primary determinant of discount "fair-value" - a fund with higher fees, all else equal, should trade at a wider discount / lower premium for the reasons just mentioned.
Shareholder Report Update
The June fiscal-year-end group of funds released their annual shareholder report with the rest of the funds in the taxable suite due to report in a month or so. There are few interesting things to note.
First, the amount of ROC has increased with all but one fund (PGP which had a cut in 2020) registering an increase.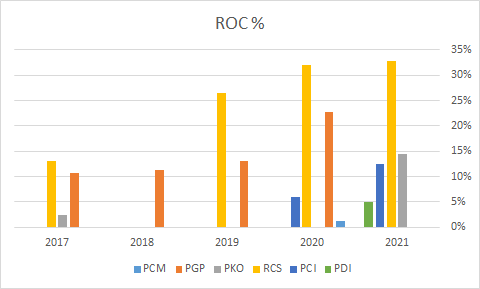 Source: Systematic Income, PIMCO
Secondly, NII has continued to trend lower with the exception of PCM. The surprisingly large boost for PCM is not explained by its change in borrowings and is more likely to do with the prepayments on its legacy non-agency RMBS but this is speculation on our part.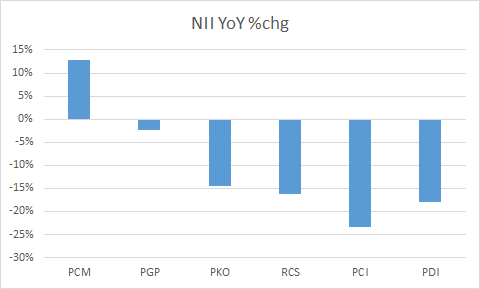 Source: Systematic Income, PIMCO
The chart below shows a normalized trend in NII over the last 5 years with the dashed line showing the average path which is oddly smooth and shows that, on average, about a third of NII has been lost over the last 5 years in this group of funds.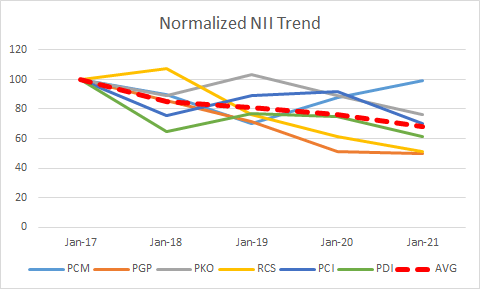 Source: Systematic Income, PIMCO
This downtrend in NII has continued over the first half of 2021 (i.e. the second half of the reported annual period). If we disaggregate the annual report into two halves by using the previously issued semi-annual report we get the following chart that shows a slight drop across all funds.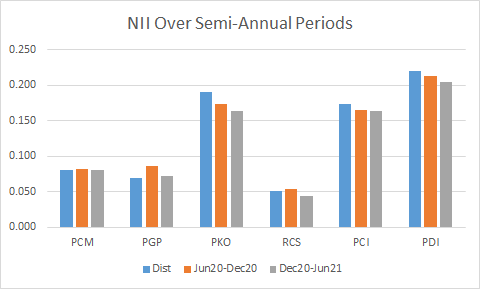 Source: Systematic Income, PIMCO
Something else worth highlighting is the discrepancy between GAAP and tax-based NII. GAAP numbers are the ones that come from shareholder reports while tax-based numbers come from the monthly distribution releases.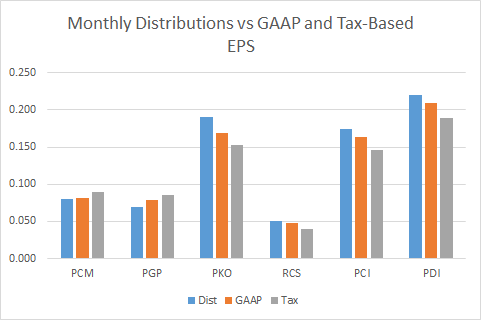 Source: Systematic Income, PIMCO
The difference between the two comes down to drivers like swaps, MBS and FX cashflows. If nothing else, investors can take some small comfort in that GAAP income is slightly higher for most funds than what the monthly coverage numbers may suggest.
Takeaways
A core theme in our CEF allocation is to tilt to funds with a strong and consistent level of alpha generation. PIMCO taxable CEFs have delivered very strong levels of alpha historically in the multi-sector CEF space - registering high values across our two different alpha metrics.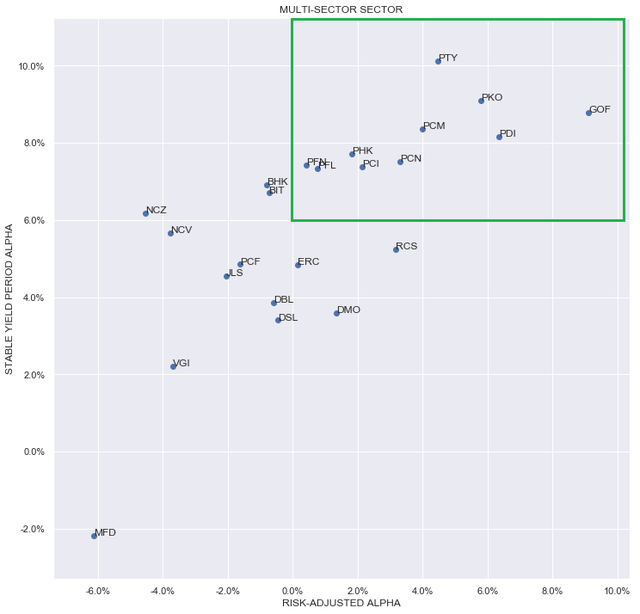 Source: Systematic Income
We keep a foot in the PIMCO suite via PDO which features a relatively low premium in the suite and a term structure that is likely to keep the premium relatively well anchored. As we highlighted above, the fund also features a low level of distribution vulnerability due to the combination of its low NAV distribution rate and high leverage. Since the PIMCO taxable CEFs are run by the same group of managers, the fund offers access to the same alpha strategies in a more resilient investment vehicle.