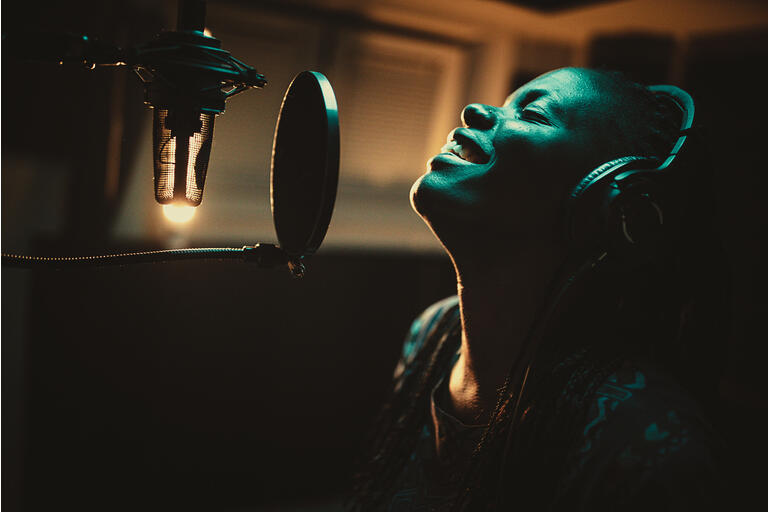 This article is the first in a series of two articles. The next one will be a deep dive on Universal Music Group (UMG).
Investment thesis
The thesis on Bollore (OTCPK:BOIVF) is mainly based on the discount on which the shares trade relative to the company's NAV. The reason for this discount lies in the great complexity of the structure to which Bollore belongs. This structure was created by Vincent Bolloré, Chairman of l'Odet. The structure is designed so that all group companies hold shares in themselves indirectly through other group companies, which reduces the net number of shares outstanding considerably.
This detail means that when calculating the value of Bollore, we have to use the net share value, i.e., the outstanding shares minus those shares of Bollore held by group companies in which Bollore has a controlling position.
Bolloré is listed at a discount, so investing in it would expose their various assets at a price below their NAV. This includes UMG, the global leader in music production, 60% of which will be listed in September 2021 for €33b. This is another important catalyst when investing in Bolloré.
Compagnie de l'Odet
Financiere de l'Odet, or Compagnie de l'Odet since 2020, is a financial company, based in France, which has the control of Bolloré, a business holding company. Both companies are controlled by the Bolloré family and managed mainly by Vincent Bolloré, who is the architect of the whole scheme we will explain now.
As mentioned above, l'Odet controls Bolloré, which is a holding company whose operations are divided into three different businesses:
Transportation and Logistics
Communications and media (Vivendi)
Electricity storage systems (batteries)
In addition, the group manages several financial assets comprising agricultural farms in the USA, fixed assets and a portfolio of financial assets representing around 5b euros, including Bolloré itself and the portfolio of Vivendi, one of the group's companies.
Within the complex organizational structure, Bolloré is the holding company for those businesses that generate sales and profits, employing more than 79,000 people and coordinating and managing the different business divisions.
The investment thesis has two key points:
On the one hand, there is Vivendi's position in Universal Music Group. The key here is that Vivendi, a company within the Bolloré ecosystem, and itself a holding company, trades at a discount to its NAV (which is common for holding companies) and Bolloré also trades at a discount to its NAV. L'Odet, the holding company that controls Bolloré, also trades at a discount. Therefore, buying Bolloré would buy Bolloré itself at a discount, Vivendi at a discount, and consequently UMG at a discount. We will look at this in more detail a little later.
The second point is precisely the discount at which Bolloré is trading, as the market is valuing it using the bulk of outstanding shares when in reality, less than half of its shares are outstanding. Its NAV per net share is much higher than the market believes.
To understand both points, it is necessary to understand the whole structure that Vincent Bolloré has formed. The complexity is high, and it is impossible to extract the percentage of ownership in Excel since the structure is pyramidal and circular. Specifically, the structure of the group is formed by circles within circles within circles...
The following chart is taken from Bolloré's 2013 registration document and gives us a very simplified idea of the group.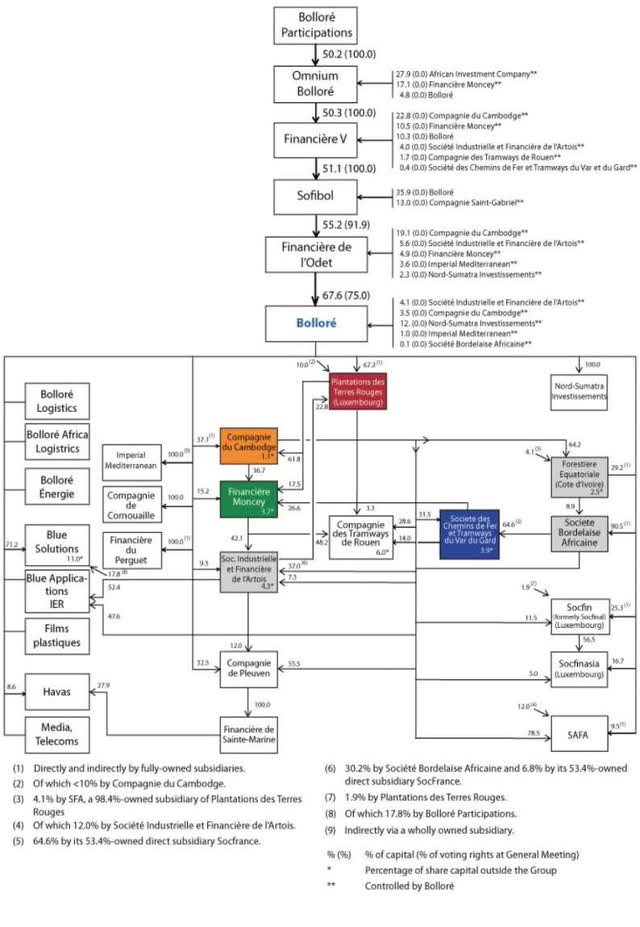 Source: Muddy Waters Research: "Bolloré: Complexity Creating Arbitrage with over 95% Upside"
We will explain the keys to this scheme, but to do so it is necessary to understand the reason behind this complexity.
In countries such as the USA, companies listed on the financial markets are allowed to have two classes of shares, where some have a greater number of voting rights than others. Facebook, for example, has two classes of shares, which allows Mark Zuckerberg to control 60% of the business with only about 20% of the capital. In other words, to control the entire business, Zuckerberg does not need to put up the equivalent capital.
In France, this is not so simple and companies do not usually have different classes of shares offering different voting rights. The solution is to create a "Breton Pulley system" structure, similar to that of Bolloré. To understand this, here is an example:
A pyramid structure works conceptually as follows. Let's imagine that company A is valued at 100m. Having 51% of company A we would have control of that 100m, but putting in only 51m. Let us call this controlling company, company B. Suppose now that another company (company C) owns 51% of company B, and another (company D) owns 51% of company C, and so on. This means that company C has to put in only 26m and company D has to put in 13.3m.
In short, through this structure, it is possible to take control of a company by putting in less capital than would initially be required. This structure is relatively simple, as it is completely pyramidal and is a model that has been applied in other companies in Europe, although Bolloré was the first. Here we show a similar structure, in this case by Jean-Charles Naouri.
Source: Financial Times: "Casino: Jean-Charles Naouri's last throw of the dice?"
In the case of l'Odet, the structure is as shown in the diagram on the previous page. Starting from the top, we have the Bolloré family controlling 50.2% of a company called Omnium, which in turn controls 50.3% of Financiere V, which controls 51.1% of Sofibol, which controls 55.2% of Financiere de l'Odet, which controls 67.6% of Bolloré (now 64%), which manages the different businesses of transport, logistics, media, etc. However, in this case, Bolloré has a pyramidal structure and also a circular one.
To this pyramidal structure, it should be added that:
Omnium Bolloré, in addition to being controlled by the Bolloré family directly, is also owned 27.9% by African Investment Company, 17.1% by Financière Moncey and 4.8% by Bolloré itself. Both African Investment Company and Moncey are in turn controlled by Bolloré. If we add them together, we have that Bolloré controls 49.8% (4.8% directly, plus 45% indirectly), to which we should add the 50.2% of the Bolloré family. That is, in total, Bolloré, or the Bolloré family, controls 100% of Omnium Bolloré.
If we go down one level, Financière V is 50.3% owned by Omnium Bolloré. The remaining 49.7% comes from: Compagnie du Cambodge with 22.8%, Financière Moncey with 10.5%, Bolloré with 10.3%, Société Industrielle et Financière de l'Artois, with 4%, Compagnie des Tramways de Rouen with 1.7% and Société des Chemins de Fer et Tramways du Var et du Gard with 0.4%. Doing the same as before, we have that all these companies, which are controlled by Bolloré, control 49.7% of Financière V. Therefore, 100% belongs to Bolloré in one way or another.
We do the same process going down the scheme of things and we have that the Bolloré family controls 100% of Sofibol, 91.9% of Financière de l'Odet and 75% of Bolloré. At the end of 2020, l'Odet's position in Bolloré is 64%.
In short, buying Compagnie de l'Odet is equivalent to buying 64% of Bolloré, which ultimately is the company that controls the different businesses with assets and that generate sales and profits. The structure has not changed much since 2013, but to get a slightly clearer idea of what the relationship between l'Odet and Bolloré would look like we have the following diagram: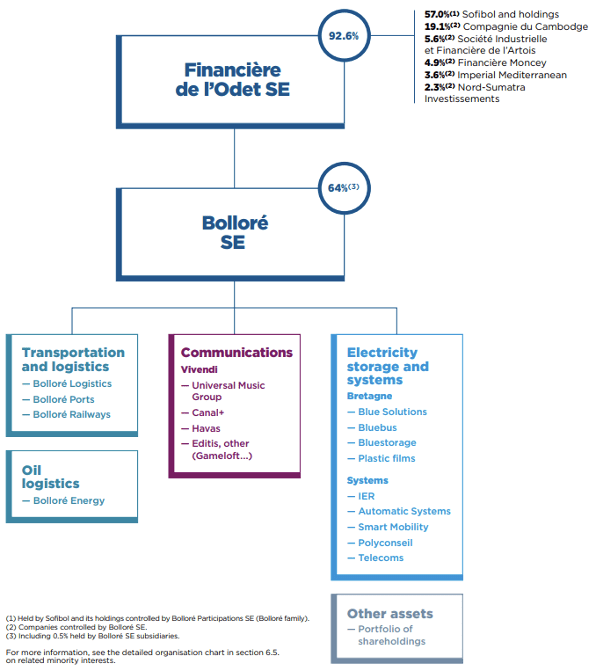 Source: Bollore Annual Report
This is key because the net result of this network of holdings over holdings is that Bolloré owns around 51% of itself indirectly: 22.7% from its position in l'Odet, 16% from Sofibol, 8.2% from Financiere V and 4.1% from Omnium.
For example, l'Odet holds 64% of Bolloré, and Bolloré in turn holds 35.5% of l'Odet, so that, for net purposes, Bolloré holds 22.7% of itself through l'Odet. The same with the other three companies.

Source: Own research
At the close of 2020, Bolloré reported a total of 2,946,208,874 shares, but if Bolloré itself owns 51% of its own shares, the number of net shares outstanding is actually 1,443,642,348. Obviously, if we calculate Bolloré's value, we would have to use the 1.44b shares, and this is where the market gets it wrong and uses 2.95b, causing the company to trade at a discount.
When we discuss Bolloré, l'Odet and the discount on UMG, we will return to this topic.
Having explained the structure, the reason for it and the consequences, we will now briefly discuss the different divisions of Bolloré.
Bolloré divisions
As we have just seen, Bolloré has three distinct divisions. The one we are most interested in is Communications, which is basically the position in Vivendi, which in turn has a position in UMG, which is really the company we are interested in.
Communications
This division is made up exclusively of the holding company Vivendi, which includes UMG, Canal+, Havas and Editis. Most of Vivendi's value undoubtedly comes from UMG, since before the pandemic, at the end of 2019, UMG accounted for 45% of Vivendi's total sales, and it is also the fastest growing and the one with the best prospects.
UMG is the world's largest music company and is part of the "Big Three" industry formed by UMG itself, Sony Music and Warner Music Group. Among some of its artists, we can highlight Lady Gaga, Ariana Grande, The Beatles, The Rolling Stones, U2, Andrea Bocelli, Taylor Swift, Queen, J Balvin, Adele, Drake, Justin Bieber, J. Cole...
At the end of 2020, Bolloré held 27% of Vivendi and 100% of UMG. In 2020, 10% of UMG was sold to Tencent. This 10% was sold for €3b, valuing UMG at an EV of €30b (PwC and EY value it at €33b). In 2021 another 10% is sold again, also to Tencent, with UMG's valuation remaining unchanged. This implies that Vivendi's remaining 80% of UMG has an EV of €24b (80% * 30b). As of today, Vivendi's capitalization is €31.6b after having appreciated substantially since March 2020, and it has a net debt of €4.2b, representing an EV of about €35.8b.
If we accept that UMG is worth €30b, we assume that Canal+, Havas, Editis, Gameloft and the rest of Vivendi's businesses have an EV of €11.8b (24b + 11.8b = 35.8b). In 2019, sales of this group of companies, excluding UMG, were €8.7b, giving an EV/Sales of 1.36x. Additionally, EBITA, again excluding UMG, was €400m, equivalent to an EV/EBITA of 29.5x. We will go into more detail on the valuations of each of the parties later in this report.
In June 2021, the proposed distribution of 60% of UMG shares to Vivendi's own shareholders is approved, so that UMG will be listed on Euronext Amsterdam no later than September 21, 2021. In this regard, Vivendi agreed to sell 10% to Pershing Square, whose offer valued UMG at €35b, although in the end, the deal has not come to light. It remains to be seen whether Pershing Square will acquire a stake in UMG through its fund, rather than its SPAC. In any case, Vivendi's or Bolloré's objective remains to distribute that 60%, which for net purposes would leave it with a 20% position in UMG.
It should also be noted that, during the first half of the year, l'Odet acquired 6m Vivendi shares at €28.31/share, giving the company a 0.54% stake in Vivendi. However, with the position of Compagnie de Cornouaille (controlled by Bolloré), the total position of the Bolloré group at the end of July 2021 is 29.5%.
Vivendi's sales, excluding UMG, are growing at 9% CAGR, mainly due to acquisitions made in recent years, namely that of Havas in 2019. The other businesses are not as interesting as UMG. Canal+, for example, which represents 34% of Vivendi's sales, has not grown since the company segmented its results by company. Gameloft, acquired in 2016, did see significant growth, even doubling its sales between 2016 and 2019, but currently represents only 2% of Vivendi's total sales.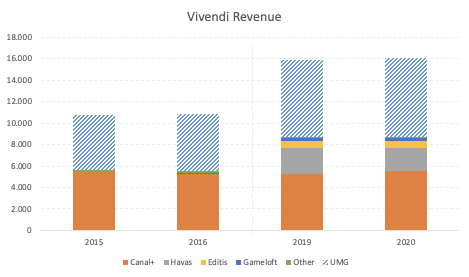 Source: Company reports and own research
At the EBITA level, the results are even worse. In 2015, the EBITA generated by Vivendi, excluding UMG, was €349m, while in 2020 it was €298m. To be fair, most of these businesses are negatively affected by the pandemic, but, in any case, in 2019 EBITA was €402m, which would be equivalent to a 4% CAGR growth, including the €225m of Havas, acquired that same year.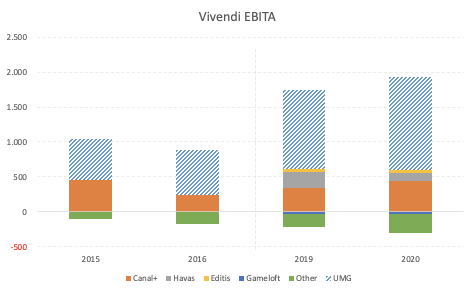 Source: Company reports and own research
Ultimately, Vivendi's most attractive asset is undoubtedly its position in UMG, the holding company's best business. Once it has divested 60% of UMG, Vivendi will keep 20% and it is to be expected that this capital will be used to buy back shares. In fact, at the last shareholders' meeting, the option for Vivendi to repurchase 60% of its outstanding shares, or c.90% if we exclude the c.30% held by Bolloré, was approved.
This is just another optionality and will not necessarily occur, but it is a point to consider.
Bolloré Logistics & Transport
Within this division, we have Bolloré Logistics, Bolloré Africa Logistics and Bolloré Energy.
Bolloré Logistics: Bolloré Logistics is one of the world's 10 largest contract transportation and logistics organization services. BL specializes in luxury goods, perfumes and cosmetics, pharmaceuticals, aerospace, energy and food. Its services include intermodal transportation, customs regulatory management, inventory management, real-time management of goods flows along the production chain, etc.
Basically, when a customer needs to move their goods from one point to another, where there are customs processes, import and export legal documentation and other issues that consume customer resources, Bolloré Logistics takes care of all of this, in addition to the other inventory management services.
In 2020 it generated €3.7b in sales and its historical growth is typically around 3% per year.
Bolloré Africa Logistics: offers its private and public customers, from local and international markets, logistics services on the African continent, and services that allow importing and exporting to Africa, even in the most isolated regions.
The company is present in 42 logistics ports, as terminal operator of these ports. Terminal operations include 16 container terminals in Côte d'Ivoire, Ghana, Nigeria, Cameroon, Gabon, Congo, Togo, Guinea and other countries.
The ports and rail network has been built over many years through relationships with local agencies and continuous capital reinvestment, making it a difficult business to replicate. In 2020 it generated €2.1b after falling 14% compared to 2019. Its sales have not grown since almost 2012. Between BL and BAL, total sales amounted to €5.8b in 2020, with EBITA of €551m.
Bolloré Energy: is engaged in oil distribution and logistics management in France, Switzerland and Germany. The company has a broad portfolio of investments in different companies in each of these countries. In France, for example, it holds 20% of DPL-Lorient, 18% of SDLP-La Rochelle, 33% of Raffinerie du Midi, 14% of EPM-Mulhouse, and controlling positions in several others.
In total, the company has 125 offices and distribution centers, 320 trucks and 75 service stations. In 2020 it generated €1.9b in sales, after a significant drop due to low oil prices, while in 2019 it generated €2.65b. Although sales have been somewhat volatile, EBITA has been less so depending on the oil price and has generally been around €50 - €60m.
Electricity storage and systems
This division consists of Blue Solutions and Blue Systems:
Blue Solutions: It is a manufacturer of vehicle batteries and the only one in the world that integrates all phases of battery design and production. In addition, it is also the only one currently marketing "solid state" batteries. Its batteries are mainly destined for public transport buses. In 2020 they generated €88m in sales.
The main advantage of solid batteries is that they are cheaper to produce and lower weight than traditional lithium batteries.
Blue Systems: This division is composed of several businesses, but most focus on electrical systems for accessing people to facilities, such as automatic gates to access boarding gates at a train station, or automatic gates at a subway station, where you have to pass the ticket through the detector (basically they replace the traditional turnstile). It also includes automatic fences to control vehicle access.
The Electricity storage and systems division generated €280m in sales in 2020, 15% less than in 2019. EBITA was -€102m, although this is a significant improvement compared to 2019, where they generated -€434m.
In conclusion, the distribution of Bolloré's total sales would be as follows: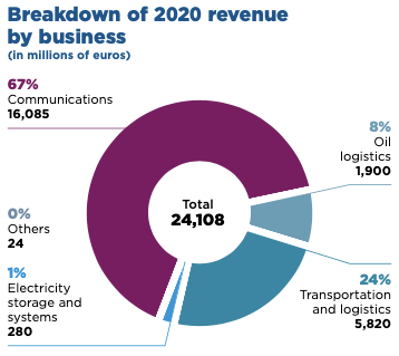 Source: Company reports
Assessment of the parts
Once we have seen Bolloré's business, let us move on to calculate the valuation of each of the parties.
Let's start with the Communications division, i.e. Vivendi. Within Vivendi, we have UMG valued at €30b by Tencent, €33b by Pwc and Ey, and €35b by Pershing Square. Being conservative, we will take Tencent's valuation. To this we add the remaining businesses, for which we will use the price paid at the time of acquisition, the current market value, weighted by Vivendi's current position. For businesses that do not generate profits, such as Gameloft, we have assumed a value of €0. For Canal+, which has not been growing for years, we assume a value of 10x EBITA, which is quite conservative. All in all, we have the following.

Source: Company reports and own research
We get a total NAV of €34.4b for Vivendi. Recall that it currently trades at €31.6b.
The Bolloré group holds 29.5% of Vivendi, so the corresponding NAV is €10.14b.
For the Logistics and Energy businesses, we assume an EBITA multiple of 13x and 10x, respectively, conservative multiples. For Blue Solutions, we assume a value of 0 as it currently generates losses. For the remaining assets, we take the value reported in the 2020 reports, €600m. In total, we have the following.

Source: Company reports and own research
When calculating NAV per share, we have to remember that the bulk of Bolloré shares are actually held by Bolloré itself. Let's review:
Bolloré owns 35.5% of Compagnie de l'Odet.
49% of Sofibol
49.7% Financial V
49.8% Omnium

Knowing that Bolloré itself holds 51% of Bolloré's shares, the total number of shares goes from 2.95b reported shares to 1.44b net shares.
Adding Vivendi's NAV and that of the other businesses, we have the following: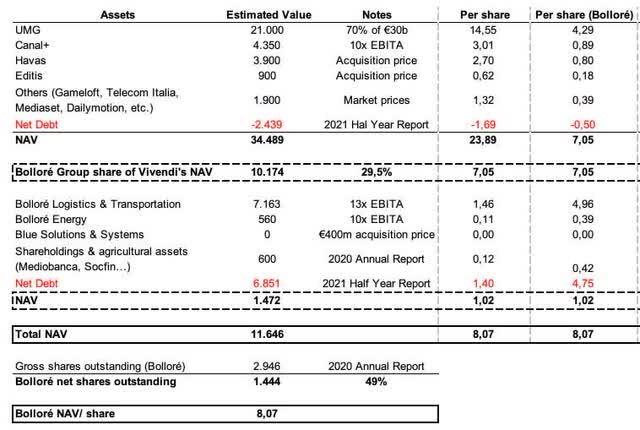 Source: Company reports and own research
Bolloré shares are currently trading at €4.74, implying a discount to NAV/share of 37.5%. As we have already said, the most attractive part of this whole scheme is clearly UMG, which, using Tencent's valuation of €30b, would have a value per share of €4.9 (Bolloré's share), or 65% of Bolloré's NAV/share.
We can make two other scenarios, where UMG's valuation is €33b and €35b, referring to the valuations made by PwC and EY, and Pershing Square respectively.
In both cases, we would have the following results.


A more visual way of looking at it is as follows: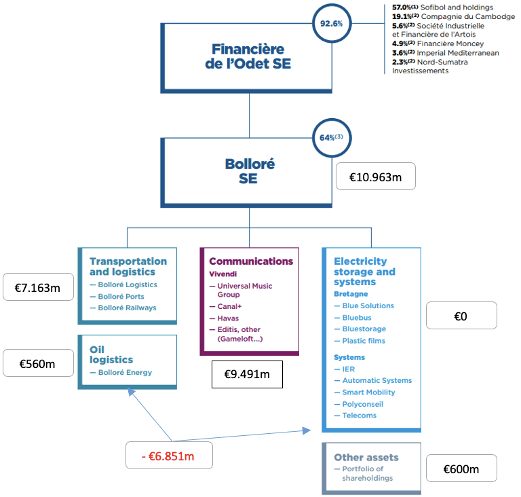 Source: Company reports and own research
Risks and catalysts
Catalysts
One of the clearest catalysts is the further simplification of the structure of the entire Bolloré group.
As we have just seen, Bolloré is currently trading 37.5% below its NAV. The reason for this is the enormous complexity of the organizational structure, causing the market not to realize that Bolloré itself holds 51% of the outstanding shares.
Vincent Bolloré has gradually retired from the executive tables of his various businesses and currently only acts as Chairman of l'Odet. His son, Cyrille Bolloré, is the current CEO of Bolloré and his other son is the CEO of Havas. A simplification of the whole structure would mean reducing the group's activities to a structure of investments in different industries with a single holding company, rather than a collection of holding companies trading at a discount on discounts.
Simplifying the structure should provide greater transparency to the market and, consequently, make the real value of Bolloré known, causing the share price to rise to reflect this value.
Another catalyst is exclusively related to UMG. We are talking about the world's leading music production company, which has under its umbrella global stars such as Drake, Justin Bieber, Taylor Swift, Rolling Stones, Andrea Boccelli, etc. The explosion in streaming services is definitely helping these companies and the estimation is that they will grow at double digits in the long term.
Having exposure to UMG through Vivendi, which trades at €30b, the same as UMG's valuation (or less), would mean taking the rest of the businesses for free (Canal+, Havas, Editis...). In addition, Bolloré, which controls Vivendi, also trades at a discount.
Thirdly, UMG is expected to go public in September 2021, at least 60% of the 80% currently held by Vivendi. That 60% going public will do so at the valuation currently being given to UMG, of €33b. This means that Vivendi's shareholders, which includes Bolloré, would receive their proportionate share of UMG, but at market price. In other words, by investing in Bolloré, we get UMG discounted and in the spin off, it becomes worth the €33b, so it is a clear arbitrage opportunity.
We have the possibility of Vivendi entering into a huge share buyback program, thanks to the capital raised by UMG. Specifically, we would be talking about €19.8b (60% of €33b).
Shareholders have given Vivendi the green light to have the option to buy back shares, up to 60% of the outstanding shares. Given that Bolloré holds about 30% of Vivendi, we would actually be talking about Vivendi being able to buy back almost 90% of its outstanding shares.
This is obviously a major catalyst as Bolloré would go on to control significantly more than it currently owns, above even 50% of Vivendi after the UMG spin-off.
This is not certain to occur, it's just another possible catalyst. In fact, Vivendi has not always executed its share repurchase programs and, in most years, they were not 100% executed when it has done so.

Source: Company reports and own research
There are other smaller catalysts that can help increase the value of the operation, but we do not believe they are on a par with those we have discussed so far.
On the one hand, we have Canal+, a pay-TV platform that has not grown for years. It has recently surpassed 20m subscribers, most of these in France, where it has a large enough audience base to leverage its content and start growing.
Editis, a publishing company that recently merged with Hachette, creating one of the largest publishing companies in the world, if not the largest. This merger is in an already highly concentrated industry, so market share increases substantially with M&A, although we have no hard data on this.
Finally, we have the Blue battery business, which we have valued at €0 in our piecewise valuation as it is currently not generating a profit, and has not since it was acquired.
Our understanding of the technology behind Blue batteries is nil, so it doesn't make much sense for us to count it as a positive factor. We know it's there and maybe it will explode and generate benefits. It's a possibility. Anyway, even if it's worth 0, by buying Bolloré we get this optionality for free.
Risks
The folks at Muddy Waters were the first to notice the web formed in the Bolloré ecosystem and the fact that Bolloré itself owned as much as 51% of itself, causing it to trade at a substantial discount. This discovery was made in 2015 and the thesis, beyond the simple fact that Bolloré was trading at a deep discount, was that Vincent Bolloré would eventually simplify the structure, bringing out its full value in the face of the market.
Six years later and this has still not happened. Bolloré could continue to increase its NAV without the share price reflecting this, which is positive, but obviously for investors to "take it out of the ballpark" there has to be a simplification of the whole structure and the gap between the NAV and the capitalization of Bolloré has to be closed.
There are several ways in which such a simplification could occur. For example, l'Odet could be absorbed by Bolloré so that l'Odet's 64% stake in Bolloré would pass to Bolloré, causing Bolloré to reduce the net number of shares outstanding further. In reality, the options are many.
In the possible case where the structure is not simplified for many years, we would be buying a business (Bolloré) that trades at a discount, which has a 27% stake in a holding company (Vivendi) that trades below what one of its companies (UMG) is worth. Additionally, that company, UMG, is a fantastic business, so even if the structure is not simplified, we would be buying, indirectly, part of UMG below its price when it goes public.
In the worst-case scenario in which value does not emerge anywhere in the long term, we are investing in a transport and logistics company in Africa and Europe, with real assets, generating profits, even though it is not growing very much. We would also have a battery business that generates losses today, with the possibility that one day it could become a profitable business. Finally, we would have Vivendi, one of the largest television, music and reading services holding companies in Europe and will also have a 20% stake in UMG.
Other risks are related to taxation when distributing assets or cash to other group companies, shareholders, etc. With such complexity, it is impossible to know how adverse tax events may affect us. In this aspect, we would be completely blind. At the beginning, we have seen a simplified outline of the structure of the Bolloré system. To really get an idea of the complexity we are talking about, we have the following image, which shows the different connections of one of the subsidiaries, Financiere Moncey, with the rest of the group.

Source: Muddy Waters Research: "Bolloré: Complexity Creating Arbitrage with over 95% Upside"
As can be seen, the complexity is absolute, so that calculating any tax impact on holding companies is a futile effort.
There is also the risk that a good part of the business is based in countries where the business culture leaves much to be desired and where corruption is the order of the day. These are not businesses we like to be in as they are exposed to risks beyond our control and understanding.
Vincent Bolloré
Vincent Bolloré is the key figure in all this, as everything depends on him.
We can start by saying that Bolloré has increased its BV by 13-14% annualized historically, so Mr. Bolloré must have done something right. In our view, VB is a good businessman, rather than a pure financial investor. However, sometimes one thing leads to another.
Generally, he operates to identify attractive industries and geographies and looks for targets to acquire and improve his operations. He is also known to increase his positions in public companies until he obtains a significant position, and then tries to make operational changes to improve the business. Here are some examples of deals he has done.
In 1997, he began acquiring shares in Bouygues SA, one of the largest construction companies in Europe. He acquired more than 10% of the business until he finally presented himself to the company's owners, the Bouygues brothers, who at the time held 15% of the capital and 22% of the votes. The brothers considered the purchase to be amicable and decided to merge their position with that of VB. The agreement prevented either party from selling its position without the other's permission.
After joining the table, he tried to get the company to sell the Bouygues Telecom business and change the entire company's accounting system, refusing to approve the accounts in 1997. The Boygues brothers tried to break the agreement and after his inability to convince the group to sell Bouygues Telecom, he agreed to break the contract. A few days later he sold his shares, making a profit of 1.5b francs in just 12 months.
Another example is Lazard. In 1999 Bolloré bought a position in Rue Imperiale de Lyon, a holding company that controlled 17% of Lazard. VB believed that Lazard was being inefficiently managed and should be spun off.
Under Michel David-Weill, then CEO and a family member that has historically controlled Lazard, Lazard performed poorly, losing considerable market share to its peers.
After David Weill's rejection in his proposal to spin off Lazard, Bolloré increased his position to 31%. He finally sold this position in 2000 to Credit Agricolé for CHF 3.9b, when the initial investment had been CHF 2b. We are talking about a gain of almost 100% in one year.
In 2002 Bolloré began acquiring shares in Vallourec, becoming the largest shareholder in 2003. After doing so, VB began lobbying for the company to buy its own joint venture, Vallourec & Mannesmann Tubes. Since the JV accounted for about 80% of Vallourec's profits, VB considered it logical for the company to take over the JV directly.
Finally, Vallourec's board accepted VB's proposal and paid €711m to acquire the 45% of the JV it did not already own. At the time of the announcement, Vallourec shares appreciated 26%. Starting in 2005, VB began selling his Vallourec shares, first 7.5% in 2005, followed by 10.2% in 2006, 3.5% in 2007 and 3.6% in 2008.
One of the latest moves it has made has been with Ubisoft, the video game company. Bolloré, through Vivendi, acquired more than 27% of Ubisoft in 2016, until the Ubisoft CEO struck a deal with Tencent to prevent Vivendi from continuing to buy shares and thereby taking full control of the company. The deal was eventually valued at $2.45b, more than double what Vivendi had originally paid for Ubisoft shares.
In short, Vincent Bolloré is an activist investor who likes to invest in companies where he believes he can make decisions that impact the business and change the course of the business. He has not always been successful in such transformations, as he has not always been allowed to do so, but he has come out on top even in those cases.
VB is currently 69 years old. As mentioned above, he has already taken the first steps to step away from the various businesses in which he is involved, occupying only the position of Chairman at Compagnie de l'Odet. This suggests that he is taking steps towards retirement and, given that he only holds the position of Chairman of l'Odet, this is the company closest to him.
Conclusion
The investment in Bolloré is done to invest in UMG at a discount, rather than through Vivendi or UMG itself when it goes public in September.
By buying Bolloré, whose shares currently trade at €4.74/share, we would get almost 30% of Vivendi, whose NAV is equivalent to €6.57/share. UMG alone is worth at least €4.9/share, which means that we would be buying UMG at a discount, and we would get the rest of Vivendi's business for free, which, although not as attractive, is certainly worth more than 0.
We would also take the group's other businesses for free, such as the transport and logistics business in Europe and Africa and Bolloré Energy. In addition, we would take the battery business, which currently does not generate a profit, for free.
In short, the most attractive aspect of this operation is to be able to buy UMG at a certain discount and additionally take the rest of the business for free.
To this, we must add the various catalysts we have mentioned. Among them is the possibility that Vivendi will start to buy back shares very aggressively after the distribution of 60% of UMG. We also have UMG's own growth, favored by the explosion in streaming music services.
There is also the risk mentioned earlier regarding unsavory businesses in corrupt countries.