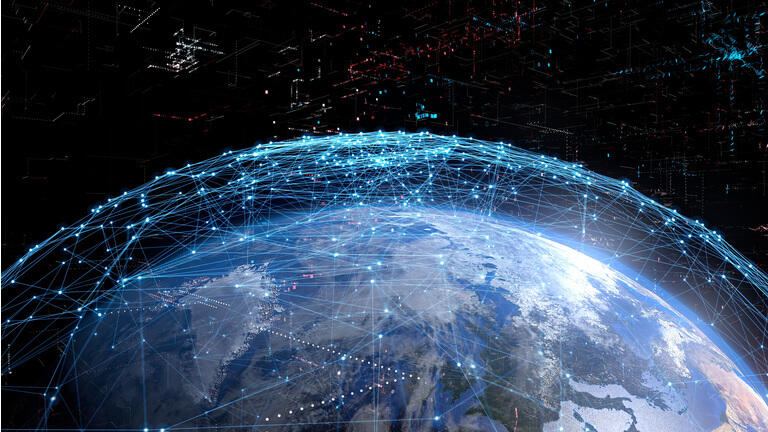 Globalstar's (NYSE:GSAT) shares soared 40% on August 30 after a report by MacRumors which cited expert Apple (NASDAQ: AAPL) analyst Ming-Chi Kuo of TF International Securities, about iPhone 13 using satellite connectivity so that users can make calls and texts in areas without cellular coverage.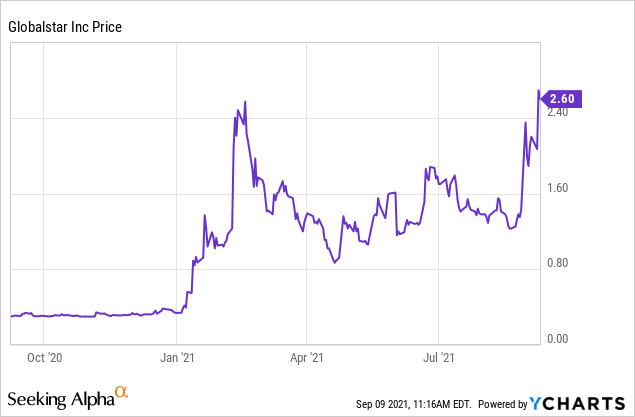 Soon afterwards, there were some further clarification by Bloomberg specifying that those features aren't due soon, but rather for future iPhones and should allow users to issue crash reports or text messages in areas without cellular coverage.
Now, for Apple to even consider adding any satellite-based feature to its global brand would mean a lot for Globalstar, but first, for investors, I make sense of it all.
Reasons for Apple to choose Globalstar
For most of us, our experience with satellite-based internet has meant poor or sometimes erratic connectivity, but these were mostly with the geostationary satellites located far above the earth's surface. Instead, the opportunities offered by Globalstar's Low Earth Orbit ("LEO") satellites are much better, especially in areas that don't have 4G or 5G cellular coverage.
To have an idea of the potential of LEO satellites, one can take a glance at Elon Musk's SpaceX's (SPACE). These have been deployed at locations in the U.S and the U.K. with several customers already having signed up to the service. Bench-marking by Speedtest showed download speeds of 97.23 Mbps, or far superior than those for other traditional providers. This speed was lower than the 115.22 Mbps median speed for fixed broadband providers, but makes sense for "disadvantaged locations" where telcos find it uneconomical to lay down additional fiber or expand cellular coverage.
Therefore, given the enormous potential of the blending between the iPhone and satellite connectivity, news about Apple using Globalstar's network only for emergency purposes seems more aimed at not alarming its telco partners with whom it has been working since decades.
This blending is made possible by Qualcomm's (NASDAQ: QCOM) inclusion of Globalstar's band n53 in its new 5G X65 modem. This should also expand the satellite operator's potential device ecosystem significantly to include smartphones, laptops and tablets.
For investors, the Snapdragon X65 will be released in the fall of 2022, most likely into next year's iPhone. Better peak performance and other benefits should be there, but some will require carriers to upgrade their networks. On the other hand, with band n53, one can imagine the transformation of future mobility communications with a single operator plan anywhere in the world, without necessitating roaming, with no need to buy local SIM cards.
Globalstar's differentiation
Thus, this is not just about emergency calls or messaging and in a way, shows Globalstar's edge as a satellite network operator over telco's mobile network operations.
Now, satellite communications is a huge industry, estimated at $56.01 billion in 2019 and expected to hit $99.58 billion by 2027, registering a CAGR of 9.2% from 2020 to 2027. Going deeper, there are several satellite operators and service providers, with Iridium (IRDM) and Orbcomm (ORBC). Other companies are involved in space technology like DISH Networks (DISH) and AT&T (T).
Here, GlobalStar seems to be having some key strengths with respect to peers.
According to the company's website, its strategically placed gateways offer local network access and national numbering plans as opposed to other LEO systems that require expensive international dialing for all calls. Also, Globalstar has a unique design which allows it to offer the most attractive local dialing and pricing plans to customers.
Pursuing further, Globalstar's 24 ground stations also serve as a bridge between LEO satellites and traditional communications infrastructure on six continents, with coverage spanning across over 120 countries throughout the world. Furthermore, the second generation ground infrastructure is based on the Internet protocol multimedia subsystem ("IMS") protocol, which facilitates the use of IP (Internet Protocol) for packet communications over wireless or landline.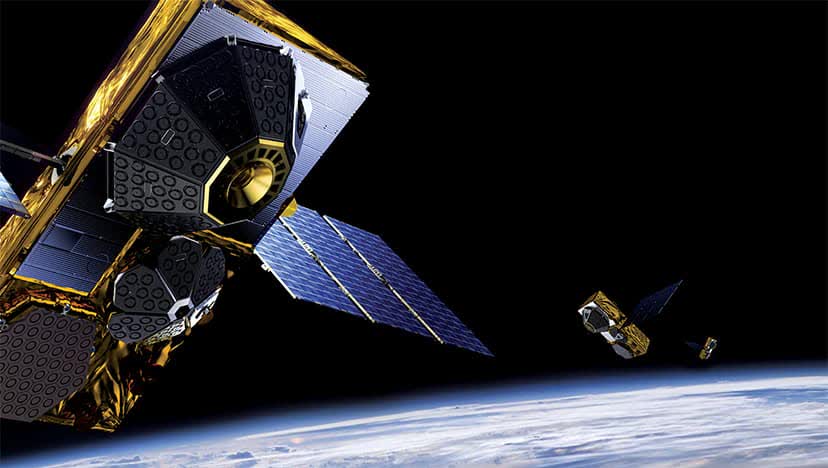 Source: globalstar.com
Consequently, Globalstar brings some attractive metrics for a behemoth like Apple looking to penetrate new markets. In this respect, according to a source, more than five billion mobile subscribers constantly move in and out of wireless coverage, representing a huge TAM.
Bagging a contract with Apple, even a partial one, or in partnership with another peer would increase the volume of new subscribers, which should in turn more than offset the current revenue impact from lower ARPU (Average Revenue per User).
The revenues
Overall sales have gone down in the second quarter of 2021 compared to last year as higher revenue generated from subscriber equipment related to SPOT (the largest segment) was offset by lower service revenues. For investors, SPOT is a GPS tracking device that uses Globalstar's satellite network to provide text messaging and GPS tracking.
Looking deeper, service revenue also decreased over the prior year's quarter due to fewer Duplex subscribers, with the decline expected to continue as Globalstar focuses resources on other revenue streams, like IoT-enabled devices. This is done in light of the shift in demand across the MSS (mobile satellite services) industry.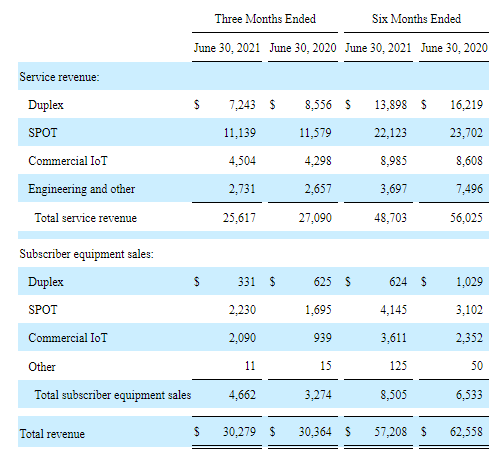 Source: Seeking Alpha
Interestingly, service revenues generated from commercial IoT subscribers increased 5% in the second quarter of 2021 driven by higher ARPU compared to the prior year's quarter. Additionally, IoT equipment sales were up significantly from the prior year period, which is a key indication of future service revenue growth.
Thinking aloud, lower ARPU for SPOT also points to competition, with Globalstar competing aggressively on price in the industrial, governmental and consumer markets. Looking at satellite phones and communication gadgets, some of the competitors include Garmin's (GRMN) InReach, Iridium Go and the Thuraya X5-Touch, which is a dual-SIM Android smartphone.
As a result, the company has to cut prices with its "competitively-priced service plans being lower than historic rates". Therefore, SPOT revenues should continue to decline in the near term, with higher volumes of activations not being able to offset the effects of lower ARPU on sales.
A comparison with rival Iridium shows contrasting revenue trends, with Globalstar being on a fluctuating trend since the end of 2019, coinciding with more competition.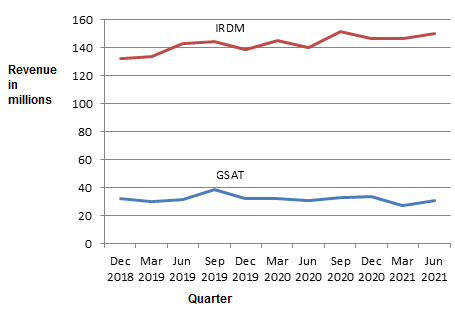 Source: Charts built through data from Seeking Alpha.
Therefore, adopting a cautionary posture, a change in the revenue-generating model geared towards IoT may take time to execute, whereby sales figures could drop further. This may in turn lead to missing topline expectations during the third quarter results, causing the share price to dip. For this matter, as I had pointed out in my previous thesis, one of the risks in investing in Globalstar is its dependence on the fortunes of the oil and gas industry.
On the positive side, the company continues to reduce leverage, with less than $50 million of net first lien principal outstanding at the end of Q2-2021.
As of June 30, 2021, the company held $15.7 million and $51.0 million of cash and restricted cash respectively. Globalstar has received an additional $37.5 million in advance payment from a customer. The new payment is under "substantially the same terms" as a similar $37.5 million payment received on June 9. As with the other payment, Globalstar will use the new $37.5 million in proceeds to pay down indebtedness under its first-lien credit facility. In the last report, the company had $313.4 million in long-term debt.
Valuations and key takeaways
As much as 16% of revenues were derived from IoT in the first six months of 2021, up from 14% in the same period last year. Now, in a market growing at 10.1% from 2019 to 2025, there is a lot of scope, but it will also depend on Globalstar's ability to meaningfully identify, pursue and close large deals. This should contribute to further diversify its revenue base away from full Duplex.
The company has also performed successful field testing for remote monitoring in the alternative energy industry, which it expects to materialize into future sales, but without mentioning a timeline.
Furthermore, this is a loss-making company with losses from operations having increased by $0.6 million during the second quarter of 2021 compared to last year. Earnings per share which was -$0.01 for the second quarter is expected to be the same in the third one. This compares to positive figures for the communications sector, which boasts forward Price to Earnings multiples of 20x. This signifies no buying opportunity based on fundamentals.
The only way Globalstar's loss status could change rapidly is commercialization of its n53 spectrum in the U.S. and other countries through presence in the iPhone ecosystem. A partnership with Apple will permit expansion of the satellite communications business, more effective utilization of network assets and enable Globalstar to leapfrog rivals. The fact that both companies work with Qualcomm is a positive for Globalstar.
This said, in absence of corporate announcements, Globalstar's stock has been surging amid ongoing speculation that its satellite communication technology may be included in Apple's new iPhone models, resulting in high Price to Sales multiples of over 2000% with respect to the communications sector.
Consequently, for rational investors, it is preferable to wait for an update at the "California Streaming" event on September 14 before making a decision. In the meantime, the stock could drop to the $2 support level.