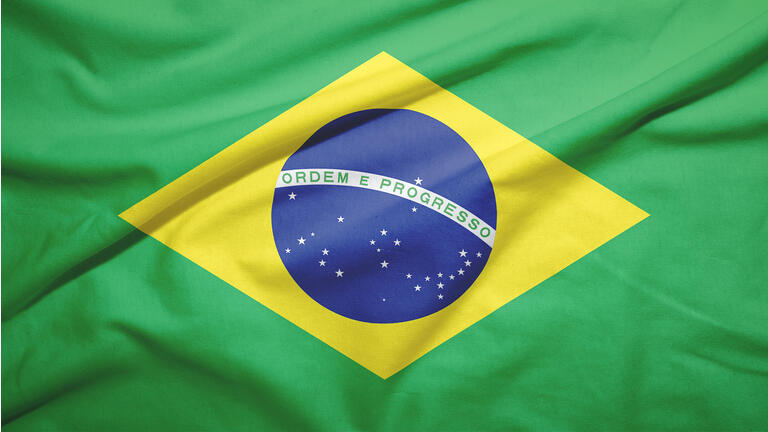 By Ram Bala Chandran
Market weakness amid political uncertainty may point to value opportunities.
Brazilian assets have underperformed since the end of the second quarter, with weakness across all asset classes: FX, credit and rates. This has occurred at a time when market participants have continued to revise growth expectations higher, toward 5.5% for 2021.
In FX, we think the bulk of the weakness came with the repricing of China-sensitive assets on lower growth expectations. For now, rate hike expectations from the Brazilian central bank and higher carry versus the rest of EM has prevented the real (BRL) from underperforming similar currency investments.
On the rates front, a combination of negative YTD returns and increased political risk has forced several market participants to unwind their receivers in the long end of the curve. Forward rates are already implying a central bank target rate of well above 11% in the medium term.
Fundamentally speaking, we don't see a need for Brazil rates to go to 11%. With central bank communication shifting toward an eventual pause, we expect curves to continue their steepening bias into 2022. The relative attractiveness of the front end continues to increase, with inflation likely peaking in year-over-year terms.
In credit, Brazil has widened a bit more than comparable stable BBs in Latin America since June. We would not expect much more widening from here should global growth expectations start to creep higher. Given that a large amount of public debt is in local currency, USD debt is generally better-shielded than in countries with pegged exchange rates or large external debt levels.
Regarding fiscal developments, it's still too early to see how 2022 spending decisions will go. There is risk that the spending cap could be breached, but it's well-flagged and the administration will continue to try to address the cap as politically amenable as possible in a pre-election year. Gross debt to GDP is now expected to end 2021 around 82% while net debt to GDP should finish at around 63%.
We continue to believe BRL offers value compared to other China proxy currencies despite the increased fiscal noise. The FX undervaluation by most measures remains at around 15% versus peers. However, to see more meaningful appreciation in BRL, we'll need further improvement in global growth expectations, specifically from China. On the rates front, we expect curves to continue to steepen as the market looks toward a very uncertain election in 2022.
This material is provided for informational purposes only and nothing herein constitutes investment, legal, accounting or tax advice. This material is general in nature and is not directed to any category of investors and should not be regarded as individualized, a recommendation, investment advice or a suggestion to engage in or refrain from any investment-related course of action. Investment decisions and the appropriateness of this material should be made based on an investor's individual objectives and circumstances and in consultation with his or her advisors. Information is obtained from sources deemed reliable, but there is no representation or warranty as to its accuracy, completeness or reliability. All information is current as of the date of this material and is subject to change without notice. The firm, its employees and advisory accounts may hold positions of any companies discussed. Any views or opinions expressed may not reflect those of the firm as a whole. Neuberger Berman products and services may not be available in all jurisdictions or to all client types. This material may include estimates, outlooks, projections and other "forward-looking statements." Due to a variety of factors, actual events or market behavior may differ significantly from any views expressed.
Investing entails risks, including possible loss of principal. Investments in hedge funds and private equity are speculative and involve a higher degree of risk than more traditional investments. Investments in hedge funds and private equity are intended for sophisticated investors only. Indexes are unmanaged and are not available for direct investment. Past performance is no guarantee of future results.
This material is being issued on a limited basis through various global subsidiaries and affiliates of Neuberger Berman Group LLC. Please visit www.nb.com/disclosure-global-communications for the specific entities and jurisdictional limitations and restrictions.
The "Neuberger Berman" name and logo are registered service marks of Neuberger Berman Group LLC.
© 2009-2021 Neuberger Berman Group LLC. All rights reserved.
Editor's Note: The summary bullets for this article were chosen by Seeking Alpha editors.