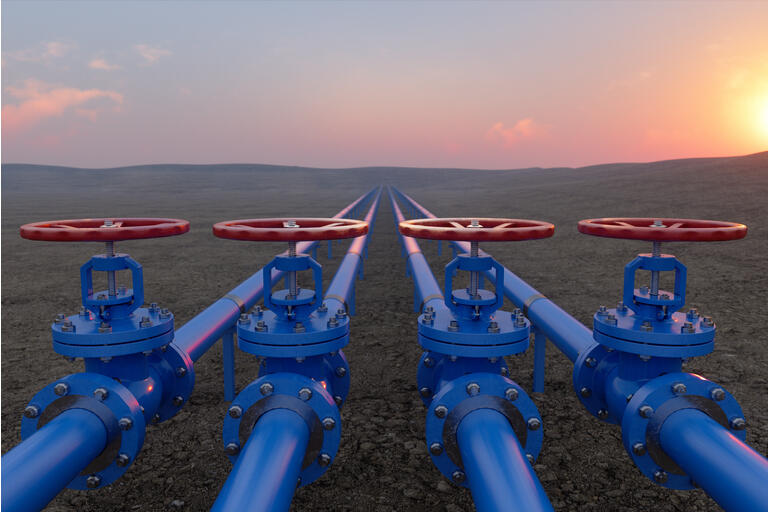 Author's note: This article was released to CEF/ETF Income Laboratory members on August 16, 2021.
Long-time readers know I used to focus on energy, midstream, and MLP securities and funds. I've been meaning to revisit some of my older calls on the space, as I think recent market developments might make for some interesting retrospectives.
One of my prior calls was a very bullish rating on First Trust Energy Income & Growth (NYSE:FEN). In that article, I claimed that FEN's diversified holdings and its C-corp and utilities investments made it one of the safest choices in the midstream energy space.
Although leveraged MLP CEFs have all performed quite badly these past few years, FEN's diversified holdings and overall strategy were successful in minimizing shareholder losses, as expected. FEN has been the second-best performing MLP CEF these past few years, behind First Trust Energy Infrastructure Fund (FIF), which also had a very bullish rating.
I thought investors might be interested in looking at why, exactly, FEN has performed so well these past few years and what led me to believe that this would be the case so many years ago. Doing so might help investors make better, safer investment decisions moving forward.
FEN's diversified high-quality holdings and comparatively low leverage ratios were instrumental in the fund's industry-beating performance these past few years. Focusing on funds with FEN's characteristics, including FEN itself, should minimize investor losses during downturns moving forward. I'll explain in some detail why and how to do so.
As a final point, I thought to do a quick table summarizing my prior energy fund picks and calls. Results were quite strong.

Source: Author
Energy Industry - Quick Overview
Energy industry picks are quite popular in the Seeking Alpha dividend investing community, as energy offers investors strong yields and cheap valuations. As per JPMorgan, the energy industry has the highest yields in the market today and is the only industry with historically above-average yields.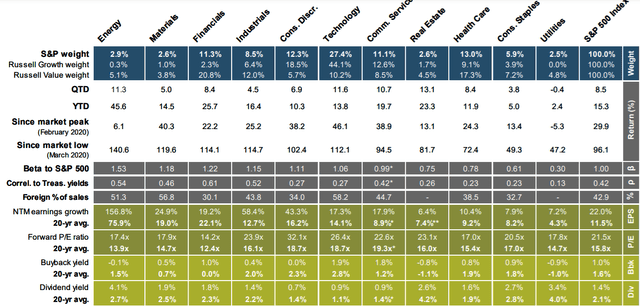 (Source: JPMorgan Guide to the Markets)
The energy industry is also, in a very general sense, not particularly appropriate for most retirees. Energy prices and stocks are incredibly volatile, much more volatile than average, but retirees need safe, dependable dividends, and stable share prices too.
Midstream energy companies are generally quite stable and definitely more stable or less volatile than the average energy industry company and might make sense for retirees.
For those that don't know, the midstream energy industry encompasses the companies focusing on transportation, distribution, transmission, and storage of crude oil, natural gas, and other petrochemical products.
The typical midstream energy company transports oil products from one place to another. From, say, the oil-rich Western Canadian province of Alberta to refining centers in the Eastern United States. Enbridge (ENB) and Enterprise Products Partners (EPD) are two of the largest midstream energy companies in the world and emblematic of the industry.
The typical blue-chip midstream energy company focuses on these same activities, with a couple of important distinctions. Specifically, the average blue-chip midstream energy company focuses on the transportation of energy products for a flat fee, with effectively zero commodity price exposure. Details vary, but the end result is the same: stable revenues and earnings, and growth throughout the entire commodity price cycle.
Blue-chip midstream energy corporations tend to be fantastic investment opportunities. They are particularly well-suited towards income investors and retirees, due to their strong, safe, dependable dividends. Enbridge is the prototypical blue-chip midstream energy corporation. I wrote more about Enbridge here, including a more in-depth analysis of the company's (reasonably) strong performance these past few years.
Enbridge, and companies like Enbridge, tend to be significantly safer than average for the industry, due to their comparatively low commodity price exposure. This leads to outperformance during downturns, recessions, and commodity price crunches. As an example, Enbridge outperformed the broader energy industry during 1Q2020, the onset of the coronavirus pandemic.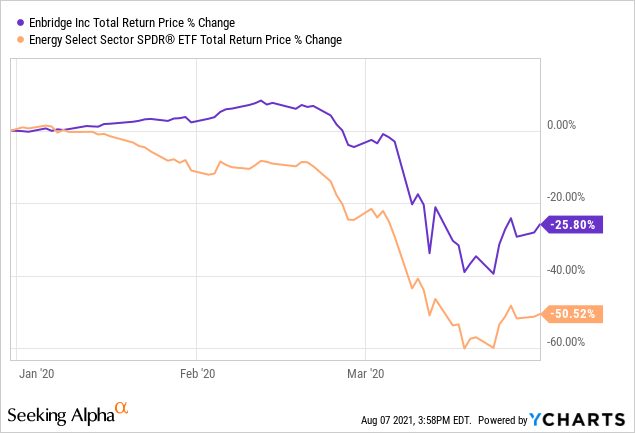 Consistent revenues and earnings also lead to strong long-term returns. It is difficult to outperform when your financials are very volatile, after all. Enbridge has also significantly outperformed its industry since inception, and during most relevant time periods.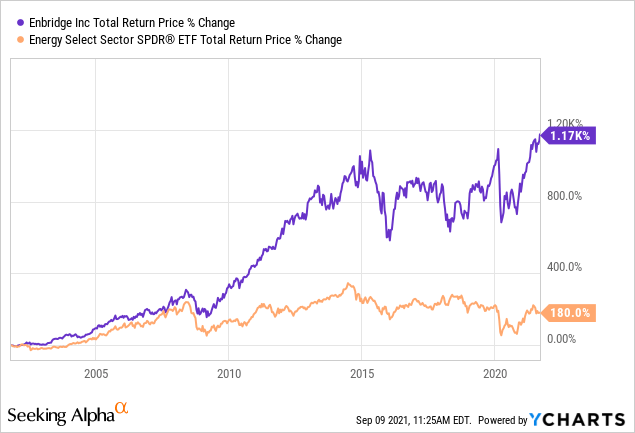 There is a very clear, obvious conclusion to the above.
Retirees and income investors should focus on blue-chip midstream energy companies for their energy exposure. These are fantastic investments with industry-beating returns, strong dividend yields, and are safer than average too, a solid combination. The possibility of outsized gains during commodity price upswings and bull markets is somewhat lessened too, but this is less of an issue for income investors and retirees.
Differentiating between blue-chip midstream energy companies and riskier plays is not trivially easy, but it is not terribly difficult either. Companies will generally argue that their revenues are stable with no commodity price exposure. Companies for which this is actually true will generally have very convincing data backing them up, which you double-check with their accounting, annual reports and the like. Companies for which this is more of an aspiration will generally have no data backing them up, just words, and their accounting should show severe revenue and earnings drop during previous downturns and commodity price crunches.
I looked at most of the large, relevant midstream energy corporations, and settled on a couple that seemed to be particularly strong. These include Enbridge, TC Energy (TRP), Enterprise Product Partners, and Pembina Pipeline (PBA). There are others, but not many.
Selecting the most appropriate energy funds is then quite easy. Simply look at a fund's holdings, index, and overall investment strategy, and select those that focus on blue-chip midstream energy corporations.
FEN itself invested/invests quite heavily in EPD and TRP, two very strong choices in the space. FEN's other holdings were generally quite good too, with the fund avoiding excessively risky plays and suckers yields.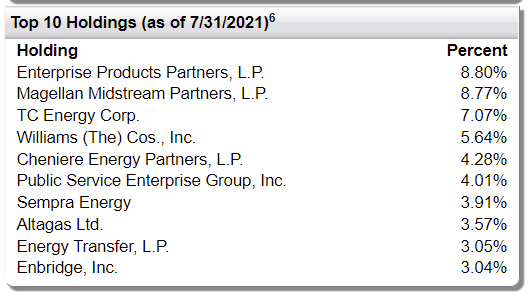 (Source: FEN Corporate Website)
FIF and MLPX, my two other energy fund picks, also focused on similar blue-chip midstream energy companies. These two were safer than FEN, but also lower-yielding and with lower potential returns.
As mentioned previously, these holdings have comparatively stable revenues and earnings and low commodity price exposure. These characteristics helped to minimize losses during the coronavirus pandemic. FEN fared worst of my picks but still reasonably well relative to the industry.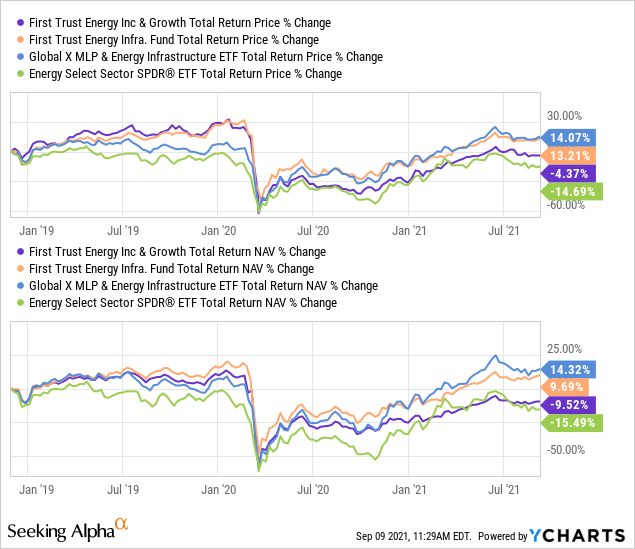 FEN's returns don't look particularly strong, but the fund fared much, much better than average. FEN outperformed the average MLP CEF by, roughly, 15% per year on both a NAV and price basis. Look at the performance, and it seems like FEN's high-quality holdings were able to prevent most shareholder losses, but not all.

(Source: Cefdata.com)
Two small points.
FEN also included some smaller investments in utilities and REITs. I thought these investments would further reduce losses, as I was envisioning a more normal commodity price crunch. We instead got a more generalized bear market in which everything was down, and so this source of diversification had little impact on the fund's performance.
FEN's comparatively low leverage ratio was also instrumental in reducing shareholder losses, as the fund was not forced into selling assets to service its debt. Most other leveraged MLP CEFs fared much worse in this regard. I explained the issues with leverage in this article.
Focusing on high-quality midstream energy companies and funds was the obvious choice in prior years. Hopefully understanding why this is the case is of use and interest to readers. As mentioned previously, I'm simply trying to explain the logic behind some of my prior (successful!) energy calls. These are battle-tested funds and analysis, and I think that matters.
Conclusion - Buy High-Quality Midstream Energy Companies and Funds
FEN's diversified high-quality holdings and comparatively low leverage ratios were instrumental in the fund's industry-beating performance these past few years. I remain bullish about the fund for the same reasons.