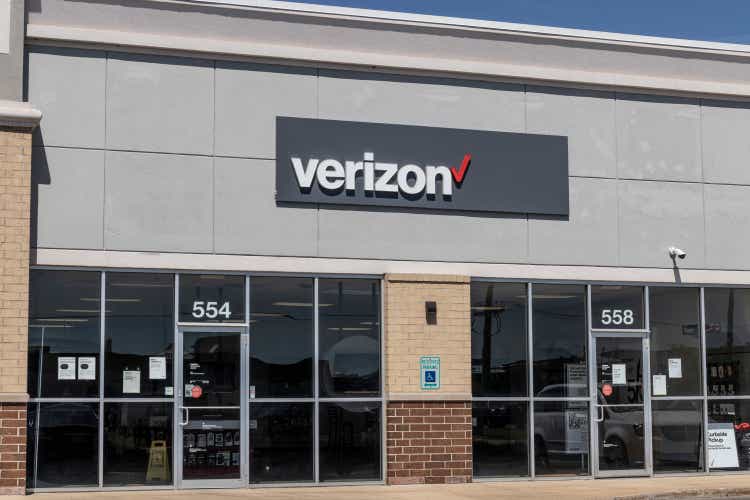 We monitor dividend announcements for stocks in Dividend Radar, a spreadsheet of stocks with dividend streaks of five years or more. Readers are invited to download the spreadsheet for free. The Dividend Radar spreadsheet separates stocks into categories three categories: Champions (with increase streaks of 25+ years), Contenders (10-24 years), and Challengers (5-9 years).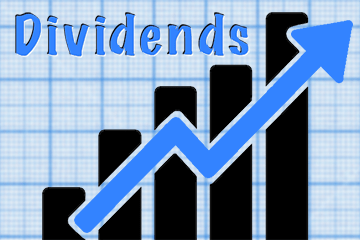 Source: Created by the author
In the past two weeks, six companies in Dividend Radar declared dividend increases, including one of the stocks I own. No companies announced dividend cuts/suspensions during this time period.
The table below presents a summary of the dividend increases. The table is sorted into sections for Champions, Contenders, and Challengers, and then by the percentage increase, (%Incr). Dividends are annualized and in US$, unless otherwise indicated. Yield is the new dividend yield for a recent price and Yrs are years of consecutive dividend increases.
Source: Created by the authors from data in Dividend Radar.
The following dividend increase data are sorted alphabetically by ticker.
Company descriptions are the author's summary of company descriptions sourced from FinViz.
Atrion Corporation (ATRI)
ATRI develops, manufactures, and sells products for fluid delivery, cardiovascular, and ophthalmology applications worldwide. The company sells its products to physicians, hospitals, clinics, and other treatment centers; and other equipment manufacturers through direct sales personnel, independent sales representatives, and distributors. ATRI was founded in 1944 and is headquartered in Allen, Texas.
ChoiceOne Financial Services, Inc. (COFS)
COFS is a financial holding company headquartered in Sparta, Michigan, and the parent corporation of ChoiceOne Bank, which operates 34 offices in parts of Kent, Lapeer, Macomb, Muskegon, Newaygo, Ottawa, and St. Clair Counties in Michigan. ChoiceOne Bank offers insurance and investment products through its subsidiary, ChoiceOne Insurance Agencies, Inc.
Capital Southwest (CSWC)
CSWC is a business development company specializing in credit and private equity and venture capital investments in middle-market companies, mezzanine, later stage, mature, late venture, emerging growth, buyouts, recapitalization, and growth capital investments. CSWC was founded on April 19, 1961, and is based in Dallas, Texas.
First Republic Bank (FRC)
FRC and its subsidiaries provide private banking, private business banking, real estate lending, and wealth management services to clients in metropolitan areas in California, Oregon, Massachusetts, Florida, Connecticut, New York, and Wyoming. The company operates through two segments, Commercial Banking and Wealth Management. FRC was founded in 1985 and is headquartered in San Francisco, California.
New Jersey Resources Corporation (NJR)
Founded in 1922 and headquartered in Wall, New Jersey, NJR is an energy services holding company that provides regulated gas distribution, and retail and wholesale energy services. NJR operates in several business segments, including Natural Gas Distribution, Clean Energy Ventures, Energy Services, Retail Services, Midstream, and Home Services.
Verizon Communications Inc. (VZ)
VZ provides communications, information, and entertainment products and services worldwide to consumers, businesses, and governmental agencies. Formerly known as Bell Atlantic Corporation, it changed its name to Verizon Communications Inc in June 2000. VZ was founded in 1983 and is based in New York, New York.
Please note that we're not recommending any of these stocks. Readers should do their own research on these companies before buying shares.
Dividend Cuts and Suspensions
Following requests from readers, we've added this section to our weekly article series. Please note that we're only covering dividend cuts and suspensions announced by companies in Dividend Radar's spreadsheet.
There were no members of Dividend Radar that announced a dividend cut or suspension in the past two weeks.
An Interesting Candidate
In this section, we highlight one of the stocks that announced a dividend increase. We provide a quality assessment and present performance, earnings, and valuation charts.
Our objective is to identify high-quality dividend growth [DG] stocks trading at reasonable valuations. That's a tough task, though, as high-quality DG stocks often trade at premium valuations. If we can't find a worthy candidate, we'll suggest a stock to add to your watchlist and a suitable target price.
To start, we use DVK Quality Snapshots to do a quick quality assessment, screening our list of DG stocks based on quality scores. Only one stock has a quality score in the range 19-25, the range we usually screen for:

Source: Created by the authors from data in Dividend Radar
So let's look at Dividend Contender Verizon Communications Inc (VZ) this week.
With 17 consecutive years of higher dividend payments, VZ yields 4.72% at $54.23 per share and has a very modest 5-year DGR of 2.2%.
VZ is rated Fair (quality score: 19-22):

Over the past ten years, VZ has underperformed the SPDR S&P 500 ETF (SPY), an ETF designed to track the 500 companies in the S&P 500 index:
Source: Portfolio-Insight.com
Over this time frame, VZ delivered total returns of 142% versus SPY's 369%, a margin of 0.38-to-1.
If we extend the period of comparison to the past twenty years, VZ underperformed SPY by a margin of 0.34-to-1, with total returns of 170% versus SPY's 494%.
VZ's dividend growth is steady but sedate: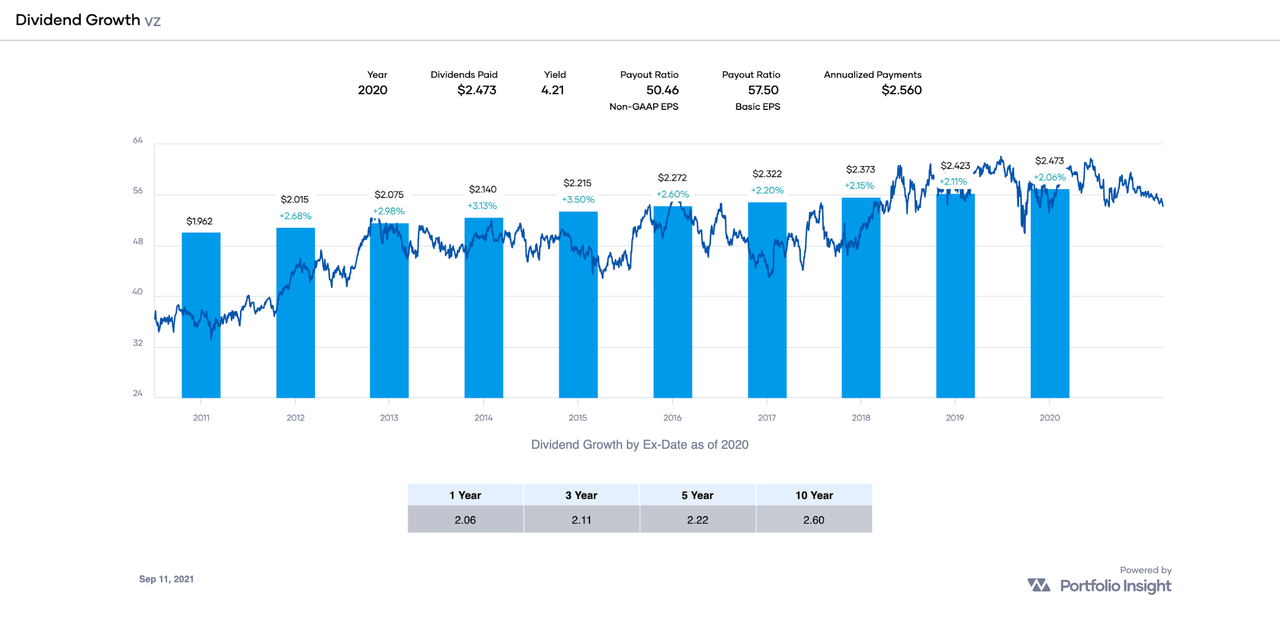 I also look at EPS growth, as dividends primarily are paid from earnings. VZ's EPS also is growing slowly but steadily: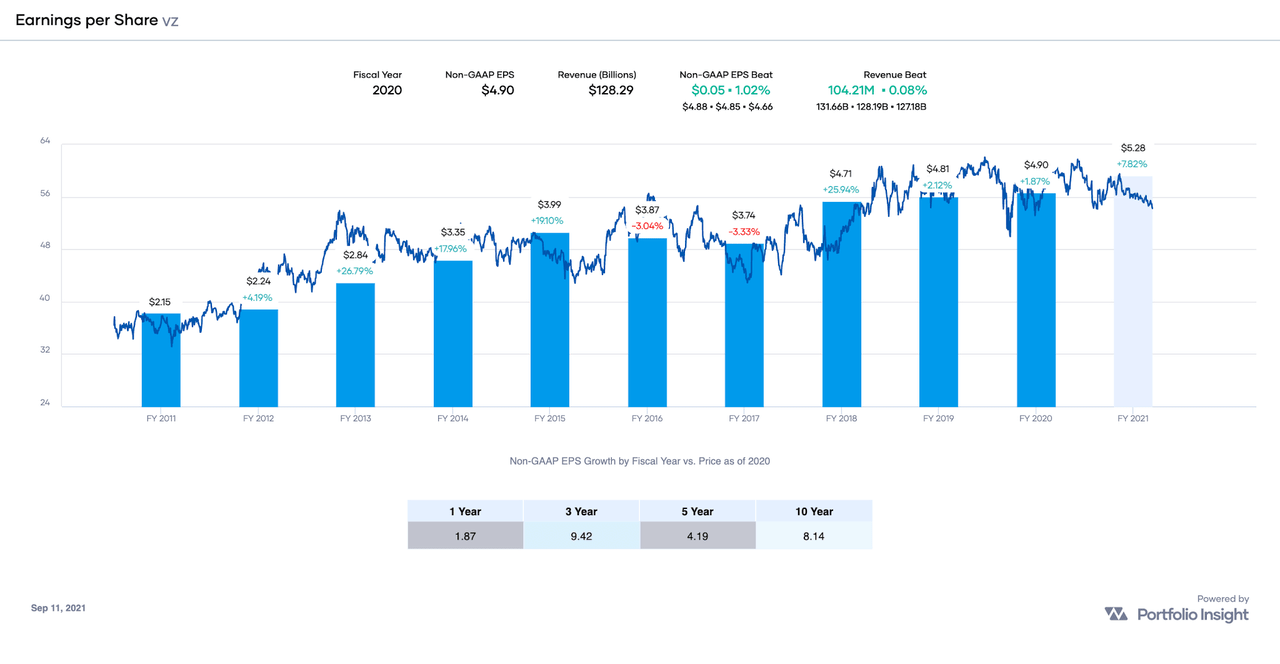 At 49%, VZ's earnings payout ratio is "very low for telecoms", according to Simply Safe Dividends: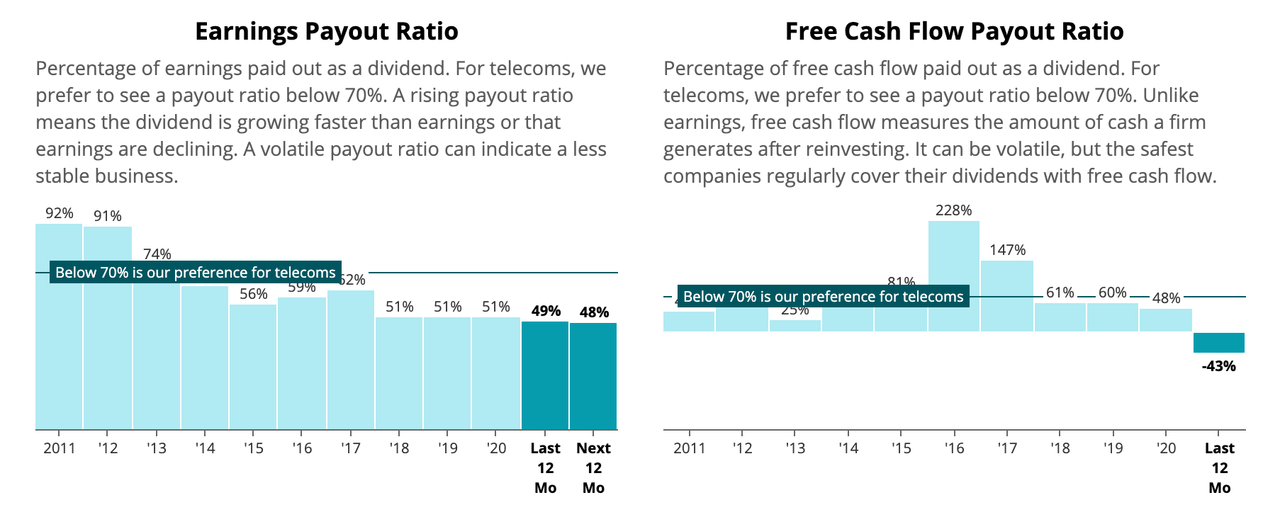 This means VZ has plenty of room to continue increasing its dividend.
Let's now consider VZ'S valuation. We could estimate fair value by dividing the stock's annualized dividend ($2.56) by its 5-year average yield (4.47%). That results in a fair value [FV] estimate of $57. Given VZ's current price of $54.23, the stock is trading at a discount to its past dividend yield history.
For reference, CFRA's FV is $56, Morningstar's FV is $57, and Finbox.com's FV is $66. The average of these fair value estimates is $60, confirming that VZ may be discounted.
My own FV estimate of VZ is $64, so I believe the stock is trading at a discounted valuation of about 15%.
Conclusion
VZ is a high-quality DG stock trading at a discounted valuation.
Please note that we're not recommending VZ or any of the stocks listed in this article. Readers should do their own research on these companies before buying shares.
Thanks for reading and happy investing!