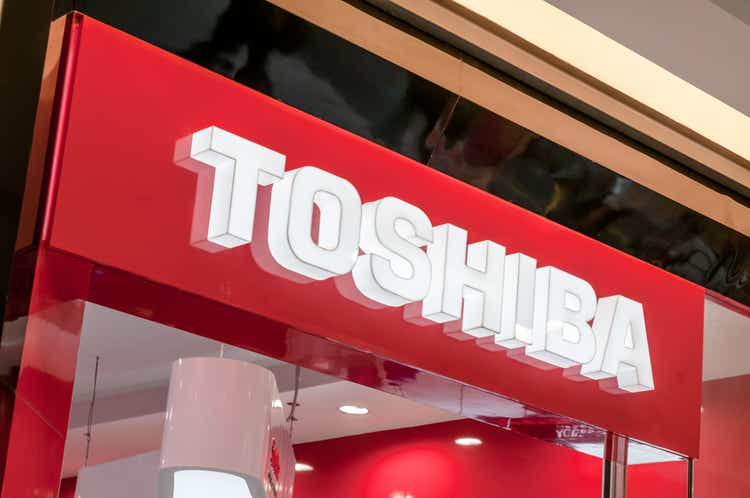 Recent reports indicate that Western Digital (WDC) is currently engaged in talks to merge with Toshiba (OTCPK:TOSBF) affiliate Kioxia Holdings. If true and Toshiba/Bain move ahead with the sale of their Kioxia stake, I see positive implications for Toshiba's shareholders compared with initial plans for an IPO. Not only could selling directly to WDC command a higher sales price and the sale of more shares, but it could also potentially increase the funding available for share repurchases ahead. Meanwhile, the core Toshiba thesis remains unchanged as the company remains on track for a longer-term restructuring under new leadership, with successful execution likely to support a re-rating.
Focus Shifts to Unlocking Kioxia's Value
According to recent news reports, Toshiba subsidiary Kioxia Holdings is in talks to merge with Western Digital, with an agreement set to be concluded later this month via a share swap deal valued at over $20 billion. While positive at first glance, there remains no guarantee of the talks panning out, and Kioxia has yet to abandon a planned IPO. With the merged entity also reportedly set to be headed by WDC CEO David Goeckeler, Toshiba, which owns 40.6% of Kioxia's voting rights, will face reduced influence on the merged entity and therefore have less incentive to maintain its stake in the new company. Further supporting the case for a sale is the capital return angle, as management has the option to return any excess shareholder capital to investors via share repurchases (in addition to the JPY43 billion repurchased YTD) or a special dividend. However, regulatory hurdles will need to be overcome, including gaining approval from the Japanese government.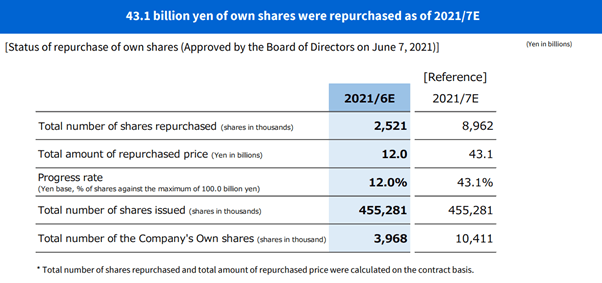 Source: Toshiba Investor Presentation Slides
Promising Setup into October's Medium-Term Plan
I expect few surprises at the announcement of the upcoming Medium-Term Plan, which will likely be consistent with the prior Toshiba Next Plan. The key change could be an increased emphasis on the Infrastructure and Energy businesses in light of its recent focus on carbon-neutral policies and willingness to improve its relationship with METI ("Ministry of Economy, Trade, and Industry"). Digital Solutions should also be a future driver (in line with the Toshiba Next Plan), although the key question is what management will do with the other business segments, especially Retail & Printing Solutions. Heading into the upcoming Medium-Term Plan announcement, I would also keep an eye out for the business units management chooses to retain to create longer-term shareholder value (vs. the business units deemed non-core).
Toshiba does have a range of strategic options, however, with interim CEO Satoshi Tsunakawa recently disclosing that the company is open to take private bids – this was supported by a recent Reuters report that the SRC ("Strategic Review Committee") is engaging several private equity investors such as KKR (KKR), Blackstone (BX), and Brookfield (BAM). Recall that the Committee is responsible for a full review of Toshiba's business, including engaging with potential strategic/financial investors. If the reports are accurate, I view Toshiba's consideration of privatization proposals as a step in the right direction as its planned restructuring could prove challenging under the public eye.
Upcoming Management Changes Present a Near-Term Catalyst
With Toshiba now actively on the lookout for a new CEO, speculation has circulated in the media regarding potential candidates, including the current head of a prominent domestic consulting firm (although Toshiba has since denied this in a press release). Although putting new management in place is not necessarily a positive in and of itself, having a stable team in place should be positive for investor confidence, especially considering this is a period of significant change for Toshiba. As things stand, the Committee is targeting a decision on the chairperson and auditor by year-end.
In light of the CEO search, it makes sense that chief among investor concerns is whether the Medium-Term Plan (to be announced in October) will be meaningful, especially considering it is developed under current CEO Satoshi Tsunakawa. This seems valid, although I would contend that the constitution of the board of directors will be even more important as the board will oversee the medium-term strategy development well before the next CEO is elected. While it does seem strange to announce a new Medium-Term Plan before the CEO is selected and then to have the new CEO implement a plan (that may not be in line with his/her vision), Toshiba is going through a key phase in its evolution, and further delays may not be in the best interest of shareholders.
Final Take
On balance, the longer-term Toshiba thesis remains intact, and the focus going forward will be on the rollout of the new Medium-Term Plan, along with the selection of a new chairperson of the board and a new CEO. Thinking longer term, I see plenty of re-rating potential from the current c. 7x EV/EBITDA if the company successfully builds a higher RoE business after the planned divestment of its non-core assets and executes its reorganization plan (especially around infrastructure services) under new leadership.