"The four most expensive words in the English language, 'This time it's different'"---Sir John Templeton (Founder Templeton Funds, philanthropist, 1912-2008)
It seems every time the investment markets start heading for new highs or new lows someone prominent says those four most expensive words quoted above.
One thing that surely isn't different this time is that earnings season will begin in just a few weeks. According to a CNBC report it is shaping up to be the worst since the start of this almost four-year-old financial crisis.
"If there's a concern, it's earnings," Jim Paulsen, chief market strategist at Wells Capital Management in Minneapolis told CNBC. "Earnings are going to be far slower than they've been. There's almost no way by the laws of physical science that they can't be."
We've witnessed the S&P 500 bubble upwards an impressive 28 percent in just five months. As Chartist Arthur Hill (StockCharts.com) recently reminded us: "Led by the finance sector, the Dow Industrials surged above 13000 to record another new 52-week high this year. New 52-week highs occur in uptrends, not downtrends. Moreover, this new 52-week high is especially impressive because Apple is not in the Dow. "
Mr. Hill went on to opine: "Yes, the Dow did it without Apple. The yellow area on the chart marks the first support zone to watch. Broken resistance from the May and July highs turns into first support. This level is further confirmed by the lows in mid February and early March.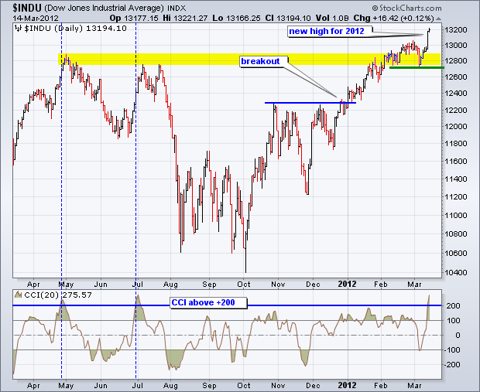 Chart 1
As we look at the chart above there is clearly a technical uptrend
and there are no signs of weakness. But as Mr. Hill warns us"... one indicator suggests that the Dow is the most overbought since early July."
That indicator shows up in the window below the chart.
It represents the Commodity Channel Index (CCI) moving above +200 for the third time in the last 12 months. "Readings above +100 are common, but readings above +200 are relatively rare. Note that the Dow peaked a few days after CCI exceeded +200 in late April and late June".
Don't get me wrong, the stock market may be going even higher in the next few weeks. A close above 13,600 on the DJIA and 1452 for the S&P 500 could happen in a proverbial New York minute! But....
Beware and Be a Picky Buyer of "Unique Stocks"
When, not if, the market has a big correction, it will cause almost all stocks to go down. As I wrote recently, that'll create a helpful buying opportunity for some of the companies that don't get a lot of media attention and have good upside potential.
A fair example of this would be Automatic Data Processing (NASDAQ:ADP). It has very little debt (around $36 million compared with $28 billion in short-term assets). It also sports an impressive $1.81 billion operating cash flow (TTM) and levered free cash flow of $1.25 billion.
The management has been buying back shares; over $1.3 billion during the last year. Recently it bought another quarter of a billion dollars worth of shares in its latest quarter. This is nearly 5% of the company's outstanding shares. ADP pays nearly a 3% dividend.
The stock's price hit $70 back in 2001 and hasn't revisited that level since. With their long history of raising dividends and with increasing demand for their employer and payroll services from both mid-sized and large companies, ADP has a promising future. Look to accumulate shares on any pullback below $54. On Feb.27th the intraday low was $53.31.
Another unique stock that seldom receives publicity is InterDigital, Inc. (NASDAQ:IDCC). It's a company that has reinvented itself to be a key player in the internet and smart-phone genre of today.
Founded almost 40 years ago, IDCC engages in the design and development of technologies that enable and enhance wireless communications. The company offers technology solutions for use in digital cellular and wireless products and networks, including 2G, 3G, 4G, and IEEE 802-related products and networks.
Part of what makes this company so valuable is their treasure trove of patents and intellectual properties.As of December 31, 2011, it held a portfolio of approximately 19,500 patents and patent applications related to the fundamental technologies that enable wireless communications.
Looking at the 1-year chart you can see that this company is in need of some good news and an upgrade or two. It's had a few bad breaks, but it's positioned as an "essential" provider of the technologies needed for the future of both wireless and network devices.
The best reason to own this company is because their critical patents will become more valuable as the mobile communications revolution increases in the months and years to come. You'll be paid a modest dividend (around 1%) for your patience and be buying it on the low end of its 52-week range.
You'll be in good company too. John Paulson, the billionaire investor through his company Paulson Investment Company owns almost 3 million shares (nearly 6.5% of the outstanding shares) and The Vanguard Group owns almost 5% of the outstanding shares.
Other companies that aren't usually high-flyers and fit the category of an under-appreciated stock to buy on pullbacks would include Ross Stores (NASDAQ:ROST). If you've ever shopped in one you'll know why the stock has had great momentum.
My friend Alexander Green, the editor of The Momentum Alert shared with me his view on ROST: "Ross Stores reported another strong quarterly earnings performance. The discount apparel retailer said its fiscal fourth quarter results jumped 23% from year-ago levels, to $0.85 cents a share. Sales rose 12%, to more than $2 billion. A key metric, same-store sales (stores open at least one year), rose 7%. The retailer's new strategy - keeping less inventory on hand in its stores - also contributed to its strong results. Ross Stores' share price dipped a little after the earnings report at mid-week."
If you happen to see the share price of ROST dip below $51 like it did on Feb.15th, 2012, you might want to grab some shares. At $51-a-share its current 56 cent dividend yield would be 1.1%.
Two other stocks that are on my "wish-list" are Two Harbors Investment Corp. (NYSE:TWO) whose web site tells everything you need to know about their strategy and potential, and, the company that Steve Sjuggerud likes to call "The Ultimate Inflation Hedge Fund", Cresud (NASDAQ:CRESY), the Argentine-based holding company that owns farmland, residential properties, hotels and even shopping centers, all bought at fire-sale prices.
Read the Cresud story and their holdings by clicking here, and you'll see why I want to own some shares if the price falls below $12 like it did as recently as March 7, 2012.
Be a buyer that lets the price come to you. Never "chase" a stock or pay too much. In fact, pay too little, what legendary investor Benjamin Graham called your "margin of safety". It's one of the most important things to remember at market tops and market bottoms---and by the way---it isn't different this time!
Disclosure: I have no positions in any stocks mentioned, but may initiate a long position in IDCC, TWO, CRESY over the next 72 hours.