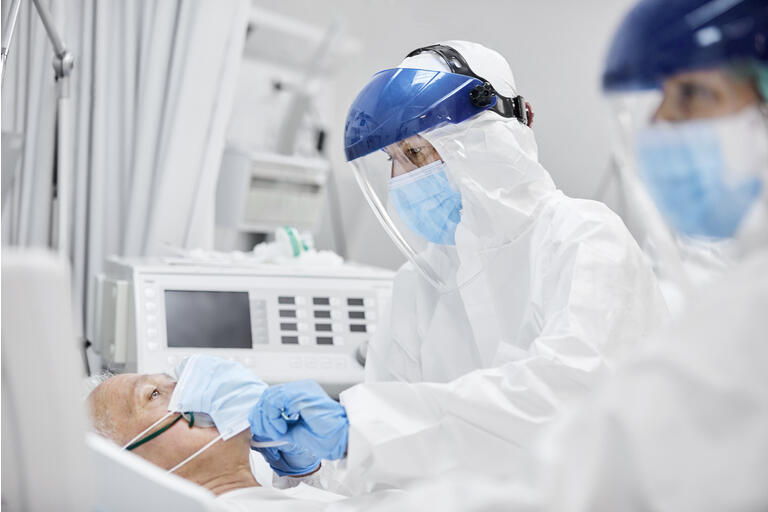 Alpha Pro Tech: Investment Thesis
The prospect of massively increased and enduring PPE sales drove the Alpha Pro Tech (NYSE:APT) share price from around $3 to $4 to as high as $41.59 in 2020. Sales revenue for PPE and earnings certainly did massively increase in 2020. But a combination of a huge increase in PPE supply capacity from both APT and competitors and the effect of vaccination has resulted in APT's PPE revenues declining back towards pre-pandemic levels. In previous articles I have put forward a proposition the company's shares could be fairly valued by adding the incremental addition to book value per share due to pandemic super profits to the pre-pandemic share price levels. On this basis, I believe a fair share price at present is likely in the range of $5.50 to $6.00.
Lower Prices, Decreasing Demand and Increasing Supply
Lower prices
Back on March 16, 2020, I published article, "Alpha Pro Tech: The 'Greater Fool' Theory Is Alive And Well". Figure 1 below is from that article.
Figure 1

The above ad appeared on Amazon.com on Feb. 26, 2020. Notice the flag in the ad about availability. This did not appear the week before, and the ad is no longer running.
At that time there were a very limited number of ads for N95 masks advertised on Amazon. The ad shows the APT masks were selling in bulk packs at $0.935 each ($196.35 divided by 210). A search on Amazon today for N95 masks brings up 471 results. I cannot locate the APT 210 bulk pack on Amazon today, but I have found a current price from Zoro per Figure 2 below.
Figure 2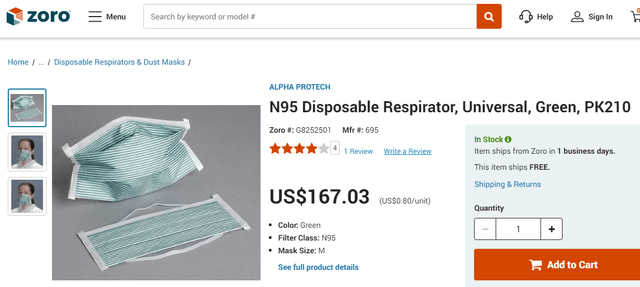 There has not only been a huge increase in numbers of suppliers competing with Alpha Pro Tech, but content of Figures 1 and 2 above show the price to the public has gone down.
Decreasing demand
The impact of increased supply and shrinking demand is reported on by APT in its Q2-2021 earnings release:
Disposable Protective Apparel segment sales decreased 55.6%, to $8.0 million, compared to $18.0 million for the same period of 2020. Through the second quarter, we witnessed the softening in demand for our N-95 particulate respirator face mask and face shield sales,... Sales for these products declined to be more in line with pre-pandemic quarterly levels and we currently expect similar trends going forward. There is a potential for mask sales to increase again as a result of the recent increased spread of Covid-19, primarily due to the Delta variant.
Despite the COVID Delta strain, based on the crowd at the women's final of the US Tennis Open, I would not be counting on massive sales of masks to the public, going forward.
Increasing supply
While demand from the public may have decreased, it can be expected there will be ongoing high demand from medical and medical-related personnel. But not only APT, but also other medical grade mask manufacturers have hugely increased production capacity. Per this 25 March 2020 Bloomberg article:
The company (3M) has in two months doubled global production of N95 masks to about 100 million a month, and it's planning to invest in new equipment to push annual mask production to 2 billion within 12 months.

And

Honeywell is also increasing N95 production, saying it will hire at least 500 people to expand capacity at a facility in Rhode Island.
The Financial Impact On APT's Revenues
The impact on APT's PPE Revenues is shown in Table 1 below.
Table 1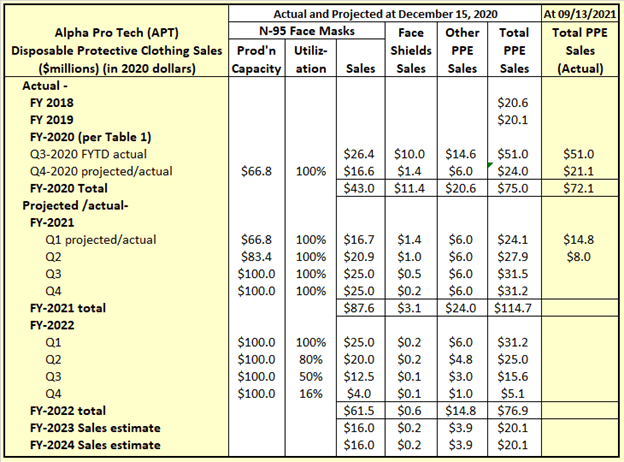 The section in Table 1, "Actual and Projected at December 15, 2020" comes from Table 2 in my Dec. 15, 2020 article, "Alpha Pro Tech: Coming Into Buy Range". That section was based on guidance at the time from APT which included this excerpt from the Q3-2020 8-K filing:
Due to this customer demand and the current state of the industry, we expect continued face mask sales growth during the fourth quarter and into 2021, but much of our production will be presold. Industry-wide reports also appear to indicate that, even with the significant increase in supply, demand will continue to outpace capacity for immediate utilization, with longer-term stockpiling not realistic until late 2021 and into 2022. As a result of these developments, and in the interest of protecting the Company's competitive position, we will no longer provide intra-quarter updates on order levels and backlogs.
Excerpts above from the Q2-2021 earnings call paint a very different picture now, as reflected in Table 1 column headed "At 09/13/2021". Going forward APT now expects PPE sales to return to pre-pandemic levels, which were around $20 million per year or $5 million per quarter. That would result in full year 2021 PPE sales of $32.8 million compared to expectations of $114.7 million for 2021 PPE sales back in mid-December 2021.
APT: The Prospect Of Continuing Super Profits Has Evaporated
The net assets of the company have increased but future earnings can be expected to return to pre-pandemic levels. In previous articles I have put forward a proposition the company's shares could be fairly valued by adding the incremental addition to book value per share due pandemic super profits to the pre-pandemic share price levels. Table 2 Balance Sheet below shows the changes in net book value per share for the period 2016 to second half 2021.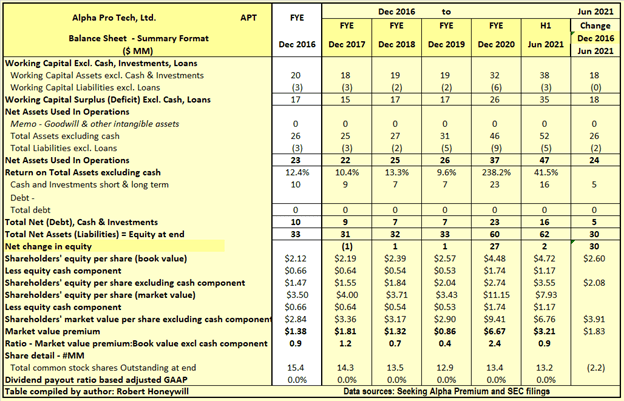 I believe the simplest way to view this is to look at the share market premium over book value per share. Table 1 shows the market value over book value ranged from $1.38 to $1.81 at year ends 2016 to 2019. With expectations of higher earnings due to pandemic driven sales, the premium increased to $6.67 at year end 2020. The premium has then declined to $3.21 at end June 2021. I believe the premium can be expected to decline further to pre-pandemic levels. On that basis the share price has further to fall, possibly to a range of $5.50 to $6.00. Other considerations:
The increase in net assets includes investment in PPE facilities which now have production capacity far in excess of demand. Impairment charges will likely be required, reducing net book value and potentially share market value.
Working capital has increased due to high inventory levels which can be expected to reduce, providing additional available cash. This idle cash could be used for share buy-backs to reduce share count. But share buy-backs would be uneconomic at present high share prices.
The company has recommenced share repurchases. But directors and officers continue to dispose of shares at current share price levels, so I do not consider the current share repurchases as a buy signal.
Alpha Pro Tech: Summing Up
The Dividend Growth Income+ Club principles need to be applied in assessing the merits of investing in APT shares.
Understanding The Dividend Growth Income+ Club Approach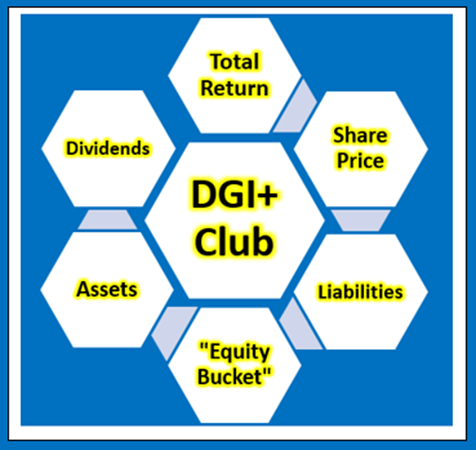 Dividend Growth Income+ Club logo Copyright: Robert Honeywill 2020
Total Return, Dividends, Share Price
The only way an investor can achieve a positive return on an investment in shares is through receipt of dividends and/or an increase in the share price above the buy price. It follows what really matters in share value assessment is the expected price at which a buyer will be able to exit shares, and expected cash flow from dividends.
Changes in Share Price
Changes in share price are driven by increases or decreases in EPS and changes in P/E ratio. Changes in P/E ratio are driven by investor sentiment toward the stock. Investor sentiment can be influenced by many factors, not necessarily stock specific.
"Equity Bucket"
Earnings are tipped into the "Equity Bucket" for the benefit of shareholders. It's prudent to check whether distributions out of and other reductions in the "Equity Bucket" balance are benefiting shareholders.
Applying the Dividend Growth Income+ Club principles
This is a good and well run little family business. The balance sheet is strong, with no debt. A dividend is not paid and there appears to be no intention to commence dividend payments. Therefore, the only avenue for gain is through share price increases. Idle cash will not drive share price gains so share repurchases are essential to reduce share count and thus potentially increase market price per share. It is therefore prudent to wait until the share price falls to a level which makes it economic for the company to repurchase shares and to provide room for the share price to increase above purchase price to provide gains. A fair share price at present is likely in the range of $5.50 to $6.00.