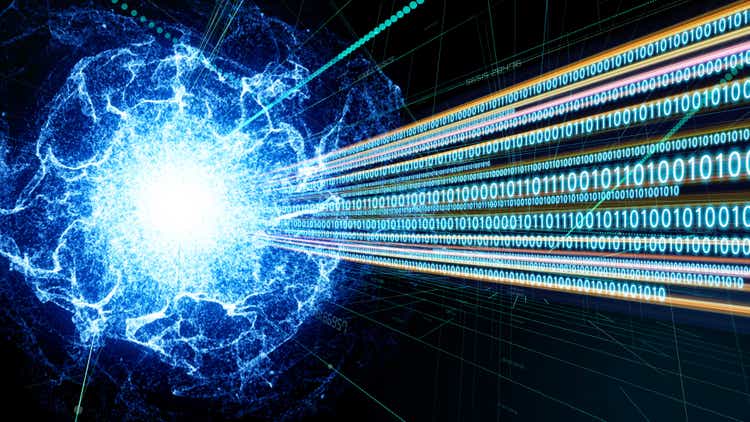 Quantum computing holds immense promise, both for consumers and the technology sector as a whole. It also is likely to be coming to secretive government facilities all around the world, both allied and adversarial in the very near future.
The unfortunate downside of this technological progress is that quantum computing will likely end legacy cybersecurity as we know it, due to the ability of quantum computers to break every level of encryption in existence today.
In this article, I would like to discuss Arqit Quantum (NASDAQ:ARQQ) and the reasons why the company may have a highly profitable solution to the quantum hacking nightmare security experts are predicting.
Overview
Quantum computing in the near future will usher in huge advances in technology and perhaps transform how we go about our daily lives for the better. The unfortunate part of our quantum future is that when quantum computing arrives, current encryption methods keeping all of our information safe, will fail. This is not a question of if, it is of when.
The Global Risk Institute released a report titled "Quantum Threat Timeline" in 2019 which polled 22 leading data scientists on the forecasted timetable for a quantum computer to break current encryption standards. The consensus at the time was around 15 years, or 2034.
Since that report was released, the quantum computing market has experienced a massive surge of investment with incredibly fast progress reported from companies around the globe, several, such as Google (GOOGL) (GOOG), IBM (IBM), Rigetti Computing and Honeywell (HON) already have broken past 100 qubits, with a rapid doubling of capability shown.
For reference, a recent article from Cornell University shows that PKI encryption (the current industry standard) may require as little as 2,000 logical qubits to break, making the timeline for current encryptions' obsolescence disturbingly close, likely in the 2025-2030 time frame, with governments such as the USA, UK, China and Russia likely well ahead of that date.
A troubling trend noted recently by nation-state actors is to "harvest now, decrypt later" which is the term for stealing encrypted data from hardened sources today and then store the data to decrypt when the technology is available. It has even been theorized that the entire blockchain that Bitcoin (BTC-USD), Ethereum (ETH-USD) and others depend on may be at risk of total hijack or collapse once quantum computers reach maturity.
This trend makes it critically important for nations to migrate away from PKI encryption as soon as possible to symmetric encryption keys. The biggest problem currently with symmetric key encryption is that you need to have a way to get the key to the other party with whom you are sharing the data.
Arqit believes that it has a solution for this critical problem that is completely computationally secure, which means it cannot be broken by any current or future machine, along with a delivery system that cannot be intercepted via the quantum cloud.
Source: Arqit
The key to this entire technology's eventual adoption is that the algorithm used is already the global standard (AES), meaning that it is operable with current systems, giving users no logical reason to not adopt the technology.
The technology Arqit invented is covered by over 1,400 patent claims making this company and its technology potentially protected from copycats looking to set up similar business models for some time to come.
The commercial strategy also appears to be very well thought out, with the software downloaded by customers and used automatically. Billing events are created by usage via commercial customers with key creation events being metered.
Source: Arqit
The brilliance of this strategy is the incredibly low capex Arqit has to expend once the core infrastructure is in place, as the software needed is basically zero touch. With current systems operating on a compatible format, ultimately every connected device is a potential customer of Arqit without the need of the company building any further infrastructure as the 2 planned and paid for satellites used are able to generate two quadrillion unique keys per year.
To get an idea of the explosive potential of this company, please keep in mind that the below pipeline and business development was accomplished all in 2021, with only 2 dedicated salespeople, one being the CEO himself.
Source: Arqit
To land executed, recurring and framework contracts with the likes of the British Government, British Telecom (OTCPK:BTGOF), Sumitomo Corporation (OTCPK:SSUMF) ESA and Dentons in addition to an "unnamed" major payment network, Northrop Grumman (NOC), Iridium (IRDM), Verizon (VZ) and BP (BP) accomplished pre hard rollout is unbelievably impressive and gives credibility to the massive potential ahead for the company.
During recent analyst conferences before the de-SPAC event, the CEO has reported massively increased interest in the product well before any ramp up in sales and marketing efforts by the company.
Generally I do not like to discuss financial projections generated from the SPAC process as many companies simply throw hopes and dreams into a blender to come up with these. However, given the solid and proven pipeline of customers Arqit has signed already and the fact that the service is already live give me enough confidence to share the company's 2025 projections.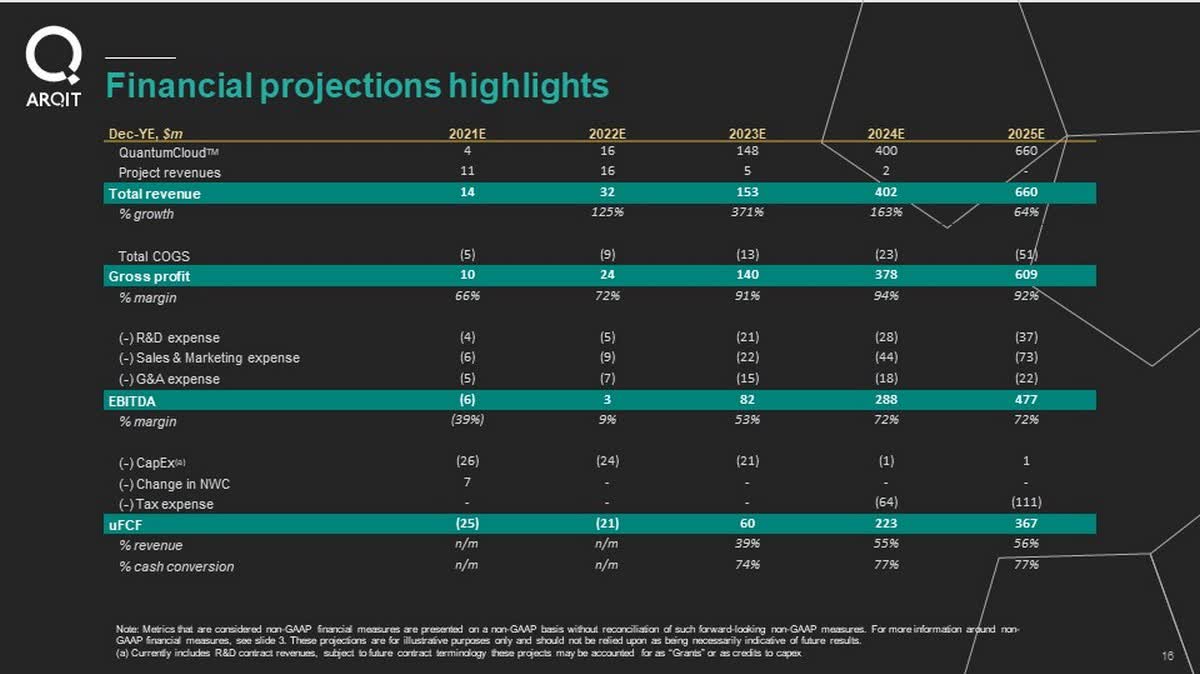 Source: Arqit
As you can see from the above slide, Arqit expects to be EBITDA positive as soon as 2022 and free cash flow positive in 2023. The projections really hammer home that the company truly expects to be very capex light and plans on generating impressive gross margins of 90+% as soon as 2023.
Bottom Line
With Arqit, I really have to control my enthusiasm a bit, not only does the company appear to have a scalable solution to a massive problem affecting nearly every sector around the globe, but the company also has a way of doing it that is low capex and very high margin.
In addition, the company having expended basically zero sales effort to date, has secured $130 million in guaranteed revenues from A list customers with a high probability of closing a $1.1 billion backlog pipeline already.
The CEO indicated in the recent investor day that in his 30 years of sales experience, he has never had any product like Arqit's and that his closing percentage is nearly 100%.
If Arqit even comes close to the financial projections they have presented, which the CEO notes is a very conservative projection, then the company could be worth many multiples of the current $2.1 billion market cap.
It also would appear, counter to many of the recent SPAC IPOs, that dilution should not be an issue going forward. In the SPAC transaction, the company has received $376 million in cash to the balance sheet, to which the CEO recently commented that the deal brought it "twice the money that we need to fully fund our business" and that "We don't need to raise any more money, ever," he told CNBC.
In late August I purchased a moderately sized speculative position in the SPAC. My only hesitancy in purchasing more is that generally, when a company seems to have a no-brainer, hugely profitable solution to a massive problem, red flags tend to appear.
So far, I have not found any true red flags with Arqit, but as I am not a cybersecurity expert, I will be keeping my position moderately sized until at least a few quarters have run off and I gain a greater comfortability with the progress of the technology and management.
I am very excited to see how this company develops as it would appear they may have solved a truly massive problem that nearly all NATO countries have been losing sleep over for years, before it actually existed. If they are successful in the product roll out, shareholders are likely to be rewarded handsomely.
I look forward to your comments and views of the company, thank you for reading and good luck!