For quite some time now, numerous analysts and pundits, including your truly, have been warning about the threat of inflation in the United States. We have finally begun to see it as anyone that has been to a grocery store recently can attest to. It, unfortunately, does not look like this situation will improve anytime soon as the primary causes of that inflation are still very much present. This is a very real problem for retirees or anyone on a fixed income since it reduces the value of the money that they have coming in with regards to the things that it will buy. In addition, as inflation compounds over time it could cause a person to feel like they are getting poorer and poorer. It may therefore make sense to put some money into things that increase in value with inflation in order to protect your wealth and purchasing power. Real estate is a good option here because it rises in price in an inflationary environment and can even provide a source of income at the same time. It can be difficult to put together a portfolio of real estate though so one alternative may be to purchase shares of a closed-end fund that specializes in the sector as this gets an investor access to a diversified and professionally managed portfolio that can frequently pay out a higher yield than most of the underlying stocks. In this article, we will discuss the CBRE Clarion Global Real Estate Income Fund (NYSE:IGR), which is one such fund boasting a 6.55% yield at the current price. I have discussed this fund before but it has been several months, so a few things have changed. Thus, this article will focus specifically on these changes as well as provide an updated analysis of the fund's finances.
About The Fund
According to the fund's web page, the CBRE Clarion Global Real Estate Income Fund has the stated objective of providing its investors with a high level of current income. The fund has a secondary objective of producing capital appreciation. These are certainly not unusual objectives. In fact, most of the real estate funds that I have discussed in this column have the same basic objectives. As is the case with most real estate funds, this one seeks to achieve its objectives by investing its assets into a portfolio of real estate investment trusts and similar entities from all around the world. The fund invests primarily in the common stock of these companies, but it does have the ability to invest up to 25% of its assets into their preferred stock as well. This is a characteristic that could prove advantageous for the fund because preferred stock tends to have higher yields than the common equity issued by the same company. Thus, the inclusion of preferred stock can allow the fund to produce more income than investing in common stock alone. With that said though, preferred stock does not typically have the same potential for capital appreciation (or inflation protection) as common stock. The fund's ability to invest in both thus gives it the ability to provide its investors with the best of both worlds.
The companies that comprise the largest positions in the fund will likely be familiar to many investors that actively follow the real estate sector. Here they are: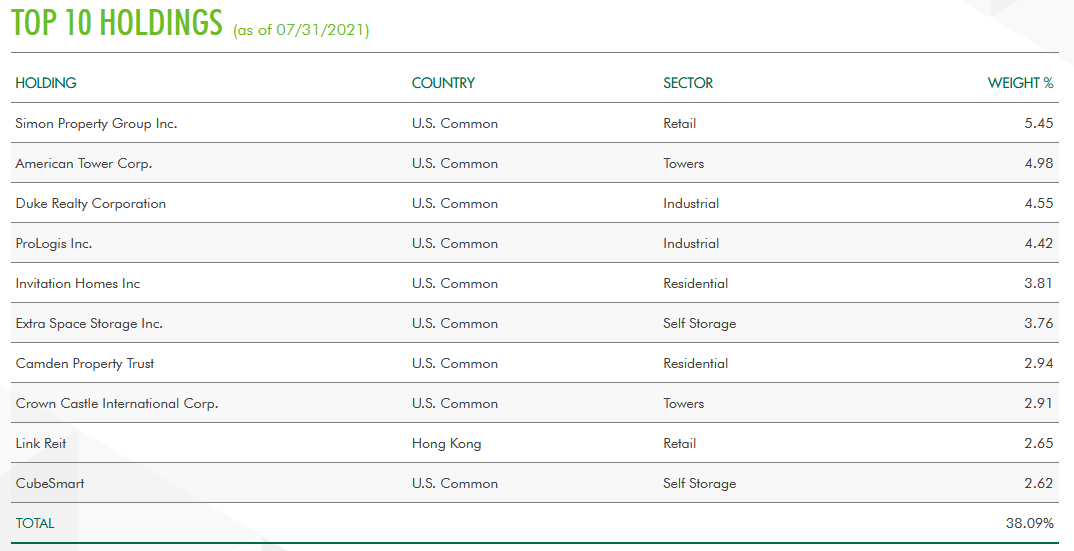 Source: CBRE Clarion Securities
We see here quite a few companies that were among the largest positions the last time that we looked at the fund. In particular, Simon Property Group (SPG), American Tower (AMT), and Crown Castle International (CCI) continue to be represented, although their weightings have changed quite a bit. This could be a sign that the fund bought or sold shares of these securities in order to change their weightings but I am inclined to doubt that despite the fund's 72.50% annual turnover rate. It seems more likely that the reason for the weightings change among many of these positions is simply one security outperforming another on a relative basis. With that said though, American Tower has substantially outperformed Simon Property Group over the past three months yet Simon Property Group has overtaken it in the portfolio: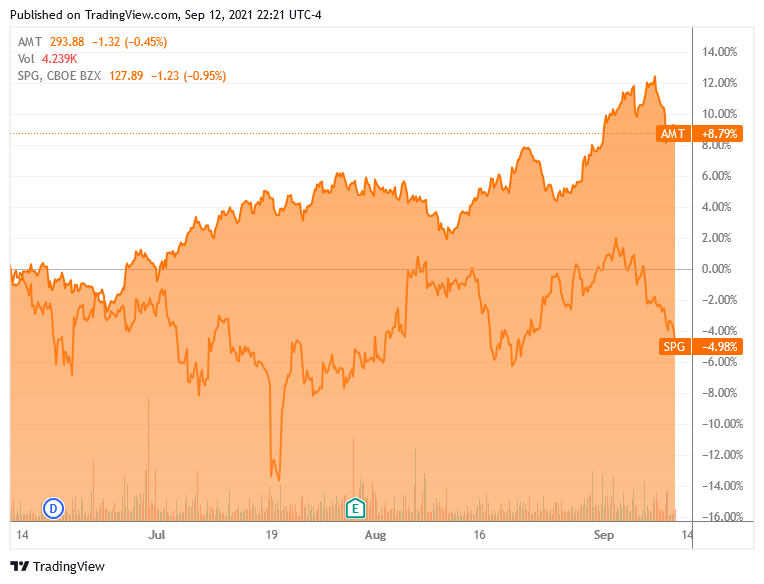 Thus, the fund probably did buy more shares of Simon Property Group but this may not be true for all of the weighting changes that we see above. Simon Property Group seems like an interesting choice for the top weighting in the fund given that it is an economic rebound play. The company is the largest owner of shopping malls in the United States, which is a sector that was devastated by the pandemic and the associated lockdowns. The overall thesis behind this seems to be that as the vaccine becomes more common and the economy reopens people will return to their pre-pandemic lives and begin frequenting shopping malls once again. It is an interesting thesis but there are a few risks. First is that many retailers, especially small ones, went out of business during the pandemic and will not be returning. This has left many shopping malls with vacancies. A second risk is that politicians and the media keep talking about the emergence of new COVID variants, which may induce enough fear in people that they remain hesitant to go out into crowded places such as shopping malls. This second point may explain why Simon Property Group is down over the past six months despite many states fully reopening.
As my regular readers on the topic of closed-end funds are no doubt well aware, I do not like to see any position in a fund exceed 5% of the fund's total assets. This is because this is approximately the point at which a position begins to expose the fund to idiosyncratic risk. Idiosyncratic, or company-specific, risk is that risk which any asset possesses that is independent of the market as a whole. This is the risk that we aim to eliminate through diversification but if the asset accounts for too much of the portfolio then it will not be completely diversified away. Thus, the concern is that some event may occur that causes the price of a given asset to decline when the market as a whole does not and if that asset accounts for too much of the portfolio then it may end up dragging the entire fund down with it. As we can see above, there is one asset, Simon Property Group, that accounts for such a heavy weighting in the overall portfolio. As such, potential investors should ensure that they are willing to be exposed to the risks of that company individually before taking a position in the fund.
As noted earlier, the fund can invest up to 25% of its assets into preferred stocks issued by real estate companies. However, it is not currently that heavily invested into these securities. In fact, less than 8% of the portfolio is currently invested in preferred stock: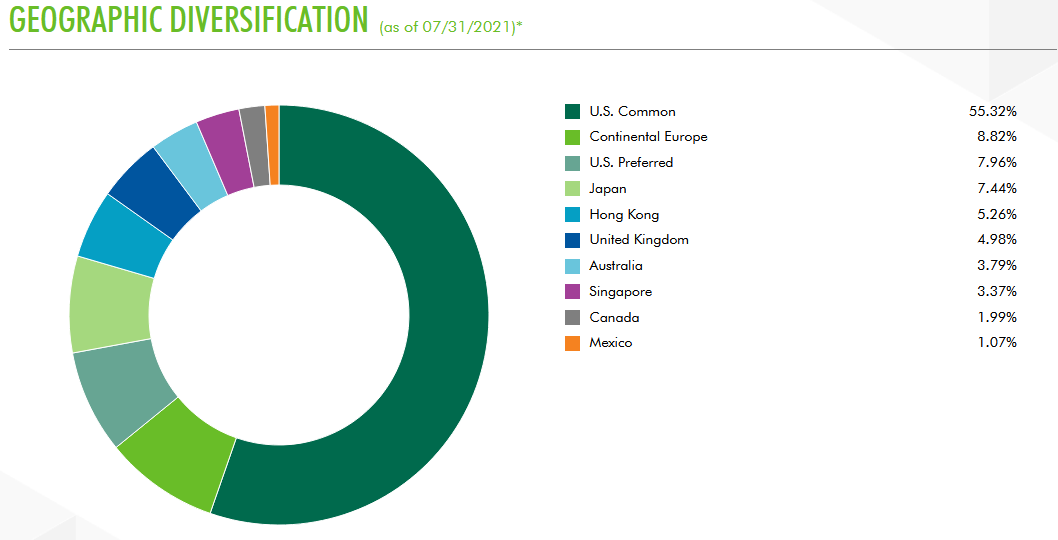 Source: CBRE Clarion Securities
This is actually something of a positive for our inflation-protection thesis, as we will discuss in just a moment. This is because preferred stocks tend to trade like bonds, as a function of interest rates. This is because the dividends paid by these securities are fixed and are not dependent on the performance of the underlying company. This differs from common stocks, which typically see dividends increase as the issuing company's cash flow and profits grow. We can generally expect that profits will grow along with inflation (as will the value of the real estate owned by these companies), which should lead to both dividend growth and stock appreciation. The fund appears to be attempting to take advantage of this and profit as inflation causes real estate values and cash flow to increase, driving up the stock prices of these companies.
Real Estate And The Threat Of Inflation
As already mentioned, one reason to be invested in real estate is to protect your wealth against the ravages of inflation. Inflation is generally defined as a broad-based rise in prices across an economy but it can also be thought of as a decline in the value of an economy's currency. Inflation affects everyone's daily lives because it reduces the amount that can be purchased with a given amount of money. This is why it is so devastating to retirees and others on a fixed income since the compounding effects of it basically leave a person getting poorer and poorer over time. The inflation rate has been steadily increasing this year, reaching 5.4% in both June and July: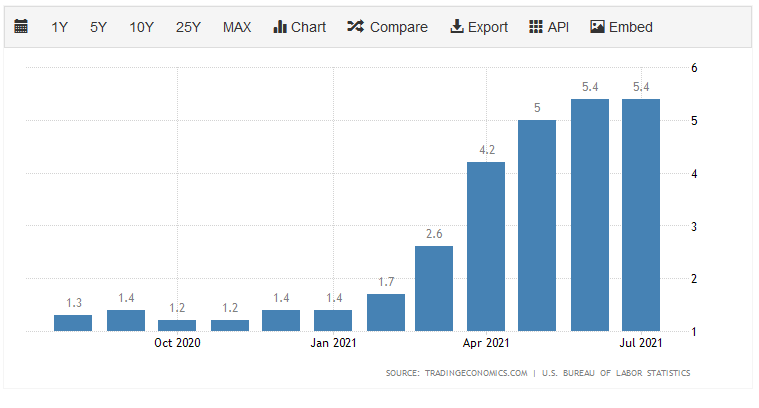 Source: Trading Economics
Economists generally consider inflation to be a natural occurrence. However, it is actually caused by the money supply in an economy growing more rapidly than the production of goods and services in that economy. This is because such an event results in an increasing amount of money able to purchase each unit of economic output, which pushes up prices via the law of supply and demand. This has been the case in the United States for quite some time. We can see this by comparing the M3 money supply, which is the most comprehensive measure of the money supply in an economy, of the United States to the nation's gross domestic product over the past decade.
This chart shows the M3 for the United States over the past ten years:

Source: Federal Reserve Bank of St. Louis
As we can see here, the nation's M3 went from $9.1513 trillion in June 2011 to $20.3889 trillion in June 2021 (the most recent date for which data is available). This represents a 122.80% increase over the period. We can see that there was an exceptionally large increase in 2020 and 2021. This is due to the more than $4 trillion that the Federal government ostensibly spent to combat the economic damage inflicted by the coronavirus-related lockdowns. As I pointed out in a previous article, this was almost entirely financed by the Federal Reserve printing new money in order to buy the Treasuries used to fund the spending. It was this surge in the money supply that really brought the inflation threat front and center in the eyes of many commentators.
This chart shows the gross domestic product of the United States over the same ten-year period:

Source: Federal Reserve Bank of St. Louis
As we can see here, the gross domestic product of the United States went from $15.557535 trillion to $22.731369 trillion over the same period. This is only a 46.11% increase over the past decade. Thus, the money supply has clearly been growing more rapidly than the actual production of goods and services in the United States. This is exactly the kind of environment that stimulates inflation. Admittedly, some readers may point out that this has been going for many years but we have not really seen significant inflation until recently. This is because the newly printed money was largely confined to the asset markets and never entered into the real economy. We have seen a massive increase in the capital markets and real estate prices over the time period after all. The coronavirus-related spending was different though as it was specifically designed to put money into the hands of people that will actually spend it to purchase actual goods and services. As the economy has begun to reopen, they have indeed been spending this money and thus pushing up prices.
Real estate can help protect wealth in an inflationary environment. This is because real estate has many of the same qualities as the other things that increase in price during such a scenario. In particular, real estate is in limited supply and requires real human and mechanical effort to construct or improve. It cannot be created out of thin air like fiat currency can. Thus, its value should increase as inflation takes hold and thus protect the purchasing power of your savings. This fund can help you gain exposure to real estate and achieve diversification at the same time.
Distribution Analysis
As noted earlier, the CBRE Clarion Global Real Estate Income Fund has the stated objective of providing its investors with a high level of current income. As such, we might assume that it pays out a regular distribution to its investors. This is indeed the case as the fund currently pays a distribution of $0.05 per share monthly ($0.60 per share annually), which gives it a 6.55% yield at the current price. The fund has been incredibly consistent about these payouts in the years since the financial crisis: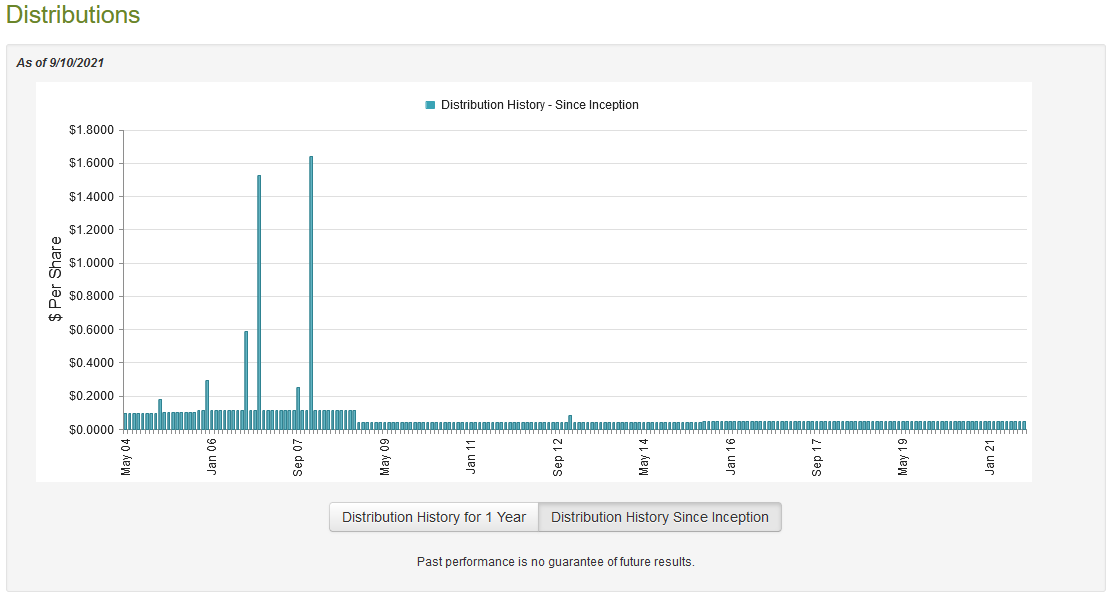 Source: CEF Connect
This consistency seems quite likely to appeal to any investor that is seeking a reliable and stable source of income while protecting their wealth. However, this conservative investor may also be concerned about the fact that a sizable proportion of these distributions are classified as return of capital:

Source: Fidelity Investments
The reason why this may be concerning is that a return of capital distribution can be a sign that the fund is returning the investors' own money back to them. This is obviously not sustainable over any kind of extended period. There are other things that can cause a distribution to be classified in this way though, such as the distribution of unrealized capital gains. As such, we should investigate and determine exactly how the fund is financing its distributions in order to judge how sustainable they are likely to be.
Fortunately, we have a very recent report that we can consult for our analysis. The fund's most recent financial report corresponds to the six-month period ended June 30, 2021. As such, it will give us some great insight into how the fund performed in the strong market and inflationary environment that we saw in the first half of the year. During the six-month period, the fund brought in a total of $19,046,840 in dividends off of the assets in its portfolio, which was the fund's sole source of income. It paid its expenses out of this amount, leaving it with $11,537,621 available for the shareholders. This was nowhere near enough to cover the $34,977,148 that it actually paid out over the period, however. The fund does have other methods to get the money that it needs to cover its distributions, such as capital gains. It succeeded admirably in this as it had $75,123,439 in net realized and $102,263,314 in net unrealized capital gains. These were more than enough to cover the distributions when combined with the fund's net investment income. In fact, those returns of capital distributions could be misclassified as the realized capital gains are easily enough to cover the distributions without needing to do a return of capital distribution (for the unrealized gains). Overall, this distribution looks quite secure.
Valuation
As is always the case, it is critical that we do not overpay for any asset in our portfolios. This is because overpaying for any asset is a surefire way to generate suboptimal returns off of that asset. In the case of a closed-end fund like the CBRE Clarion Global Real Estate Income Fund, the usual way to value it is by looking at the fund's net asset value. The net asset value of a fund is the total current market value of all of the fund's assets minus any outstanding debt. It is therefore the amount that the shareholders would receive if the fund were immediately shut down and liquidated.
Ideally, we want to purchase shares of a fund when we can acquire them at a price that is less than net asset value. That is because such a scenario implies that we are buying the fund's assets for less than they are actually worth. That is, fortunately, the case right now. As of September 9, 2021 (the most recent date for which data is available as of the time of writing), the fund had a net asset value of $9.88 per share but it only trades hands for $9.16 per share. This gives the fund a 7.29% discount at the current price. This is relatively in line with the 7.72% discount that the fund has had on average over the past month, although it is slightly expensive compared to its average. Honestly, though, the current price certainly looks reasonable.