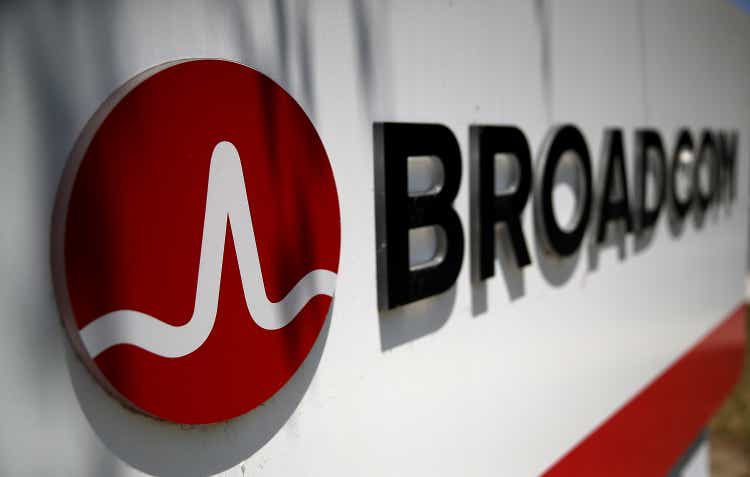 Investment Thesis
Broadcom (NASDAQ:AVGO) is one of the most formidable semiconductor companies that we know of in our coverage. It's highly profitable on both EBITDA and FCF terms. It also pays an industry-leading dividend yield. Moreover, it has been growing its bottom line even faster than its topline.
Under CEO Hock Tan's competent leadership, it also holds a substantial patent portfolio (highlighted in our previous Broadcom article here). It "ensures" that Broadcom is the true semiconductor bellwether. The company emphasized that "99.9% of all Internet traffic crosses at least one Broadcom chip."
Broadcom has consistently surprised to the upside on both earnings and revenue. But, investors have hardly given Broadcom the true recognition it deserves. Therefore, AVGO stock has lagged some of its "high growth" peers, most notably Nvidia (NVDA).
However, we think Broadcom represents one of the best ways an investor can participate in the semiconductor industry (whether you are a growth, value, or dividend investor).
We will discuss the merits of our thesis and what challenges investors should look out for. We will also share our valuation argument and its price action to help readers decide whether to add exposure to the stock now.
AVGO Stock 1Y Performance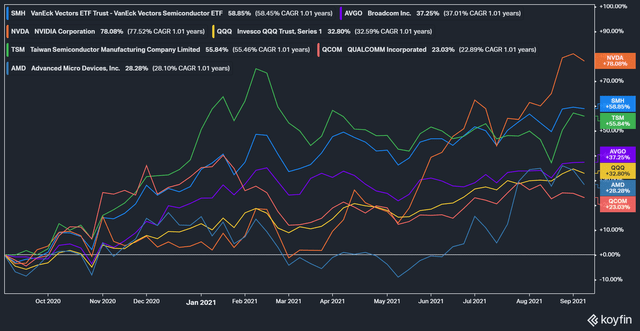 AVGO stock 1Y performance Vs. Peers, as of 10 Sep 21.
AVGO stock has outperformed some of its closest peers over the past year. This included Advanced Micro Devices (AMD), as well as Qualcomm (QCOM). However, the stock has markedly lagged Taiwan Semiconductor (TSM) and Nvidia. AVGO stock performance has also lagged the VanEck Vectors Semiconductor ETF (SMH). NVDA and TSM are the ETF's two largest holdings currently.
As we shall see below, this has been a growth-focused market, as investors rewarded NVDA for its superior revenue growth rates. But, investors are reminded not to go gaga over Nvidia Corporation's incredible growth. On this matter, AVGO CEO Hock Tan has some pertinent and timely reminders for semiconductor investors. We will go into detail on his wisdom and insights in the subsequent sections.
Broadcom Delivers a Timely Reminder for Semiconductor Investors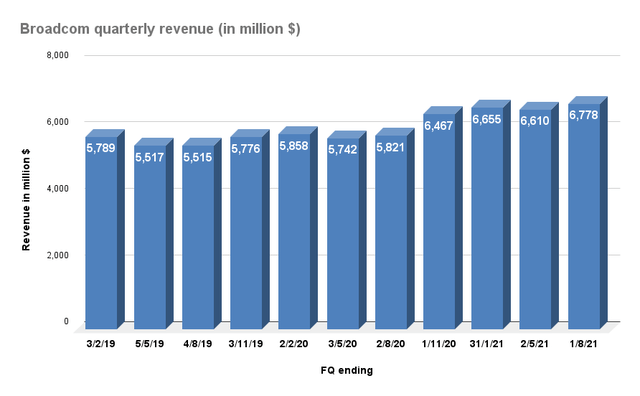 Broadcom quarterly revenue. Data source: S&P Capital IQ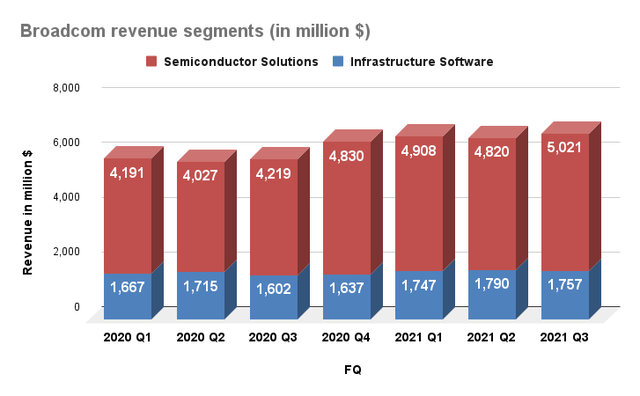 Broadcom quarterly revenue segments. Data source: S&P Capital IQ
Broadcom easily beat revenue estimates with Q3'21 revenue of $6.78B, that's up 16% YoY. Its growth was mainly led by Semiconductor Solutions, up 19% YoY to $5.02B, while infrastructure solutions were up 10% YoY to $1.76B.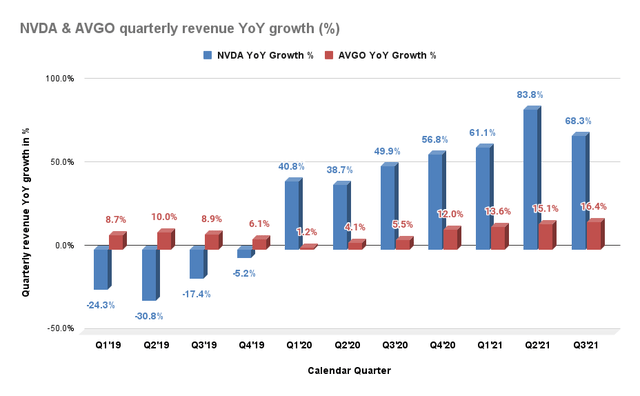 NVDA and AVGO quarterly revenue YoY growth. Data source: S&P Capital IQ
However, when we compared Nvidia's recent performances against Broadcom's, it could perhaps explain why Nvidia's share price has significantly outperformed. Nvidia certainly seems to have ridden the uptrend in the 5G ramp and secular growth in high-powered computing (HPC) much better than Broadcom.
However, before we formed our bias against Broadcom's somewhat lackluster performance, CEO Hock Tan had this to say:
As we have said in previous calls several times, we are - to put it directly, we are shipping to exactly, we believe, to what demand requires. By that, I mean, end-user demand requires. We are trying very hard not to over-ship and end up building pockets of excess inventory within our ecosystem. So I think we're managing very much to what we see out there. Broadcom's Earnings Call
As we indicated previously, Broadcom is a bellwether semiconductor stock. The company has customers across multiple sectors and verticals. Therefore, the company represents an excellent way to be broadly vested in the semiconductor industry's growth. Apple (AAPL) is a major customer, which accounted for 20% of Q3'21 revenue. AVGO also serves large enterprise customers as large as the cloud hyperscalers and as wide as the cloud service providers. Its enterprise segment also includes customers from Telcos, other Device OEMs, and automotive customers. When Broadcom speaks, astute investors listen. It's that simple.
Therefore, AVGO clearly telegraphed that the company was careful not to contribute to a supply glut to chase revenue growth. For investors who think this semiconductor upcycle has no end, Hock Tan reminded:
We can show big numbers, but that means we will build up inventory in the wrong places...There's a certain level of panic buying. Take that across all segments of semiconductor markets today. You see that kind of behavior, unless you - as core key suppliers, we put in careful discipline to manage supply to where demand is really needed as opposed to where OEMs or even end users are just building up buffers - bucket of buffers everywhere. (from Q3'21 earnings call)
This keen observation by AVGO is clearly supported by what we observed in the market as well. For example, Taiwan Semiconductor recently decided to hike prices significantly by 20%. This move was likely necessary to strongly discourage its customers from ordering more than what they need. Otherwise, this might saddle TSM with excess production capacity subsequently, which is very costly to build up. Moreover, the inventory build-up at the world's leading chipmakers "hit a record high of $64.7 billion as of the end of June."
Despite Broadcom's "disciplined approach" towards inventory management, its order book remains elevated. Thus, while we might still experience the supply-constrained environment to continue possibly till 2023, the prognosis beyond that might not be too optimistic. On this, Hock Tan clearly warned investors, as he articulated:
And to answer your question point-blank, I do not see any specific drivers or reasons why the strength we see today is really nothing more than of an exaggerated up-cycle. I think we are at a stage, and I think there's nothing that would tell me otherwise, that we will not, over time, revert back over the next 10 years that is as we had the last 10 years, revert to - into an industry, the semi industry, that's really growing at GDP plus. And that's why I talked before in the past at about around mid-single-digit, 5% global GDP plus a certain amount...So if you want to look at year-on-year growth, '22, I think it will all be largely enterprise, but it'd be all fairly elevated. We always go through a period of digestion. There's no way we can consume on all that forever. And that's what is called a cycle, particularly when we expect supply to come into play out of this - out of the current tightness, but dated back to 2020 to start coming in 2023. And the massive investment and CapEx will start deploying capacity in '23 earliest. Then I see '23 where we have supply. And I think digestion of demand might just start to occur. (Deutsche Bank Technology Conference 2021)
We wanted to cover as much of the salient points as possible from the above conference, as we think semiconductor investors truly need a wake-up call from Broadcom's CEO. His reminder not to chase revenue growth at all costs resonated loudly and clearly in our ears.
Broadcom is a Highly Profitable Company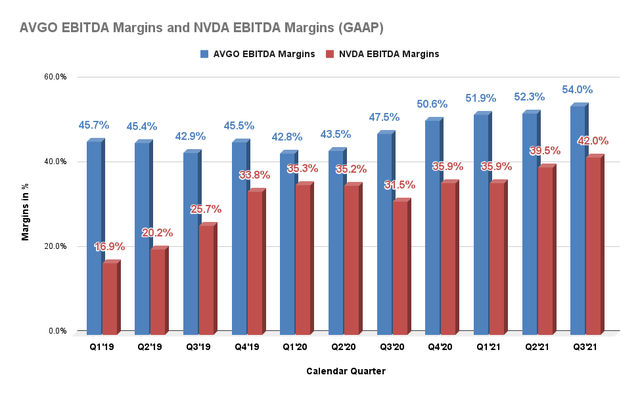 AVGO & NVDA quarterly GAAP EBITDA margins. Data source: S&P Capital IQ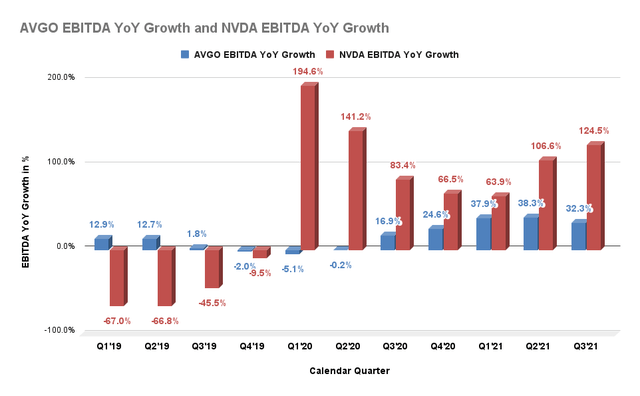 AVGO & NVDA quarterly EBITDA YoY growth. Data source: S&P Capital IQ
We think some investors may not be aware that AVGO's remarkable EBITDA performances mask its "underwhelming" topline growth. Readers should be able to glean AVGO's highly consistent and superior EBITDA margins. Its margins are higher and more consistent when compared to NVDA. AVGO is an incredibly consistent cash flow machine.
When we observe its EBITDA YoY growth rates, we can easily infer that Broadcom's management is competent in managing its business. NVDA's EBITDA bore the brunt of its last downcycle. The culmination of the previous crypto crackdown, sapping demand from China, and declining data center business hit NVDA really hard. Investors in NVDA should remember those days well. Today, the general semiconductor industry remains in a buoyant mood due to the secular demand drivers and supply constraints. However, investors must carefully evaluate such optimism due to the valuations of the leading semiconductor stocks. You have been reminded.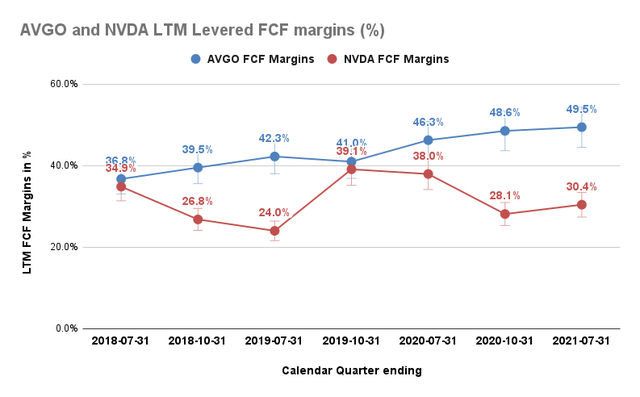 AVGO & NVDA LTM levered FCF margins. Data source: S&P Capital IQ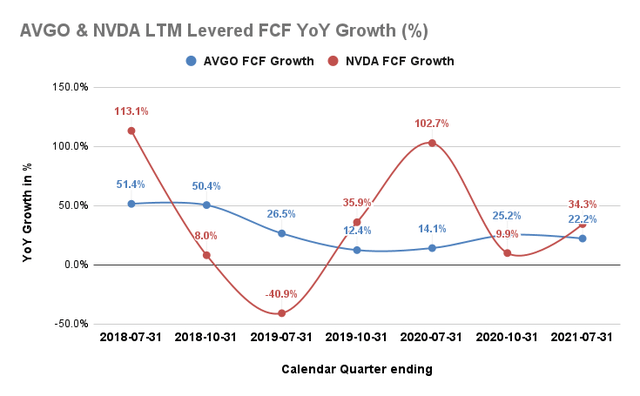 AVGO & NVDA LTM levered FCF growth. Data source: S&P Capital IQ
Readers can easily observe AVGO's remarkable cash flow generative capability. Its FCF margins have been very profitable and very consistent. They are clearly way superior to NVDA's. Moreover, the company's FCF growth has also been consistent. Its FCF is tracking even faster growth than its revenue growth.
Just like the EBITDA growth we saw earlier, Broadcom is an amazingly profitable company. It can drive its bottom line growth much faster than its topline growth. Broadcom doesn't need to "grow at all costs" to outpace its rivals' revenue growth. It is such a well-managed company, and its consistent performance has not left any doubt to management's credibility.
Impressive Industry Leading Dividend Yield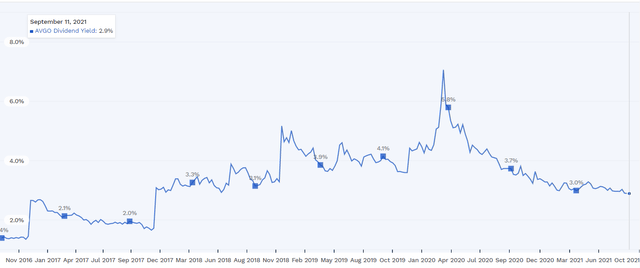 AVGO dividend yield. Data source: S&P Capital IQ
Broadcom stock currently offers investors a dividend yield of 2.9%. The company is on an 11-year dividend growth streak. Its current annualized payout is $14.40, which is expected to be hiked again this year to $16.70. The company remains committed to distributing 50% of its FCF as dividends.
In addition, CEO Hock Tan has also alluded to a decision at the end of the fiscal year in deciding whether to announce buybacks. The announcement is timely as the company has been accumulating a lot of cash, as CEO Hock Tan emphasized: "...We're accumulating cash at a fairly dramatic rate. And so by the end of October, our fiscal year, we'll probably see the cash net of dividends and our cash pool to be up to close to $13 billion, which is something like $6 billion, $7 billion, $8 billion above what we would, otherwise, like to carry on our books. So we have to make a call [on buybacks] at that - a decision at that point."
Therefore, dividend investors can certainly still consider Broadcom's opportunity from a dividend point of view. The company is so well managed, with a strong focus on shareholder value. It's quite hard to think of how a potential downcycle could snap its 11-year dividend growth streak.
Enterprise Growth To Drive Broadcom Moving Forward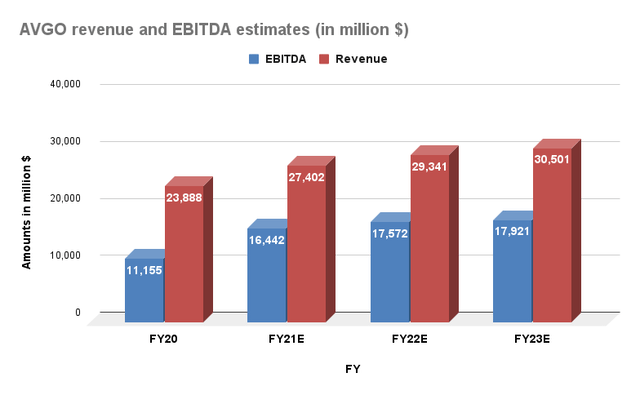 Broadcom revenue and EBITDA mean consensus estimates. Data source: S&P Capital IQ
Broadcom expects that the enterprise segment will be the key growth driver moving forward. Its performance is in line with the reopening cadence, as enterprise customers ramp their spending. Broadcom emphasized:
...If you look back, in 2019, they didn't spend; 2020, they didn't spend, so there's pent-up demand. And that's what perhaps is accounting for the fact that we're seeing 2022 is virtually booked up and it's driven by hypercloud, broadband and now enterprise... Now over the last 3 months, we start to see enterprise as the economy starts to return and recover and loosen up, we start seeing a lot of demand from enterprise through OEMs. And by that, I mean OEMs like Cisco, IBM, Dell EMC and HP, those guys. They are the guys who are the system integrators and suppliers of technology and boxes to enterprises, large enterprises, small enterprises. We start to see a surge in demand now. (Deutsche Bank Technology Conference 2021)
Despite that, Broadcom's forward estimates signal a looming slowdown in growth. Mean consensus estimates indicate that revenue is expected to grow at a CAGR of just 8.5%. In addition, EBITDA estimates point to a CAGR of 17.1%, which again validates AVGO's incredible cash machine. These estimates are in line with pre-COVID growth rates. Hence, investors should expect slower revenue growth moving forward. Nevertheless, a slower topline growth is never a deal-breaker for Broadcom's investors. The company's strong bottom line metrics more than made up for it.
Valuations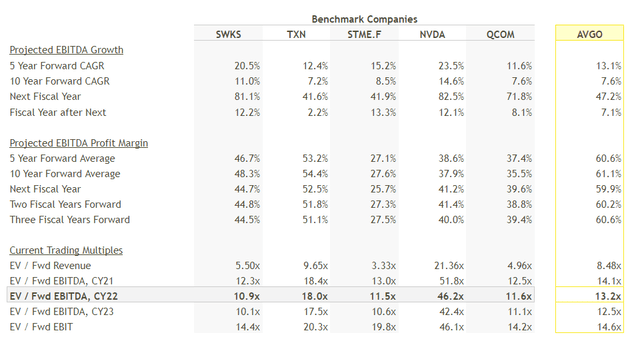 EV/EBITDA valuations comps set. Data source: S&P Capital IQ

Blended fair value (LTM & Fwd). Data source: S&P Capital IQ
Based on our blended EV/EBITDA valuation model, we derived an implied fair value of $497.96. We used the CY22 EBITDA mean consensus estimates as a basis. Thus, the stock looks fairly valued here. Readers should also note that our implied multiples are higher than the 3Y and 5Y EV/Fwd EBITDA means of 11.61x and 10.59x, respectively. Readers can refer to the details of our model here.
The Street's mean target price is $547.03. This values AVGO at an implied EV/CY22 EBITDA of 14.6x. It is 25.9% and 37.7% above its 3Y, and 5Y mean, respectively. Therefore, it certainly looks like a premium valuation.
However, we know that dividend investors are not concerned. The stock is still trading at a relatively high yield of 2.9%. Its payout is also expected to increase by 16% this year. Add on the potential for buybacks this FY, and we think there are still opportunities for dividend investors to capitalize.
AVGO Stock Price Action and Trend Analysis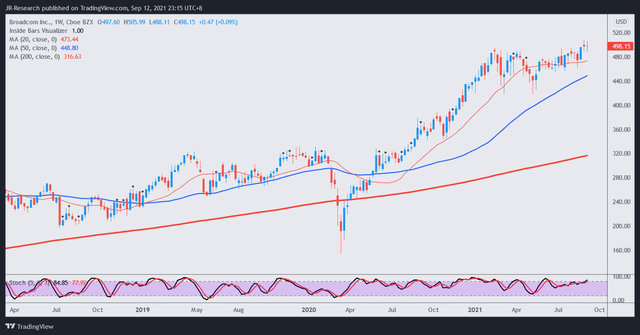 AVGO stock price action (weekly chart).
AVGO stock has a clear upward bias. The market certainly supports the secular growth stock of Broadcom's highly profitable business. However, we do not find a lower-risk entry point for AVGO stock at the moment for value or growth investors.
Couple that with its fairly valued stock; we prefer to wait for a retracement first. As we consider AVGO a strong company, usually, we do not mind adding it at fair value. However, we prefer to be cautious, keeping in mind the potential slowdown in the industry, as highlighted by CEO Hock Tan. We will observe the price action for a possible entry at the next retracement.
Therefore, we are maintaining our Neutral rating for now.