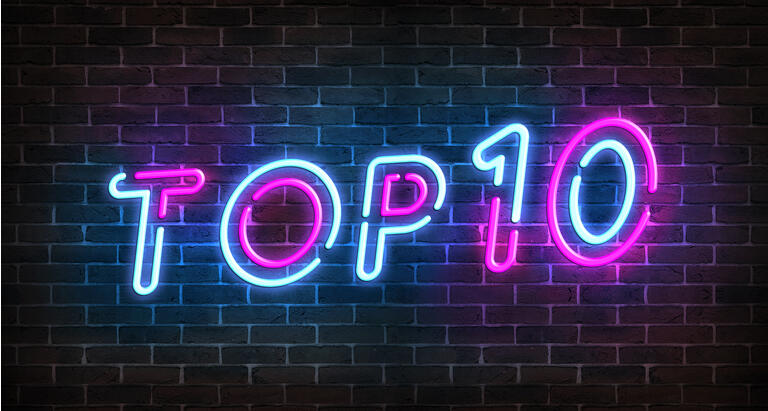 In my monthly series of 10 Dividend Growth Stocks, I rank a selection of dividend growth [DG] stocks in Dividend Radar and present the ten top-ranked stocks for consideration. Dividend Radar is a weekly automatically generated spreadsheet tracking stocks with dividend increase streaks of five years or more.
This month, I screened for high-yielding, discounted stocks with safe dividends. All ten stocks yield at least 4%, trade below my fair value estimates, and have dividends deemed Very Safe or Safe by Simply Safe Dividends.
High-yielding stocks are suitable for income investors and for dividend growth investors wishing to reinvest dividends. Dividend reinvestment can supercharge long-term returns because of the power of compounding.
Screening and Ranking
The latest Dividend Radar (dated September 10, 2021) contains 749 stocks.
I first screened for stocks yielding at least 4% and found 91 such stocks in Dividend Radar. Only 28 of these candidates have quality scores in the range 15-25 considered Investment Grade. I used DVK Quality Snapshots to determine quality scores.
Subsequently, I screened for stocks with Dividend Safety Scores above 60 (Very Safe and Safe dividends) and stocks trading below my fair value estimates. Only twelve stocks passed all three screens.
I ranked these candidates using DVK Quality Snapshots and present the ten top-ranked stocks for consideration. To rank candidates, I sort them in descending order based on quality scores and use the following tie-breaking metrics, as necessary:
Simply Safe Dividends' Dividend Safety Scores
S&P Credit Ratings
Dividend Yield
I rarely need to use the dividend yield to break ties.
Top 10 Dividend Growth Stocks for September
Here are this month's ten top-ranked DG stocks in rank order:
I own the six highlighted stocks in my DivGro portfolio. The following company descriptions are my summary of company descriptions sourced from FinViz.
1. Pinnacle West Capital Corporation (PNW)
PNW is a holding company that provides retail and wholesale electric services primarily in the state of Arizona. Its subsidiary, Arizona Public Service Company, is a vertically integrated electric company that generates, transmits, and distributes electricity using coal, nuclear, gas, oil, and solar resources. PNW was founded in 1920 and is headquartered in Phoenix, Arizona.
2. Verizon Communications Inc. (VZ)
VZ provides communications, information, and entertainment products and services to consumers, businesses, and governmental agencies worldwide. Formerly known as Bell Atlantic Corporation, the company changed its name to Verizon Communications Inc in June 2000. VZ was founded in 1983 and is based in New York, New York.
3. Consolidated Edison, Inc. (ED)
ED delivers electricity, gas, and steam. The company provides electric services to customers in New York City and Westchester County; gas to customers in Manhattan, the Bronx, and parts of Queens and Westchester County; and steam to customers in parts of Manhattan. ED was founded in 1884 and is based in New York, New York.
4. International Business Machines Corporation (IBM)
Founded in 1910 and headquartered in Armonk, New York, IBM is a global information technology (or IT) company that offers consulting and application management services, IT infrastructure services, and infrastructure technologies. IBM's Watson is a cognitive computing platform that interacts in natural language, processes big data, and learns from interactions with people and other computing systems.
5. The Bank of Nova Scotia (BNS)
BNS provides various banking products and services in Canada, the United States, Mexico, and internationally. It operates through Canadian Banking, International Banking, Global Banking and Markets, and Global Wealth Management segments. BNS was founded in 1832 and is headquartered in Halifax, Canada.
6. Chevron Corporation (CVX)
Founded in 1984 and based in San Ramon, California, CVX is a multinational energy corporation involved in all aspects of the oil and gas industries, including exploration and production; refining, marketing and transport; chemicals manufacturing and sales; and power generation. CVX is the fifth-largest integrated energy company with operations in about 180 countries.
7. AbbVie Inc. (ABBV)
ABBV is a worldwide, research-based biopharmaceutical company that develops and markets products to treat conditions such as rheumatoid arthritis, psoriasis, and Crohn's disease; hepatitis C; human immunodeficiency virus; endometriosis; thyroid disease; Parkinson's disease; and chronic kidney disease and cystic fibrosis. ABBV was incorporated in 2012 and is based in North Chicago, Illinois.
8. Enterprise Products Partners L.P. (EPD)
Founded in 1968 and based in Houston, Texas, EPD provides midstream energy services to producers and consumers of natural gas, natural gas liquids, crude oil, petrochemicals, and refined products. EPD operates through four segments: NGL Pipelines & Services; Crude Oil Pipelines & Services; Natural Gas Pipelines & Services; and Petrochemical & Refined Products Services.
9. Magellan Midstream Partners, L.P. (MMP)
Founded in 2000 and headquartered in Tulsa, Oklahoma, MMP is a publicly traded partnership engaged in the transportation, storage, and distribution of refined petroleum products and crude oil in the United States. MMP owns the longest refined products pipeline in the USA, with access to about half of the nation's refining capacity.
10. OGE Energy Corp. (OGE)
Founded in 1995, OGE, together with its subsidiaries, provides energy and energy services primarily in the south-central United States. The company operates in two segments, Electric Utility and Natural Gas Midstream Operations. It offers physical delivery and related services for both electricity and natural gas. OGE is headquartered in Oklahoma City, Oklahoma.
Please note that the top ten DG stocks are candidates for further analysis, not recommendations.
Key Metrics and Fair Value Estimates
Below, I provide a table with key metrics of interest to DG investors, including the dividend increase streak (Years), the forward dividend Yield for a recent stock Price, and the 5-year dividend growth rate (5-Yr DGR). The Chowder Number (CDN) and 5-year Yield on Cost (5-Yr YoC) are measures of a stock's future total return and dividend income prospects, while the 5-year trailing total returns (5-Yr TTR) is a measure of the stock's performance over the past five years.
I also provide the five quality indicators used in determining each stock's quality score (Qual.), as well as my Fair Value estimate to help identify stocks that trade at favorable valuations. I show the discount (–Disc) or premium (+Prem) of a recent price to my fair value estimate.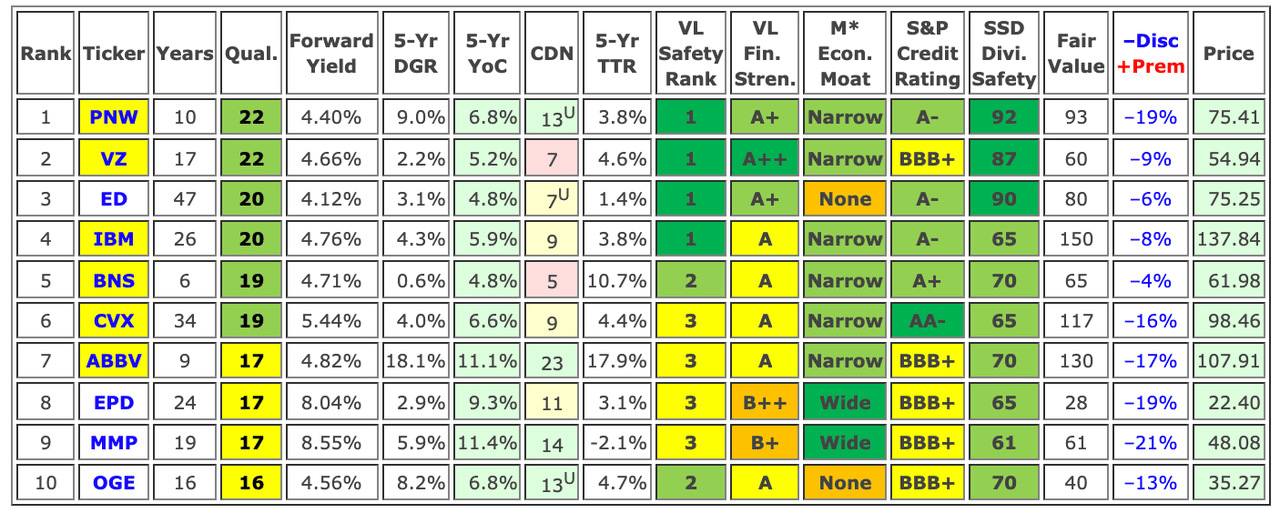 | | | | |
| --- | --- | --- | --- |
| Rank | Company (Ticker) | Sector | Supersector |
| 1 | Pinnacle West Capital (PNW) | Utilities | Defensive |
| 2 | Verizon Communications (VZ) | Communication Services | Sensitive |
| 3 | Consolidated Edison (ED) | Utilities | Defensive |
| 4 | International Business Machines (IBM) | Information Technology | Sensitive |
| 5 | The Bank of Nova Scotia (BNS) | Financials | Cyclical |
| 6 | Chevron (CVX) | Energy | Sensitive |
| 7 | AbbVie(ABBV) | Health Care | Defensive |
| 8 | Enterprise Products Partners (EPD) | Energy | Sensitive |
| 9 | Magellan Midstream Partners (MMP) | Energy | Sensitive |
| 10 | OGE Energy (OGE) | Utilities | Defensive |
My fair value estimates are derived from fair value estimates and price targets available at several sources, including Morningstar and Finbox. I also estimate fair value using the five-year average dividend yield of each stock using data from Dividend Radar. With several estimates and targets available, I ignore the outliers (the lowest and highest values) and use the average of the median and mean of the remaining values as my fair value estimate.
Commentary
Here's a comparative analysis of an equal-weighted portfolio of this month's top ten DG stocks, courtesy of Finbox.com: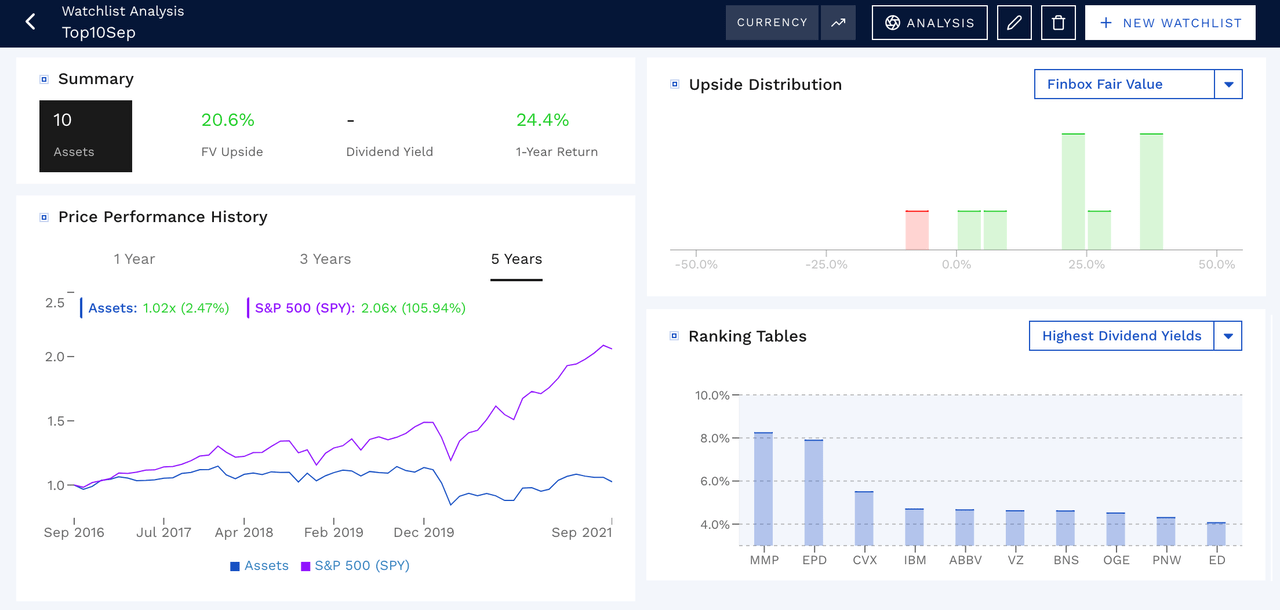 Source: Finbox.com
From a price-performance perspective, the portfolio would have significantly underperformed the S&P 500 (as represented by the SPDR S&P 500 Trust ETF (SPY)) over the last five years, returning only 2.47% versus SPY's 105.94%. MMP and EPD have the highest yields, while all but one stock have fair value upsides according to Finbox.com.
Investing in high-yielding stocks does not necessarily deliver high total returns. The 5-year TTRs of ABBV and BNS are 17.9% and 10.7%, respectively. Those are solid returns for high-yielding stocks. The 5-year TTRs of the other stocks are mediocre at best.
Of course, investors looking for higher yields may be more interested in income than in total returns. For example, retirees living off dividend income would need higher-yielding stocks to cover living expenses. Aside from dividend yield, their main concern would be Dividend Safety.
Dividend reinvestment can supercharge long-term returns because of the power of compounding. So dividend growth investors may look for higher yields because they can reinvest those larger dividends.
We can use a dividend returns calculator to see the impact of dividend reinvestment. Assume we invested $10,000 in each of these stocks on 11 September 2016. The following table shows how these investments would have performed through 10 September 2021, with and without dividend reinvestment:
Ticker
Starting Investment
Ending Investment with Reinvestment
Ending Investment without Reinvestment
PNW
10,000
11,818.52
11,875.74
VZ
10,000
12,895.28
12,610.00
ED
10,000
12,071.98
11,996.65
IBM
10,000
10,841.53
10,635.21
BNS
10,000
14,420.30
13,814.59
CVX
10,000
11,721.73
11,721.73
ABBV
10,000
20,877.56
19,707.17
EPD
10,000
11,518.87
11,274.76
MMP
10,000
9558.26
9519.77
OGE
10,000
13,647.16
13,405.37
Totals:
100,000
129,371.19
126,560.99
Total Return:
29.37%
26.56%
Annualized Return:
6.65%
6.07%
In this example, dividends are reinvested in the stocks that paid them, which is not what I typically do. Rather, I collect dividends and reinvest them (along with new capital) in stocks trading at favorable valuations.
PNW illustrates that dividend reinvestment in the same stock does not always have the desired outcome! (And, interestingly, dividend reinvestment with CVX over this time frame would have been a wash).
AbbVie looks the most interesting to me, mainly because the company is the only one with a double-digit percentage 5-year DGR:
ABBV's earnings growth history is impressive, too: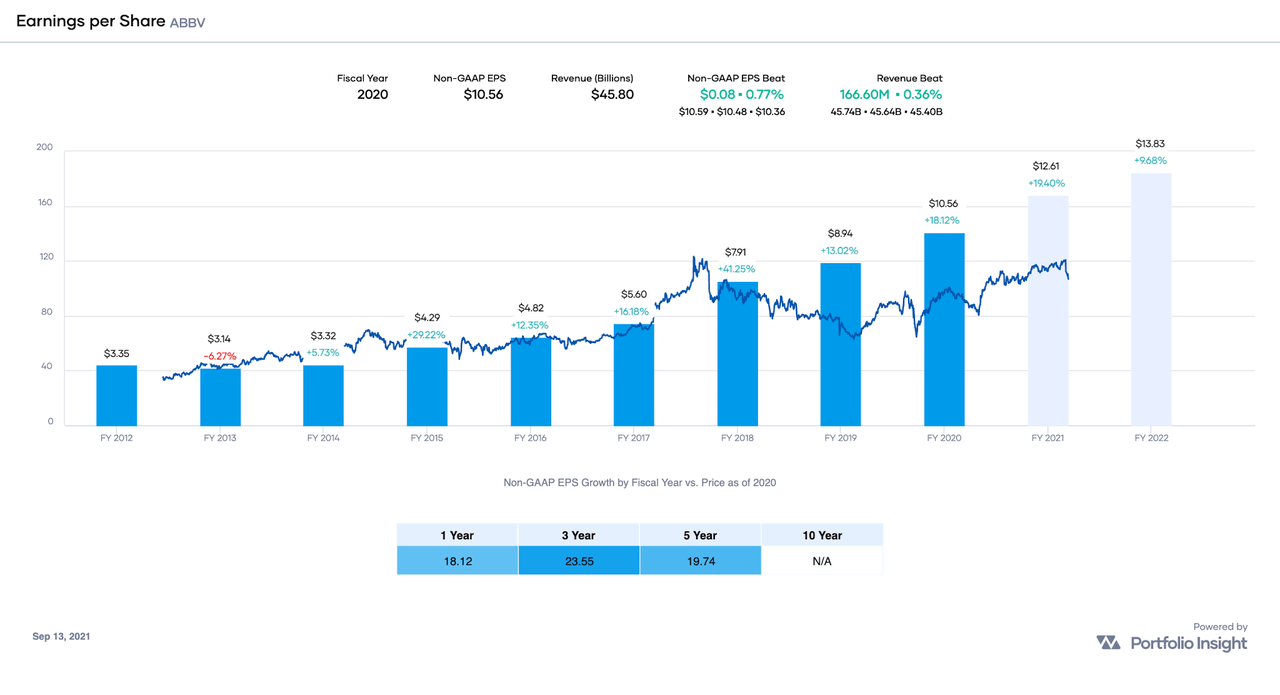 At 43%, the stock's earnings payout ratio is "edging high for biotechs", according to Simply Safe Dividends, though we note that the ratio is trending down: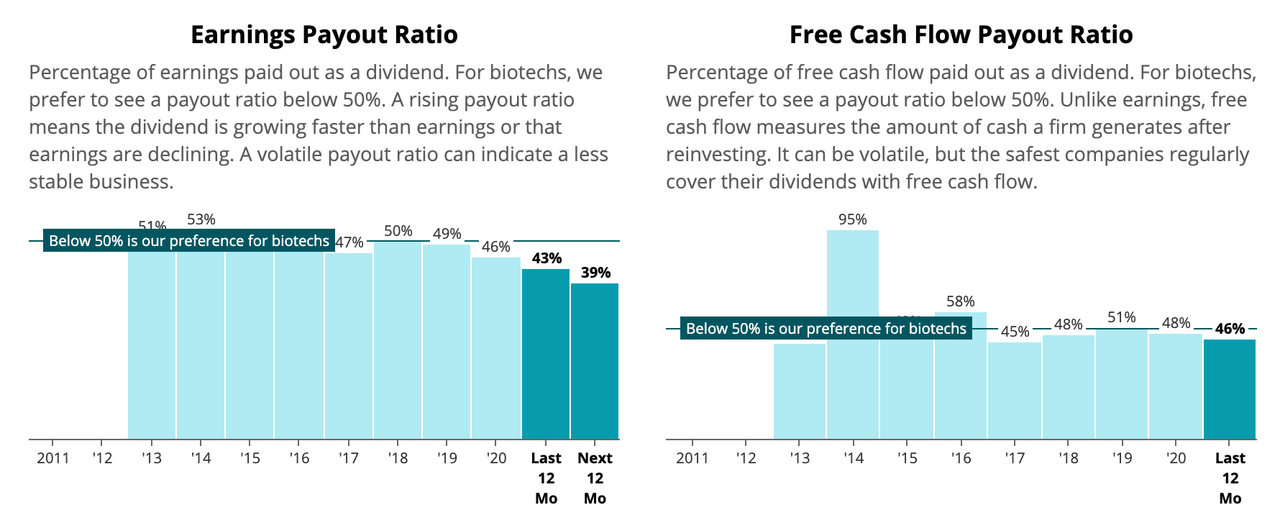 Source: Simply Safe Dividends
Based on my preferred portfolio target weights, my ABBV position is a full-sized position, so I'm not looking to add shares at this time. However, I think ABBV is worth looking into if you're interested in a high-yielding, safe DG stock with some growth prospects!
Concluding Remarks
In this article, I ranked discounted and safe Dividend Radar stocks yielding at least 4%.
Six stocks are rated Fine (quality scores:19-22) and four stocks are rated Decent (quality scores: 15-18). In my view, ABBV provides the best opportunity now, given its discount of 17% and an attractive dividend yield and dividend growth rate combination (4.71% and 1.1%, respectively).
As always, I encourage readers to do their due diligence before buying any stocks I cover.
Thanks for reading and take care, everybody!