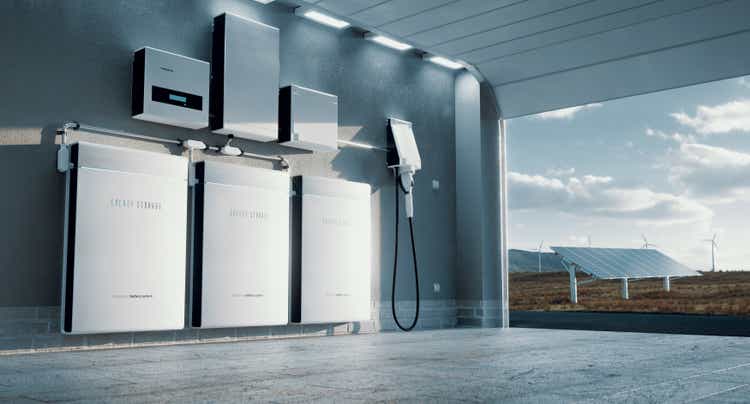 Investment Thesis
Nuvve (NASDAQ:NASDAQ:NVVE) was formed via a merger with a Special Purpose Acquisition Company ("SPAC") company called Newborn Acquisition Corp. The company has bright prospects and it is in the early stages of the EV revolution. While many EV players in the market are focused on hardware, Nuvve has carved out a niche by focusing on software. This allows them to be asset-light and will translate to high margins as the business achieves scale in the future. Nuvve has concrete growth drivers - which we will cover below with evidence.
From the reasons above, Nuvve sets itself apart from other SPAC companies where investors are focusing on the hype around it and they are not focusing on the fundamentals.
Business Model
Nuvve has 2 business segments – Vehicle-to-Grid ("V2G") and Transportation-as-a-Service ("TaaS").
Vehicle-to-Grid Services
In certain parts of the USA, the cost of electricity varies based on supply and demand. From the chart below, we see the cost of electricity in California spiking up between 4 pm to 8 pm.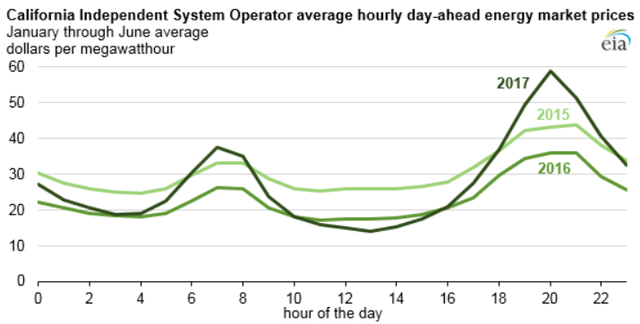 (Source: California Wholesale Electricity Prices)
How do we make sense of this chart? In an interview with Growth Investor Secrets Podcast, CEO Gregory Poilasne explained that the cost of electricity is the cheapest mid-noon as a lot of power generated from solar panels is going into the grid. Conversely, when there is no sun at night, the supply of electricity drops as solar panels are not generating electricity anymore. Furthermore, there is also an increase in demand as everyone in the city starts switching on lights. With the supply dropping and demand increasing, prices of electricity increase at night.
If we are almost certain that the cost of electricity spikes from 4 to 8 pm daily, how can we profit from this? We can buy electricity when it is low at 12 pm and sell it at the peak when it is 6 to 8 pm.
This is what Nuvve's V2G software is all about. They can help their clients charge their EV batteries when it is cheap and discharge power from their EVs to the grid when electricity is expensive.
In other words, they are generating gross revenues from energy arbitrage through the V2G services they perform. Nuvve will be sharing 60-70% of these gross revenues with EV fleet owners while they retain 30-40% of the rest as profits.
A common question that comes to most investors' heads – it may not make sense for a vehicle to be sitting in the parking lot all day, plugged into a charging point for V2G services.
This is where Nuvve has found a unique use case that is suitable for their services. They decided to target school buses, which are parked and unused most of the time. These school buses are only busy when they send kids to school and back home.
Transportation as a Service
The next business segment that Nuvve has is TaaS, where they purchase and lease out electric buses ("EBs") to school bus fleet owners. This segment targets fleet owners who are facing budget constraints to switch to EV buses.
Nuvve is providing TaaS through Levo, a joint venture formed by Stonepeak, Evolve (SNMP), and Nuvve. The chart below shows how the deal was structured.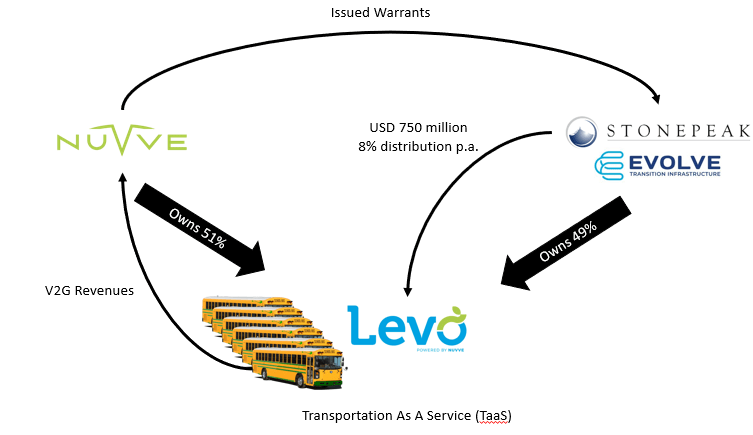 (Source: Created by Author with reference to Nuvve's 10-Q)
In a nutshell, Stonepeak and Evolve will be injecting funds of $750 million into Levo while getting an 8% distribution per year. Nuvve – who owns 51% of Levo, will be the operator of Levo.
To sum up, TaaS is the act of Nuvve purchasing EBs and leasing them at a fee through Levo to school bus operators.
In the later segment, I will be commenting on why this deal helped Nuvve to secure its destiny and it gives investors a high certainty of future growth.
Growth Drivers
By now, you can see that the key to NVVE's V2G business taking off is the need for school bus fleet owners to convert their Internal Combustion Engine ("ICE") buses to EBs. Below, I will cover growth drivers that will be pushing this conversion and benefit Nuvve.
Biden Plan
Recently, the Biden administration passed the infrastructure plan. Under the infrastructure plan, President Biden wants to convert 20% of all America's school buses to EBs.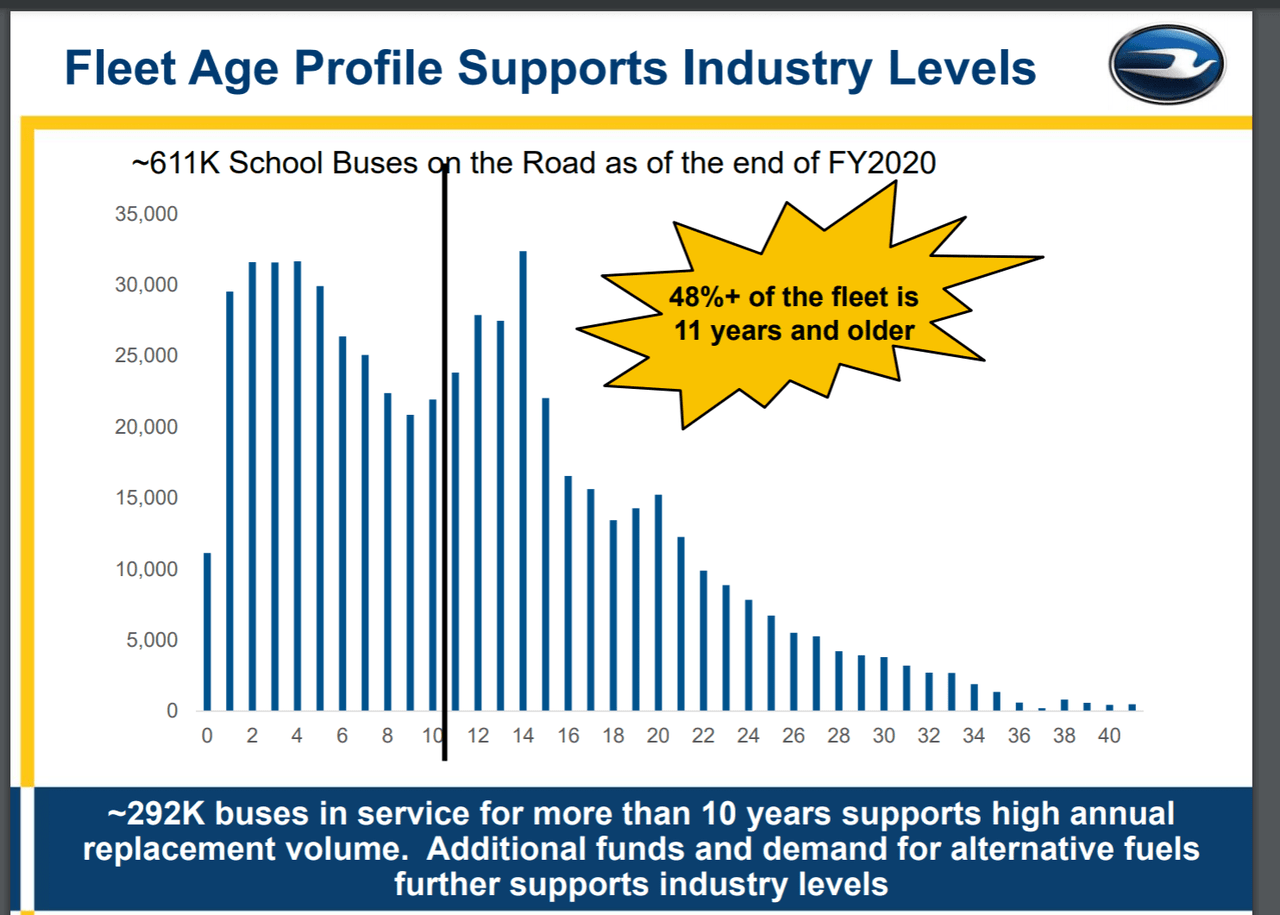 (Source: Blue Bird Investor Presentation)
According to Blue Bird's (NASDAQ:BLBD) presentation, we see around 611,000 school buses on the road. 20% of school buses electrified translates to 122,000 EBs in the coming years.
Each EB is projected to generate $10,000-20,000 per year through V2G services. From the Biden infrastructure plan alone, this creates a Total Addressable Market ("TAM") of $1.2 billion to $2.4 billion for Nuvve's V2G business. To put this into context, Nuvve's 1H FY21 revenues only make up $1.7 million.
Furthermore, a study done in 2018 shows that less than 1% of the school bus population are electrified. We expect to see exponential growth in the number of EBs being rolled out and this will benefit Nuvve's V2G business tremendously.
Blue Bird & Lion Electric
Nuvve has a partnership with Blue Bird and Lion Electric (NYSE:LEV) who are Original Equipment Manufacturers (OEMs) that produce EVs. Whenever Blue Bird or Lion Electric prospect clients, it is synergistic to throw in Nuvve's V2G services and package it together with the sale of the EV.
To the client, purchasing an EV with V2G capabilities suddenly becomes less expensive in the long run as the revenues that they can earn from V2G services offset the cost of owning an EV in the long run.
To partners like Blue Bird or Lion Electric, there is no harm in packaging Nuvve's services together. By working with Nuvve, they are differentiating themselves from other EV OEMs who do not offer EVs with V2G capabilities.
With these partnerships in place, we can look into Blue Bird and Lion Electric as a proxy of Nuvve's success. If Lion Electric and Blue Bird does well, Nuvve will also benefit as customers sign up for EVs with V2G capabilities when purchasing vehicles from the OEMs.
Fortunately for us, both Lion Electric and Blue Bird are publicly listed companies and we can track their 10-Qs and get a pulse on how fast bus fleet owners are switching from ICE buses to EBs.

(Source: Blue Bird Q3 FY2021 Investor Presentation)
Blue Bird primarily focuses on the manufacturing of school buses. A quick look at their investor presentation shows that the number of EV buses they have sold increased by 135%.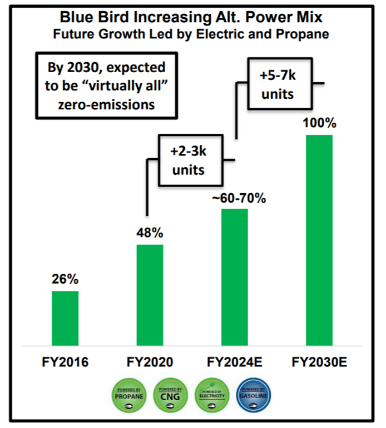 (Source: Blue Bird Q3 FY2021 Investor Presentation)
Furthermore, Blue Bird plans to only produce zero-emissions buses by 2030, and this is in line with Biden's infrastructure plan, which hopes to convert all school buses to EV buses.
In their Q2 earnings call, Blue Bird CEO Phil Horlock announced that they will expand production capacity for EBs from 1,000 to 3,000 annually. We think that the demand for EBs is already felt on the ground and Blue Bird is preparing for it.
We see the same trend happening in Lion Electric. They almost tripled the number of EVs they produced – 22 in Q2 FY20 vs 61 in Q2 FY21. Similarly, they will be increasing their production capacity from an existing 2,500 vehicles/year to more than 20,000 vehicles/year when their new manufacturing plant is up – that is a 9x increase in production capacity.
We like that these partners that Nuvve works with are not small players. Blue Bird has been the main player in the school bus manufacturing space while Lion Electric is an upcoming EV player growing quickly.
From these 2 partners they have, we can conclude that the EV revolution is not hype, it is happening today. Demand is coming in fast, boosted by the Biden infrastructure plan. I do not think that these 2 companies will be unwise to deploy so much capital to expand their production capacity if they did not sense real demand on the ground.
Stonepeak and Evolve
We can see that a huge part of the thesis working out lies heavily on fleet owners having to convert from ICE buses to EBs and Nuvve's partners doing well so they can get a stream of referrals for their V2G services. This is something that Nuvve cannot control.
However, Nuvve decided to take their destiny into their own hands rather than leaving success to chance. They went into a deal with Stonepeak and Evolve as I mentioned above when I described their TaaS business model.
With this $750 million, they will be able to purchase 3,500 EBs and make money by leasing these EBs (TaaS) and conducting V2G services. Mr. Poilasne shared that the company will be able to make an estimated $150 million of ongoing revenues from this $750 million of capital. Bear in mind that their current 1H revenues are a mere $1.7 million.
We find this deal to be intelligent and beneficial for investors. This guarantees Nuvve's predictable streams of revenues coming in the next few years. Nuvve will have full oversight and control on how fast EBs can roll out rather than leaving it to chance and wait for fleet owners to convert to EBs.
Furthermore, we think that the way the warrants are structured between Nuvve, Stonepeak, and Evolve seem to be a win-win for investors. Since Warrants dilute existing shareholders, we want to be sure that the strike prices of the warrants are not low.

(Source: Nuvve's 10-Q )
Of the 6 million warrants issued, 4 million shares have struck prices between $15 and $40. Given the current stock price, If Stonepeak and Evolve do exercise the majority of their warrants, they will be buying shares of Nuvve at a higher price than we are today.
In fact, there were days where Nuvve was trading at $9. Buying at such prices would mean buying Nuvve at a lower price than the exercise price for Stonepeak and Evolve.
On top of the warrants issued from now till 2028, Stonepeak and Evolve went into a purchase agreement with Nuvve. This allows them to purchase shares of Nuvve at $50 up to an aggregate value of $250 million.
Given that most of the warrants and purchase agreement exercise prices are higher than current stock prices, we find this transaction to be shareholder-friendly.
Aside from the way this deal was structured, we think that Stonepeak and Evolve are providing smart money to Nuvve. Stonepeak manages $37 billion of assets and has a wealth of knowledge in the energy industry. Their portfolio consists of power generation and renewable companies and they can share industry knowledge to help Nuvve do better.
Growth Optionality
The entire article has centered around school bus fleet owners converting their ICE buses to EBs. However, that is just scratching the surface of Nuvve's TAM.
Apart from electric school buses, V2G can also be applied to other types of vehicles. In an interview, Mr. Poilasne shared that V2G services can be applied to other vehicle types like electric trucks and vans as well. For example, delivery vans, box trucks, shuttles, and municipal vehicles.
Trucks and vans are a much bigger market than the school bus market. According to 2019 statistics provided by the US Bureau of Transportation, there is an estimated total of 63.3 million pickup trucks and vans. Compared to the total school bus count of 600,000, we think that the growth optionality for Nuvve is huge.
Mission Critical
We think most investors are missing out that utilities are actively pushing out V2G initiatives. V2G platform providers like Nuvve provides ancillary services and it helps to stabilize the grid when there is a shortage of power.
We see V2G services as something that is highly mission-critical as reports of Utilities not being able to cope with a spike in electricity demand across the US. For example, California utilities were scrambling to find power during the Summer.
By aggregating electricity when demand is lowest during noon and discharging power back to the grid when demand spikes at night, Nuvve is handing a nice platter to the utilities and helping them to solve a recurring and painful problem.
The best part is, the Utilities do not need to spend a single cent and the cost is borne by the EV fleet owners. I see this as a win-win-win situation for the EV fleet owners, utility companies, and Nuvve.
Risks
Execution Risk
We face the potential risk of poor execution by the management of Nuvve. Nuvve has strong patents surrounding V2G technology and it was vetted by Toyota Tsusho and Stonepeak, who are investors of Nuvve. The patent has a runway of approximately 11.9 years as of December 31, 2020. If Nuvve does not quickly gain market share and execute strongly on sales in the next 10 years while the patent is still in place, we may not see significant returns in the long run. If this happens, we are not wrong on Nuvve's growth potential, but we are wrong on the management's execution abilities.
Delay in Semiconductors
There has been a shortage of semiconductors and it is affecting the production capacity of EV manufacturers. In the short run, Nuvve may be affected as the roll-out of EBs may slow down due to this. Hence, I won't be surprised if the stock moves sideways in the next 1 to 2 years.
However, I do not think that this will persist beyond 2 years as foundries would have enough time to boost their supply to meet the high demand. If Nuvve can mitigate this, we should see the potential upside.
Valuations
Worst Case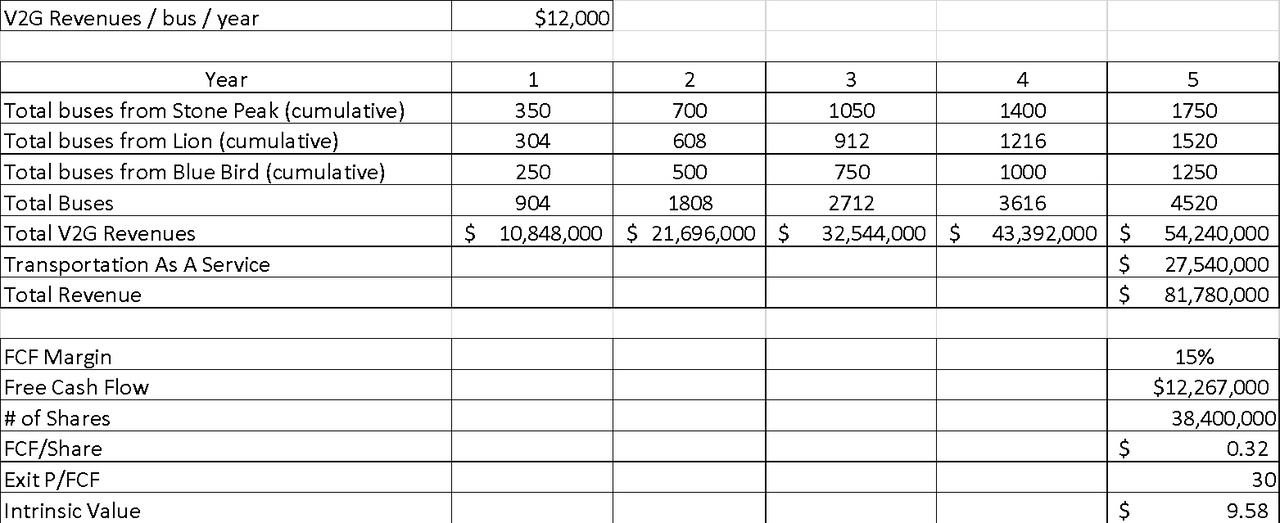 (Source: Created by author with reference to Nuvve's 10-Q)
In this worst-case scenario, we assume that each EB brings in lower V2G revenues of $12,000. We are also assuming Nuvve takes 10 years to roll out 3,500 EBs with the 750 million they raised from Stonepeak and Evolve.
We also assume that the amount of EBs in the event where Lion and Blue Bird do not grow, which is highly unlikely given that they are ramping up production capacity.
On top of that, we take into account full dilution and exercising of all warrants and purchase agreements issued by Nuvve, hence the number of outstanding shares you see in the model is much higher than the total shares outstanding now.
Applying a 15% free cash flow margin for a software company like Nuvve, we arrive at a valuation of $9.58 and this makes us believe that the downside is low.
Best Case

(Source: Created by author with reference to Nuvve's 10-Q)
In the best-case scenario, we assume a higher V2G revenue of $20,000 per EB. We project that Nuvve takes 5 years to roll out 3,500 EBs through Levo. We assume that the amount of EBs produced by Lion and Blue Bird grows incrementally by 500 every year.
We do not think that this is unrealistic as Blue Bird has intentions to raise their production from 1,000 to 3,000 EBs yearly while Lion Electric will be increasing their yearly production capacity to 20,000 with their new plant.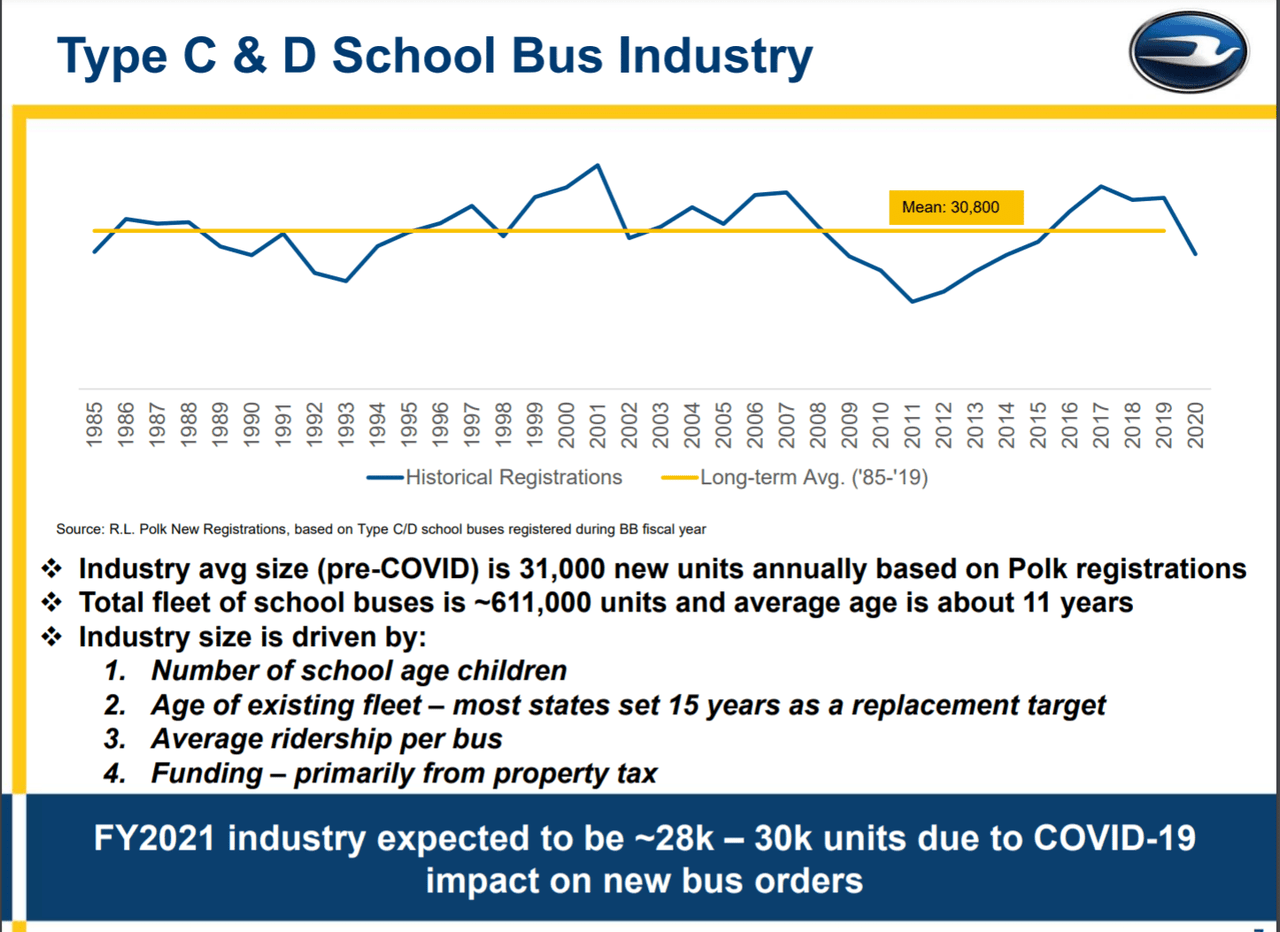 (Source: Blue Bird Investor Presentation June 2021)
Given that most states set 15 years as a replacement target for school buses and we have 611,000 buses on the roads, we should expect about 40,000 old school buses replaced yearly. With Biden's grants lowering the cost of EBs, it will not be surprising for fleet owners to switch to EBs as compared to buying new ICE buses. Thus, it is not unrealistic for Nuvve to be capturing 2,000 new EBs in year 5, given that 40,000 buses will go through replacement yearly. Projecting all these, we arrive at an intrinsic value of $30.
For share dilution, unlike what we did for the bear case, we excluded 6 million shares - 1 million comes from the warrants issued at a strike price of $40 and 5 million shares comes from a purchase agreement with a strike price of $50. Given our projected intrinsic value of $30 by year 5, we may not see the exercising of shares happening.
Conclusion
We don't think Nuvve is a company that is going to pop in the next year due to the semiconductor disruptions to the production of EBs. It takes time for fleet owners to convert from ICE buses to EV buses.
Thus, shareholders who get in now must be willing to wait 3 years and beyond to see great results.
The good news is Nuvve has very strong growth drivers pushing fleet owners to convert to EBs. On top of EBs, Nuvve has great growth optionality in the electric truck market which we did not model into our valuations.
Being asset-light and focusing on the software part of the EV industry, we think Nuvve can achieve great margins over time. From our model, we see a potential upside of 3x in the next 5 years.