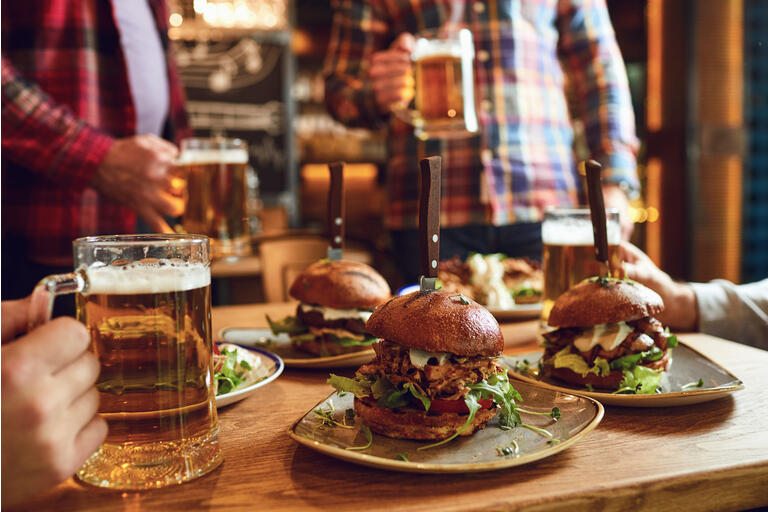 Last Thursday, after the bell, Dave & Buster's (NASDAQ:PLAY) reported record results that CRUSHED analyst expectations for Q2 FY 2021. Since there are eleven sell siders covering D&B, I think we can agree that this stock is well covered by the street, and therefore a beat of this magnitude is meaningful. Moreover, despite persistent headlines about the Delta variant, management indicated QTD Q3 comps are still tracking +1.3% to Q3 FY 2019. In addition, management stated Q3 FY 2021 Adj. EBITDA would be materially higher, in absolute dollars, than Q3 FY 2019.
D&B's Q2 FY 2021 conference call was solid and this management team is executing well. From an equity standpoint, it is nice to see resumption of future growth in the form of new stores opening, with PLAY set to open 4 new stores this fiscal year (2 are already open, bringing its year end store count to 144) and management guided to 6 to 8 new opening in FY 2022. As a side note, its new smaller market format store concept (18K square feet) is exceeding expectations in terms of projected revenue and EBITDA. Given its $121 million of Q2 FY 2021 operating cash flow, PLAY will redeem 10% of its $550 million 7.625% 2025 bonds at a call price of $103 and it is eligible to redeem an additional 10% of the total issuance starting in October 2021.
Actuals vs. Consensus Estimates
Per Seeking Alpha's Earnings Preview tool, consensus estimates for Q2 FY 2021 were revenue of $358.5 million and Adj. EBITDA of $85.2 million.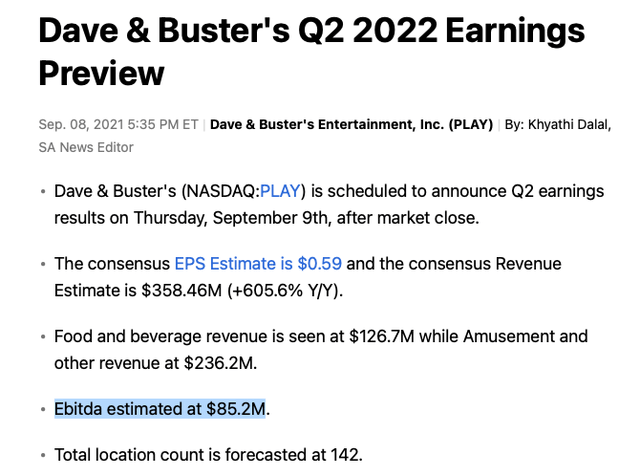 Source: Seeking Alpha
Lo and behold, Dave and Buster's reported Q2 FY 2021 revenue of $377.6 million, $1.07 EPS, and Adj. EBITDA of $119.2 million. Comps were +3.6% to Q2 FY 2019 and this is despite some lingering Covid restrictions associated with lesser late night hours during Friday and Saturday (described on the conference call) and fears about the Delta variant.
See this commentary made by PLAY's CEO, Brian Jenkins, on the Q2 FY 2021 conference call:
Our success was fueled by the return to positive comp sales of 3.6% over Q2 2019 levels. Even more impressive was our strong EBITDA performance. We blew by the $100 million mark for the first time in any quarter in our history, achieving $114 million in EBITDA, up $36 million or 44% from Q2 of 2019. Our operations team did an outstanding job, leveraging new order and pay technologies, adapting our service model and optimizing costs to deliver our first ever EBITDA margin to crest 30%, exceeding the 2019's Q2 compare by over 700 basis points.
Source: Q2 FY 2021 Conference Call
Turning to Q3 FY 2021 guidance, management indicated absolute Adj. EBITDA dollars would be materially higher than Q3 FY 2019.
Third quarter EBITDA to be significantly higher than third quarter 2019 EBITDA of $39.8 million, but with some moderation compared with the increase in the second quarter.
Source: Q2 FY 2021 Conference Call
And to clarify the phrase "some moderation", he meant the percentage beat PLAY generated in Q2 FY 2021 compared to Q2 FY 2019, but absolute dollars will be 'significantly higher'.
Nicole Miller

I'm sorry. In this, you said 3Q should be higher but then you said something else. I just didn't catch that. I'm sorry, in relation to 2Q.

Scott Bowman

Okay. So yes, as we think about third quarter EBITDA, we think it will significantly beat the 2019 numbers from a dollar standpoint. What I was trying to convey was if you look at the percentage beat that we saw in Q2, we don't think it will be as much as Q2 from a percentage standpoint versus 2019. But based on current trends, we see Q3 EBITDA significantly beating Q3 of 2019.
Source: Q2 FY 2021 Conference Call
The Qualitative
Now that we covered the main brush strokes, let's talk why I qualitatively love this business. If you go back and re-read my last PLAY article from June 2021 (Perhaps The Next Meme Stock As The Shorts Are Trapped) I discussed in excruciating details why this management had the right plan in place and why this business had momentum.
Because the gaming side of the business has such high EBITDA margins, management is concentrating all of its efforts on improving the guest experience. Specifically, they are targeting driving incremental traffic during off times with new offering such as trivia night, live entertainment, and tailgating during the college and NFL football seasons. When the guests do arrive, management has been laser focused on reducing the friction (the time it takes from ordering food to getting it), and improving the food offerings and beverage menus. Competition is fierce in the food and entertainment industry and PLAY's management team understands this and is perpetually investing and innovating to stay ahead of the competition and solidify its business moat.
In our second quarter, we introduced an entirely new menu that broadens our appeal and is easier for our stores to execute. Over the summer, we made a meaningful investment in our entertainment offering, with the introduction of seven new games. We also took steps to widen our entertainment plans by offering programmed events in select markets. While early on, we are confident these efforts will broaden our reach and increase visit frequency and we are accelerating our investment in our entertainment team to bring that to life. We leapfrog traditional order and pay platforms with a system-wide rollout of our new mobile web-enabled platform. Mobile web adoption has been extremely strong, significantly exceeding our expectations.
Source: Q2 FY 2021 Conference Call
For readers that love to build the watch as opposed to ask what time it is, Dave and Buster's introduced 7 new games this year and its highest grossing title Transformers VR will launch in Q4 FY 2021. And next year, to coincidence with the new Top Gun movie launch, they will roll out a new Top Gun VR game.
Specifically, we plan to launch a Transformers VR title here as we hit our fourth quarter window. And that is one of the highest-grossing franchises of all time; so excited about that.
Source: Q2 FY 2021 Conference Call
And as management noted on the Q1 FY 2021 call, they are testing and rolling out trivia nights, selective live entertainment, and finding ways to drive incremental traffic to its store during non peak periods (think Tuesday or Thursday night). Moreover, they are partnering with Barstool and really emphasizing the fall football tailgating.
And given the robustness of the FY 2021 cash flow, they are reinvesting in the guest experience which should enhance the longevity of its out year cash flows.
From a CapEx perspective, we are updating our guidance and plan to invest $95 million to $100 million in 2021 which compares to prior guidance of $55 million to $70 million. Based on our current financial position, we are taking the opportunity to invest an additional $14 million in our stores to accelerate the rollout of new technology, upgrade our WiFi capability and upgrade equipment in select stores. These upgrades will improve the guest experience and will accelerate our technology deployment to further drive strong returns.
Source: Q2 FY 2021 Conference Call
On the marketing front, they moved their spend to almost entirely targeted digital marketing which is proving more effective (2/3rds deployed in Q2 and Q4 to match seasonal traffic patterns), and the marketing message is on the experience and not on discounting which drives margins.
Although the food and beverage menu is still a work in progress, the mobile app is proving popular and takes some of burden off of staffing in a very tight labor market.
In Q4 FY 2021, D&B is launching a new rewards program that will be integrated with its App.
The new D&B rewards program will elevate our loyal guests from transactional rebates to aspirational status achievement. The program which launches in early Q4, incentivizes guests for games played, similar to airline programs that incentivize for miles flown. The new D&B rewards will also introduce a functionality called challenges, where guests can complete unique combinations of activities to earn both digital and physical rewards. Finally, this program will be inextricably linked to the D&B app, adding incremental functionality and further improving the app's relevance for our growing user base. From loyalty to media to insights, our marketing team is always learning and optimizing to meet the changing consumer landscape.
Source: Q2 FY 2021 Conference Call
Valuation
With 6.2 million shares sold short, 13% of PLAY's float, this is an elevated short interest, especially considering how good a business this is. As I noted in my June 2021 piece, if you are into fundamentals and valuation, there isn't a compelling short case here. This is a high quality company that has high EBITDA margins and its debt profile isn't remotely an issue. Since D&B's Q1 FY 2021 earnings report, I would argue that the shorts got lucky with the Delta variant swaying sentiment, but now that D&B just crushed Q2 FY 2021 numbers and offered solid Q3 FY2021 guidance, again despite the negative headlines, you forcefully argue there isn't a valid short thesis here.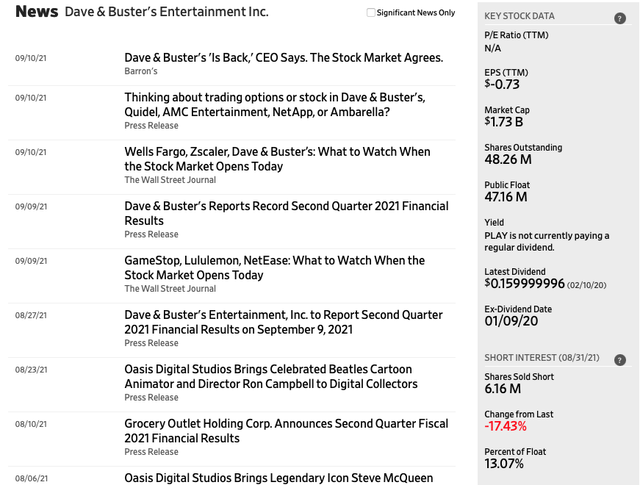 Source: WSJ
There are 48.25 million shares outstanding x $35.85 per share equals a market capitalization of $1.73 billion. The company is calling/ redeeming $55 million face value of its $550 million 7.625% 2025 bond and has nothing drawn on its revolver, so let's call its enterprise value $2.23 billion.
Pro-forma Adj. EBITDA FY 2021: $324 million
As we already have PLAY's actual Adj. EBITDA for both Q1 and Q2 FY 2021 as well as guidance for Q3 FY 2021 (where management indicated absolute Q3 EBITDA will be significantly higher than Q3 FY 2019), let's to keep it conservative, and this despite D&B's significantly better Adj. EBITDA margin performance throughout FY 2021, let's assume Q4 FY 2021 EBITDA is the same as Q4 FY 2019. This translates to $323.9 million of Adj. EBITDA.
Q1 FY 2021 Actual: $72.1 million (27.2% margins) and (+280 Bps to FY 2019)
Q2 FY 2021 Actual: $119 million (31.2% margins) and (+660 Bps to FY 2019)
Q3 FY 2021 Guidance: Perhaps $55 million to be conservative as Q2 FY 2019 Actual: $46.3 million (15.5% margins)
Q4 FY 2019 Actual: $77.8 million (22.4% margins)
For perspective, here is Dave and Buster's Adj. EBITDA for FY 2018 and FY 2019:
FY 2018: $311.1 million (22.8% margins)
FY 2019: $308.2 million (24.6% margins)
So let's now calculate an EV/ Adj. EBITDA. $2.23 billion / $324 million equals a valuation of only 6.9X.
6.9X times is ridiculously cheap for a company with this high Adj. EBITDA margins!
Given the high EBITDA margins of this business, I would argue that a multiple of 10X EV/ Adj. EBITDA is more appropriate. Moreover, despite the elevated CAPEX profile to fund new store growth as well as fund some deferred maintenance OPEX (needed to survive the pandemic), if we are being super conservative here let's assume $300 million of operating cash flow - $38 million of interest expense (post the 10% bond redemption) - $100 million of CAPEX equal upwards of $150 million of free cash flow. This free cash flow will be utilized to pay off the debt, over the next few years.
However, if we want to be formal, let's assume PLAY's FY 2022 Adj. EBITDA is $350 million, up from our $324 million pro-forma estimates from FY 2021, given the new unit growth and all its store should be open for the full year in FY 2022.
So assuming a 9X EV/ Adj. EBITDA multiple gets us to a $59 price target.
($350 million Adj. EBITDA x 9 equals $3.15 billion less $300 million pro-forma debt at the end of FY 2022 (given the robustness of PLAY's free cash flow) divided 48.25 million shares equals $59 per share.)
For historical perspective, PLAY's operating cash was $289 million in FY 2019 and $338 million in FY 2018.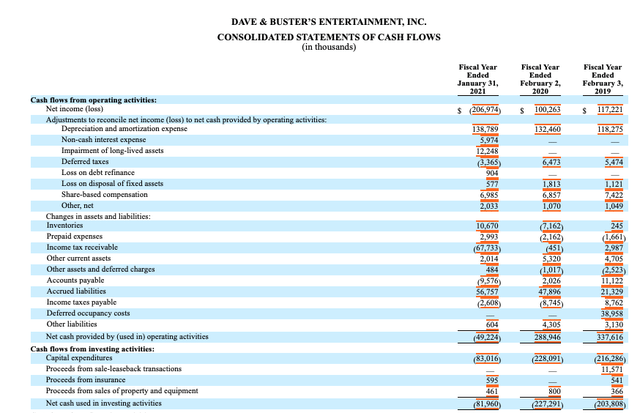 Source: Dave & Buster's FY 2020 10-K
Also, enclosed below, let's look at operating cash flow for the first half of FY 2021 vs. FY 2019.
FY 2019 Operating Cash Flow: $156. 7 million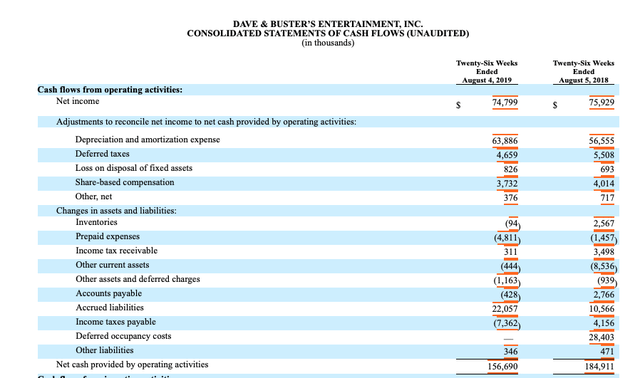 Source: Dave & Buster's FY 2019 10-Q
FY 2021 Operating Cash Flow: $198.1 million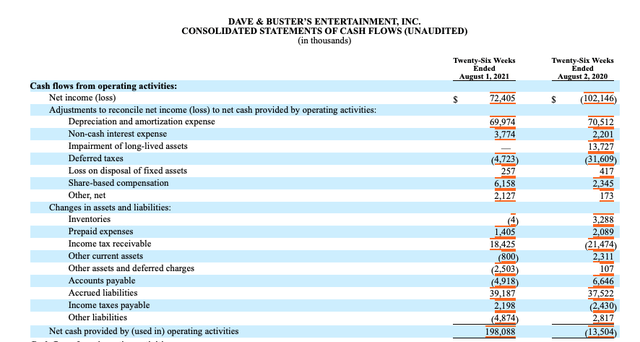 Source: Dave & Buster's Q2 FY 2021 10-Q
Putting It All Together
PLAY delivered record Q2 FY 2021 earnings and this business has a lot of momentum despite the Delta variant. The company's management team is executing well and smartly focusing on all aspects of its business with a shared goal of driving the guest experience. The initiatives include seven new games, a new food menu designed for higher quality and faster service, more entertainment options (trivia nights, live entertainment, and a strong football tailgating push), more tailored marketing, and a new upcoming loyalty rewards program. With D&B's entire store base finally open, the California store base is coming on strong, 4 new stores opening in FY 2021, and an additional 6 to 8 in FY 2022 targeted for FY 2022, this stock should re-rate. This is a great business with strong EBITDA margins, strong normalized free cash flow, and they are investing in the business to ultimately grow its EPS trajectory.
In terms of valuation, I find it laughable that a few bearish members of the sell side think a reasonable valuation for Dave & Buster's is only 6.5X to 7X EV/ Adj. EBITDA FY 2022. We are talking about a company here that has mid twenties EBITDA margins (and management's targeted EBITDA margin enhance of 200 Bps compared to FY 2019 looks sustainable). I would love to see the sell side and hedge fund shorts walk me through a list of other companies that are only trading at 7.0X EV/ Adj. EBITDA estimates/ FY 2022 that have these kind of EBITDA margins. Moreover, PLAY is leveraged less than 2 turns, and generates tremendous free cash flow.
Quite simply, the short thesis here isn't invalid.
By the way, based on the volume and price action, it sure felt the shorts aggressively shorted last Friday's opening pop, when PLAY shares opened up 12% and only closed up 1% by the end of September 10th trading, again despite the record earnings.
My 12 month price target for Dave & Buster's is $59 per share based on a valuation assumption of 9X EV/ Adj. EBITDA FY 2022.