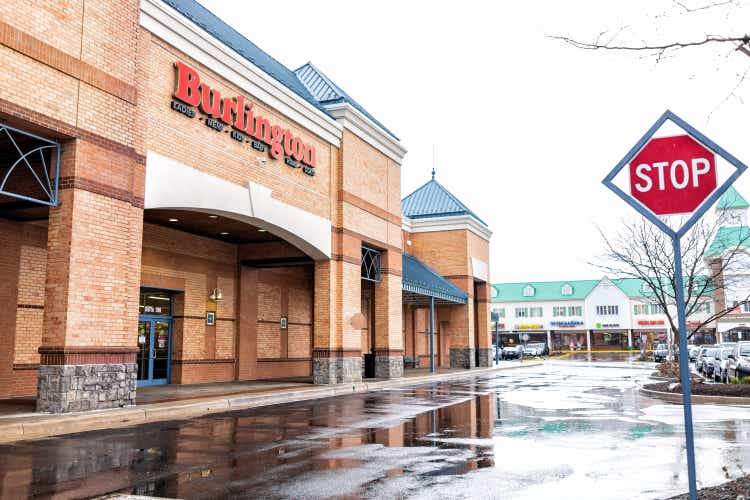 It's been an impressive year thus far for the Retail Sector (XRT), with the index up more than 40% year-to-date, trouncing the performance of the Nasdaq Composite (QQQ). One retail name that's posted exceptional results is Burlington Stores (NYSE:BURL), but with the stock priced for perfection heading into its Q2 report, the stock has slid considerably.
At a current share price of ~$291.00, investors might be anxious to buy the dip, but I still don't see enough margin of safety at nearly 28x FY2022 earnings estimates. So, while I do see Burlington as a solid buy-the-dip candidate if the stock dips below $245.00, I believe there are better opportunities elsewhere in the market.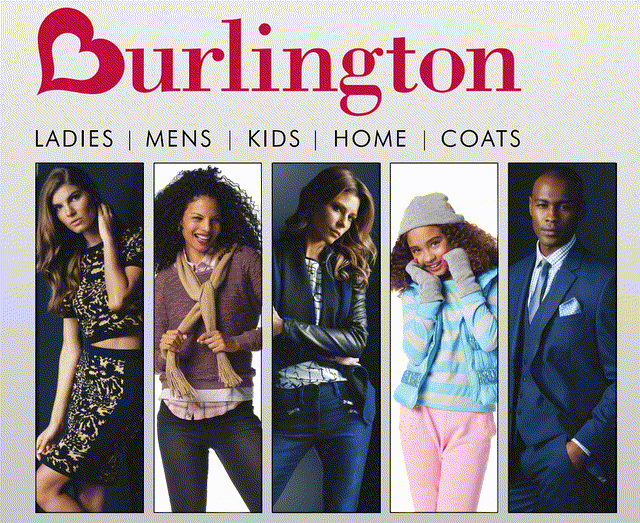 (Source: Company Presentation)
Just over two months ago, I warned that Burlington Stores was getting ahead of itself, trading at more than 35x forward earnings with its Q2 financial results less than six weeks away. This suggested heightened risk as the stock was fully valued short-term, and the stock has since sunk more than 18% from its highs, despite a top and bottom-line Q2 beat. As shared in the Q2 results, the company's revenue soared to ~$2.2 billion, while margins were up 80 basis points on a two-year basis, despite freight headwinds. This helped the company to report $1.94 in quarterly earnings per share [EPS], with Burlington now on track for record annual EPS in FY2021. Let's take a closer look at the quarter below:

(Source: Company Presentation)
Burlington Stores put together another impressive performance in Q2, opening eight net new stores (792 total), increasing sales by 119% vs. Q2 2020, and posting solid gross margins of 42.2%. The company noted that the strong quarter got a boost from the residual impact of stimulus payments, a pick-up in demand as economies re-opened, and the beginning of monthly child tax credit payments. However, Burlington also attributed some of this strength and the 19% comparable-store sales increase to strong execution and the ability to chase the sales trend. Burlington's Chief Executive Officer, Michael O'Sullivan, discussed the one-time benefits in the below excerpt.
"Look, we know this was not all us. There were one-time factors such as the Federal stimulus payments and the release of pent-up consumer demand. There is no doubt that these one-time factors helped drive our results. They helped drive every retailer's results. That said, we feel very good about our own performance on an absolute and on a relative basis."

- Burlington Stores, Q2 2021 Conference Call
In terms of unit growth, Burlington ended the quarter with 792 stores and remains on track to open 75 net new stores this year. This would push the company's store count to well above 800 to finish the year, translating to an impressive ~6% unit growth rate since FY2015 (~560 stores). Notably, the company has continued to increase its sales per square foot meaningfully over the years, from $153 in FY2015 to $224 in FY2019. With Burlington's new focus being to roll out a new prototype of stores going forward with less than 30,000 square feet or less, we should see continued margin improvement long-term with lower occupancy & operating expenses. Burlington has already opened 16 of these smaller prototypes during the spring, noting that results are very encouraging.
Finally, moving over to the elephant in the room, supply chain, Burlington stated that it accelerated back-to-school receipts to ensure that it did not lose out on the back-to-school period. However, the supply chain pressures are expected to continue, and the company shared that Q3, which is the peak period for retail deliveries, is looking much worse than Q2. This is not ideal, and while it should not impact sales, it will affect margins, with much higher freight and supply chain expenses to ensure that Burlington does not have the merchandise it needs. Long-term, the company expects that these headwinds will not be permanent, and the Burlington 2.0 model should help to drive margin expansion long-term after emerging from this difficult period. It's worth noting that despite the Q2 freight headwinds, gross margins were up 80 basis points vs. pre-COVID-10 levels.
So, why did the stock sell-off so sharply following its Q2 results?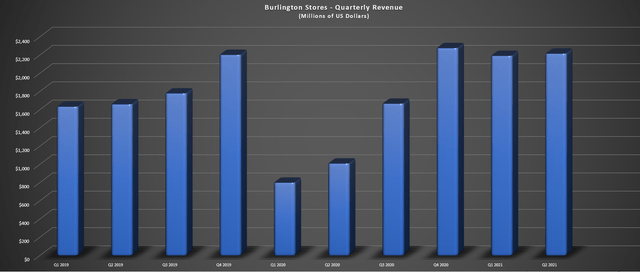 (Source: Company Filings, Author's Chart)
As shown above, while revenue increased materially from Q2 2019 levels and has soared to $8.35 billion on a trailing twelve-month basis (~$6.6 billion in FY2019), Burlington did enjoy some one-time benefits in Q1 and Q2. Given that the market often looks forward by 9 to 12 months, this has set up very difficult year-over-year comps for the company. This is because Burlington will be lapping meaningful stimulus payments and unprecedented pent-up demand from the re-opening after a year of lockdowns.
This could make it very difficult for the company to post meaningful growth on a year-over-year basis from a comparable sales basis, even if Burlington has guided for 7% comparable sales growth vs. FY2019 levels in FY2021. This is why I was cautious on Burlington heading into its Q2 report, as I figured it might end up being a "sell-the-news" event.

(Source: YCharts.com, Author's Chart)
The good news is that while Burlington will have to contend with difficult year-over-year comps, the company has seen an impressive recovery from net losses per share in FY2020. In fact, annual earnings per share is expected to increase more than 25% from FY2019 levels ($9.23 vs. $7.35), and FY2022 annual EPS is expected to increase more than 12% despite lapping a record year.
Looking ahead to FY2023, annual EPS estimates have been ratcheted higher to $12.69, translating to a compound annual EPS growth rate of ~24% since FY2014 ($12.69 vs. $1.83) if Burlington meets these estimates. This incredible growth rate makes Burlington a solid buy-the-dip candidate, as long as it's at the right price. At current levels, though, Burlington still doesn't offer a material margin of safety, trading at nearly 28x FY2022 earnings estimates.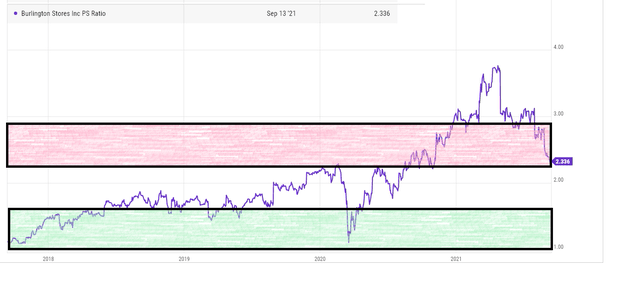 (Source: YCharts.com)
If we look at Burlington's valuation from a price to sales standpoint, this corroborates the view that while Burlington isn't expensive, it doesn't offer much of a margin of safety here either. As shown above, the best time to buy Burlington has been below 1.50x sales, and it's typically been wise to take profits on the stock above 2.25x sales. Having said that, Burlington is enjoying margin expansion, which suggests that the stock should receive a premium to historical multiples, with an updated buy range of 1.75x sales or lower and a take profits zone at 2.50x sales or higher.
However, with Burlington currently at ~2.3x sales, the stock is still more than 15% outside of its ideal buy zone. This doesn't mean that the stock can't go higher, but it does suggest that it might pay to be patient for a deeper correction.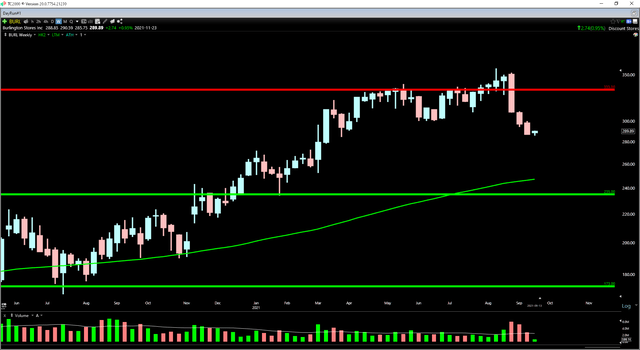 (Source: TC2000.com)
Finally, if we look at the technical picture, we can see that the best time to buy Burlington over the past 18 months has been on pullbacks below its 85-week moving average (green line). This level currently comes in near $245.00, which is just above strong support at $235.00, where we saw accumulation during the stock's ascent in Q4 2020. There's no guarantee that the stock pulls back to the $235.00 - $245.00 zone, but this is where the reward/risk would be the most appealing for buying the dip. If the stock were to rally into year-end instead, there is strong resistance overhead at $333.00, and I would view this as an area to look to take some profits.
Burlington Stores had another exceptional quarter, posting meaningful comp sales growth, improved guidance for H2 2021, and margin expansion. However, at more than 2.3x sales and nearly 28x next year's earnings, it's hard to argue that the stock is offering enough of a margin of safety here to jump in with both feet. For the stock to offer a meaningful margin of safety, I would be waiting for it to dip closer to the $250.00 level.
Therefore, I have no plans to start a new position just yet. For investors looking for value in this ebullient market environment, Newmont (NEM) looks like a much better reward/risk play, trading at less than 16x FY2022 earnings estimates, with higher gross margins than Burlington (~54% vs. ~43%).