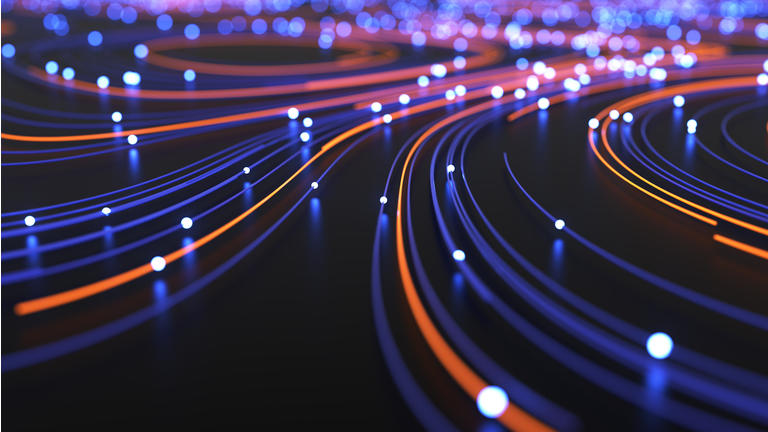 Thesis Summary
The crypto landscape continues to keep investors on their toes. Price volatility, together with new coins and applications coming online almost every day, makes for very interesting, and profitable, times for those willing to put some effort into understanding all these changes.
In this article, I will be comparing the world's second-largest cryptocurrency, Ethereum (ETH-USD), to one of its "competitors", Solana (SOL-USD). Solana has been called by many the "Ethereum killer", and it has certainly raised some eyebrows as it more than doubled in price in the last month, becoming the seventh-largest cryptocurrency by market capitalization.
Solana, like Ethereum, is a decentralized open-source blockchain that can support smart contracts and Dapps.
But what is behind Solana's recent appreciation, and does this crypto have what it takes to take on Ethereum?
Solana's Parabolic Rise
Solana was founded in 2017 by Anatoly Yakovenko, a former QUALCOMM Incorporated (QCOM) engineer. Early investors in Solana have been handsomely rewarded.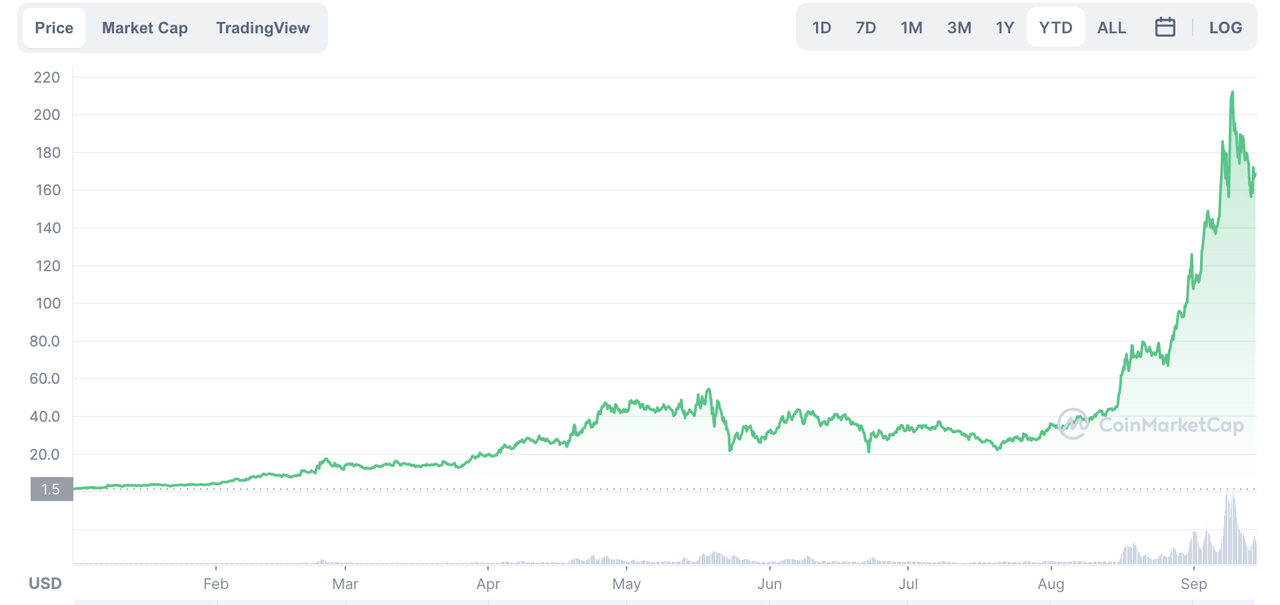 Source: Cointelegraph
A year ago, Solana was trading for around $2 per coin. Now, each coin is worth around $170, and it actually surpassed the $200 mark before the recent crypto crash. As we can see, the price has gone parabolic since August, and there are a couple of catalysts we can point to.
Firstly, it's worth noting that, back in June, Solana secured funding of $314 million through the sale of private tokens. This has gone a long way in legitimizing Solana as a platform, and the money raised will be put towards expanding the platform's presence in Decentralized Finance (DeFi).
To do this, Solana is now in its fourth hackathon, "Ignition". This is a chance for developers to connect, share ideas and compete amongst each other for prizes of up to $5 million.
Lastly, I would also point out Solana's strong presence in the NFT market as a big contributor to its success. Solana is one of the hottest places to buy and sell NFTs. Just two days ago, the platform saw its first million-dollar NFT sale.
Solana is very quickly growing its ecosystem, and a big part of it is due to its technical specifications, which make it arguably better than the Ethereum network.
Ethereum: Not Slowing Down
With that said, Ethereum has also been on a tear in the last few months, outshining even Bitcoin (BTC-USD).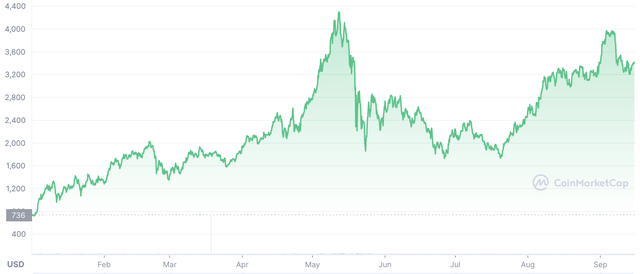 Source: coinmarketcap.com
While Ethereum hasn't appreciated as much, the price has increased around five-fold in the last 12 months. As of writing this, Ethereum boasts a +$400 billion market cap, putting it, together with Bitcoin, in a league of its own.
Behind Ethereum's rise in the last few years is the fact that blockchain technology has become much more understood and accepted by the mainstream. In fact, a report by Deloitte shows that up to 86% of the companies they surveyed, were planning to put together a blockchain team.
We are now starting to scratch at the surface of the possibilities of blockchain, and Ethereum, thanks to its robust network, has become the undisputed place to build blockchain solutions. And without a doubt, the most popular of these apps relate to DeFi (Decentralized Finance). A big majority of the apps on Ethereum are geared towards DeFi and the reason they are often built on Ethereum is thanks to its interoperability between different apps, which is achieved thanks to ERC-20 and ERC 721 token standards. ERC-20, for example, is what allows for the use of wrapped Bitcoin (WBTC-USD). Thanks to this, the "stability" and value of Bitcoin can be leveraged in the Ethereum network. This is just one of many examples
Ethereum has its limitations, which it is looking to address, but this still hasn't stopped it from becoming the world's second-largest cryptocurrency. Can anything stop it now?
Ethereum vs Solana
Many cryptocurrencies have been labelled Ethereum killers in the past. I have already reviewed, for example, how Cardano (ADA-USD) and Ethereum match up in this article.
But what makes Solana a worthy competitor to Ethereum? As always, the most important factors coming into play when determining the "best" option are transaction speed and cost.
Allegedly, Solana can carry out up to 50,000 transactions per second. That's not a typo, and it is orders of magnitude more than Ethereum's 30 transactions per second. Solana can, in theory, even carry out more transactions per second than Visa Inc. (V), which by their own claims can carry out 24,000 transactions per second.
Therefore, the greatest appeal Solana has is its scalability, and the other is transaction fees. According to Solana's website, the average transaction cost is around $0.00025. Again, much cheaper than Ethereum and even Cardano.
On the surface, Solana seems to be a much more efficient platform. But how exactly has it achieved this? Solana's secret sauce seems to be programmed into its consensus mechanism, and it is called Proof-of-History (PoH).
PoH is, simply put, a way for validators to keep track of hashes in chronological order. Thanks to a "delay function", it is possible to cryptographically verify the passage of time between two events. Yakavenko described this in 2018 as "a way to encode time as data".
In practical terms, this means that validators can process transactions as they come, without having to wait for a block to be filled, which is why, in theory, many more transactions can be processed every second.
On top of that, Solana also uses a protocol called Turbine, which breaks up information into smaller bits, making it easier to process. This is similar to what Ethereum will be looking at implementing through what it has called "sharding".
Meanwhile, Ethereum still relies on a Proof-of-Work system. This means computational power has to be used constantly to create new blocks, which puts a strain on the network and requires much higher energy consumption. However, as we know, Ethereum is looking to change this and switch to a PoS system through its roadmap to Ethereum 2.0. This update consists of a three-step process that might not be completed for another 2 years. Currently, ETH has implemented the Beacon chain, which introduces staking on a "separate" network. The next step would be to merge these two chains, which is expected to happen sometime in the next few months of 2021. Lastly, Ethereum will introduce the above mentioned "shard chains", which will enable Ethereum to process more transactions.
To sum up, let's look at the pros and cons of each cryptocurrency:
ETH Advantages
Largest smart contract network in existence

Host to the most tokens and NFTs

First-mover advantage

Pending move to ETH 2.0 will increase efficiency
ETH Disadvantages
Network congestion due to high volume

High gas prices

1 layer system

ETH development is inefficient and hard to peer-review
SOL Advantages
Fast and cheap transactions processing

Powered by less consuming PoS and PoH

Can be programmed in typical coding languages
SOL Disadvantages
Much smaller network

Requires expensive specialized hardware to mine

Lacks support from institutions and "crypto experts"
Who will take the crown?
So, on the one hand, we have the already established Ethereum network, which boasts over 7,000 nodes, 90,000 validators, and has a market cap of near $400 billion. However, Ethereum, in its current state, is severely limited in terms of scalability and is also much more expensive. A big part of this is because Ethereum uses Proof-of-Work, rather than PoS. However, the platform already has concrete plans to change this, and Ethereum 2.0, which should be live around 2022-2033 should solve most of the problems the cryptocurrency faces today. More specifically, and to make a direct comparison with Solana, Ethereum 2.0 is expected to be able to process 100,000 transactions per second, once it is fully functional.
On the other hand, we have Solana, with 600 nodes and around 1,000 validators. According to the latest information available on Solana's website, it is currently hosting around 340 apps. Meanwhile, Ethereum has over 3000 Dapps running on its network.
What, then, are the chances that Solana replaces Ethereum? The former has momentum going, and superior technical specs. However, Ethereum has the first-mover advantage and enjoys the benefits of network effects.
Ultimately, I think Solana has a lot of room for growth, but it is unlikely to completely replace Ethereum. ETH has too much momentum, especially when it comes to DeFi Applications. Sure, Ethereum has high gas prices and slower transactions, but it hasn't stopped it from becoming the second-largest cryptocurrency, and I don't think people will abandon it en masse, even with technically "better" alternatives out there.
However, there is a very fast-growing market for NFTs, which is where I think Solana could shine. Solana could definitely find a niche in the Dapps space and coexist with Ethereum.
In terms of price performance, I do expect Solana to keep outperforming Ethereum and even Bitcoin. This is one of the best-designed cryptocurrencies, and it is picking up momentum and following very quickly. Solana even held up remarkably well when the major cryptocurrencies were falling 10-15%, which is encouraging evidence that this is more than a passing thing.
Takeaway
In conclusion, I would still rate Solana a strong buy. There is plenty of growth and adoption left in its future. Will it replace Ethereum? Probably not, but it is definitely worth betting something on this. Even if it doesn't, there is plenty of room for both cryptocurrencies to coexist, much like I concluded in my analysis of ADA and Ethereum. Due to its recent surge, Solana is now the third-largest position in my crypto portfolio, and I intend to keep it that way.